Angus & Dundee Garden Trail 2020
Sunday 9 February, 2020
Angus & Dundee Gardeners will be holding a garden trail of seventeen gardens open across the area over selected dates in June. All of these gardens are new to our scheme and the trail will be raising money for Maggie's Dundee. Tickets for the trail are available for pre-purchase through Eventbrite or at the gardens. Highlights of the gardens opening is below and further details about the trail available here.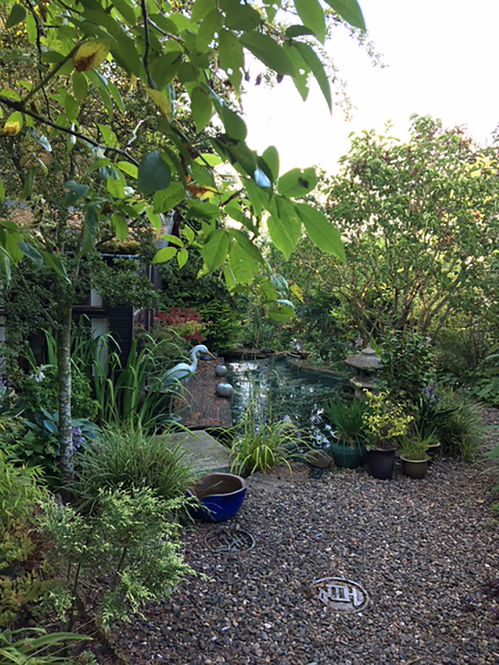 2 Whitewalls Farm Cottage
2 WHITEWALLS FARM COTTAGE, off Emmock Road, Dundee DD3 0QE: This rural garden has interlinked rooms filled with a range of plants and trees including acers, azaleas and rhododendrons and a large variety of perennials and shrubs, some which are unusual. Features include a Japanese-inspired garden with a Koi pond, granite lanterns and a tea house, a wildlife pond with shade-loving plants and a stream and a productive small polytunnel and fruit garden.
5 GLAMIS PLACE, Il Gardino de Giovanni, Dundee DD2 1NB: A terraced south-facing city garden with excellent views and including a border garden, wildlife garden, and with numerous pots scattered throughout the garden along with seating.
6 GLAMIS PLACE, Dundee DD2 1NB: A small garden with very many interesting plants, borders around the garden walls, raised beds and planters. A variety of shrubs and small trees give structure to the underplanting of bulbs, alpines and woodland-loving plants covering all seasons with species paeonies, podophyllum, ferns, rosacea and much more in summer.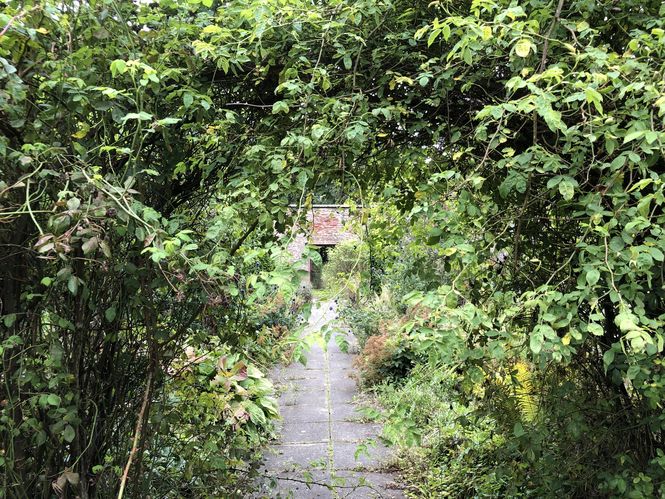 Balhary Walled Garden ©Tdobson
8 LEEMOUNT LANE, Broughty Ferry DD5 1LA: This is a compact residential garden secluded and sheltered by large trees. There is a pond, hens, vegetables, herbs, fruit and flowers. There is also a small chamomile lawn and mirrors are used to reflect light. The garden is ideal for young children to explore the paths, look for frogs and feed the hens and includes child-friendly vegetable labels.
BALHARY WALLED GARDEN, Balhary, Alyth, Blairgowrie PH11 8LT: This lovingly restored walled garden features 75 varieties of fruit trees, a large herbaceous border, lavender hedges to the height of the walls and vegetables of heritage and new varieties are grown extensively to supply 'foodies'. The cottage garden comes into its own with lighting, living flame, Zen, formal planting and a fairy garden with red squirrels frolicking about.
DAMSIDE COTTAGE, Leysmill, Arbroath DD11 4RR: Set in farmland, overlooking an old dam, the garden once featured in early television garden shows and has evolved over the years. Today the garden framework remains and includes a small pond, area of raised beds, wonderful espalier fruit trees on house walls, roses, herbaceous beds, scree planting on two low drystane walls and interesting trees including a Tibetan cherry.
DUNDEE BOTANIC GARDEN, Riverside Drive, Dundee DD2 1QH: Enjoy the wide range of plants, with fine collections of conifers and broad-leaved trees and shrubs, tropical and temperate glasshouses, water garden and herb garden in nine-and-a-half hectares of south-facing, gently sloping land near the banks of the River Tay. The garden features many species of indigenous British plants with important plants from all the continents of the world.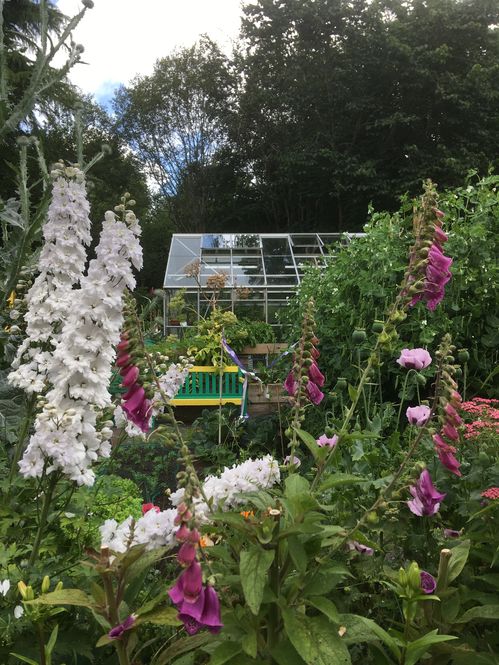 Forfar Open Garden ©Ruth Johnston
FORFAR OPEN GARDEN, 36 Lochside Road, Forfar DD8 3JD: This accessible garden is open to everyone for visits and plant sales as well as volunteering. The garden will be in its fourth growing year in 2020. The aim of the garden is to bring people together to share skills and build connections through creating and looking after the garden. There is a real well as the garden is on the site of a brewery as well as woodland with old apple and plum trees.
LAWTON HOUSE, Inverkeilor, by Arbroath DD11 4RU: Pleached lime trees form a screen on arriving with many unique features around the 1755 house, including pebble mosaic path, clipped hawthorn, roses and shrubs in varying shades of soft grey. The walled garden is planted with a double cross of apple, pear and plum trees, vegetables and fruit bushes quartering the garden as well as roses and wide mixed herbaceous borders.
MAGGIE'S DUNDEE, Ninewells Hospital, Tom McDonald Ave, Dundee DD2 1NH: Designed by the renowned landscape gardener Arabella Lennox-Boyd, the stepped earthworks act both to screen and link the building to the hospital. The centrepiece is a 33-metre labyrinth where visitors can come to find a space for contemplation and meditation. A separate small garden, surrounded by roses and scented shrubs and plants, is set aside for private contemplation.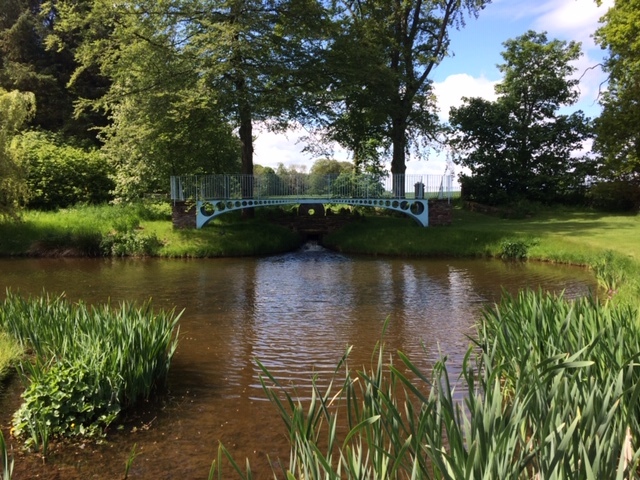 Millden of Stracathro ©Alison Campbel Adamson
MAINS OF BALGAVIES, Forfar DD8 2TH: This farm boasts a species-rich wildflower meadow and wildlife haven, particularly for butterflies and insects. There is a mass of yellow rattle, oxide daisies, vetch, broad leaf plantain and different clovers as well as some cowslips and common knap weed. The garden has mixed herbaceous borders around the walls with raised beds where a variety of annuals and lots of delphiniums grow.
MILLDEN OF STRACATHRO, Brechin DD9 7QF: Featuring a large pond made by opening up the mill lade, water flows in under the Victorian bridge and back into the river under the weeping willow tree and among herbaceous borders surrounded by yew hedges and shrubs, rhododendrons and azaleas alongside mature trees and shrubs. A mix of perennials and roses lead to a pergola covered in a mixture of honeysuckle, clematis and roses.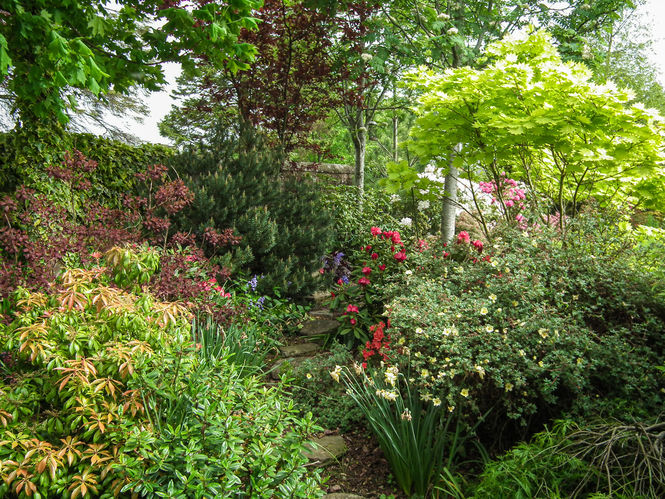 North Lodge ©McIntosh
NORTH LODGE, 36 Church Street, Edzell DD9 7TQ: This predominantly semi-evergreen woodland garden, full of mature trees and shrubs, acts as a good backdrop for a multitude of climbers and herbaceous perennials with numerous flowering azaleas and rhododendrons. The garden also has a Japanese element to it with pots of acers and bamboo. The current focus is on increasing the wildlife elements for nesting birds, a pond and pollinators.
RESWALLIE HOUSE, Forfar DD8 2SA: Set in pretty woodland and pasture extending to Rescobie Loch with many mature and significant tree species. The charming walled garden features two informal and abundant herbaceous borders with a fine collection of old-fashioned roses and delphiniums, as well as Victorian greenhouse and sizable kitchen garden. A further primula garden features over 40 species.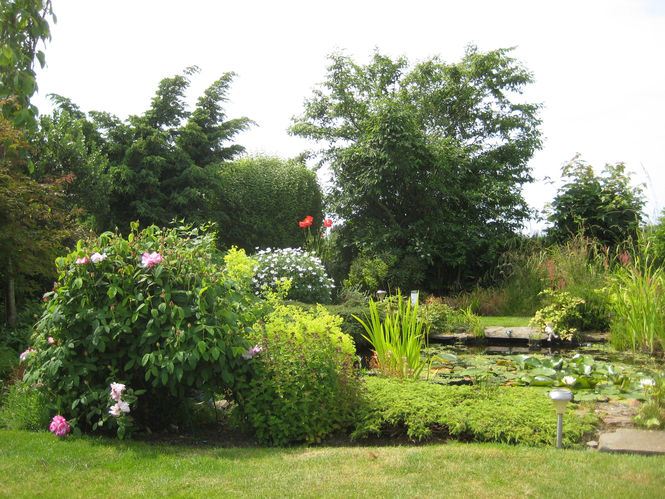 St Bride's Cottage ©Alison Gordon
ST BRIDE'S COTTAGE, South Kingennie, Broughty Ferry DD5 3PA: With a semi-wild perimeter, this garden provides year-round interest with a mixture of shrubs, perennials and bulbs. Further features are inspired by visits to gardens around the world, including a Japanese-themed area with island bed. There is a small bog garden with a lovely early summer display of Iris sibirica and plantings that attract a wide variety of bees and butterflies.
TEMPLETON HOUSE GARDEN, Arbroath DD11 4QP: This garden is set around a 15-year-old house in farmland and created in a farmyard where pigs used to live! This was a bare site and has evolved since the house was built. It is south-facing and protected by a dry-stone wall and beech hedges. It consists of a mixed border, a rose parterre with developing topiary, a raised bed vegetable and herb garden and a small orchard and fruit garden.
THE DOOCOT, Kinloch, Meigle, Blairgowrie PH12 8QX: With open views to the Sidlaws and Grampians, the garden includes a parterre rose garden with substantial shrub and herbaceous twin beds and areas of heather and hard planting including rhododendrons, azaleas and a variety of trees. Further trees and rhododendron create seated areas and small themed beds with colourful plantings to provide interest through the season.