Become a Charity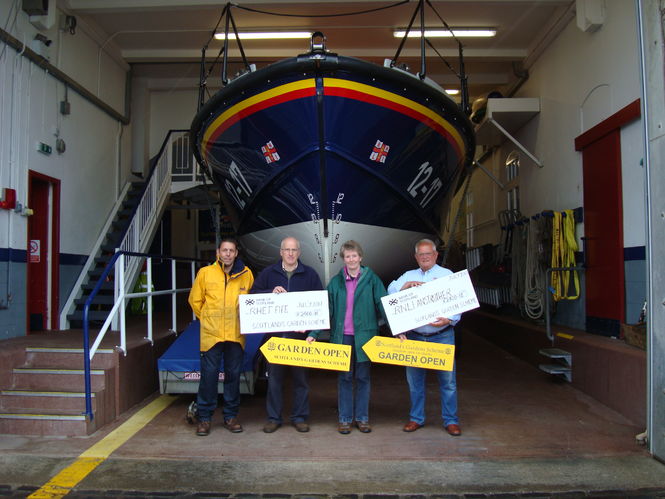 Cheques from the 2017 Fife Garden Trail are presented to RHET Fife and RNLI Anstruther
Scotland's Gardens Scheme is very much about supporting charities through sharing, visiting and learning about gardens. We encourage and support gardeners across Scotland to open their gardens to the public. Most of our opening gardens are private and the owners may nominate a charity(s) of their choice to receive up to 60% of their money raised. These nominated charities normally help our Garden Owners with their open day, most often by managing the teas for the event. The net remaining funds raised are contributed to our core beneficiaries, described below. In addition, we earmark a small bursary to be available to a guest charity each year.
Nominated Charity
Would you like to be considered as a Nominated Charity? The Garden Owner's choice of their nominated charity is often a personal decision. However, we are happy to make our openers aware of charities that would like to be supported. We do this through a special newsletter every summer. If you would like to be included in this mailing, please sign up to our newsletter, as we do a call out to charities in the summer for details.
Guest Charity
We also offer funding, up to £5,000 for projects that are concerned with the physical, mental and emotional well-being of adults and/or children across Scotland. These projects must be directly associated with gardens and/or gardening and clearly indicate the positive impact that they will bring to heath and wellbeing. We ask for a considered financial summary justifying the amount requested and assuring that the project proposed can be realistically accomplished within the proposed timeframe. More information about how to apply for this funding is here.
Core Beneficiaries
Our core beneficiaries for money raised for openings during 2019-2023 are Queen's Nursing Institute for Scotland, Maggie's Centres and Perennial. More information about our current beneficiaries can be found here.