Images On / Off
Description On / Off
Total of 9 openings.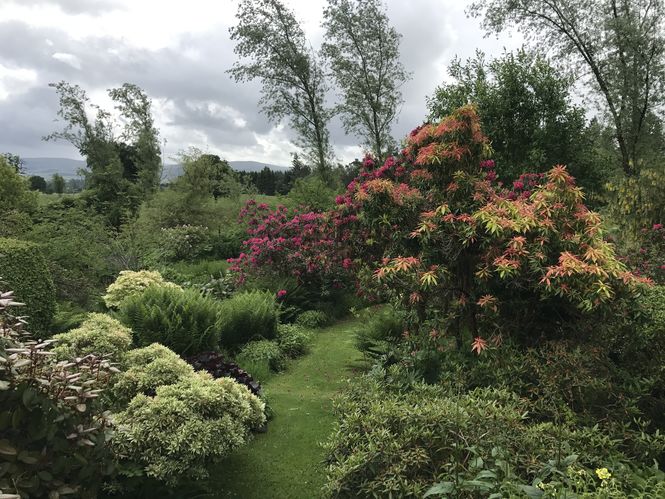 Braco Castle
Braco
FK15 9LA
Mr and Mrs M van Ballegooijen
1 February - 31 October, 10am - 5pm (2022)
b5d
T:
01786 880437
A 19th-century landscaped garden with a plethora of wonderful and interesting trees, shrubs, bulbs and plants. An old garden for all seasons that has been extensively expanded over the last 33 years. The partly walled garden is approached on a rhododendron and tree-lined path featuring an ornamental pond. Spectacular spring bulbs, exuberant shrub and herbaceous borders and many ornamental trees are all enhanced by the spectacular views across the park to the Ochils. From snowdrops through to vibrant autumn colour, this garden is a gem. Look out for the embothrium in June, hoheria in August, eucryphia in September and an interesting collection of rhododendrons and azaleas with long flowering season.
Directions: Take a one-and-a-half-mile drive from the gates at the north end of Braco Village, just west of the bridge on the A822. Parking at the castle is welcome.
Admission: £5.00, children free
Charities: The Woodland Trust Scotland 60%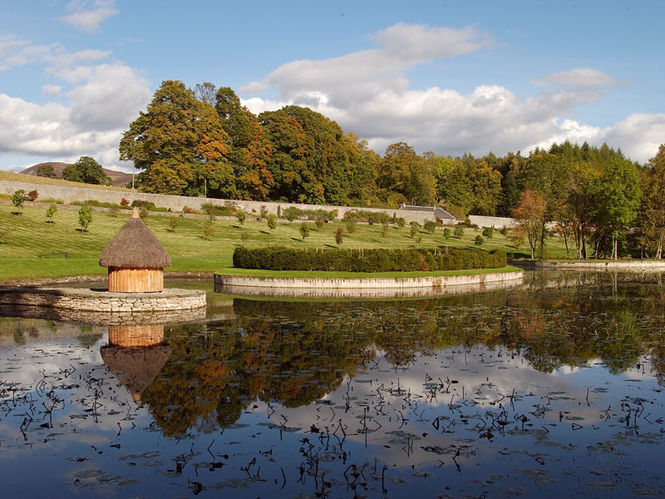 Blair Castle Gardens
Blair Atholl
PH18 5TL
Blair Charitable Trust
1 April - 28 October, 10am - 5pm (2022)
45d7
T:
01796 481207
E:
office@blair-castle.co.uk
Blair Castle stands as the focal point in a designed landscape of some 2,500 acres within a Highland estate. Hercules Garden is a walled enclosure of about nine acres recently restored to its original 18th-century design with landscaped ponds, a Chinese bridge, contemporary plantings, vegetables and an orchard of more than 100 fruit trees. The glory of this garden in summer is the herbaceous border, which runs along the 275 yard south-facing wall. A delightful sculpture trail incorporates contemporary and 18th-century sculpture as well as eight new works, letter-carving on stone from the
Memorial and Commemorative Arts
charity's 'Art and Memory Collection'. Diana's Grove is a magnificent stand of tall trees including grand fir, Douglas fir, larch and wellingtonia running along the Banvie Burn, with the 12th-century ruins of St Bride's Church on the far bank.
Directions: Off A9, follow signs to Blair Castle, Blair Atholl.
Admission: details can be found on the garden's website
Charities: Donation to SGS Beneficiaries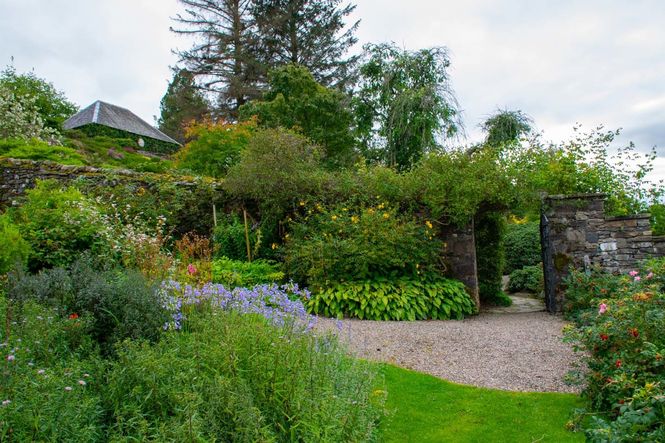 Bolfracks
Aberfeldy
PH15 2EX
1 April - 31 October, 10am - 6pm (2022)
4d
T:
07895 004323
E:
hollie-syme-92@outlook.com
Special three-acre garden with wonderful views overlooking the Tay Valley. Burn garden with rhododendrons, azaleas, primulas and meconopsis in a woodland garden setting. Walled garden with shrubs, herbaceous borders and rose 'rooms' with old-fashioned roses. There is also a beautiful rose and clematis walk. Peony beds are underplanted with tulips and Japanese anemone. The garden has a great selection of bulbs in spring and good autumn colour.
Directions: Two miles west of Aberfeldy on A827. White gates and lodge are on the left. Look out for the brown tourist signs.
Admission: £5.00, children free
Charities: Donation to SGS Beneficiaries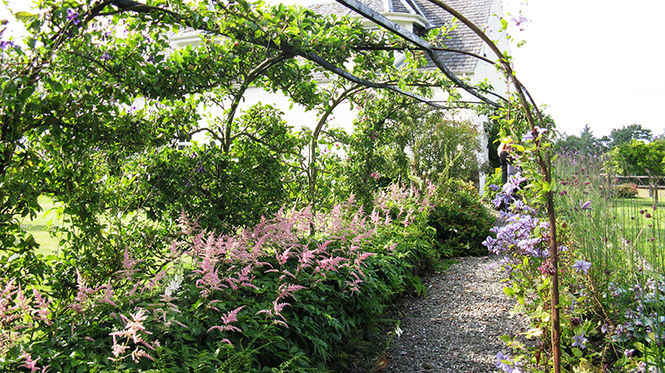 Thorntree
Arnprior
FK8 3EY
Mark and Carol Seymour
By arrangement between 1 February - 31 October (2022)
c5
T:
01786 870710
E:
carolseymour666@gmail.com
After the difficulties of 2020/2021, this year Thorntree is opening by arrangement only, but they are looking forward to welcoming visitors. Carol will happily walk round the garden with you or you can wander on your own. The garden continues to evolve and cotoneasters by the saltire beds have been cut back which means the four flower beds are no longer hidden behind a hedge! Also, the view past the summerhouse can be seen and the Annabelle hydrangea has popped up now that there are fewer branches above it. It is inspiring garden to visit at any time of the year. From the garden you can see panoramic views from Ben Lomond to Doune, watching the Forth meander down the bottom of the valley. Please note: plants are always available for sale as part of the trainee experience under the WRAGS scheme.
Directions: On the A811, to Arnprior, then take the Fintry Road; Thorntree is second on the right. 
Admission: £5.00, children free
Charities: Forth Driving Group RDA SCIO 60%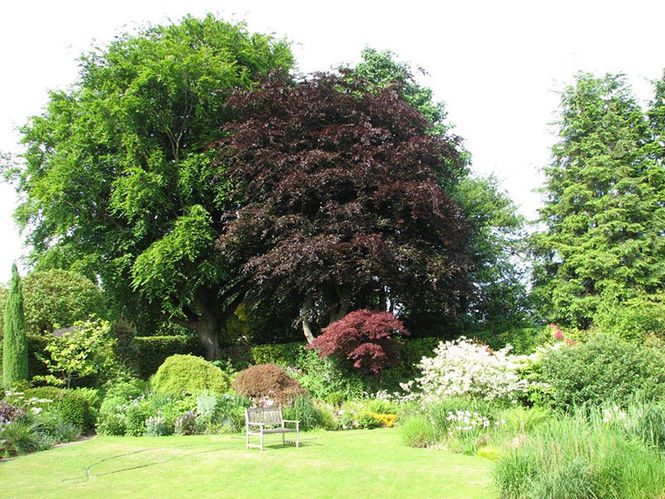 Hollytree Lodge
Muckhart, Dollar
FK14 7JW
Liz and Peter Wyatt
By arrangement between 1 April - 31 October (2022)
08457
T:
07973 374687
E:
elizwyatt@aol.com
A tranquil one-acre garden, divided by internal hedges into 'rooms' as featured in Country Homes & Interiors in January 2018. Highlights include a small Japanese garden, mini orchard, naturalised spring bulbs and wildflowers, rill and wildlife pond, mixed herbaceous borders, a good collection of rhododendrons and azaleas, a variety of unusual trees and shrubs, snow gum, Metasequoia glyptostroboides, Persian ironwood and acers, many producing spectacular autumn colours. We aim to garden organically working with nature, complementing our beekeeping interests.
Directions: Approximately 100 yards from the A91 (between Dollar and Milnathort) down the small lane directly opposite the entrance to the Inn at Muckhart.
Admission: £5.00, children free
Charities: Coronation Hall, Muckhart 60%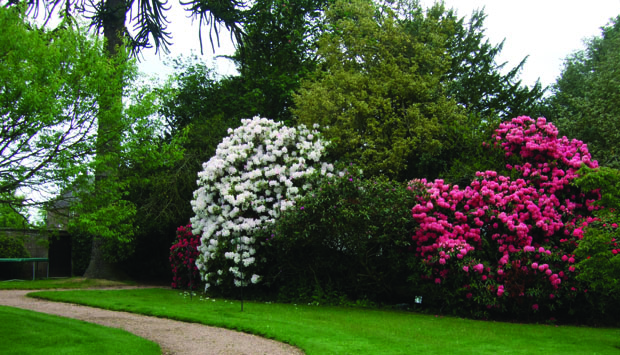 Bonhard House
Perth
PH2 7PQ
Stephen and Charlotte Hay
By arrangement between 1 April - 31 October (2022)
67
T:
07990 574570
E:
stephenjohnhay@me.com
Traditional 19th-century garden of five acres approached through an avenue of magnificent oaks. Mature trees, six classified by the National Tree Register as 'remarkable', including a handsome monkey puzzle, sequoias, Douglas fir and a variety of hollies. Grassy paths wind around ponds, rockeries, shrubbery and smaller trees, providing some splendid perspectives. Rhododendron and azalea beds. Pinetum on a knoll behind the house contains 25 species; beehives and productive kitchen garden. Shifting of garden emphasis to habitat. First fruits of rewilding visible. Orchard in process of extension. Possible sighting of red squirrels. Plentiful and varied birdlife.
Directions: On A94 just under a mile north of Perth take right turn, signed Murrayshall Hotel. After approximately one mile take entrance right marked Bonhard House, at a sharp left turn. From Balbeggie turn left, signposted for Bonhard, one mile north of Scone. Turn right in a half a mile, pass any sign for Bonhard Nursery, and enter drive at sharp right turn.
Admission: £5.00, children free
Charities: Freedom from Fistula Foundation 60%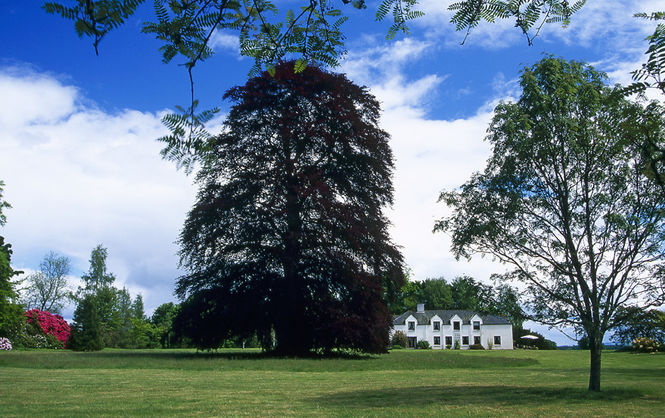 Delvine
Murthly
PH1 4LD
Mr and Mrs David Gemmell
By arrangement between 17 April - 16 October (2022)
67
E:
gemmell.david@googlemail.com
If you love something unusual, you must come and see the Millennium Project Arboretum developed over 20 years and the Water Gardens set in a beautiful, wild and secluded setting, surrounded by fine and very old trees. You can wander among collections of different bamboos, shrub roses, birches and other special trees. In the spring you will see swans and geese nesting. There are also inquisitive guinea fowl, and if you are really lucky, you might be able to see kingfishers, otters and beavers. This is a very special place even in the rain.
Directions: On the A984, seven miles east of Dunkeld, four miles south west of Blairgowrie.
Admission: £5.00, children free
Charities: ABF The Soldiers' Charity 60%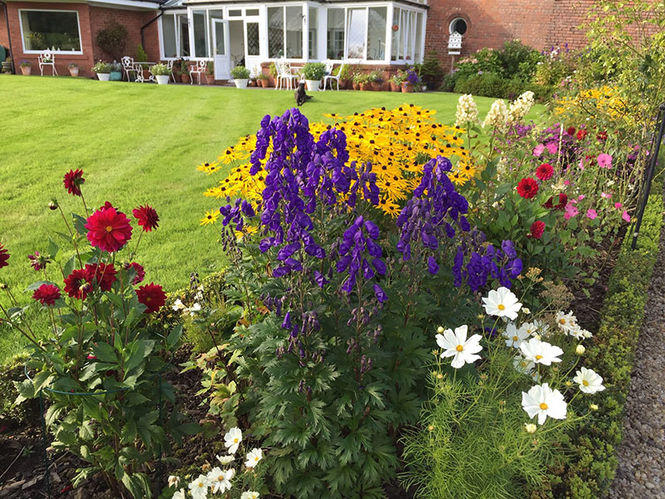 Gardener's Cottage Walled Garden
Ballochruin Road, Killearn
G63 9QB
Morna Knottenbelt
By arrangement between 15 June - 15 October (2022)
T:
01360 551682
E:
mornaknottenbelt@hotmail.com
The walled garden, acquired in 2013 by the present owners, has been planted with extensive herbaceous borders, box hedging, roses and many unusual plants. There is a White Garden, a long shrub border with primulas and gentians and a former fernery with a collection of salvias and peach and pear trees. June is a good time to visit when the roses are in bloom and borders with lupins, peonies and other perennials are in flower. By late summer, the borders have argyranthemums as well as dahlias, Michaelmas daisies, rudbeckias and blue aconitums. The Celtic Cross Garden was planted in May 2021 with a range of new plants including echinaceas, cardoons, lobelias, anthemis and lavender for mid to late summer colour. There are fine views of the Campsie Hills and the garden is surrounded by the conifers of the Designed Landscape of Carbeth. 
Directions: Follow Sat Nav to G63 0LF, which is Carbeth Home Farm. We are the next entrance below the farm. Turn left on to the gravel road and follow yellow SGS signs. 
Admission: £5.00, children free
Charities: The British Horse Society: Scotland 60%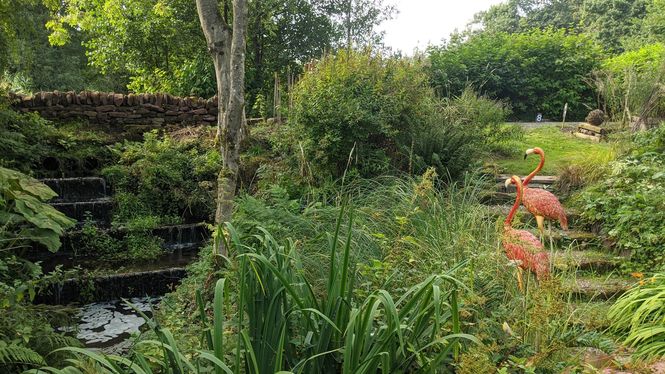 The Pond Garden
The Pond, Milnathort
KY13 0SA
Fay Young & Ray Perman
By arrangement between 1 August - 7 November (2022)
67
T:
07767 407396
E:
fay@fayyoung.org
A wild woodland and wetland garden supporting birds, bees, butterflies, red squirrels, swans and other less visible wildlife. Enticing paths lead through seasonal highlights: snowdrops, daffodils, bluebells, foxgloves and ferns. Fine old beeches and oaks mark the boundary of the former Victorian estate. Since the mid 1990s we have rebuilt the derelict cottage and planted a mixed species hedgerow and native trees, adding spring and autumn colour. Stone features gather moss, and waterside benches welcome you to rest by the pond.
Directions: From the North, take the M90 south from Perth and exit at Junction 7 (Milnathort). Turn left into Milnathort Village and at the mini roundabout in the centre of the village turn left, signed for Path of Condie, up Wester Loan, then North Street. At the top of the hill, past the church on your left, you will cross the motorway again. Carry straight on for 1/2 mile.
Admission: £5.00, children free
Charities: All proceeds to SGS Beneficiaries