Images On / Off
Description On / Off
Total of 30 openings.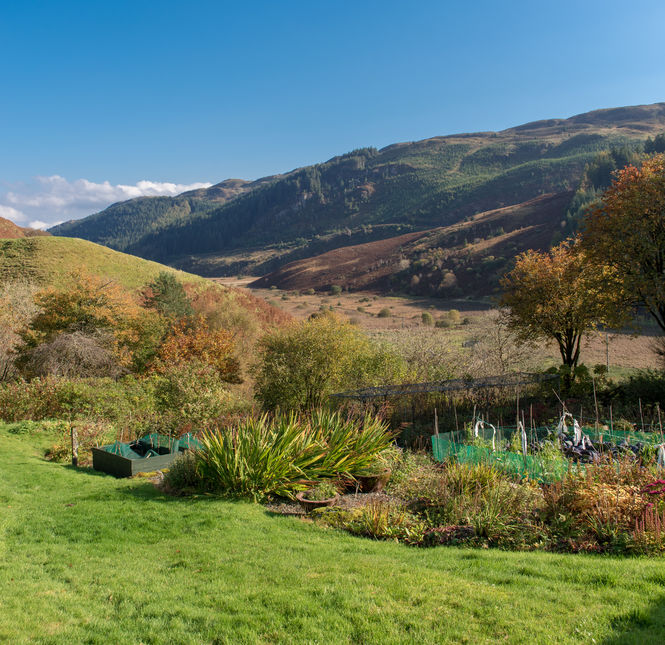 Maolachy's Garden
Lochavich, by Kilmelford
PA35 1HJ
Georgina Dalton
Saturday 20 April, Saturday/Sunday, 25/26 May, Saturday/Sunday, 29/30 June, Saturday/Sunday, 27/28 July, Saturday/Sunday, 24/25 August & Saturday/Sunday, 28/29 September, 2pm - 5pm (2019)
2c
T:
01866 844212
Three acres of woodland garden with a tumbling burn - created in a small glen over 40 years. At an altitude of 450 feet and two weeks behind the coastal changes, we have a shorter growing season. By not struggling to grow tender or late species we can enjoy those that are happy to grow well here and give us all much pleasure. Snowdrops, followed by early rhododendrons, masses of daffodils in many varieties, bluebells, wildflowers and azaleas, primulas and irises. A productive vegetable patch and tunnel feed the gardener and family.
Directions: Ignore SatNav. A816 to Kilmelford. Turn uphill between shop and church, signposted Lochavich 6, steep and twisty road with hairpin bend shortly after leaving village, check for passing places. Maolachy Drive is four miles from village. Cross three county cattle grids; after the third Ignore the foresty tracks to left and right. Continue downhill towards Loch Avich, and Maolachy is up on the left, first house after Kilmelford.
Admission: £4.00, children free
Charities: The Hope Project Scotland (SCIO): Oban 60%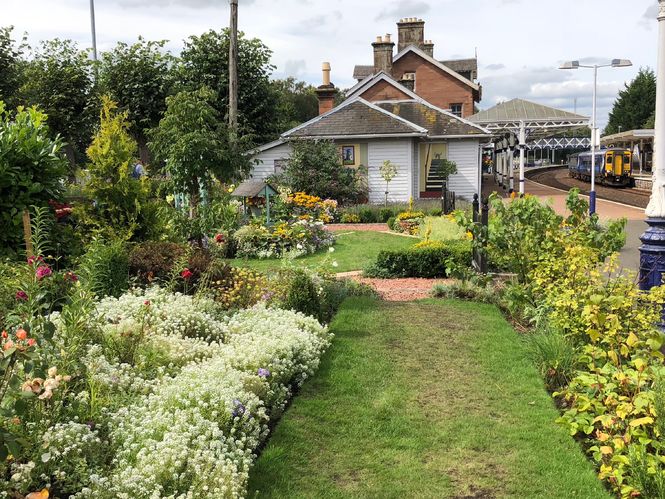 Dumfries Station Garden
Dumfries Railway Station, Lovers Walk, Dumfries
DG1 1LT
South West Railway Adopters Garden Group (Louis Wall)
Sunday 28 April, Sunday 30 June & Sunday 8 September, 11am - 4pm (2019)
34579
T:
07769275971
E:
stationgardener@live.co.uk
Dumfries Station Garden, on both sides of the station platform, is quite unusual. It is formally planted to reflect colour and interest all year round. There is a specialist wildlife garden planted with native wildflower species and also a Biblical garden, composed of many plants mentioned in the Bible. You will also see unique pieces of artwork depicting the Flying Scotsman and also the beautiful landscape of wild Galloway. The garden is co-ordinated by Louis Wall, holder of Gardener of the Year Award in 2018. He is assisted by a team of hard-working volunteers. 
Directions: The garden is located on both sides of the station platform at Dumfries Station on Lovers Walk in Dumfries. Most buses stop directly at the station, which is about a ten-minute walk from the town centre. There is ample parking spaces. 
Admission: by donation
Charities: Donation to SGS Beneficiaries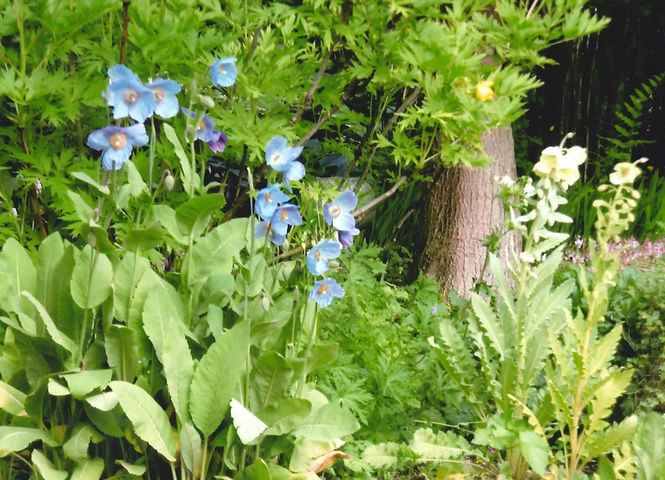 Inchmill Cottage
Glenprosen, nr Kirriemuir
DD8 4SA
Iain Nelson
Thursday 9 May, Thursday 23 May, Thursday 6 June, Thursday 20 June, Thursday 4 July, Thursday 18 July, Thursday 8 August, Thursday 22 August, Thursday 5 September & Thursday 19 September, 2pm - 5pm (2019)
c
T:
01575 540452
This is a long, sloping and terraced garden at over 800 feet in the Braes of Angus, developed to be a garden for all seasons. Half is dominated by bulbs, rhododendrons, azaleas, primulas, meconopsis and clematis. The other half mainly later summer bulbs, herbaceous plants and roses. There is also a rockery/scree and fernery.
Directions: Please DO NOT use SatNav. From Kirriemuir take the B955 (sign-posted to The Glens) to Dykehead (about five miles). From there follow the Prosen sign for about five miles. Inchmill is the white-fronted cottage beside the phone box.
Admission: £3.00, children free
Charities: The Archie Foundation 60%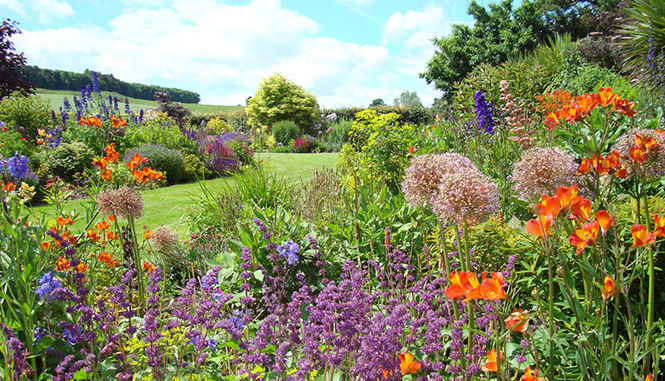 Willowhill
Forgan, Newport-on-Tay
DD6 8RA
Eric Wright and Sally Lorimore
Saturday 3 August, Saturday 10 August, Saturday 17 August, Saturday 24 August & Saturday 31 August, 2pm - 5pm (2019)
c6
T:
01382 542890
E:
e.g.wright@dundee.ac.uk
An evolving three acre garden. The house is surrounded by a series of mixed borders designed with different vibrant colour combinations for effect all season. Spectacular mix of roses, herbaceous perennials and annuals planted through the wide borders are a highlight in late summer.
Directions: One and a half miles south of Tay Road Bridge. Take the B995 to Newport off the Forgan roundabout. Willowhill is the first house on the left hand side next to the Forgan Arts Centre.
Admission: £5.00, children free
Charities: Forgan Arts Centre SCIO 60%
Whitewin House
Golf Course Road, Girvan
KA26 9HW
Linda Finnie and Graeme Finnie
Saturday 24 August, 1pm - 5pm (2019)
2457
T:
01465 712358 M: 07855 269247
E:
lafinnie@hotmail.com
Whitewin House has an interesting history. It was the first house to be built on Golf Course Road by the Tate & Lyle sugar-refining family in the late 1800s. It has a prime location with stunning views over the Firth of Clyde and to Ailsa Craig and the Kintyre Peninsula. Set in an acre of ground there are four separate gardens: the Ailsa Craig Garden at the front; the Gable Garden; the Central Rear Garden and the Rear Golf Course Garden. The layout is formal with lawns, borders, shrubs, rockeries and statuary complementing the Victorian architecture of Whitewin. New design and layout, in the Ailsa Craig, Gable and Central Rear Garden.
Directions: Approaching Girvan from the north on A77 the turning to Golf Course Road is on right hand side of the road before the town centre (follow signs for the Golf Course). From the south on the A77 come through Girvan, turn left at the lights, then first left and follow signs for the Golf Course. Entrance to the property will be signed. 
Admission: £4.00, children free
Charities: All proceeds to SGS Beneficiaries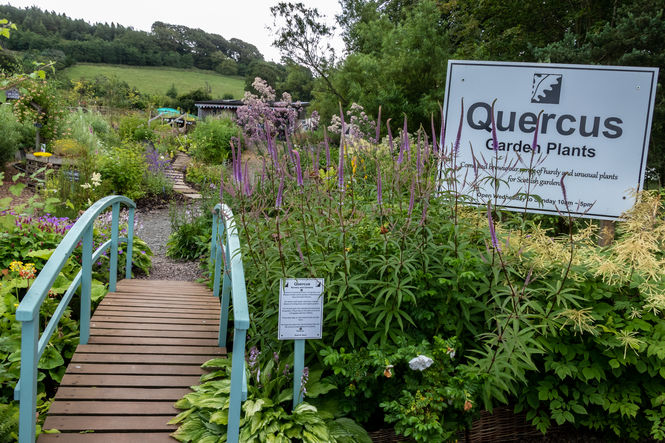 Quercus Garden Plants
Whitmuir Farm, West Linton
EH46 7BB
Rona Dodds
Saturday 24 August, 7pm - 9pm (2019)
3c79
T:
01968 660708
E:
rona@quercusgardenplants.co.uk
We are a small independent nursery growing and selling a wide range of happy, healthy plants propagated from our nursery gardens. At just under two acres, these gardens were started in 2015 to show visitors and customers what can be grown in our conditions here on a north-west-facing hill at 850 feet above sea level. Explore our herb garden, scented garden, wildlife garden and all the other inspirational smaller borders. Many of the plants seen in the gardens are available to buy in the nursery. 
Directions: On the A701, four miles south of the Leadburn junction or two miles north of West Linton. 
Admission: £7.00, children free
Charities: Breast Cancer Care 60%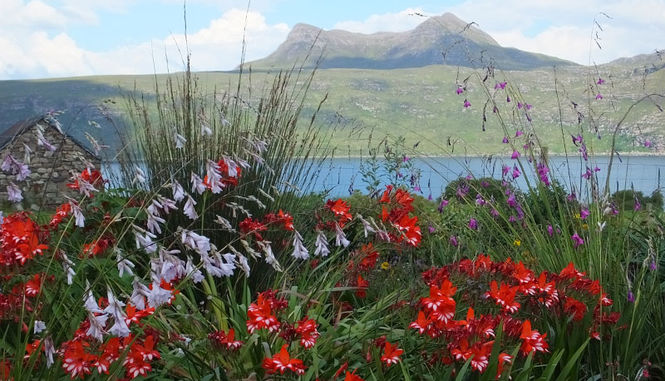 2 Durnamuck
Little Loch Broom, Wester Ross
IV23 2QZ
Will Soos and Susan Pomeroy
Sunday 25 August, 12pm - 5pm (2019)
2
T:
01854 633761
E:
sueandwill@icloud.com
Our garden is situated on the edge of Little Loch Broom and is south-east facing. It is a coastal plantsman's garden with a rich mix of herbaceous borders, trees and shrubs, vegetables, drystone wall planting, South African plants, Mediterranean plants, a wild meadow and stunning views. Many of the plants have been collected from all over the world and growing them in Durnamuck has provided the obvious challenges but with an overall pleasing outcome. We were lucky enough to be featured on Gardeners' World in 2016 and Garden Magazine and Country Life in 2017.
Directions: On the A832, between Dundonnell and Ullapool, take the turning along the single-track road signed Badcaul, continue to the yellow salt bin, turn right, go to the bottom of the hill and 2 Durnamuck is the house with the red roof. There is parking down by the house if needed.
Admission: £4.00, children free
Charities: The Aspinall Foundation 60%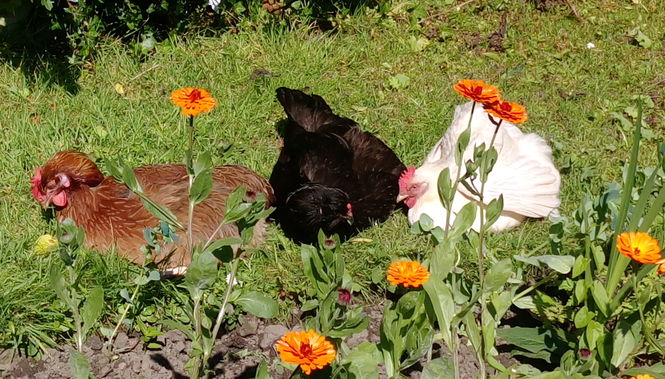 The Good Life Gardens
Cambuslang, Glasgow
G72 8BJ
Paul and Sheona Brightey, Andy and Amanda Bateman
Sunday 25 August, 2pm - 5pm (2019)
2c4
Two gardens of around a third on an acre each.
12 Chatelherault Avenue
Cambuslang G72 8BJ (Paul and Sheona Brightey): The front garden of No. 12 is split into a gravel garden and a small white woodland garden. Go through the gate and you will find a garden the aim of which is to grow as many different edibles as possible, herbs, fruit arches, vegetable beds and edible hedging. There are herbaceous perennials and a cut flower bed, a wildlife pond, a pizza oven and around the corner a food smoker.
14 Chatelherault Avenue
Cambuslang G72 8BJ (Andy and Amanda Bateman): An established garden that has been revived since the owners arrived four years ago. As the overgrowth was removed more and more beautiful surprises emerged. The garden is now a lovely calm sanctuary, artistically planted with a wide range of herbaceous perennials surrounded by beautiful trees.
Directions: M74 Glasgow to Cambuslang at junction two, exit onto Cambuslang Road/A724 towards Rutherglen. At the roundabout, take the first exit and stay on Cambuslang Road/A724. Continue to follow A724. Turn right onto Buchanan Drive, then right onto Richmond Drive. Richmond Drive turns left and becomes Chatelherault Avenue.
Admission: £6.00, children free
Charities: FAST Romania 60%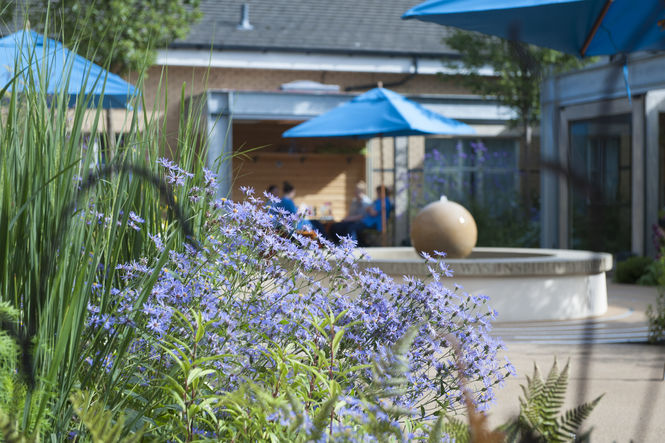 Horatio's Gardens
National Spinal Injuries Unit, Queen Elizabeth University Hospital, 1345 Govan Road, Glasgow
G51 4TF
Horatio's Gardens
Sunday 1 September, 2pm - 5pm (2019)
2c845
E:
sallie@horatiosgarden.org.uk
Opened in 2016, award-winning Horatio's Garden at the Scottish National Spinal Injuries Unit, was designed by acclaimed garden designer and RHS judge, James Alexander-Sinclair. This fully accessible garden creates a sanctuary through planting, seasonality in every corner and in a wealth of variety and colour. Visit to see how this high profile national charity has created a beautiful, cleverly designed, contemporary, accessible garden in the heart of Greater Glasgow and Clyde NHS for the benefit of patients, relatives, staff and all visitors. 
Directions: From the east or west of the city on the M8 motorway to Junction 25, follow signs for the Clyde Tunnel (A739) for three quarters of a mile, then follow signs for the Queen Elizabeth Hospital. Turn left into Govan Road and the hospital is on the left. From north of the River Clyde go through the Clyde tunnel (A739) and follow signs for the hospital. A map can be found on our website indicating where the garden is situated on the hospital site. 
Admission: £6.00, children free
Charities: Horatio's Garden 60%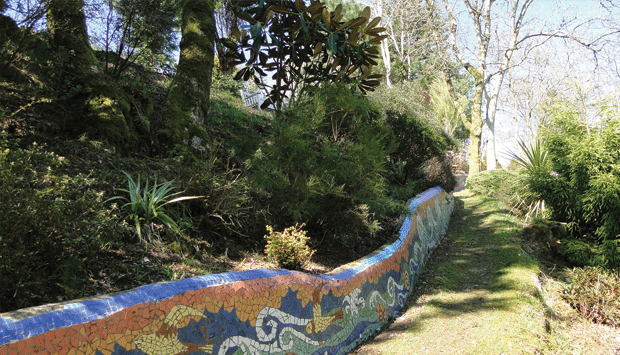 3 Millhall
Shore Road, Kirkcudbright
DG6 4TQ
Mr Alan Shamash
Sunday 1 September, 2pm - 5pm (2019)
T:
01557 870352
E:
shamash@freeuk.com
Impressive five-acre garden with a large collection of mature shrubs, including over 200 rhododendron species, many camellias, perennials, over 300 hydrangeas and many rare Southern Hemisphere plants. The garden has several interesting paths and is on a hillside running along the rocky shore of the Dee Estuary in Kirkcudbright Bay. 
Directions: On the B727 between Kirkcudbright and Borgue on the west shore of the Dee Estuary. Parking at Dhoon beach public car park, about three miles south of Kirkcudbright. There is a five-minute walk to the house. 
Admission: £4.00, children free
Charities: Kirkcudbright Hospital League Of Friends 30% & Alzheimer's Research UK 30%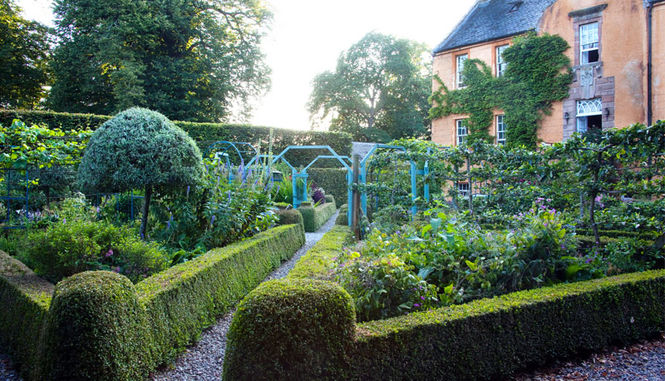 Old Allangrange
Munlochy
IV8 8NZ
J J Gladwin
Sunday 1 September, 2pm - 5pm (2019)
26e
T:
01463 811304
E:
office@blackislebeegardendesign.com
A 17th-century lime-washed house is the backdrop to a formal(ish) garden with many fine old trees including an ancient stand of yews. We use sculpted hedges to play with perspective. There is an ice house, vegetable garden, a mound, orchard and two large polytunnels where we grow vegetables biodynamically. We are establishing a nursery where plants attractive to invertebrates are grown. We plant particularly for wildlife so wildflowers and beneficial weeds are encouraged. New beds planted in 2017 along with significant additional planting in the orchard.
Champion Trees: Yew
Directions: From Inverness head four miles north on the A9, and follow the directions for Black Isle Brewery. Park in the brewery car park and you will be given directions in the shop.
Admission: £7.50, children free
Charities: Black Isle Bee Gardens 60%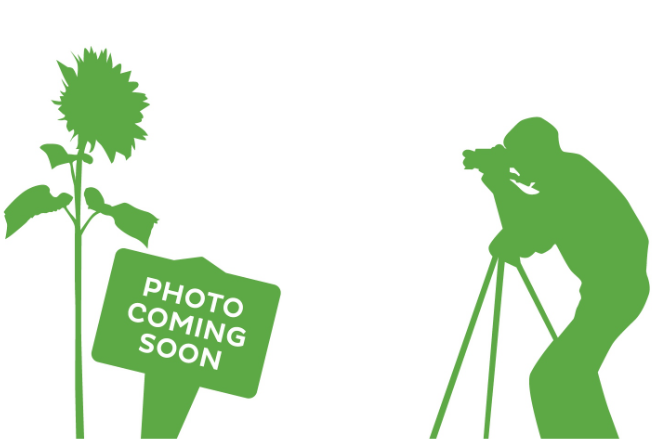 Silverburn Village
Hopelands Road
EH26 9LH
The Gardener's of Silverburn
Friday 6 September, 2pm - 5pm (2019)
2c8467
For over 30 years various Silverburn Village Gardens have opened for SGS proving that a wide variety of planting styles can be successful at an exposed location above 800 feet. Famous for our wonderful views of the Pentland Hills, lovely woodland walks and specialist plant stalls, we invite children to bring their grandparents, parents and minders to join us for a 'Family Friday Afternoon'. Enjoy visiting a variety of gardens, following the nature trail in the Beechgrove Community Garden and tasting our delicious home bakes in the Village Hall.
Directions: A702 Edinburgh/ Biggar Road 13 miles south of Edinburgh. Bus 101/102 Edinburgh - Dumfries Service.
Admission: £5.00, children free
Charities: Mary's Meals 60%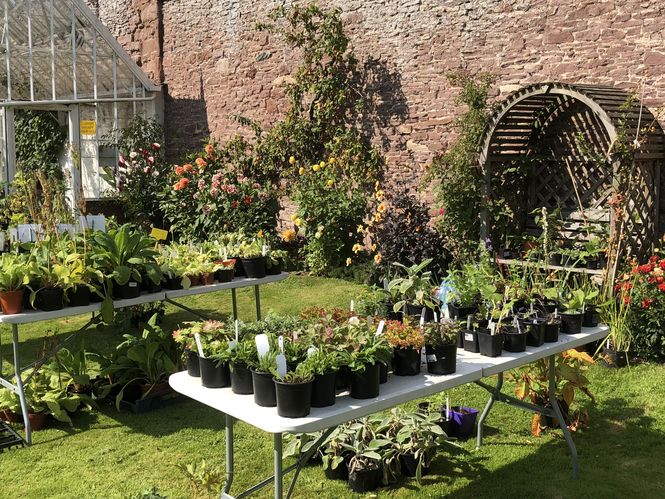 Angus Plant Sale
Logie Walled Garden
DD8 5PN
SGS Angus & Dundee Organisers
Saturday 7 September, 2pm - 5pm (2019)
3c6
E:
pippaclegg@hotmail.com
Now in our third year, we will hold our next plant sale again in September. We will offer a good, interesting selection, sourced from private gardens and with some donations from our local nurseries. It's advisable to come promptly and bring boxes and trays. Donations of plants either before or during sales will always be welcome.
Directions: From the A90, take A926 towards Kirriemuir. Just after the Welcome to Kirriemuir sign take a sharp left on to a single track road, or from Kirriemuir take A926 towards Forfar and fork right at Beechwood Place onto the single track road. Take the first left and follow signs to The Walled Garden.
Admission: £3.00, children free
Charities: All proceeds to SGS Beneficiaries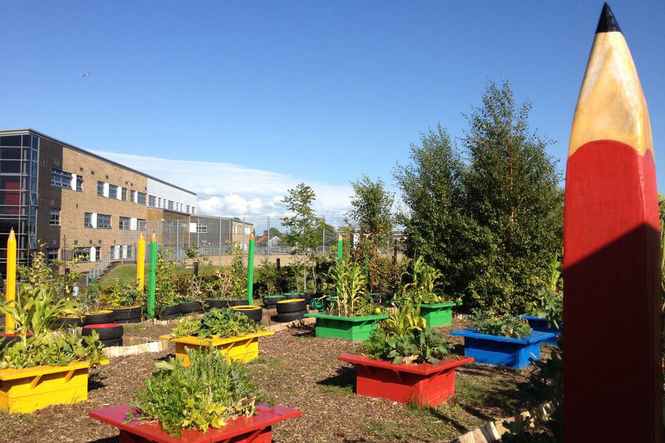 Craig Hepburn Memorial Garden
Stirling Drive, Linwood
PA3 3NB
Linwood High School
Saturday 7 September, 2pm - 5pm (2019)
3c846
T:
01505 336146
E:
craighepburnmemorialgarden@yahoo.co.uk
The Craig Hepburn Memorial Garden and Outdoor Learning Centre is located in Linwood High School. Our original garden with an outdoor classroom has been expanded to include community raised beds, an orchard, greenhouse and presentation area. We work with all years in the school reconnecting them to the natural world whether it is through growing in our organic garden, encouraging biodiversity or learning ab,out sustainability. 
Directions: Exit the M8 at St James Interchange and take the A737. Take the exit for Linwood onto the A761, follow to Clippens Road and then Stirling Drive. Accessible by McGill buses. 
Admission: £3.50, children free
Charities: Accord Hospice 60%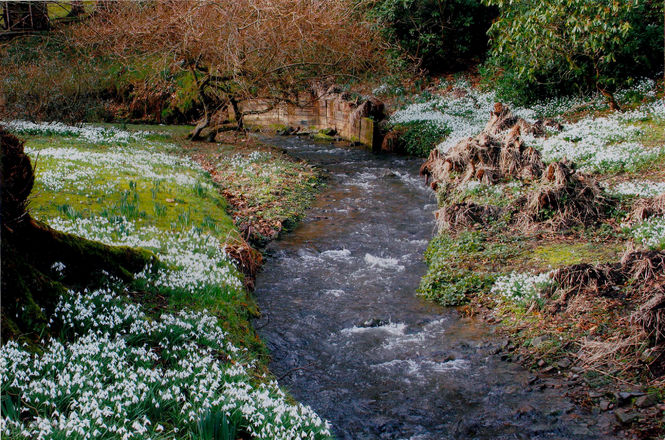 Kailzie Gardens
Peebles
EH45 9HT
Lady Buchan-Hepburn
Sunday 8 September, 10am - 4pm (2019)
3c6ed7
T:
01721 720007
E:
angela.buchanhepburn@btinternet.com
Semi-formal walled garden with shrubs and herbaceous borders, rose garden and excellent display of plants in large Victorian greenhouses. Woodland and burnside walks among spring bulbs, snowdrops, bluebells, rhododendrons and azaleas. The garden is set among fine old trees. Watch osprey with live CCTV recordings of ospreys nesting in the recently extended nature centre. Kailzie has been featured on
Landward
and
Beechgrove Garden
.
Champion Trees: Larch planted 1725
Directions: Two and a half miles east of Peebles on B7062. 
Admission: £5.00, children free
Charities: Erskine Hospital 60%
James Street Community Garden Plant Sale
Helensburgh
G84 8EY
The Gardeners of James Street
Sunday 8 September, 12pm - 4pm (2019)
2c457
Developed from a derelict children's play ground, the Community Garden is a relaxed area for contemplation with mixed herbaceous beds, maze and young trees. The sale will include a wide selection of nursery grown perennials and locally grown trees, shrubs, herbaceous, alpine and house plants.
Directions: Travel west along Princes Street from Sinclair Street through Colquhoun Square, turn right up James Street and the Community Garden is on the left. Park on the street.
Admission: by donation
Charities: James Street Community Garden 60%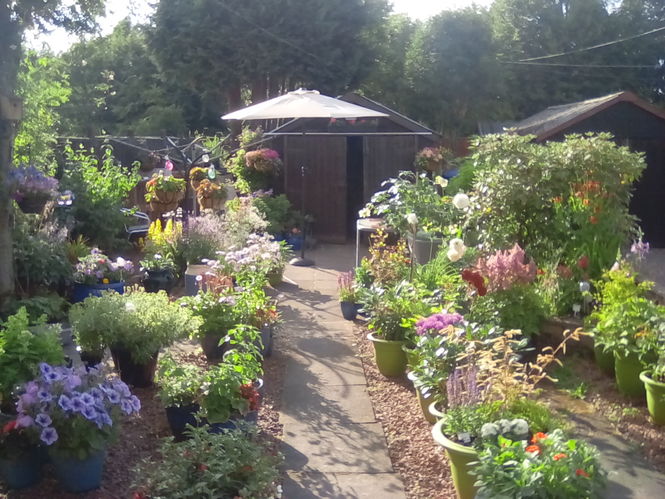 43 Thornton Avenue
Bonnybridge
FK4 1AR
Tom Williamson and David Gallacher
Saturday 14 September, 12pm - 4pm (2019)
49
T:
07821 406232
Astonishing hidden garden on a corner site, almost in the shadow of the Antonine Wall. With over 450 different plants, mostly named, and nearly half in pots and containers. The display is outstanding and should readily inspire others to try gardening whatever the size of their plot. This garden will be featured on the Beechgrove Garden on Thursday 8 August.
Directions: Signed from the A803. Bus from Glasgow. 
Admission: £3.00, children free
Charities: Support Adoption for Pets 60%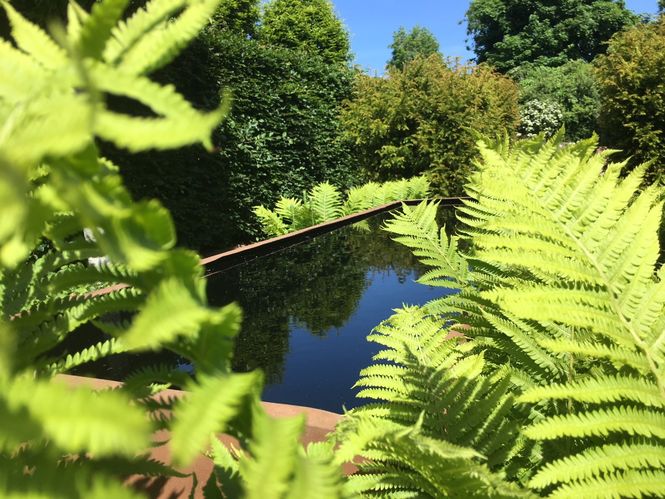 Fairnielaw
Athelstaneford, North Berwick
EH395BE
Alison Johnston
Sunday 29 September, 10am - 5pm (2019)
24679
T:
07747862841
E:
alison@fairnielawhouse.co.uk
Fairnielaw is a two-and-a-half-acre garden set on a rocky ridge where the wind blows frequently through the Garleton Hills and hits us side on. To provide shelter we planted a mixed tree mini forest and created a series of 'rooms' enclosed by beech hedges and dry-stone walls. The garden is on several levels and is a mixture of both formal and wild areas with beautiful views towards Traprain Law and the Garleton Hills at the highest point. 
Directions: Fairnielaw House is in the village of Athelstaneford set back from the road behind tall trees opposite the church. It is served by a bus service that runs between Haddington and North Berwick several times a day. 
Admission: £5.00, children free
Charities: Trellis 60%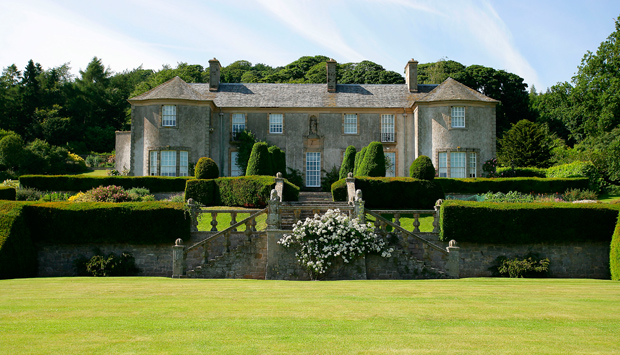 Hill of Tarvit Plant Sale and Autumn Fair
Hill of Tarvit, Cupar
KY15 5PB
The National Trust for Scotland/Scotland's Gardens Scheme - Fife
Sunday 29 September, 10:30am - 2:30pm (2019)
3c6
E:
fife@scotlandsgardens.org
This long established plant sale is a fantastic opportunity to purchase bare root and potted plants from an enormous selection on offer. We welcome donations of plants before the sale. Please deliver to Hill of Tarvit on the Friday or Saturday. A number of invited specialist nurseries and bulb suppliers will also be taking part. Hill of Tarvit is one of Scotland's finest Edwardian mansion houses. The surrounding woodland offers lovely walks, with autumn colours on show.
Directions: Two miles south of Cupar on A916.
Admission: £2.00, children free
Charities: All proceeds to SGS Beneficiaries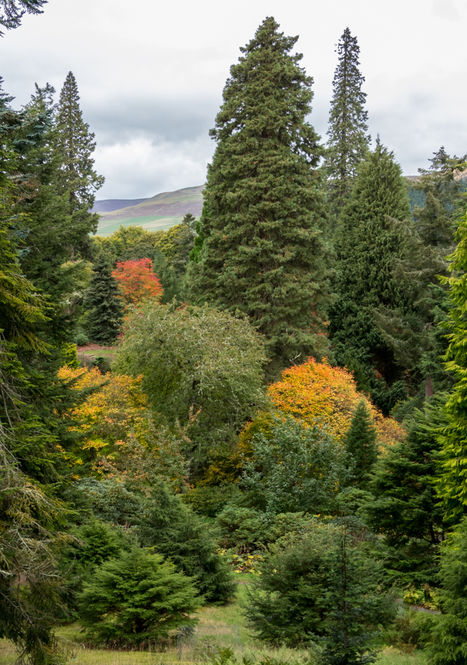 Dawyck Botanic Garden
Stobo
EH45 9JU
A Regional Garden of the Royal Botanic Garden Edinburgh
Sunday 6 October, 10am - 5pm (2019)
0c6ead
T:
01721 760 254
Stunning collection of rare trees and shrubs. With over 300 years of tree planting, Dawyck is a world-famous arboretum with mature specimens of Chinese conifers, Japanese maples, Brewer's spruce, the unique Dawyck beech and sequoiadendrons from North America which are over 150 feet tall. Bold herbaceous plantings run along the burn. Range of trails and walks. Fabulous autumn colours. 
National Plant Collection:
Larix
spp. and
Tsuga
spp
Champion Trees: Numerous
Directions: Eight miles southwest of Peebles on B712. 
Admission: details can be found on the garden's website
Charities: Donation to SGS Beneficiaries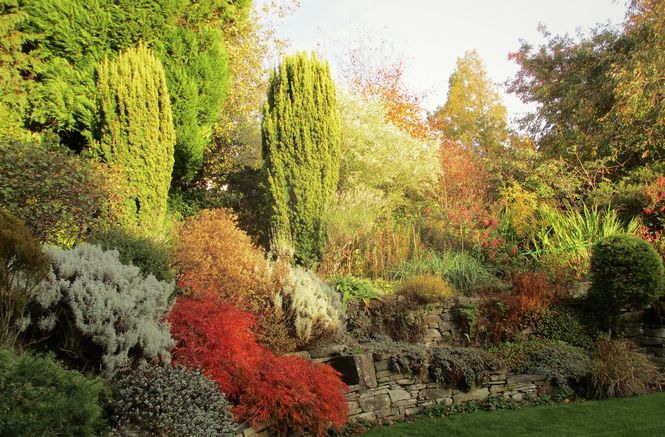 12 Glamis Drive
Dundee
DD2 1QL
John and Frances Dent
Saturday/Sunday, 12/13 October, 3pm - 7pm (2019)
046
This established garden with mature trees occupies a half-acre south-facing site overlooking the River Tay and Fife hills. Come in the afternoon for tea and cake and enjoy seasonal herbaceous planting set off by vibrant autumn colours of the trees and shrubs. Stay later to see the water features and hidden corners come to life with coloured floodlights and snippets of recorded music.
Directions: Buses 22, 73 or 5 from Dundee city centre. Please note there is no roadside parking on Glamis Drive. Limited disabled parking available at the house.
Admission: £4.00, children free
Charities: The Church Of Scotland: Guild project to tackle loneliness 30% & UK Committee Dr Graham's Homes, Kalimpong, India 30%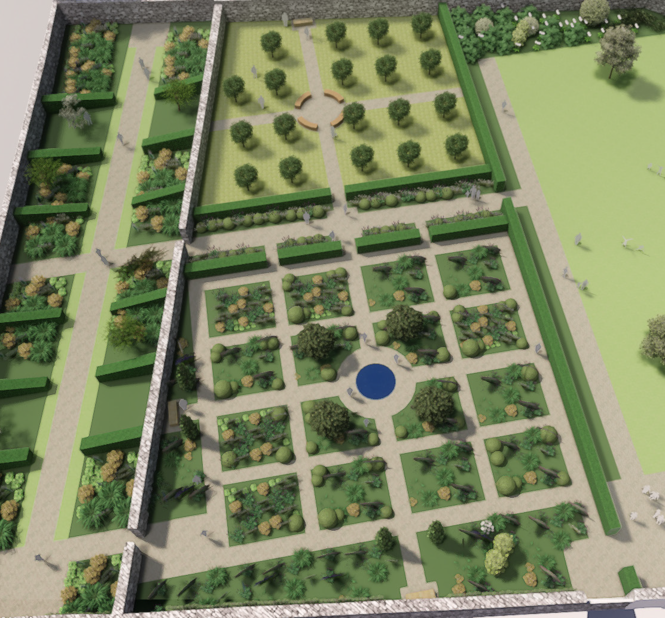 Hospitalfield Gardens
Hospitalfield House, Westway, Arbroath
DD11 2NH
Hospitalfield Trust
Saturday 26 October, 11am - 3pm (2019)
67
E:
info@hospitalfield.org.uk
Be among the first to experience the new design by Nigel Dunnett for the walled gardens at Hospitalfield. Part of the garden too will be the restored 19th-century fernery and new glass-house café designed by architects Caruso St John. The walled gardens have been cultivated from the early medieval period, from the medicinal garden and the orchard to the Victorian passion for collecting ferns. The wonderful neo-Gothic Victorian house now standing on this medieval site was designed and built by the artist Patrick Allan Fraser (1812- 1890). By autumn 2019 the Hospitalfield Trust will have completed the first phase of development and restoration of what is perhaps one of Scotland's most important Arts and Crafts buildings. A really very important part of the Trust's Future Plan is to bring great artists, architects and designers to contribute to the future of the site, and the gardens are the first element that will be made open to the public.
Directions: See website for directions and more details about Hospitalfield.
Admission: £4.00, children free
Charities: The Hospitalfield Trust 60%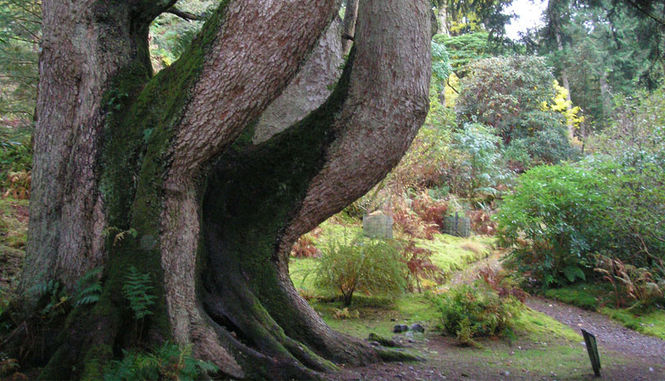 Ardkinglas Woodland Garden
Cairndow
PA26 8BG
Ardkinglas Estate
Open daily, Dawn - Dusk (2019)
6ed7
T:
01499 600261
In a peaceful setting overlooking Loch Fyne, the garden contains one of the finest collections of rhododendrons and conifers in Britain. This includes the mightiest conifer in Europe, a silver fir, as well as many other Champion Trees. There is a gazebo with an unique Scriptorium based around a collection of literary quotes. The garden now has the only Gruffalo trail in Scotland; come and find him! It is a
VisitScotland
3-star garden.
Champion Trees: The mightiest conifer in Europe and others
Directions: Entrance through Cairndow village off the A83 Loch Lomond/Inveraray road.
Admission: details can be found on the garden's website
Charities: Donation to SGS Beneficiaries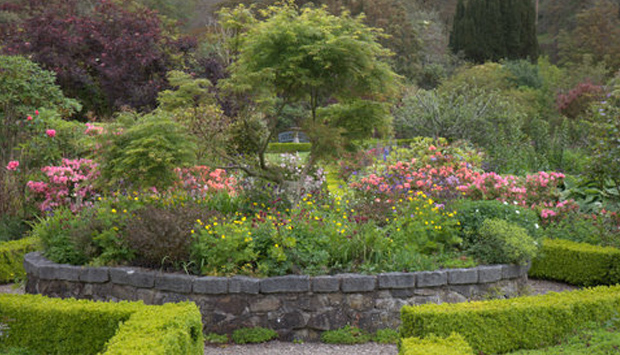 Ardmaddy Castle
by Oban
PA34 4QY
Mr and Mrs Archie Struthers
Open daily, 9am - Dusk (2019)
bc57
T:
01852 300353
E:
minette@ardmaddy.com
The gardens, in a most spectacular setting, are shielded by mature woodlands, carpeted with bluebells and daffodils and protected from the winds by the elevated castle. The walled garden is full of magnificent rhododendrons, a collection of rare and unusual shrubs and plants, the Clock Garden with its cutting flowers, the new Crevice Garden, fruit and vegetables grown with labour saving formality, all within dwarf box hedging. Beyond, a woodland walk, with its 60-foot hydrangea, leads to the water gardens - in early summer a riot of candelabra primulas, irises, rodgersias and other damp-loving plants and grasses. Lovely autumn colour. A plantsman's garden for all seasons.
Directions: Take the A816 south of Oban for eight miles. Turn right B844 to Seil Island/Easdale. Four miles on, turn left on to Ardmaddy Road (signed) for a further two miles.
Admission: £5.00, children free
Charities: Donation to SGS Beneficiaries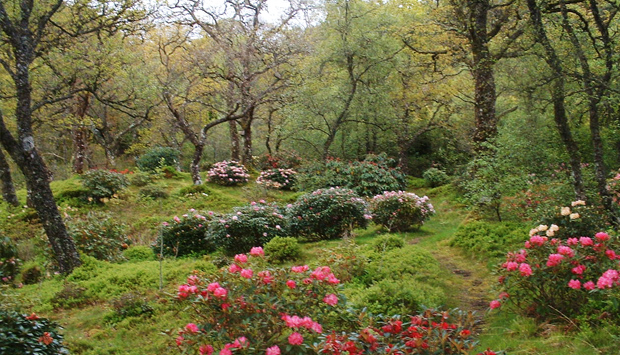 Barguillean's 'Angus Garden'
Taynuilt
PA35 1HY
The Josephine Marshall Trust
Open daily, 9am - Dusk (2019)
7
T:
01866 822333
E:
info@barguillean.co.uk
Nine-acre woodland garden around an 11-acre loch set in the Glen Lonan Hills. Spring-flowering shrubs and bulbs, extensive collection of rhododendron hybrids, deciduous azaleas, conifers and unusual trees. The garden contains a large collection of North American rhododendron hybrids from famous contemporary plant breeders. Some paths can be steep. Three marked walks from 30 minutes to one-and-a-half hours.
Directions: Three miles south off A85 Glasgow/Oban road at Taynuilt, road marked Glen Lonan, three miles up single track road, turn right at the sign.
Admission: £3.50, children free
Charities: Donation to SGS Beneficiaries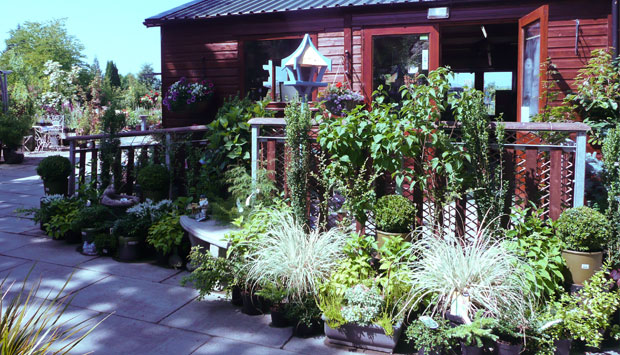 Highland Liliums
10 Loaneckheim, Kiltarlity
IV4 7JQ
Neil and Frances Macritchie
Open daily, 9am - 5pm (2019)
c57
T:
01463 741365
E:
accounts@highlandliliums.co.uk
Highland Liliums is a working retail nursery with spectacular views over the Beauly valley and Strathfarrar hills. A wide selection of home grown plants available including alpines, ferns, grasses, herbaceous, herbs, liliums, primulas and shrubs.
Directions: Signposted from Kiltarlity village, which is just off the Beauly to Drumnadrochit road (A833), approximately 12 miles from Inverness.
Admission: by donation
Charities: Donation to SGS Beneficiaries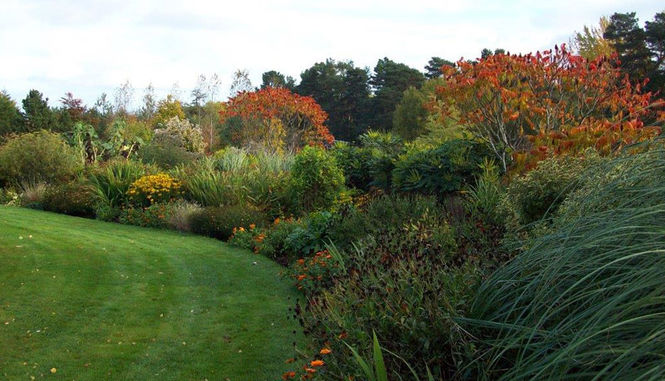 Oldtown of Leys Garden
Inverness
IV2 6AE
David and Anne Sutherland
Open daily, Dawn - Dusk (2019)
467
T:
01463 238238
E:
ams@oldtownofleys.com
Large garden established in 2003 on the outskirts of Inverness and overlooking the town. Herbaceous beds with lovely rhododendron and azalea displays in spring. There are specimen trees, three ponds surrounded by waterside planting and a small woodland area. A new rockery area was created in 2015 and is still developing.
Directions: Turn off southern distributor road (B8082) at Leys roundabout towards Inverarnie (B861). At the T-junction turn right. After 50 yards turn right into Oldtown of Leys.
Admission: by donation
Charities: Local Charities 60%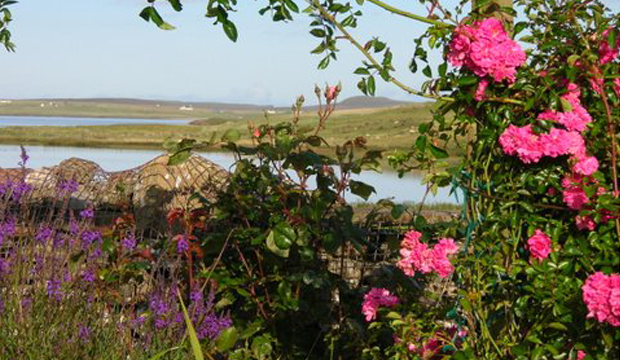 Norby
Burnside, Sandness, SHETLAND
ZE2 9PL
Mrs Gundel Grolimund
Open daily, Dawn - Dusk (2019)
4
T:
01595 870246
E:
gislinde@tiscali.co.uk
A small but perfectly formed garden and a prime example of what can be achieved in a very exposed situation. Blue painted wooden pallets provide internal wind breaks and form a background for shrubs, climbers and herbaceous plants, while willows provide a perfect wildlife habitat. There are treasured plants such as Chionochloa rubra, pieris, Chinese tree peonies, and a selection of old-fashioned shrub roses, lilies, hellebores and grasses from New Zealand. 
Directions: Head north on the A970 from Lerwick then west on the A971 at Tingwall. At Sandness, follow the road to Norby, turn right at the Methodist Church, Burnside is at the end of the road. Bus 10 Sandness - Walls. 
Admission: £3.00, children free
Charities: Survival International Charitable Trust 60%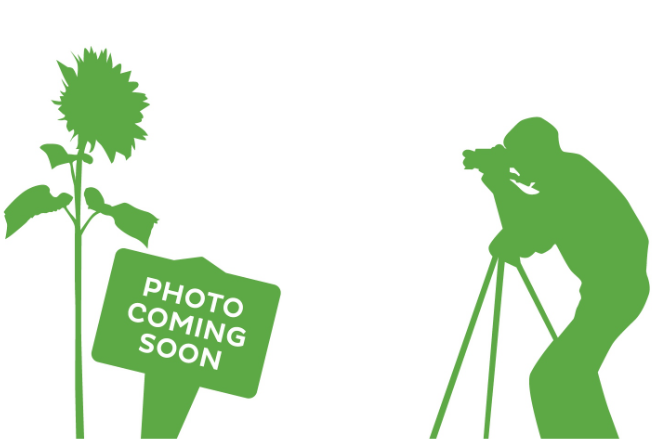 Achnacloich
Connel, Oban
PA37 1PR
Mr T E Nelson
Open daily (Saturdays only), 10am - 4pm (2019)
5d7
T:
01631 710796
E:
charlie_milne@msn.com
The 20-acre woodland garden, overlooking Loch Etive, has been planted over the last century with a wide range of trees and shrubs from Asia, China, Japan, North America, Chile and New Zealand. Many have grown to considerable size. The light woodland canopy consists of native oaks and a number of magnificent, 150-year-old Scots pines and European larch. Amongst these are open glades, carpeted with bluebells and numerous other bulbs. Two ponds and streams are planted with primulas, iris species, lysichitum, and astilbes. The woodland contains innumerable species of rhododendron and azalea, of which the triflorums : yunnanense etc. are outstanding. Amongst these are species of acer, betula, camellia, cercidiphyllum, cornus, crinodendron, drimys, embothrium, enkianthus, eucryphia, hoheria, magnolia, malus, nothofagus, pieris, sorbus, stewartia, telopea and viburnum. Beside the house is a giant Douglas fir from Douglas' original introduction. One of the first Dawyck beeches stands beside the drive. The autumn colour is very fine.
Directions: On the A85 two miles east of Connel. Car park at bottom of drive.
Admission: £4.00, children free
Charities: Macmillan Cancer Support 60%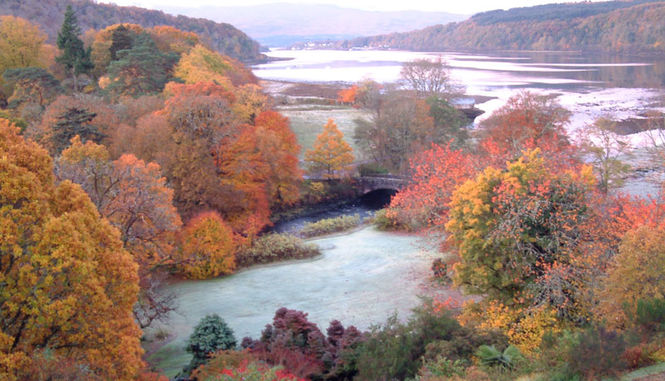 Ardtornish
by Lochaline, Morvern
PA80 5UZ
Mrs John Raven
Daily, 10am - 6pm (2019)
867
Wonderful gardens of interesting mature conifers, rhododendrons, deciduous trees, shrubs and herbaceous, set amid magnificent scenery.
Directions: A884 Lochaline three miles.
Admission: £4.00, children free
Charities: Donation to SGS Beneficiaries