Charity Floral Art Cards
by David Buchanan-Cook, Scotland's Gardens Scheme Trustee and Garden Opener at Helensbank, Fife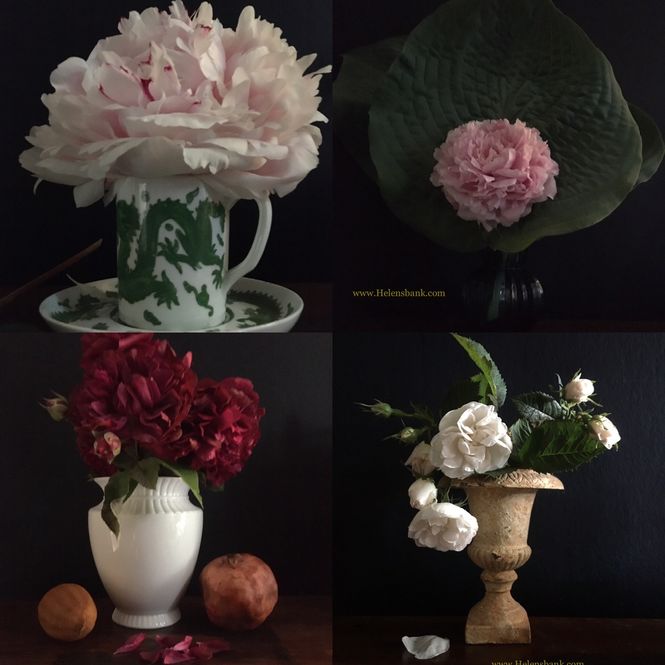 This has been a difficult year for all of us - and not least for SGS. During lockdown, many people have been giving their gardens more attention than usual, and also using the extra "free" time to pursue new or neglected hobbies.
That's certainly been the case at Helensbank. As well as the gardening, I've always had an interest in photography and I collect antique porcelain. With lots of unexpectedly free time this year, I decided to combine all three aspects in the form of still-life photographs combining flora from the garden with various vases and other vessels collected over the years.
One of my friends suggested that I should produce greetings cards with them - and this seed of an idea grew into a fully-fledged obsession! Go to the SHOP to browse.
The result is a series of art cards which are available to buy from our website. Some of the images can be seen in the attached composite pictures, each of which features four separate designs. Through friends and other contacts we have already sold a good number.
The reason for flagging this up in today, however, ties in with my opening line. Like most gardens, our takings were lower than expected this year - in particular, we had to cancel our annual concert. And of course where garden takings are down, this has a direct knock-on impact on SGS and all the hundreds of charities which we support.
So, with that in mind, we are donating 40% of the profits raised in the sale of these cards direct to SGS - therefore benefiting our national charities (Maggie's, Perennial and the Queen's Nursing Institute Scotland).
We also put together a set of Christmas cards which are available from the website.
SGS is a wonderful charity to be a part of, and I do hope you will consider supporting this venture.
Click HERE to browse all art cards by David Buchanan-Cook.