Isolation Gardening @ Maolachy: Bank Holiday Weekend - Garden Open for One
Monday 15 June, 2020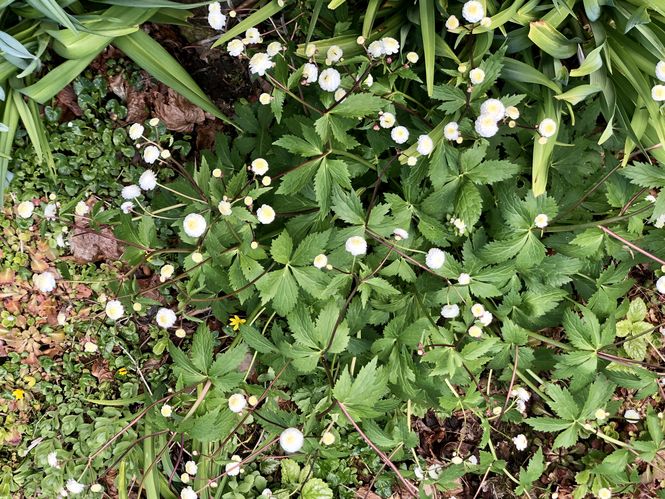 Lying snug under my duvet and several blankets looking out the open window on to the bank of forestry trees, I can see them bending back and forth making their familiar whooshing sound created in a strong wind. Looking out the other window to the front of the house, the curtains of rain squalls are sweeping up the glen from right to left, i.e. the South Westerlies, are the cause of this horrid dreary wet weather. To complete this spirit-dampening scene, the mist is low over the hills.
But there is no point in staying in bed being grumpy – it's time to get up and get on. There is a cake to bake for tea, a garden to round and jobs to be done, tea to brew and porridge to make.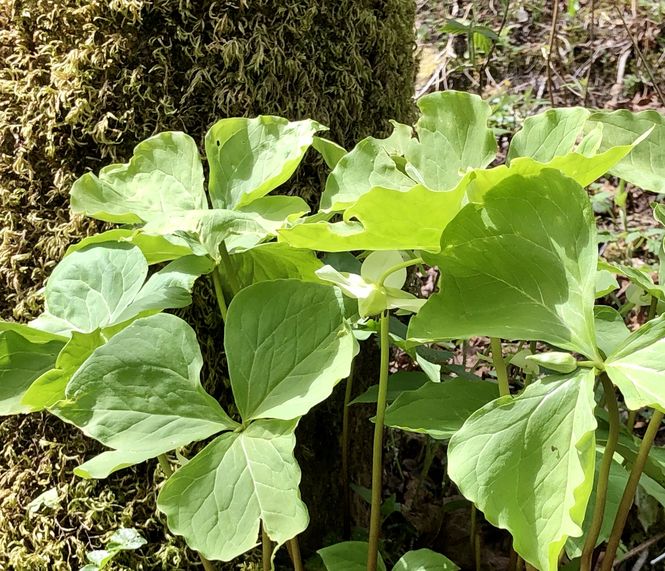 A family of young thrushes are already at their breakfast hunt as they bob up and down amongst the wee islands of pignut that I left when I mowed the front grass last week. I can't bear chopping off all their delicate cream heads as it's a favourite of the chimney sweeper moth, a tiny, dark-winged day-flying insect with a pale fringe to its wing. Also, I leave a patch or two of Lady's Smock for the orange tip butterfly. It's their preferred food source.
Well kitted up in waterproofs and boots I set off up the dank track at the back of the house to approach the wild garden from the top for a change. I also needed to check my attempts at extending fencing above a gate to try and deter the deer from jumping to get in by that route.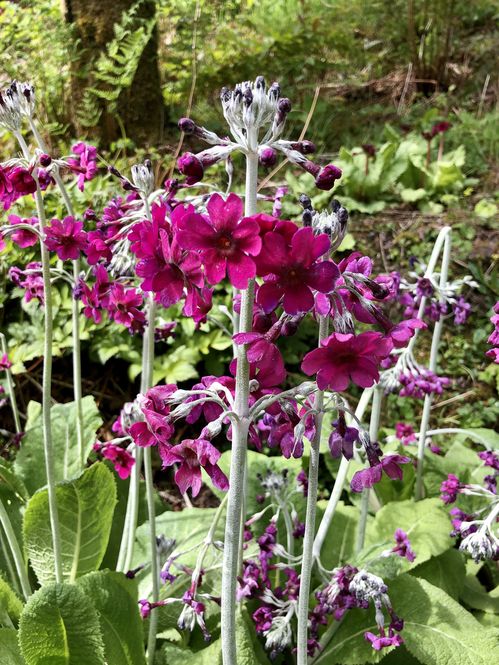 I noted a lot of trees have grown and branches are resting or hanging through the door fencing and that chopping all that back is a task I must do and can be done on wet days.
I treated myself to a new saw called a Stihl Silky (as recommended) as very sharp and with its double teeth cuts both ways. I decided I would get one for my birthday present to myself and rang the suppliers. Yes they had them in stock and the price OK but £5.90 P&P as under £50.00.
"Oh! Do you have any secateurs?"
"Yes – what make? Felco?"
"Yes, Right or left handed?"
"Left-handed, please."
Then the joke is on me as the sum taken from my card is twice the amount first quoted for the saw but the P&P was free!
I am hoping this summer to take more cuttings of various shrubs like Physocarpus, Skimmia, Olearia, Salix Lanarta, Philadelphus and Deutzia. A good excuse for new sharp secateurs.
I digress from my garden tour. The sharp wind has blown off masses of new leaves and flower bracts off chestnut and lime trees.
The arctic blast of the North Westerly wind has frazzled the new oak leaves, burnt some beech leaves but thankfully left the maples alone.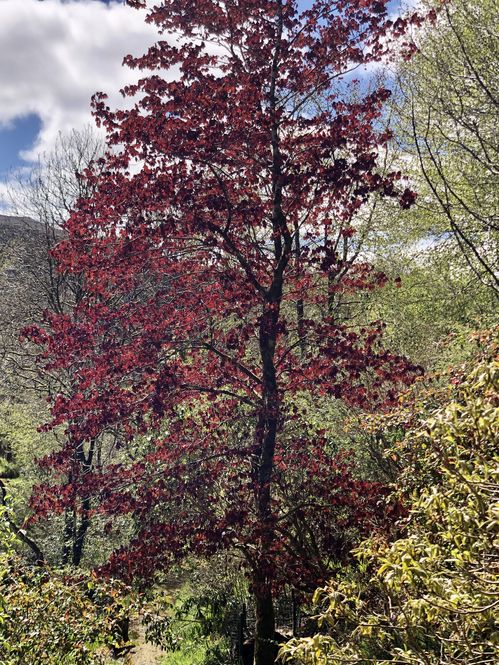 A Crimson King Maple Platanonoides was given to our first born by her godfather and arrived, just squeezed, into his 'pride and joy' MG. We planted it above the pond and it settled in well and then it suddenly looked dead. Two leaves on a slim stem appeared from its trunk and those brave signs of life are now, 42 years on, the strong straight elegant tree whose deep red leaves look so lovely against a blue sky. At its base, I had planted the Trillium that Hilary Hill gave me years ago and they flowered again this Spring. They have remained a happy memory of a good local friend and very knowledgeable gardener.
The Primula Pulverulenta have struggled in the dry spell in April and then the cold winds but the Japonica 'Millers Crimson' and a small clump of 'Postford White' have a more robust shorter stem and are now coming into flower. Their deep red petals are a lovely constrast to the purply blue speares of bugle which are coming up everywhere. They, along with the bluebells, stitch wort and pignuts are all giving one some cheer and hope.
The double white Ranunculus Aconitifolius 'Flore Pleno' thankfully haven't been nicked by the frost and displays its gorgeous white button heads. One of my favourite plants.
Cynthia, the blousey pink Rhody on the far bank was a layered cutting from Mike Renolds at Connel. She held back her flowers from the frost to come out this weekend. I think of her as the conductress of the ----- Azalea choir on the bank opposite her, behind the pond. She would raise a baton and say, "On the count of three..." and out would burst that wonderful scent and mix of shades of yellow, orange and apricot. Total silence this Spring however, as everyone has been caught by the cold wind and frost. A sad bank of bare sticks and shrivelled leaves meets me. There is the odd, sheltered bloom amongst them which I stick my nose in, breathe deeply and commiserate with the shrubs.
This is definitely a year in which not to feel defeated and take the sights and sounds that restore our wellbeing and let them make us feel glad. Home to put the kettle on and try a piece of cake which just worked out OK, despite the fact that I only put half the quantity of flour in the mix!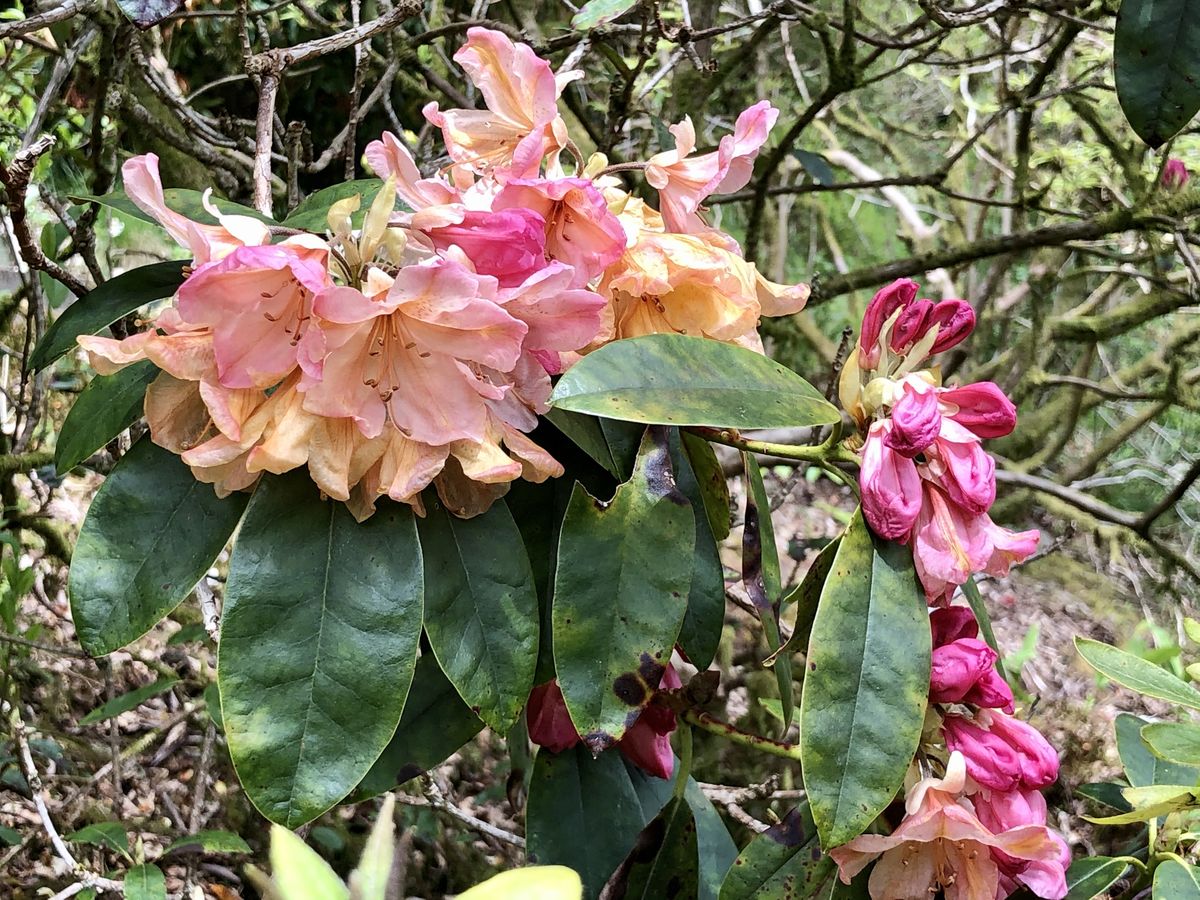 rhodie.jpeg