Mr Lowry's visit to Clayfolds, Kincardineshire, 25 June 2017
Tuesday 27 June, 2017
I love this time of year around mid summer; long days, nice early mornings - up with the lark shaking 'The Team' out of bed, for my early morning walk! Hee, hee, that keeps them on their toes!!. Wait a minute now that we are back from the park they are not doing the usual Sunday chill thing what's up? Where's 'HQ' mmmmnnn in the kitchen sandwiches, flask fruit must be a long day ahead; bother I had other plans. Ah, ah that's it 'The Boss' is at the cameras we must be for the off, maybe a picnic and a spot of beach walking, ideal birds and dead crabs - goody!!! We will see.
Well its north over the bridge and up we go, my goodness this is taking for ever I wonder where we are going this early in the day, quick stop at some temple of horticulture 'The Boss' calls Glendoick; apparently they have opened for Scotland's Garden Scheme for many years with wonderful displays of rhododendrons, magnolias and meconopsis.
However, it is the garden centre today that he is here for, the result of which is that I have to share the back seat with two very large shrubs and a big tree for the next part of the journey. Trust, 'The Boss' you can't take him anywhere you know.
Mr Lowry's visit to Clayfolds, Kincardineshire, 25 June 2017
We set off again, the next stop being a lovely cobble beach at Inverbervie, which was great apart from the lack of dead crabs, something that 'HQ' was particularly pleased about, I wonder why! Apparently, they upset my tummy. Next we meandered further up the coast along narrow lanes filled with wildflowers to the village of Catterline; the former home of the artist Joan Eardley, where we had a picnic, very pleasant indeed.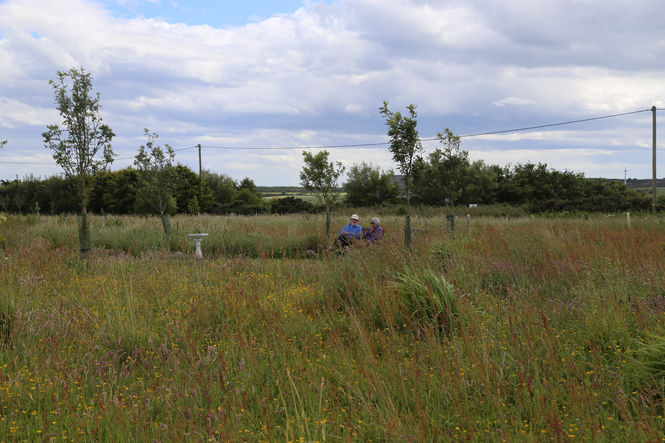 Clayfolds, Kincardine and Deeside ©
Back into the car again we set off arriving twenty minutes later under blue skies and sunshine at Clayfolds, a garden, which according to 'The Boss' was opening for the first time. This makes it very important, as apparently he needs more people to open gardens for the charity so we can raise more funds to help others.
Well, it was simply great and very busy, I wanted a look round straight away but firstly I had to have my picture taken and meet some of the visitors, something I love and it is always a pleasure to do. Then 'The Team' had tea and cakes and I got several treats and a lovely drink of cool Aberdeenshire water.
'HQ' and I chilled in the sun whilst 'The Boss' scurried here and there with his note pad and camera, getting excited about Red Admiral butterflies feeding on the white flowered evergreen shrub from New Zealand Hebe macrantha, he was also taking pictures of Dotted Loosestrife Lysimachia punctata an all too often forgotten 'old stalwart' so he says. Then there were drifts of Lady's mantle Alchemilla mollis lots of Foxgloves, plus a nice clump of orange yellow spikes belonging to an early flowering Kniphofia galpinii. Tucked into one border was an especially nice group of Nectarscordium subsp bulgarium; a charmer, with its nodding off-white bell like flowers, which are streaked with green and purple; Honey Garlic or a fancy onion to me. However, I am getting quite garden orientated since I started all these outings, its magic.
After exploring the pond area and the interesting sculptures, plus a quick look for the chickens, it was off into this giant new meadow, which had wandering cut grass paths, including a meander down to a large lily pond.
The real treasure here so 'The Boss' noted was the native population of Northern Marsh Orchids Dactylorhiza purpurella, once you got your eye in these lovely little purple spiked moisture loving orchids were everywhere among the butter cups.
Sitting on a bench looking across the rolling farmland 'The Team' thought it was a very approachable garden. Filled with inspiration, somewhere that sits well in the landscape, we were all glad we had travelled further afield and made the effort to come along.
Undoubtedly, 'The Yellow Book' is full of surprises both new and old.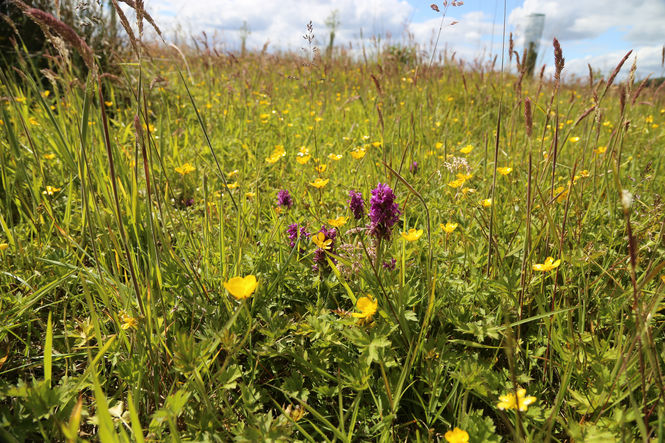 Northern Marsh Orchids (Dactylorhiza purpurella), Clayfolds, Kincardine and Deeside ©
However, all too soon it was time to leave as we had another evening appointment in Angus, where I was going to meet my good friend Terrill and her husband Gavin. 'My', that was a treat as well; I am so lucky, what a lovely garden. I even had a long run on the lawn, beautiful, what a privilege, as they don't normally allow dogs as they have one or two of their own, as well as Highland Cattle in the field often with young calves. Quite a sensible approach I thought. Called, ' The Herbalists Garden at Logie' it is open on the 29th and 30th of July; do try and pop along you will not be disappointed. There is lots of shaded parking among the trees should you need it.
Looking back it was a long day but well worth it, and I felt the better of it, to say nothing of all I had to dream about as I snuggled into my basket on the Monday for an extended snooze. You should try it readers, it works!
See you all again soon, bye for now.
Mr. Lowry.
With thanks to the 'Team'.