Mr Lowry's visit to Lawton House, Angus, 12th March
Tuesday 14 March, 2017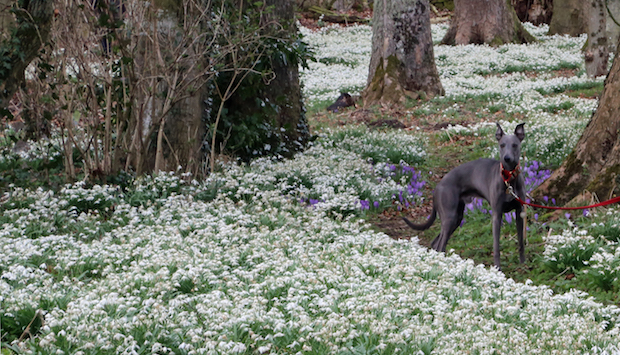 Mr Lowry's visit to Lawton House, Angus, 12th March
Aah! Sunday morning, long lie in, big stretch, oooohhh, oohhmmnnnnn. Hang on, 'The Team' is up and about early- there goes my extended snooze! That's what it is, she's cooking chicken in the slow cooker; good tit bits later if I am lucky. Wait a minute, he 'The Boss', is sorting out jackets, my coat, cameras, leads, dog bags and all sorts; where are we going now! I wonder? Then I spotted it on the hall table - the Yellow Book, goody it must be a garden, lots of new sniffs for me with other 'stuff' to keep them amused and out of my hair.
Bring it on you guys hurry up, but first where is my breakfast? Done with that we are soon over the Forth and zipping along the motorway nicely; with lots to look at out of the window. Including a huge skein of geese, shaped like a gigantic mechanical arrow in the sky; yip it's Spring and it looks as if we are heading North again at last; after a long winter.
Travelling up the A90 and then along the A932, by Roscobie Loch, all the time in beautiful scenery with well-kept farmland we soon reach our destination. The charming and timeless Lawton House; tucked in by the edge of a field both surrounded by meandering woodland. Following a lovely welcome conversation with the owner, who was very pleased and most interested to meet me for reasons you will discover later; we set off along the circular trail ' The Team' in tow as I take the lead.
The beech woods, with holly and ivy growing in parts, are delightful with an abundance of snowdrops throughout.
The path edges, in places are framed with ribbons of purple crocus; this gives a magical effect rarely seen in gardens according to 'The Boss'.
What is he up to now? You cannot take him anywhere you know, without him getting excited about plants! I ask you, what's all the fuss about - when there are lovely chickens strutting their stuff in the hen run and then there is the cat! A stalking 'tabby' no less; whom I shall just ignore on this occasion with my usual aloofness, as I am a guest.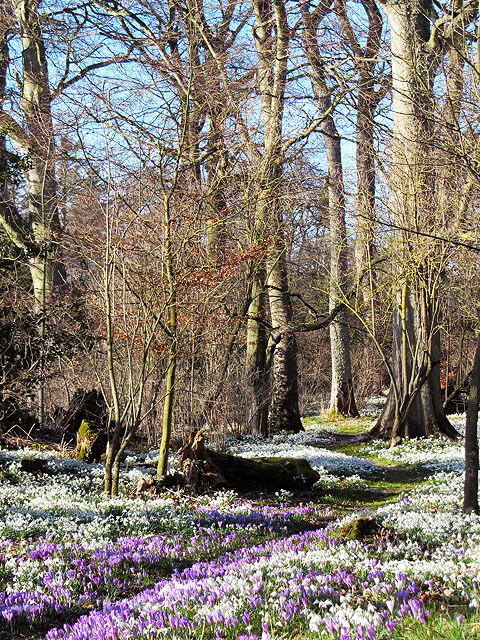 Lawton House, Angus and Dundee©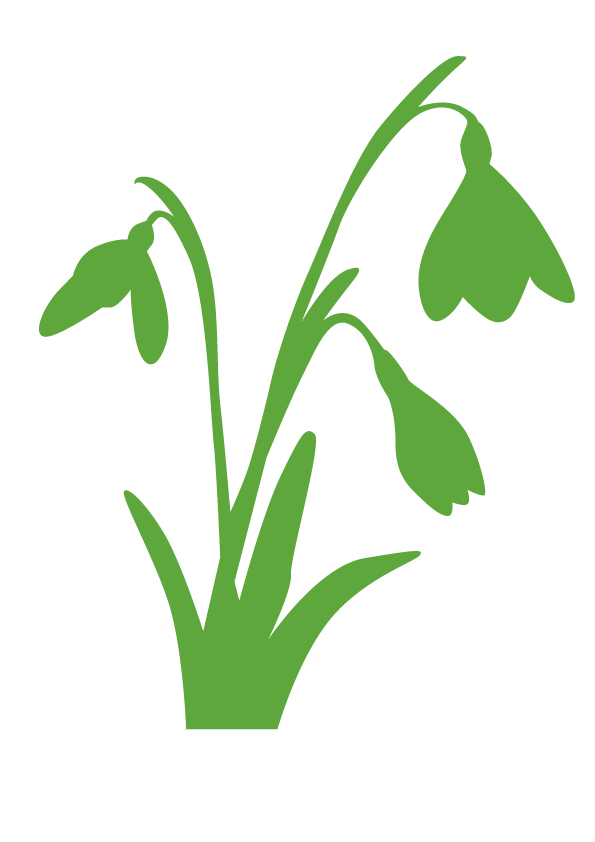 Now, I see what he is on about; a very nicely planted border filled with early flowering jobs including Grape Hyacinths Muscari botryoides, Winter Aconite Eranthis hyemalis, two different Lungworts Pulmonaria saccharata and P. angustifolia, Daffodils Narcissus pseudonarcissus and various clumps of different light and dark coloured forms of Helleborus x hybridus. There are even willow catkins Salix sp. dancing in the breeze, above patches of Lords and Ladies Arum italicum 'Marmoratum'; each resplendent with their silver splashed deep green heart-shaped leaves. It is wonderful, the effects you can create this early in the season with the right plants. What's he muttering now! Oh, something about 'must get round to that winter border at home - complete with Dogwood stems and Witch Hazel' good idea mate, I will help with digging! Hee hee.
Further along the path we stop for my photo shoot 'the things I do for a biscuit' but I admit I do enjoy it, otherwise I would not do it for them. They 'The Team' think they are in charge. Who are you kidding; humans just don't get it you know. They think they own us dogs; but it is really the other way around. We own them, and they work around us and care for us all in return for a wag of the tail. And in the case of 'the Boss' an excuse to avoid doing the dishes by taking me out. It keeps him quiet, so I play along.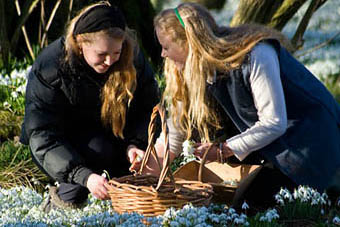 Girls picking snowdrops at Lawton House, Angus and Dundee©
Now, who is this young person coming along the path towards me with tiny pink wellington boots covered in stars? Hello, I enquire, what's your name? I am called Amelia, says a tiny voice. Nice to meet you, I reply.
Gentle Lowry; remember your manners say's ' The Boss', as if I would be naughty. Amelia and her family tell me that it was nice to meet up and that I am a good looking dog with lovely coat. That makes me smile before heading off around the wood to see what else I can find.
Next, we meet another two youngsters; Charlie and Libby, who make a big fuss of me, before being allowed to give me some healthy treats from 'The Bosses' pocket. Great stuff these garden visits, you meet so many interesting people having a family day out.
Talking of which, as we head back to the car the nice gentleman whom we met at the beginning comes up again for a chat, telling 'The Team' that he has a surprise for me. What is it I wonder? Ah, ha, that's it! His special pals; not one, but two girls! Hester and Luna – both whippets like me. We do the special whippet dance together, before sharing life's experiences with a sniff or two. This is great, just the way to spend a Sunday afternoon!
Where do the Team find these great venues, I enquire? Simple, they say, dog friendly gardens all noted in the 'Yellow Book'. Check that out readers, you never know what you will discover.
Prior to departure ' The Team' head off for a lovely cup of tea in the kitchen; I am later told it was complete with home made shortbread and cinnamon flavoured flapjack, yummy! Well, I have got to keep 'The Team' happy I suppose; after all they did bring me along. As for me, I opted for a drink and a special biscuit and then a welcome power nap in peace, while they were away; just the business, before the car journey home.
Reflecting on this latest adventure I cannot wait to see where we end up next, maybe a castle or a walled garden perhaps; we shall see. Now reader's, it is time for another snooze with sweet dreams about those delightful Angus whippets - Hester and Luna - it's a dog's life you know. Till next time.
Mr. Lowry.
With thanks to the 'Team'.