Muddy hands and happy children
Wednesday 11 April, 2018
Scotland's Gardens Scheme is thrilled to be celebrating VisitScotland's Year of Young People. Many of our garden openings will be hosting children's activities and we are also partnering with the Scottish Storytelling Centre to co-host 'Growing Stories'', storytelling events in Scotland's finest gardens.
Over 80 gardens will be hosting all sorts of children's activities: from willow crown making at the Hill of Tarvit plant sale, Fife to duck races at Highwood in Renfrewshire. Lots of gardens will have special treasure hunts and garden quizzes, from the wildlife garden at Bruckhills Croft, Aberdeenshire to the urban garden at 101 Greenback Crescent, Edinburgh and even fairy trails at Ardtornish, Argyll and the Netherthird Community Garden, Ayrshire.
Garden owners will introduce children to herbal medicine, beekeeping and the benefits of a wormery, by making marshmallows from scratch and creating 'worm tea'!
The Japanese Garden at Cowden, Stirling has a chopstick challenge whilst younger visitors at to Glen House, Peeblesshire will be invited to take part in the poetry competition!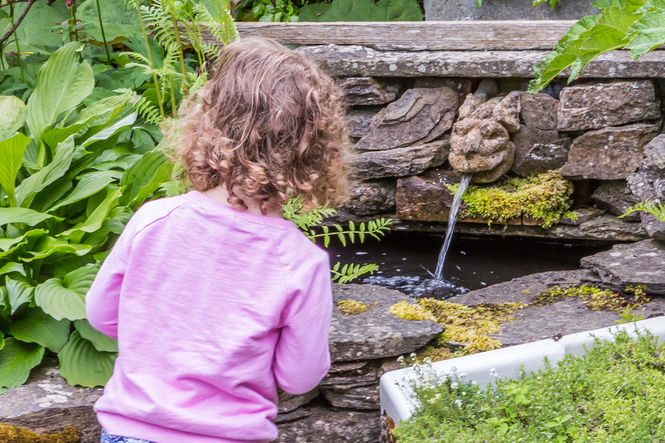 A little girl is mesmerised by water at Duncan Street gardens, Caithness ©Colin Gregory
However, it doesn't take treasure hunts or poetry competitions to create a fun day out for all the family. Gardens are magical places all on their own, with lots of nooks and crannies to explore.
The extra special element with gardens that open with Scotland's Gardens Scheme is that many are private gardens, which are not usually open to the public. Make the most of this wonderful opportunity to explore a secret garden near you.
It's great to get children involved in the power of nature, get them hunting for ladybirds or counting pine trees. Scotland's Gardens Scheme have also created garden activity sheets which you're welcome to print out and take to your next garden visit!
Looking for a new way to explore some of Scotland's finest gardens?
Join Scotland's Gardens Scheme and The Scottish International Storytelling Festival in "Growing Stories". A fun packed way for all ages to explore some of Scotland's Gardens. See gardens with new eyes once you hear stories, from local storytellers, about their creation, history and interaction with the environment.
Each garden has it's own story waiting to be heard. For a full list of gardens hosting storytelling, read our blog on storytelling.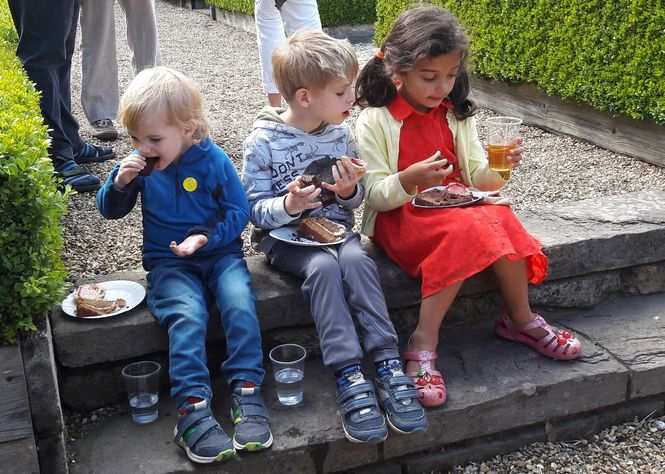 Mmm cake, three younger garden visitors enjoy chocolate cake after an afternoon of garden exploration ©
Let them eat cake.....
As well as hundreds of gardens to explore and lots of children's activities to enjoy, there is cake!
At over 250 gardens visitors can enjoy yummy refreshments, from hot soups to homemade cakes and cream teas.
That's lots of happy faces, happy tummies and happy children!
Want to find more new gardens and garden events, we've got lots of exciting news for you on our 'What's New' page...just take a look:
{"wrapAround":true,"parallax":true,"adaptiveHeight":true,"imagesLoaded":true,"draggable":false,"fullscreen":false,"autoPlay":true}