Peonies and Prosecco at Binny Plants
Tuesday 12 June, 2018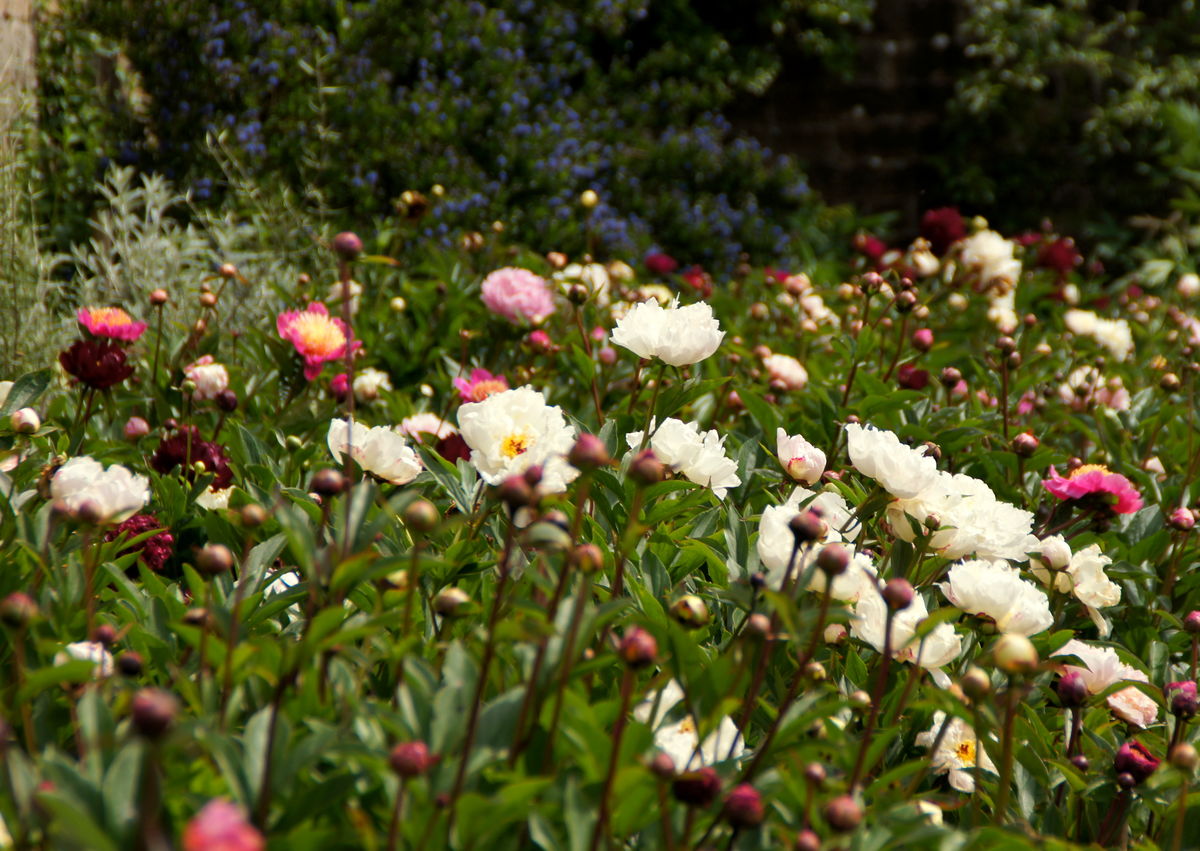 Mid and late paeonias in the walled garden at Binny Plants
Binny Plants is a leading nursery, just outside Edinburgh, and is a specialist on peonies with over 300 on site. Nurseryman Billy Carruthers will lead a walk and talk on Saturday 16th June around the nursery to raise money for Scotland's Gardens Scheme.
We've all the seen snippets of the royal wedding, and the archways of white and cream roses, stocks, foxgloves, beech and birch foliage and the bride's favourite, peonies. Billy's tour on Saturday 16th June, 3-6pm is a fascinating insight into the world of peonies and a chance to take some home afterwards to royally adorn your own green patch. Visitors will be treated to a complimentary drink upon arrival.
Billy will guide visitors around the site and see some of his 300 plus peonies, including some of the varieties that might have been used at the royal wedding. Billy has recently returned from exhibiting Chelsea Flower Show, where he brushed shoulders with the likes of Chris Beardshaw who won Best Show Garden for the Morgan Stanley Garden for the NSPCC and Mark Gregory Winner of the Space to Grow Garden People's Choice Award 2018: Welcome to Yorkshire, which also won a Gold Medal in the Show Gardens category. Quoted as being one of 'Scotland's best plantsmen, lecturers and designers' Billy will clue in visitors with his top peony tips and recommendations.
Binny Plants, acclaimed as one of Gardens Illustrated's 50 best plant nurseries in the UK, is situtated outside Edinburgh in what was once the old, walled kitchen garden of the Binny Estate. The nursery has one of the biggest range of peonies in Britain, from old cottage classics to modern cultivars.
The peony and prosecco event is raising money for Scotland's Gardens Scheme, a charity established in 1931, which helps garden owners across Scotland open their gardens to the public to raise money for charity. The net remainder of the money raised at this event is donated to Scotland's Gardens Scheme beneficiaries: Maggie's Cancer Caring Centres, the Queen's Nursing Institute Scotland, The Gardens Fund of the National Trust for Scotland and Perennial.
Tickets for the tour, £6 per person, are available at the gate or before the event from Binny Plants and Scotland's Gardens Scheme office (0131 226 3714) and Edinburgh committee (Edinburgh@scotlandsgardens.org).
Billy Carruthers, nurseryman, says "Peonies are everyone's' favourite flower and they are here for such a short period of time in the year, so do come along and see them at their finest".
Terrill Dobson, National Organiser, concludes that "Scotland's Gardens Scheme is delighted to be organising this walk and talk event with Binny Plants, especially on a plant that it is such a current favourite! It's wonderful to have the support of such a well renowned member of the horticultural world to help raise money for our beneficiaries."