Portrack House Announces 2016 Dates
Monday 9 May, 2016
The Garden of Cosmic Speculation, Portrack
We are delighted to announce that Portrack House will be open for Scotland's Gardens on Sunday 1 May 2016 from 12pm-5pm.
Tickets are pre-sale only. More information on the garden can be found here.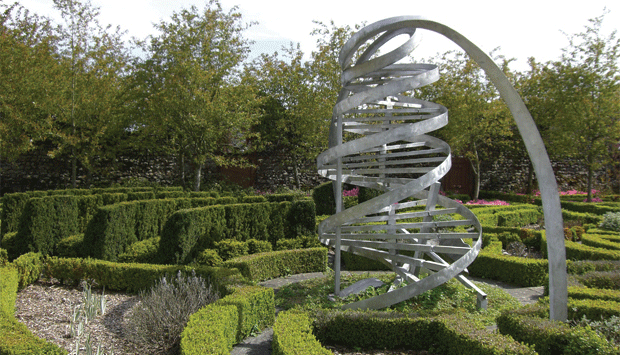 Parking
Parking is provided in fields next to the garden. The car park will not open before noon. You will be directed to a space by the attendants. Buses may be accommodated, please phone Scotland's Gardens in advance 0131 226 3714.
Dogs
You may bring a dog to the garden. It must be kept on a lead at all times and any dog mess must be cleaned up by the owner.
Catering
Teas, coffees, scones and cakes available, no hot food.
Entertainment
There will be a pipe band playing on the day.
Contacts
We do not have a telephone number or email address for Mr Charles Jencks. If you wish to contact him please write to him at Charles Jencks, Portrack House, Holywood DG2 0RW.
Directions
Hollywood one and a half miles off A76, five miles north of Dumfries.
Disabled Access
There is disabled access through some paths, but others may be too sleep or slippery. There are no disabled toilets.
Charities
Maggie's Cancer Caring Centres receives 40% of the takings, the net remaining goes to Scotland's Gardens Beneficiary Charities.