13 Spectacular Scottish Gardens to Visit this Autumn
Friday 4 October, 2019
October is a perfect time to walk amidst trees in the full glory of their autumn foliage. Nothing will get you in the mood for autumn like these charming gardens filled with vibrant colours of trees and shrubs. Why don't you pop in and soak up the sights and smells of autumn?
ARDCHATTAN PRIORY
North Connel PA37 1RQ
Why visit: The garden overlooks Loch Etive and offers spectacular views.
Late herbaceous plants, hydrangeas and berries along with shrubs and trees are especially pretty in autumn. The garden features a mature rockery, extensive herbaceous and rose borders to the front of the house. The Priory, founded in 1230, is now a private house. The ruins of the chapel and graveyard are in the care of Historic Scotland and open with the garden.
Dates for your calendar: Open until 31 October, 9:30am - 5:30pm (2019)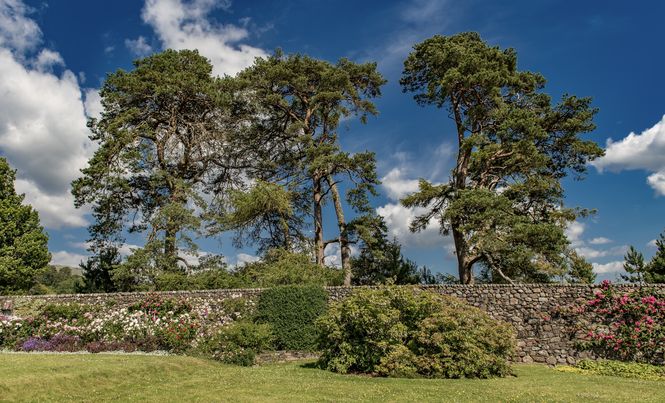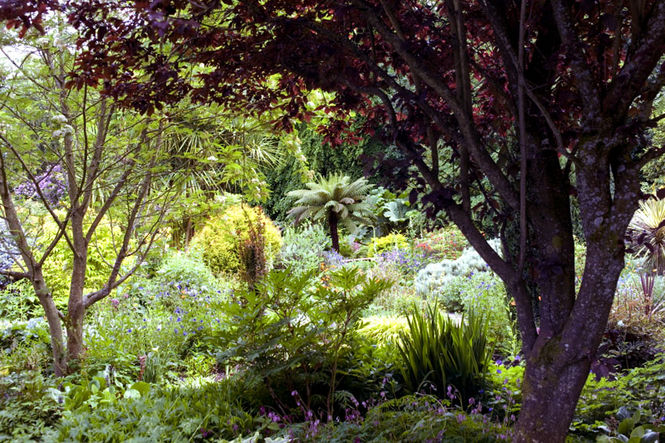 Ascog Hall ©Andrea Jones
ASCOG HALL GARDEN AND FERNERY
Ascog, Isle of Bute PA20 9EU
Why visit: Come and see the Britain's oldest exotic fern, a 1,000-year-old Todea babara or king fern.
Experience the Fernery, gardens and stable ruins. Within its 3 acres on the Isle of Bute are contained an array of flora and a Baronial style mansion. Look inside a magnificent Victorian Fernery, a gilded structure fed by natural spring waters and housing many rare and unusual fern species. Have a wander through the original garden 'rooms' and discover the stables and coach house ruins that remind of long-lost times. Plants for sale.
Dates for your calendar: Open until 31 October, 10am - 5pm (2019)
Why visit: Fancy something different? Stay later to see the water features and hidden corners come to life with coloured floodlights and snippets of recorded music.
This established garden with mature trees and seasonal herbaceous planting occupies a half- acre south-facing site overlooking the River Tay and Fife hills. Tea and cake will be served.
Dates for your calendar: Saturday/Sunday, 12/13 October, 3pm - 7pm (2019)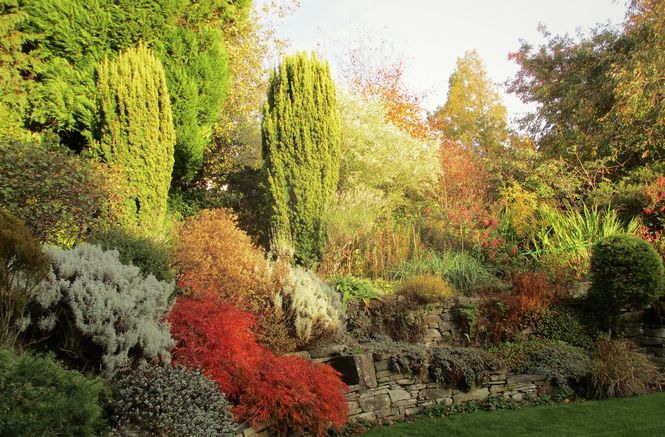 12 Glamis Drive ©
CAITHNESS, SUTHERLAND, ORKNEY & SHETLAND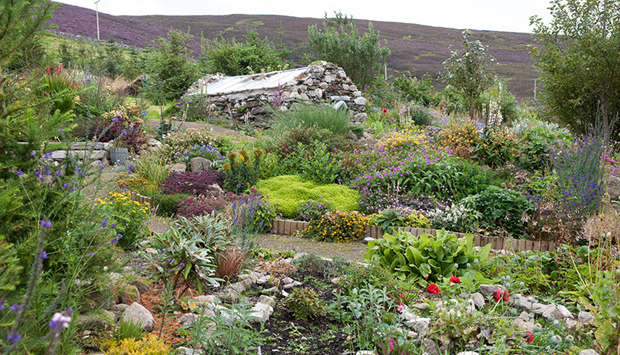 Lea Gardens ©Andrea Jones
LEA GARDENS
Tresta, SHETLAND ZE2 9LT
Why visit: For a must-see plant collection, consisting of 1,500 different species and cultivars from all over the world, including phyto-geographic elements of collections of plants from New Zealand, South Africa and South America.
Lea Gardens, created over three decades ago, now spans nearly two acres. Wide collection of plants provides all-year-round interest. It has been divided into a variety of habitats: woodland and shade, borders, wetland, raised beds, and acid and lime lovers.
Dates for your calendar: Open until 30 October (not Thursdays)
EDINBURGH, MIDLOTHIAN & WEST LOTHIAN
WHITBURGH HOUSE WALLED GARDEN
Pathhead, Midlothian EH37 5SR
Why visit: With its ponds, sculptures, and graphic quality of clipped foliage, this garden is a living artwork and it may even bring out an artist in you.
This contemporary, stylish one-acre walled garden, 700 feet above sea level, is a lively forward-looking and unexpected gem. It includes many perennials, grasses, annuals, fruit and vegetables. A spiral path will take you through an acre of white birches. The garden has featured recently in Gardens Illustrated and other publications.
Dates for your calendar: Open by arrangement until 18 October (2019)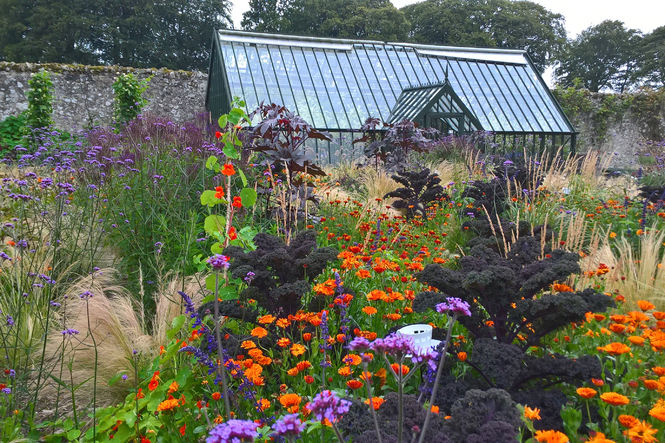 Whitburgh House ©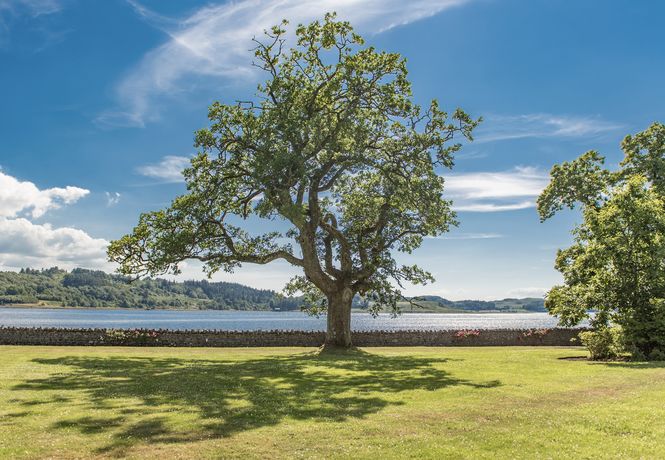 Ardchattan Priory ©Nick Edgington
ST FORT WOODLAND GARDEN
St Fort Farm, Newport- on-Tay DD6 8RE
Why visit: For its striking late autumn foliage, when the garden potentially surpasses its spring glory in terms of hues!
The design was inspired by a visit to Ruskin's woodland garden at Brantwood. Azaleas and specimen rhododendrons dominate in the garden. Around 30 acres, Northwood is home to red squirrels, and offers spectacular views northwards over the River Tay. Other captivating plants are eucryphia, cercidiphyllum, tulip tree, various red acers, rowans, liquidambar, metasequoia and magnolias.
Dates for your calendar: Open by arrangement until 31 October (2019)
INVERNESS, ROSS, CROMARTY & SKYE
Why visit: This gorgeous garden comprises of different rooms packed with number of features and creates a sense of tranquillity and alignment.
This Scottish Highland garden includes outstanding water gardens, old rhododendrons, unusual trees and a fern collection in a geodesic dome. There is also a sunken fern garden, a waterfall into a pool with dwarf rhododendrons, sunken garden, Peace Garden and kitchen garden. Other features include a conservatory, Japanese Garden, sculpture collection and giant sundial.
Dates for your calendar: Open until 31 October, 10am - 5:30pm (2019)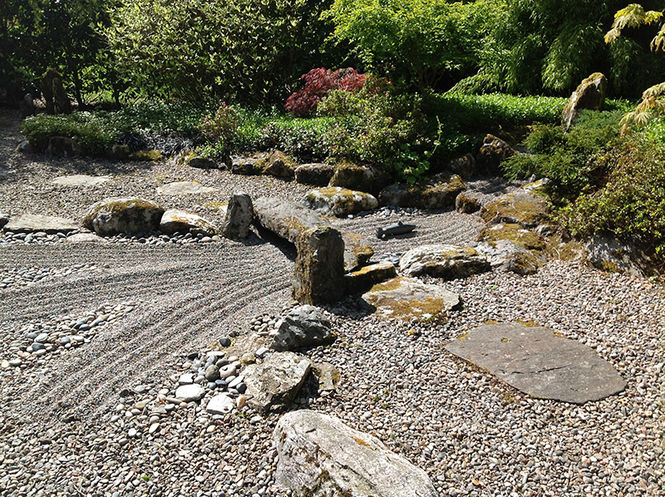 Attadale ©Alec Cormack
Do you have a garden with a of space? Speak with our Garden Openers and take away a list if trees, shrubs and herbaceous plants to brighten your landscape throughout seasons. Some of them even sell plants.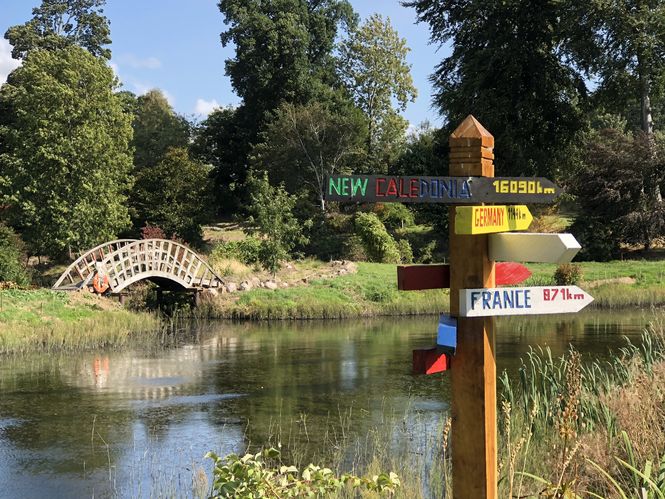 Burgie ©
BURGIE
Between Forres and Elgin IV36 2QU
Why visit: Most plants are grown from hand collected seed and propagated in the Georgian greenhouse.
This sizeable woodland garden established only in 2005 has a significant collection of rhododendrons, sorbus, alder, birch and tilia. On top of that, the visitors can admire many unusual trees from around the world. The arboretum is zoned into geographic areas and species type. It includes a Japanese Garden, bog garden, bog wood, loch and Quarry Garden.
Dates for your calendar: Open until 31 October, 8am - 5pm (2019)
DAWYCK BOTANIC GARDEN
Stobo EH45 9JU
Why visit: Significant collection of rare trees and shrubs including Champion Trees. A feast for the eyes!
Dawyck is a world-famous arboretum with mature specimens of Chinese conifers, Japanese maples, Brewer's spruce, the unique Dawyck beech and sequoiadendrons from North America which are over 150 feet tall. Bold herbaceous plantings run along the burn. Range of trails and walks. Fabulous autumn colours.
Dates for your calendar: Sunday 6 October, 10am - 5pm (2019)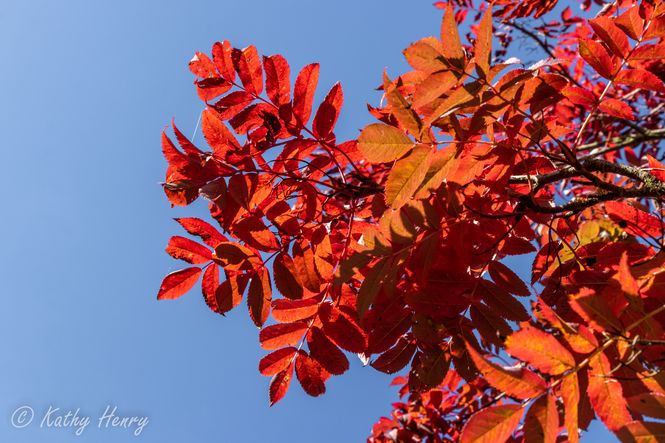 Dawyck Botanic Garden ©Kathy Henry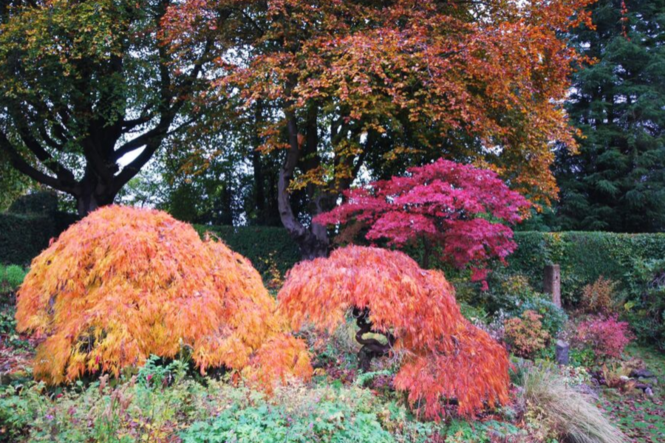 hollytree-lodge.png ©
HOLLYTREE LODGE
Muckhart, Dollar FK14 7JW
Why visit: Perfect backdrop for your seasonal photos, with Metasequoia glyptostroboides, Persian ironwood and acers, colouring beautifully in autumn.
This serene one-acre garden was featured in Country Homes & Interiors January 2018. Divided into 'rooms' it includes a small Japanese garden, mini orchard, wildflowers, rill and wildlife pond, mixed herbaceous borders, a variety of unusual trees, shrubs and a good collection of rhododendrons and azaleas, snow gum, Metasequoia glyptostroboides, Persian ironwood and acers, many producing spectacular autumn colours.
Dates for your calendar: Open by arrangement until 31 October (2019)
Why visit: The gardens of Marquis of Lothian and the Kerr family consist of a number of differently designed gardens, each leading to the next and offer an array of special plants, great colour, and innovative designs and ideas.
From herb garden to rose garden to water garden linked by bridges to river garden with herbaceous and shrub borders of foliage plants – this Designed Landscape has got lots to offer. Recently added Garden of Persistent Imagination was created with an intention of providing space for quiet meditation and contemplation of the combined effect of plants and stones.
Dates for your calendar: Open until 31 October, 12pm - 5pm (2019)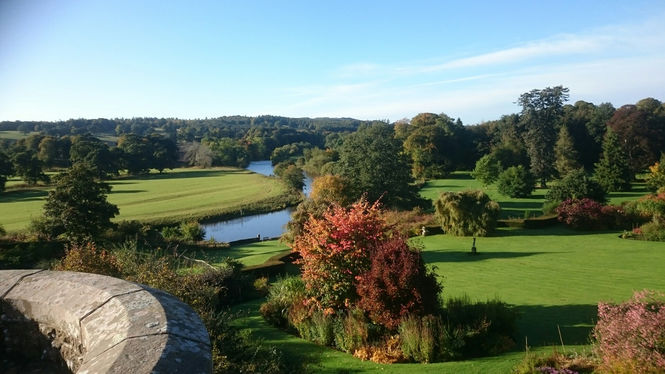 Monteviot ©
Dun Dubh ©
DUN DUBH
Kinlochard Road, Aberfoyle FK8 3TJ
Why visit: This late Victorian garden is set on a series of terraces and slopes, which run down to the shores of Loch Ard, with superb views west to Ben Lomond. A developing woodland garden leads on to a formal late summer herbaceous border and terraced heather garden, all providing wonderful autumn colour.
There is an enclosed, colour-themed formal garden laid out on three terraces and a new Victorian-style glasshouse overlooking a terraced kitchen and fruit garden. The formal paved terrace at the front of the house overlooks a newly developed rock garden and crag while the lower walk running from the boat house to the main lawn gives views across the loch.
Dates for your calendar: Open by arrangement until 25 October (2019)
GLENWHAN GARDENS
Dunragit, by Stranraer DG9 8PH
Why visit: The gardens, hewn from rough moorland 35 years ago, are now described as one of the most beautiful in Scotland.
Glenwhan Gardens is situated at 300 feet, and overlooks Luce Bay and the Mull of Galloway, with clear views to the Isle of Man. You can see glorious collections of plants from around the world that give colour in all seasons. Follow the winding paths to rest on well-placed seats and admire varied sculptures, set around small lakes. There is a 17-acre moorland wildflower walk, the chance to see red squirrels and a well-marked Tree Trail.
Dates for your calendar: Open until 31 December, 10am - 5pm (2019)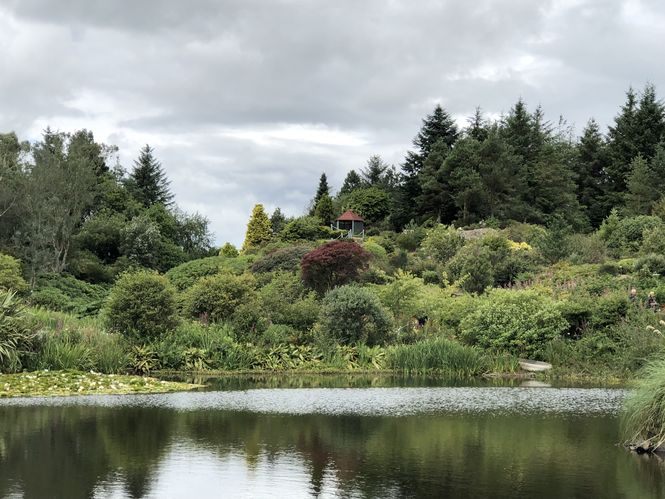 Glenwhan Gardens ©
Please, refer to each garden's page on our website for more details. There are many more gardens to visit in Scotland this autumn. Use Find a Garden search to produce a printable list of garden openings in your area.