Images On / Off
Description On / Off
Total of 30 openings.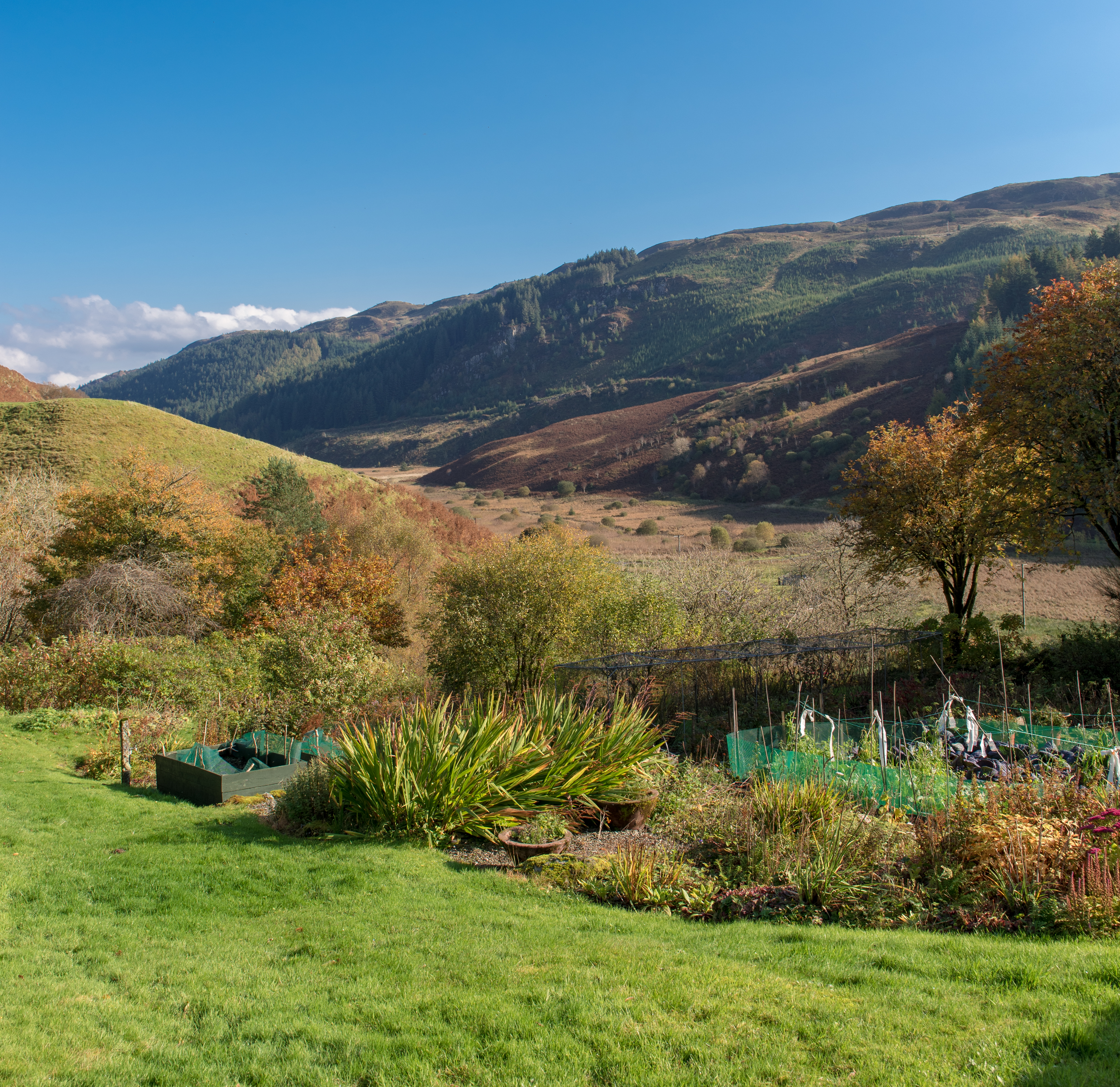 Maolachy's Garden
Lochavich, by Kilmelford
PA35 1HJ
Georgina Dalton
Saturday 20 April, Saturday/Sunday, 25/26 May, Saturday/Sunday, 29/30 June, Saturday/Sunday, 27/28 July, Saturday/Sunday, 24/25 August & Saturday/Sunday, 28/29 September, 2pm - 5pm (2019)
2c
T:
01866 844212
Three acres of woodland garden with a tumbling burn - created in a small glen over 40 years. At an altitude of 450 feet and two weeks behind the coastal changes, we have a shorter growing season. By not struggling to grow tender or late species we can enjoy those that are happy to grow well here and give us all much pleasure. Snowdrops, followed by early rhododendrons, masses of daffodils in many varieties, bluebells, wildflowers and azaleas, primulas and irises. A productive vegetable patch and tunnel feed the gardener and family.
Directions: Ignore SatNav. A816 to Kilmelford. Turn uphill between shop and church, signposted Lochavich 6, steep and twisty road with hairpin bend shortly after leaving village, check for passing places. Maolachy Drive is four miles from village. Cross three county cattle grids; after the third Ignore the foresty tracks to left and right. Continue downhill towards Loch Avich, and Maolachy is up on the left, first house after Kilmelford.
Admission: £4.00, children free
Charities: The Hope Project Scotland (SCIO): Oban 60%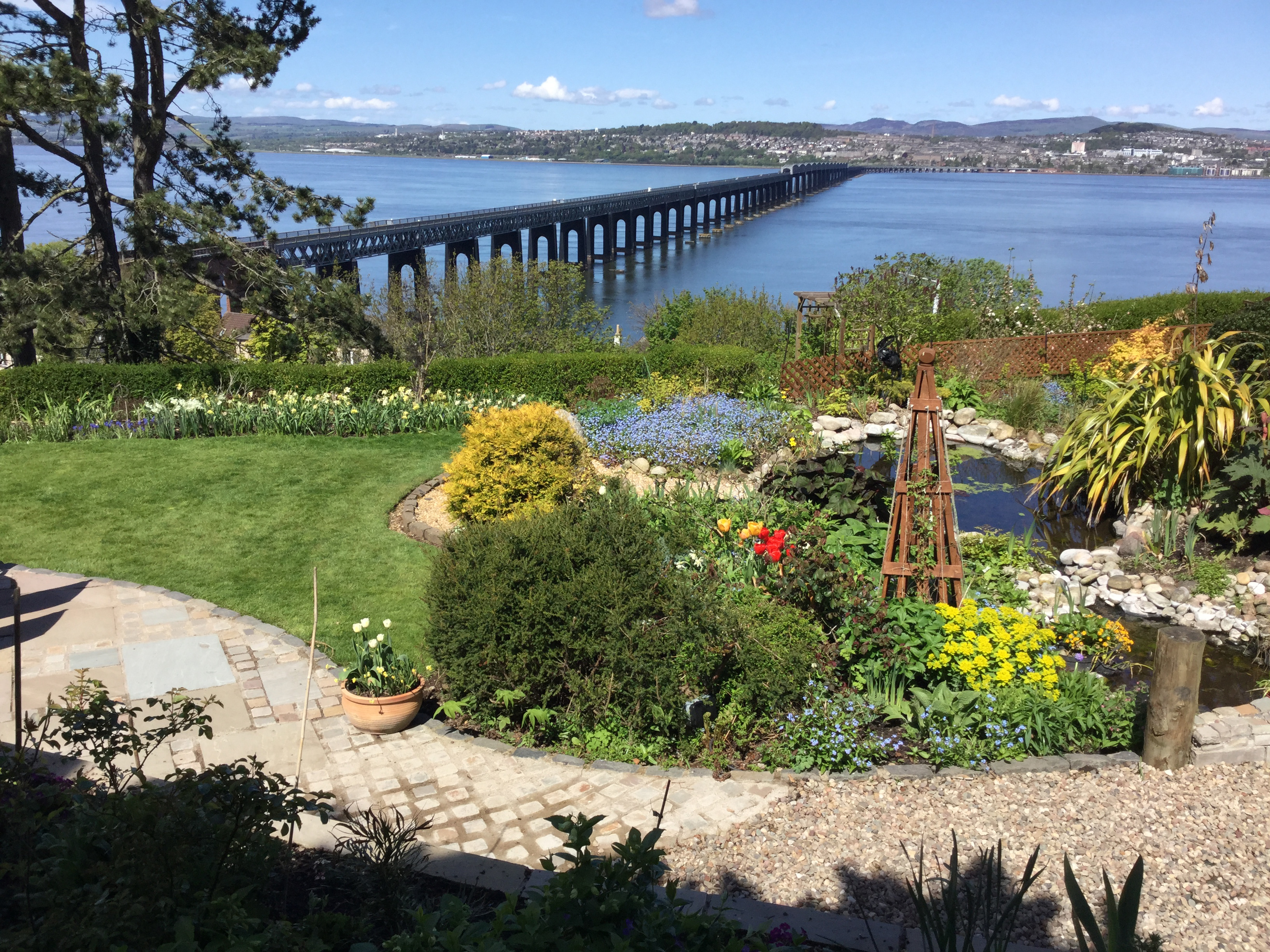 The Tower
1 Northview Terrace, Wormit
DD6 8PP
Peter and Angela Davey
Saturday 27 April & Saturday 3 August, 1pm - 5pm (2019)
4
T:
01382 541635 M: 07768 406946
E:
adavey541@btinternet.com
Situated four miles south of Dundee, this one-acre Edwardian landscaped garden has panoramic views over the River Tay. Set on a hill, a series of paths meander around ponds and a small stream, rockeries featuring hellebores and low-level planting, a curved lawn and larger borders. Original woodland paths lead to a granite grotto with waterfall pool. At the rear of the house the vegetable garden features raised beds made from granite sets. We have recently removed rhododendrons to create more space for seating and flower beds.
Directions: From B946 park on Naughton Road outside Spar shop and walk up path on left following signs.
Admission: £4.00, children free
Charities: Amnesty International (UK Section) Charitable Trust 60%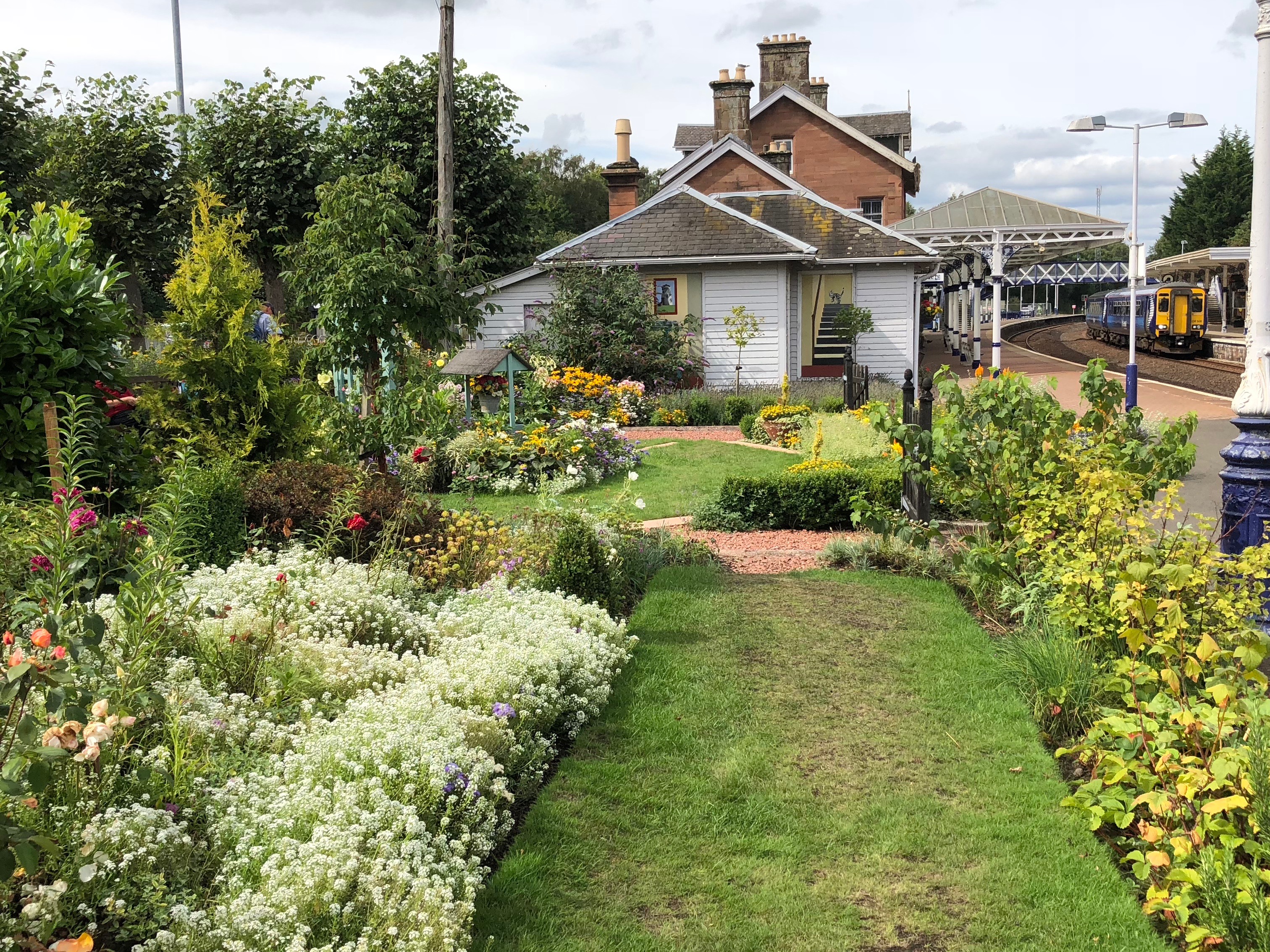 Dumfries Station Garden
Dumfries Railway Station, Lovers Walk, Dumfries
DG1 1LT
South West Railway Adopters Garden Group (Louis Wall)
Sunday 28 April, Sunday 30 June & Sunday 8 September, 11am - 4pm (2019)
34579
T:
07769275971
E:
stationgardener@live.co.uk
Dumfries Station Garden, on both sides of the station platform, is quite unusual. It is formally planted to reflect colour and interest all year round. There is a specialist wildlife garden planted with native wildflower species and also a Biblical garden, composed of many plants mentioned in the Bible. You will also see unique pieces of artwork depicting the Flying Scotsman and also the beautiful landscape of wild Galloway. The garden is co-ordinated by Louis Wall, holder of Gardener of the Year Award in 2018. He is assisted by a team of hard-working volunteers. 
Directions: The garden is located on both sides of the station platform at Dumfries Station on Lovers Walk in Dumfries. Most buses stop directly at the station, which is about a ten-minute walk from the town centre. There is ample parking spaces. 
Admission: by donation
Charities: Donation to SGS Beneficiaries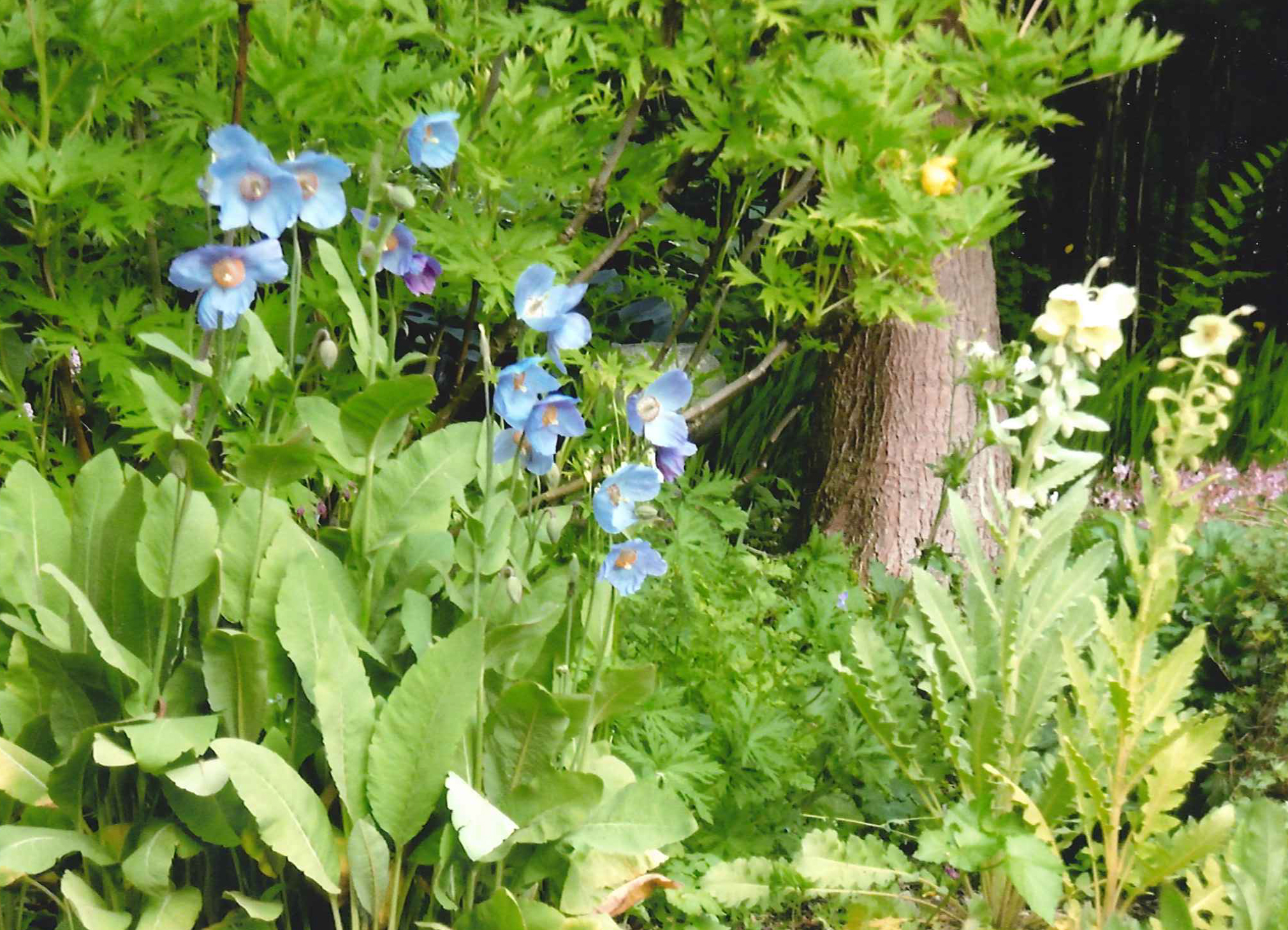 Inchmill Cottage
Glenprosen, nr Kirriemuir
DD8 4SA
Iain Nelson
Thursday 9 May, Thursday 23 May, Thursday 6 June, Thursday 20 June, Thursday 4 July, Thursday 18 July, Thursday 8 August, Thursday 22 August, Thursday 5 September & Thursday 19 September, 2pm - 5pm (2019)
c
T:
01575 540452
This is a long, sloping and terraced garden at over 800 feet in the Braes of Angus, developed to be a garden for all seasons. Half is dominated by bulbs, rhododendrons, azaleas, primulas, meconopsis and clematis. The other half mainly later summer bulbs, herbaceous plants and roses. There is also a rockery/scree and fernery.
Directions: Please DO NOT use SatNav. From Kirriemuir take the B955 (sign-posted to The Glens) to Dykehead (about five miles). From there follow the Prosen sign for about five miles. Inchmill is the white-fronted cottage beside the phone box.
Admission: £3.00, children free
Charities: The Archie Foundation 60%
Sorry, but the garden will not be open for the 21st and 28th April dates.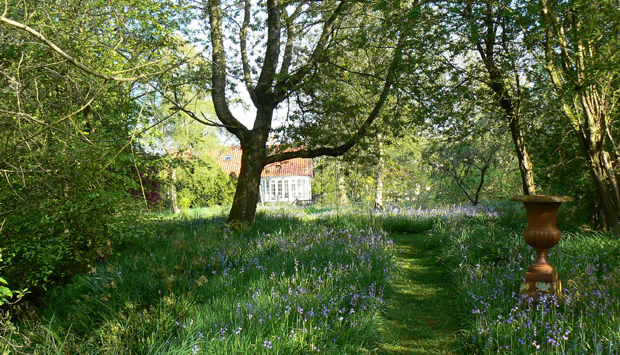 Humbie Dean
Humbie
EH36 5PW
Frank Kirwan
Sunday 19 May, Sunday 26 May & Sunday 7 July, 10am - 2pm (2019)
3c
T:
07768 996382
E:
frank.kirwan@gmail.com
A two-acre ornamental and woodland garden sandwiched between two burns at 600 feet with interest throughout a long season. A limited palette of plants with hosta, hellebores, perennial geranium, primula, meconopsis, martagon lilies, spring bulbs, ground cover, herbaceous and shrub planting, bluebell meadow, mature and recent azalea and rhododendron planting. A short woodland walk has been created, only accessible by a series of steps. 
Directions: Enter Humbie from the A68, pass the school and village hall on the left then immediately turn right just before the Humbie Hub. Take second left and Humbie Dean is on the left between two small bridges. Limited parking. 
Admission: £5.00, children free
Charities: Mamie Martin Fund 60%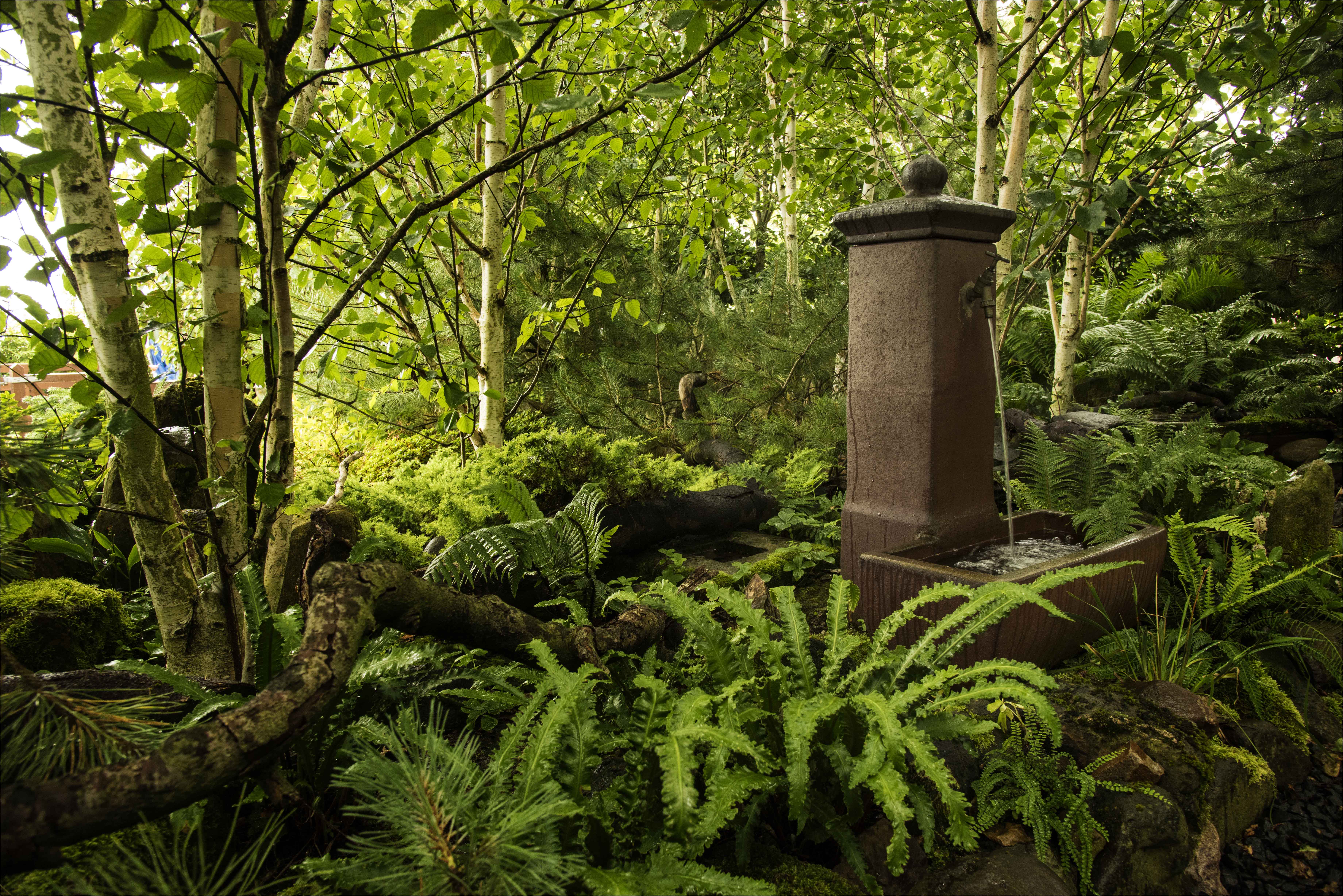 Clover Park
Langdyke, Waterside, Kilmarnock
KA3 6JA
Alistair Paterson and Iain MacClure
Saturday 1 June & Sunday 21 July, 2pm - 5pm (2019)
2c5
T:
01560 700555
E:
clover.park@outlook.com
Clover Park was created almost ten years ago from a blank canvass. Developed by the owners into an eclectic mix of architectural, ornamental and atmospheric features which include a woodland and azalea walk, fernery, gunnera bog and many other points of interest. A paddock is home to a small herd of friendly pygmy goats. Recent additions are a polytunnel, hardy palms and other exotics. Seating areas are positioned for contemplation and relaxation. A garden of great interest created in a relatively short time. 
Directions: From Glasgow on the M77 take J6 on to A77. After about one and a half miles take left for Galston A719. Drive through hamlet of Waterside, a little further on there is a dip in the road over the Hareshaw Water, look for the sign for Langdyke & Clover Park on the left hand side (farm road). From Ayr/Kilmarnock take J7 off the M77 heading north on to A77. At the Fenwick/ Stewarton roundabout follow signs to Galston. After one mile turn right onto the A719 Galston as above. 
Admission: £5.00, children free
Charities: CLIC Sargent 30% & Royal Zoological Society Of Scotland 30%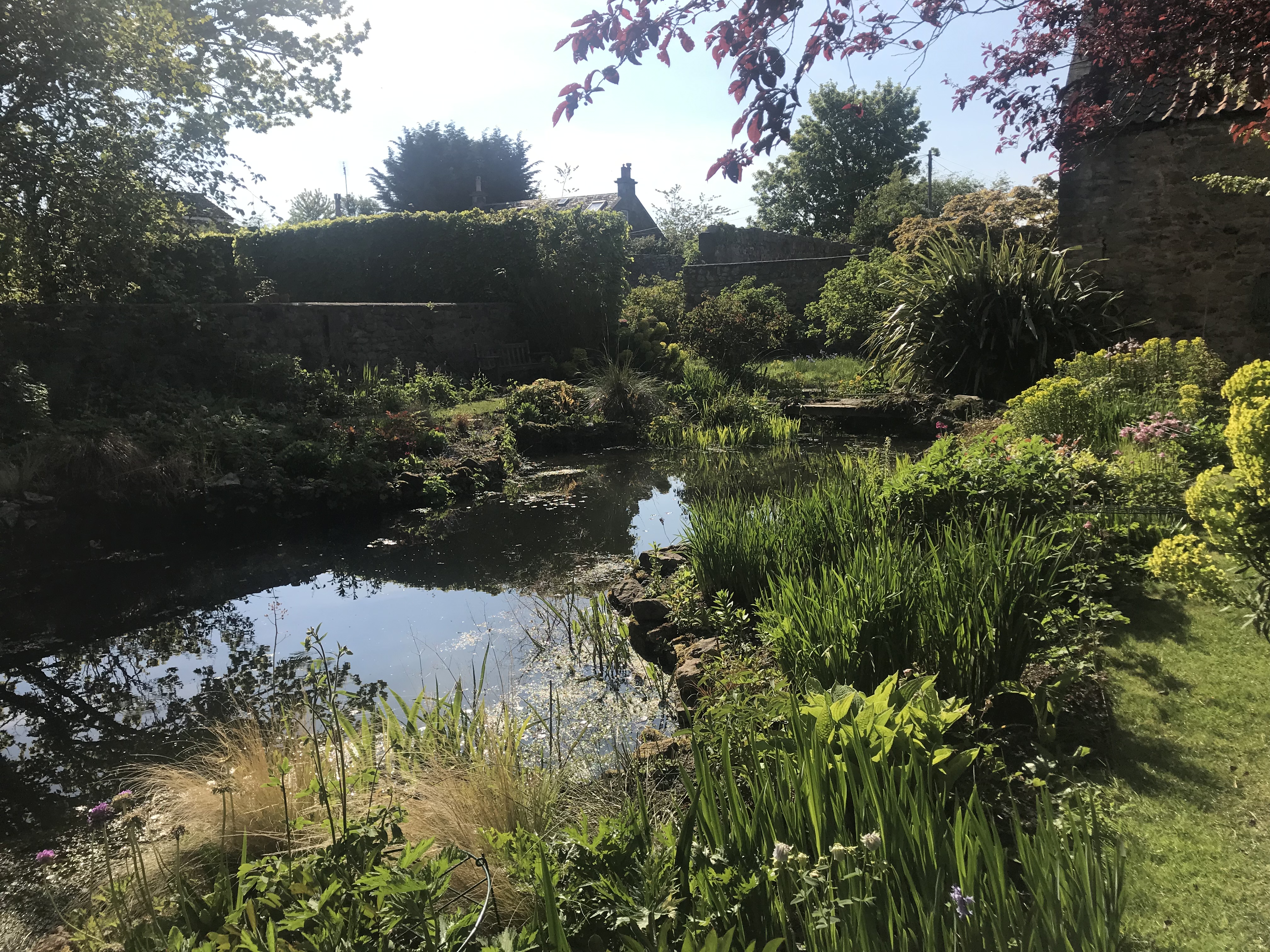 89 Ravenscroft Street
Edinburgh
EH17 8QS
Andrew and Alex Gray Muir
Saturday 8 June, Tuesday 11 June, Saturday 22 June & Tuesday 25 June, 2pm - 5pm (2019)
469
A large walled garden, full of surprises, in the old mining village of Gilmerton. Planting includes mature trees, roses and herbaceous borders. There is also a potager. Andrew and Alex Gray Muir have been there for over 50 years but say the garden is still a work in progress. There are plenty of seats so bring a thermos and sit and enjoy the garden. 
Directions: Buses 29 and 3 come to the end of the street - look out for Tanz on the left and get off at next stop. It is a nine minute walk up Ravenscroft Street. Buses 7 and 11 come to Hyvots Bank. A short walk up Ravenscroft Place will bring you to Ravenscroft Street, where you turn right up a short stretch of unmetalled road. If you come by car, park on the public road and walk up last 50 yards. If necessary, passengers can be dropped off in the yard in front of house. 
Admission: £4.00, children free
Charities: Scottish Association For Mental Health: Redhall Walled Garden 60%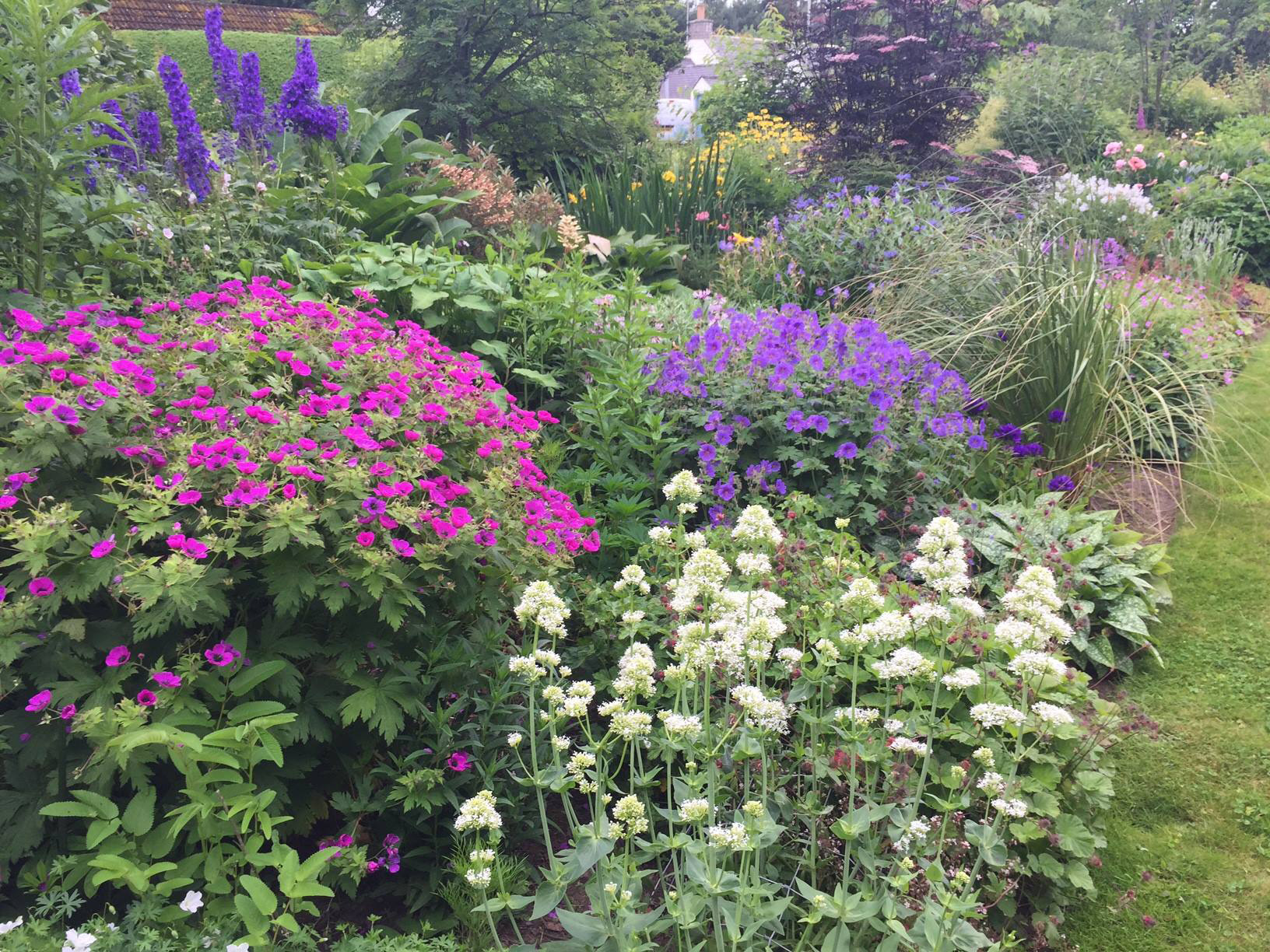 Haugh Garden
College of Roseisle
IV30 5YE
Gwynne and David Hetherington
Saturday 15 June, Saturday 6 July, Saturday 20 July & Saturday 17 August, 2pm - 5pm (2019)
2c67
T:
01343 835790
Our garden is now in the sixth year of being developed. From what was an unmaintained woodland we have created a spring garden criss-crossed with informal paths and with extensive drifts of snowdrops and over 40 varieties of tulips. Colour interest continues with a collection of hellebores, daffodils, narcissi and rhododendrons. A wildlife pond is situated in a corner of the woodland close to the ruins of an 18th-century farmhouse. Extensive herbaceous borders enclose the lawn, with a central rose bed and a small orchard. The immature pine and birch woodland has been thinned out allowing the bluebells to flower, and it has now been planted with a wide range of under storey shrubs to give year-round interest. There is a productive polytunnel and organic vegetable beds. 
Directions: From Elgin take the A96 west, then the B9013 Burghead Road to the crossroads at the centre of College of Roseisle. The garden is on the right, enter from the Duffus Road. Village Hall car parking is to the left off Kinloss Road. 
Admission: £4.00, children free
Charities: Alzheimer Scotland 30% & Children's Hospice Association Scotland 30%
Woodfall Gardens
Glasserton
DG8 8LY
Ross and Liz Muir
Sunday 16 June, 10:30am - 4:30pm (2019)
2c67
E:
woodfallgardens@btinternet.com
This lovely three-acre 18th-century triple walled garden has been thoughtfully restored to provide year-round interest. Many mature trees and shrubs include some less common species; herbaceous borders and shrub roses surround the foundations of original greenhouses; grass borders; a parterre; extensive beds of fruit and vegetables; a herb garden and a small woodland walk. This unusual garden is well worth a visit. 
Directions: Two miles south west of Whithorn at junction of A746 and A747 (directly behind Glasserton Church). 
Admission: £5.00, children free
Charities: Macmillan Cancer Support 30% & Glasserton and the Isle Of Whithorn Church of Scotland 30%
Cowhill Tower
Holywood
DG2 0RL
Mr and Mrs P Weatherall
Sunday 16 June, 2pm - 5pm (2019)
2c5d7
T:
01387 720304
E:
cmw@cowhill.co.uk
This is an interesting walled garden. There are topiary animals, birds and figures and a beautiful woodland walk. Splendid views can be seen from the lawn right down the Nith Valley. There are also a variety of statues from the Far East. 
Directions: Holywood is one and a half miles off A76, five miles north of Dumfries. 
Admission: £5.00, children free
Charities: Maggies Centre 60%
Barmagachan House
Borgue, Kirkcudbright
DG6 4SW
Andy and Carolyn McNab
Sunday 16 June, 2pm - 5pm (2019)
2c
T:
01557 870225
This garden, developed since 2009, surrounds an 18th-century house on a rocky knoll overlooking Wigtown Bay. It is profusely planted with a large variety of alpines, perennials and shrubs. Two themes are plants from SW China and Australasia e.g. meconopsis, arisaema, Asian primulas, eucryphia and leptospermum. Planting is informal and naturalistic and designed to encourage wildlife. And there is a productive vegetable garden, soft fruit cage and developing orchard. Visitors may also explore the wood and motte. 
Directions: From Borgue follow the coast (Carrick) road up hill past the church and down. Take the first and only right turn and follow the lane winding past farms for about half a mile. Barmagachan House is on the left by a wood. 
Admission: £4.00, children free
Charities: The Architectural Heritage Society of Scotland: Dumfries and Galloway Group 60%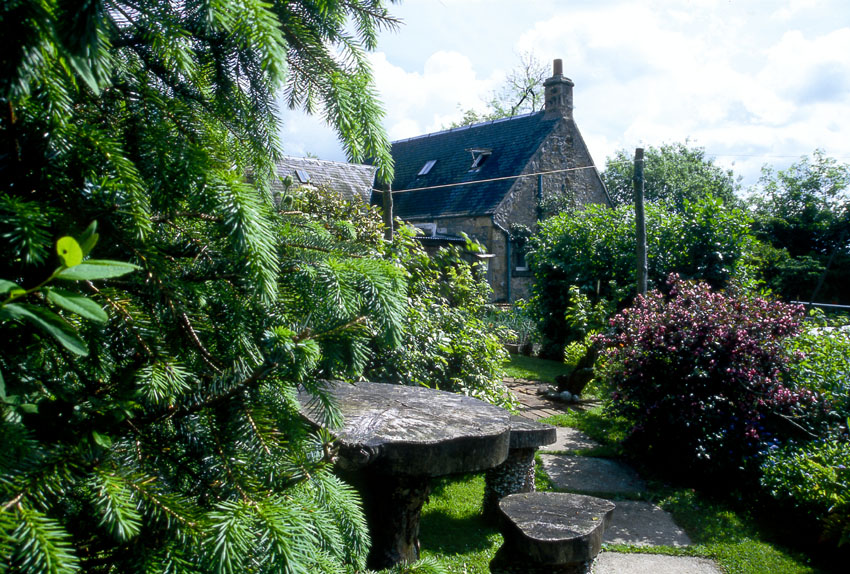 Dippoolbank Cottage
Carnwath
ML11 8LP
Mr Allan Brash
Sunday 16 June, 2pm - 6pm (2019)
0c7
Artist's intriguing cottage garden. Vegetables are grown in small beds. There are herbs, fruit, flowers and a pond in woodland area with treehouse and summerhouse. The fernery was completed in 2007. This is an organic garden that was mainly constructed with recycled materials. 
Directions: Off B7016 between Forth and Carnwath near the village of Braehead on the Auchengray road. Approximately eight miles from Lanark. Well signposted. 
Admission: £4.00, children free
Charities: The Little Haven (Forth) 60%
Birken Cottage
Burnhervie, Inverurie
AB51 5JR
Clare and Ian Alexander
Sunday 16 June, 2pm - 5pm (2019)
T:
01467 623013
E:
i.alexander@abdn.ac.uk
This steeply sloping garden of just under one acre is packed with plants. It rises from a wet stream-side gully and woodland, past sunny terraces and a small Parterre, to dry flowery banks. Visitors in 2018 described the garden as 'magnificent', 'inspirational' and 'the highlight of our tour'. 
Directions: Burnhervie is about three miles west of Inverurie. Leave Inverurie by the B9170 (Blackhall Road) or B993 (St James' Place). 
Admission: £4.00, children free
Charities: Friends Of Anchor 60%
Beech Lodge
10 Church Hill, Edinburgh
EH10 4BQ
Dr Anthony Ayles
Sunday 16 June, 2pm - 5pm (2019)
045
Approximately one-acre garden concealed inside a high wall in Church Hill Edinburgh. The garden contains a large lawn, white box garden, and large pond with bridge. There is also a doocot and beehives. 
Directions: Turn east at the T junction off Morningside Road, initially along Church Hill Place which becomes Church Hill. It is two-thirds of the way down on the right, behind a high beech hedge. 
Admission: £4.00, children free
Charities: The PF Counselling Service 30% & Chest Heart & Stroke Scotland 30%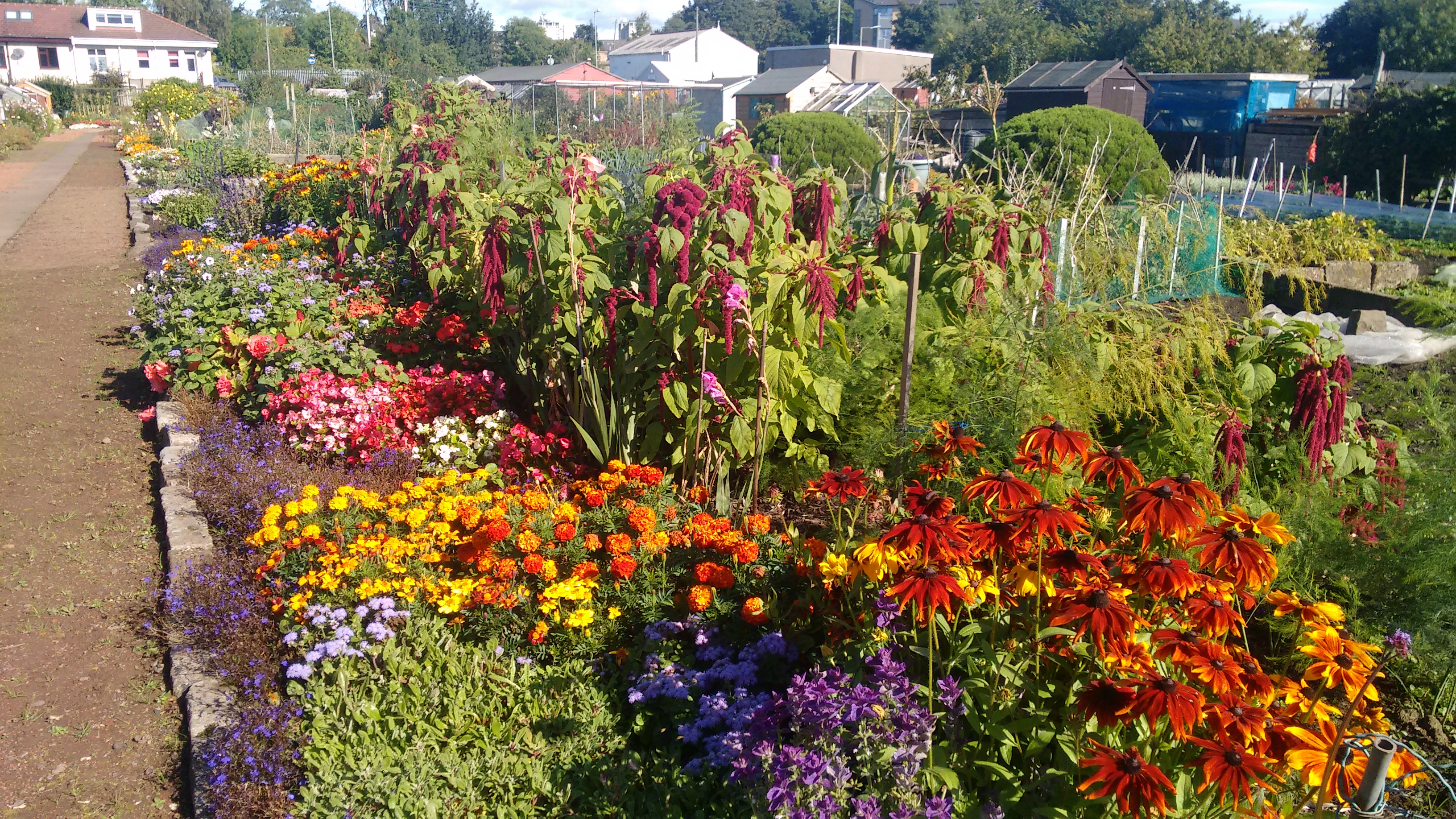 Berridale Allotments and Gardens
Delvin Road, Cathcart, Glasgow
G44 3AB
Berridale Allotments and Gardens Association
Saturday 22 June, 2pm - 5pm (2019)
2679
E:
berridaleaa@gmail.com
There have been allotments at Berridale since before the Second World War. The site has 51 plots, most with huts and/or greenhouses, and is a green oasis in an urban setting with the River Cart running along one side of our site. There is a large variety of vegetables, flowers and fruit cultivated, and over the years we have regularly had individual plotholders winning prizes for the top plots in Glasgow. Our site is privately owned, run and managed and there is a constant and high demand from folk wishing to become members. Come and have a look around our site and chat with some of our members. We have a large hut so even if it's wet you can stay dry.
Directions: The allotments are very close to public transport. Buses run along Clarkston Road, which is about 100 yards from our site. The allotments are about 50 yards east from the Delvin Road exit from Cathcart Railway Station. Although there is plenty of on-street parking in the area there is no parking on Delvin Road. 
Admission: £5.00, children free
Charities: Berridale Allotments 60%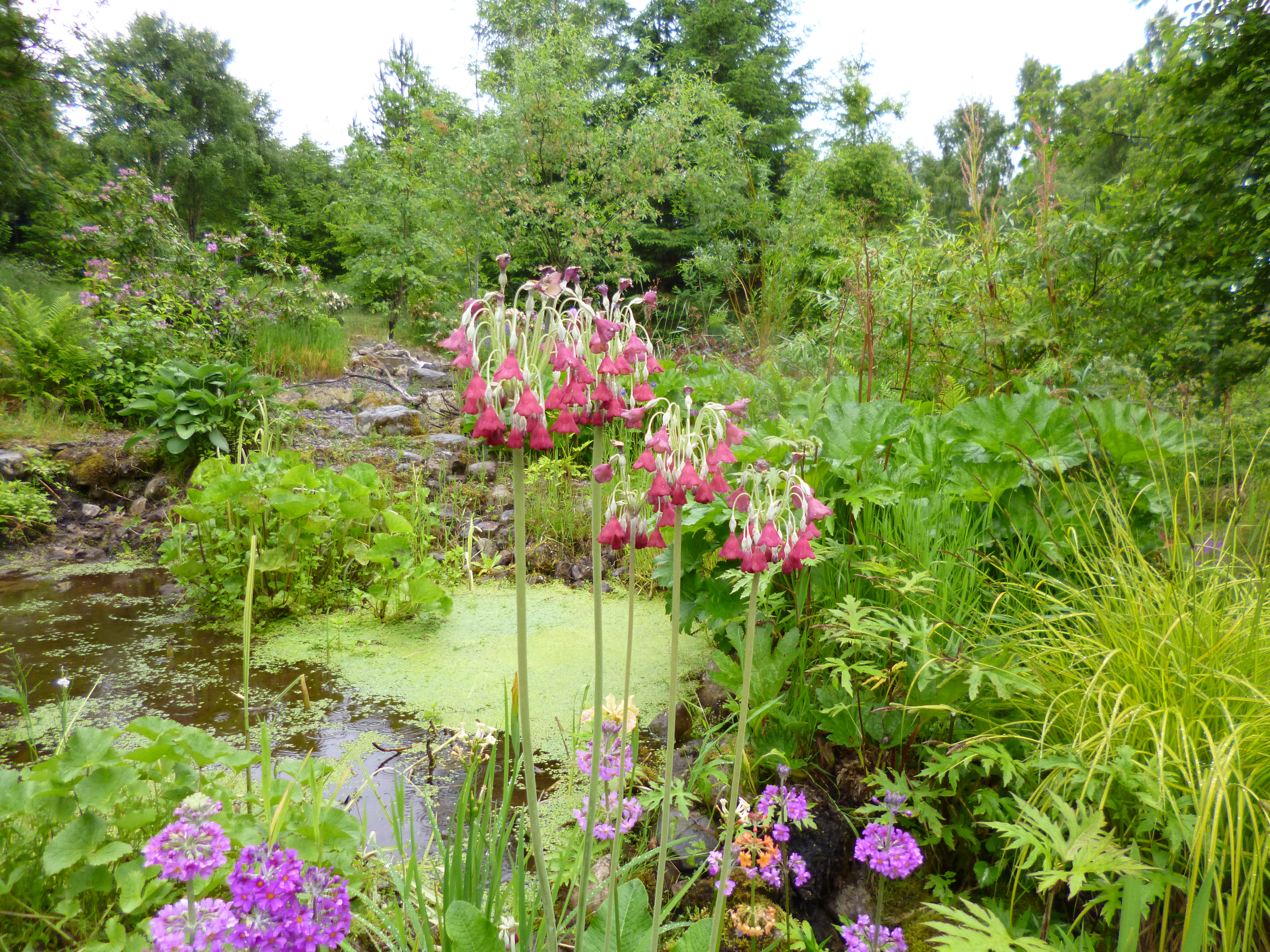 Torcroft
Balnain, Glenurquhart
IV63 6TJ
Barbara Craig
Saturday/Sunday, 22/23 June, 2pm - 5pm (2019)
2
This garden is about three-quarters of an acre on a hillside overlooking Loch Meiklie in Glen Urquhart. It is a wild garden, with its own character and style. There are weeds, cardamine for the orange tip butterflies, a nettle patch, but most of all there are plants in profusion from acer, anemone and astrantia to veronicastrum, verbascum, weigela and water lilies. A natural stream comes into the garden and meanders into various small ponds. In the spring there are masses of bog primula of all types and colours. There is a fern bed, a rockery, herbs, wooded area. New in 2018 was a stumpery, beds and another pond.
Directions: From Inverness turn right at Drumnadrochit and go towards Cannich. After four miles, sign Balnain, there is a very sharp right-hand bend with a high retaining wall on the right. At the end of the wall take the turning to right signposted Torcroft Lodges.
Admission: £6.00, children free
Charities: Send a Cow 30% & Munlochy Animal Aid 30%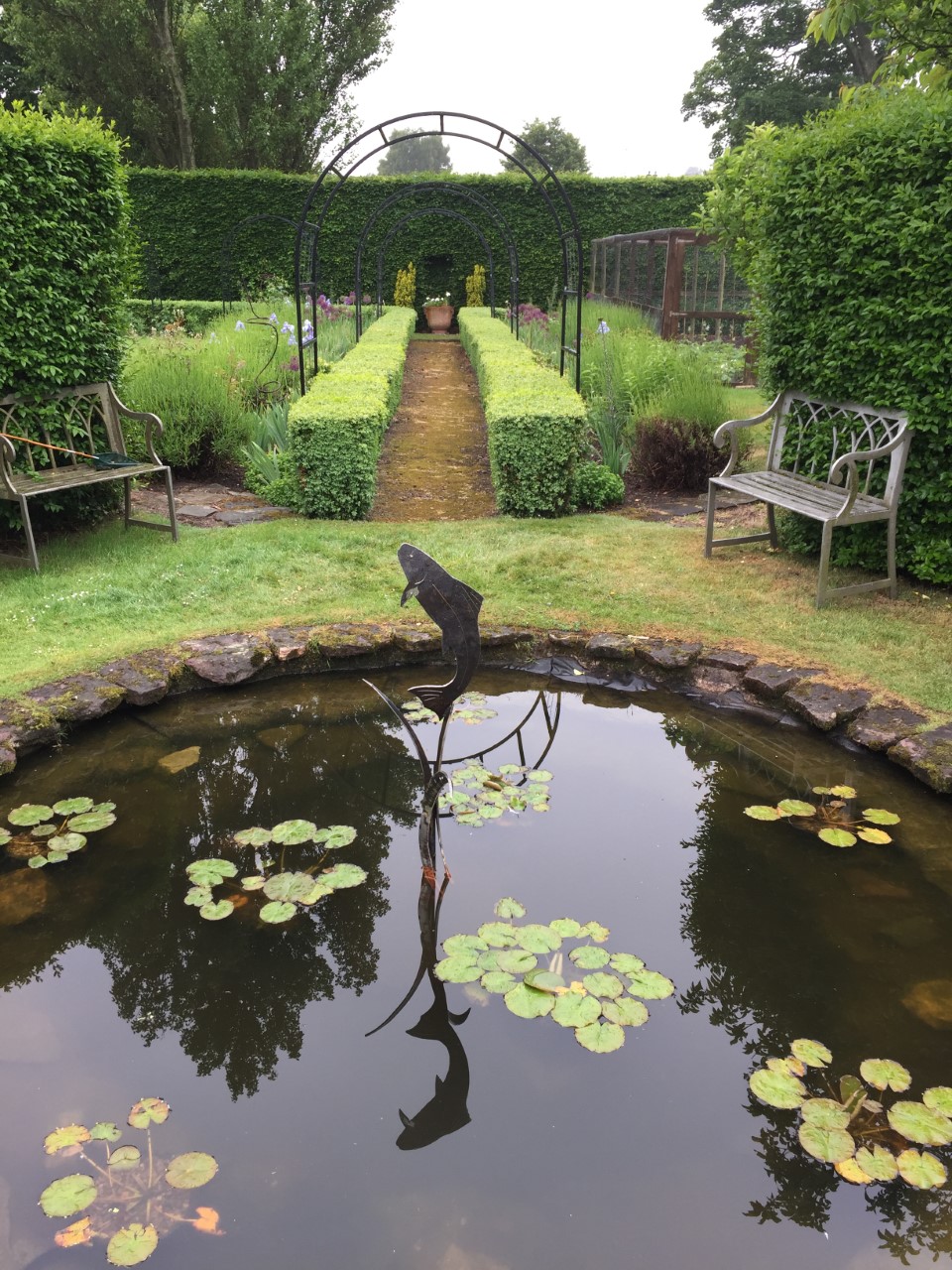 Gullane House
Sandy Loan, Gullane
EH31 2BH
William and Judy Thomson
Saturday/Sunday, 22/23 June, 2pm - 6pm (2019)
2c846e79
A traditional walled garden of three acres. The front of the house looks onto rose-hedged twin herbaceous borders of delphinium, peonies and lupins followed by dahlias, phlox and salvias and preceded by tulips and alliums. A small lily pond leads to a newly made rose and lavender garden planted within established box hedging. The next 'room' is reached through a beech hedge and is full of soft fruit and vegetables. The garden also boasts several kinds of fruit trees and shrubs, a splendid elm and oak and woodland paths surround the formal areas providing plenty of places for hide and seek! 
Champion Trees: Elm, Oak
Directions: Gullane House is situated on Sandy Loan about 30 yards from the main street in Gullane. Public transport: X5 and 124 buses from Edinburgh to North Berwick. 
Admission: £6.00, children free
Charities: Save the Children UK 30% & St Adrians Episcopal Church Gullane 30%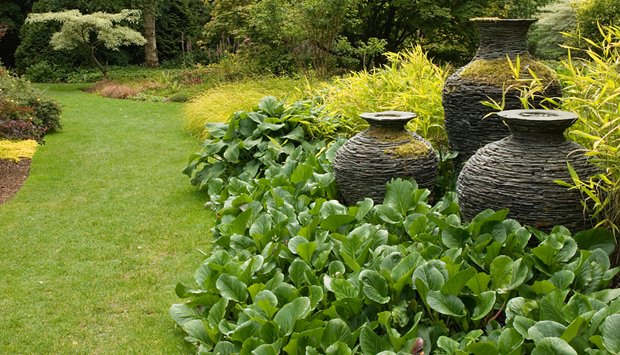 Threave Garden
Castle Douglas
DG7 1RX
The National Trust for Scotland
Sunday 23 June, 10am - 5pm (2019)
0c85ed
T:
01556 502 575
E:
rapolley@nts.org.uk
Threave Garden, The Training Centre for future Professional Gardeners, is home to the School of Heritage Gardening. A place of education and plantsmanship, the garden has been developed by generations of students since 1960, resulting in a series of 'rooms' within the garden, each showcasing year-round interest; from beautiful spring daffodils, striking autumnal colour and a multitude of summer herbaceous displays. Threave also boasts a fully productive working walled garden that yields a large bounty of home-grown produce each year for sale to the public and use in the on-site terrace cafe.
Champion Trees:
Acer platanoides
'Princeton Gold'
Directions: Off A75, one mile west of Castle Douglas.
Admission: £5.00, children free
Charities: The National Trust for Scotland: School of Heritage Gardening 60%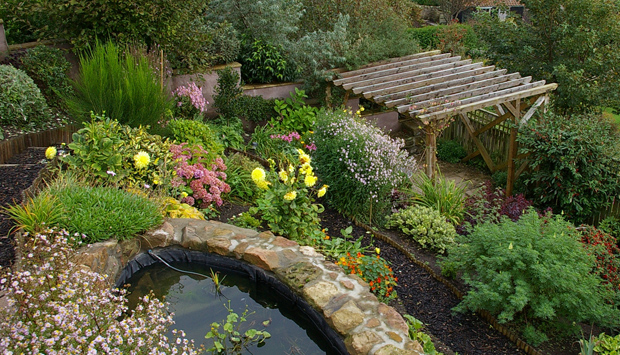 Pittenweem: Gardens in the Burgh
Pittenweem
KY10 2PQ
The Gardeners of Pittenweem
Sunday 23 June, 11am - 5pm (2019)
6
T:
01333 311988
A great variety in garden design: from well-established traditional, to open aspect landscaped, a hidden raised, walled garden, existing and newly participating 'make over' projects. The nearby refurbished 'Crazy Golf' circuit, next to the West Braes Car Park remains an attraction for the children.
Directions: On the A917 coast road enter Pittenweem following the signs to the West Braes Car Park next to the Crazy Golf. For traffic from the East, stop and park at Milton Road.
Admission: £5.00, children free
Charities: Pittenweem Community Library and Information Centre 60%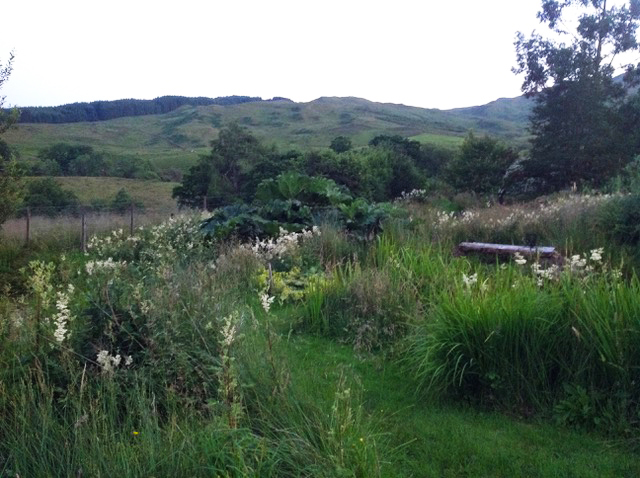 Drimfern
Inveraray, Argyll
PA32 8XJ
Judith Witts
Sunday 23 June, 11:30am - 4:30pm (2019)
0c6
This small, semi-wild garden has been developed on the hillside amongst farm fields. It is protected by native trees and hedging, with mown paths leading through wild flower strewn grasses, and across interlinked ponds. There is a vegetable and fruit garden, varied trees, shrubs and flowers, including a rock garden. The garden is about 400 feet above sea level.
Directions: Off the A819, five miles north of Inveraray on the left. Go over a cattle grid, steeply, then a winding dirt track (rough). Drimfern is the first house on the left. Coming from Dalmally the entrance is ten miles down to the right.
Admission: £4.00, children free
Charities: Shelter Scotland 60%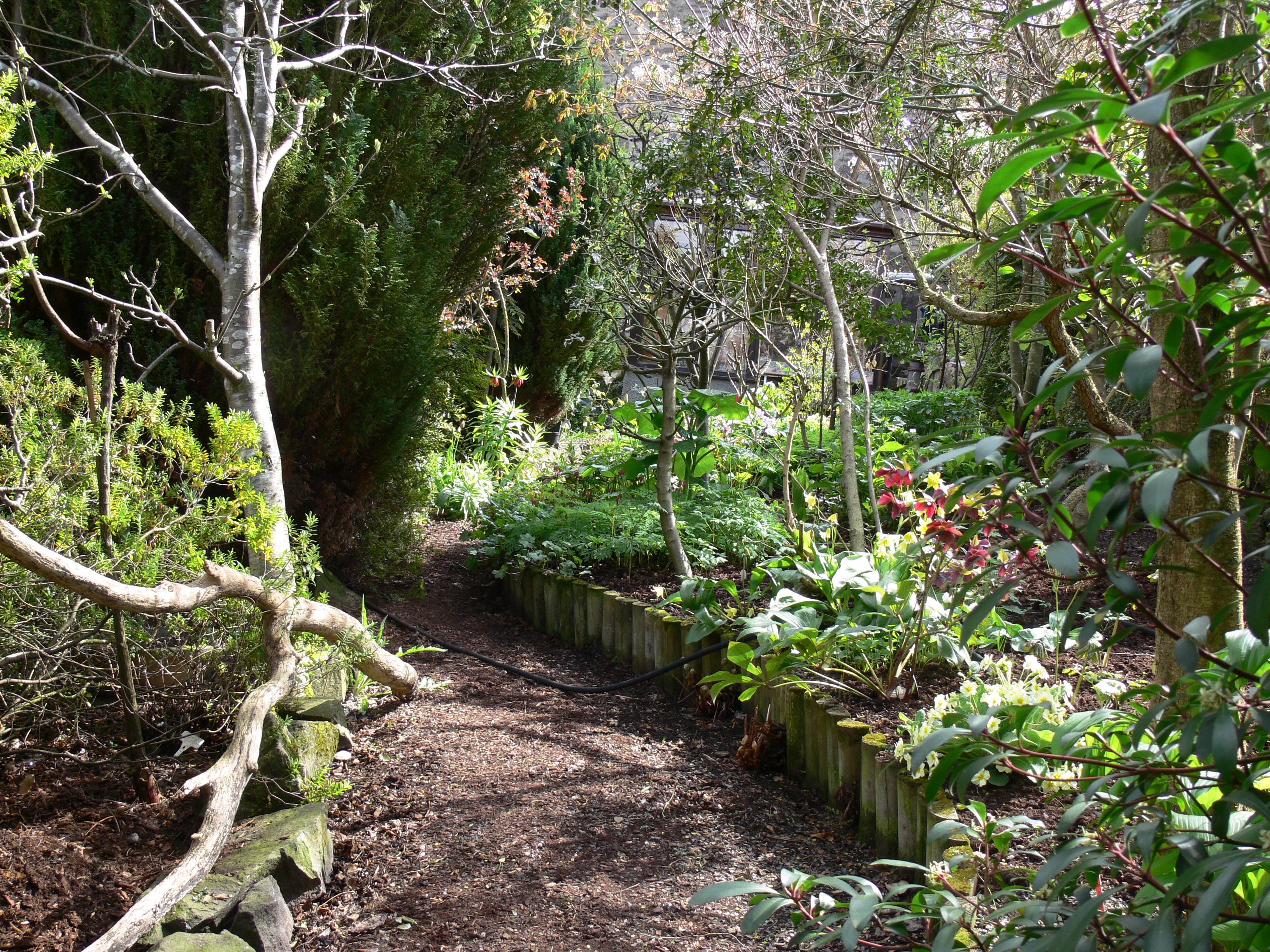 Hidden Gardens of Newburgh
Newburgh
KY14 6AJ
Judith Laughlan
Sunday 23 June, 12pm - 5pm (2019)
06
T:
07763 340362
E:
judilaugh@gmail.com
Hidden behind the 18th century facades of Newburgh High Street is a jumble of wonderful old gardens, some of them dating back centuries, and many with spectacular views of the Tay estuary. We are opening for the second time in 2019, and the gardens will include some of last year's along with some new – including a converted church garden fronting onto the main street, and the beautiful gardens of the local care home. Those which are opening for the second time will be significantly developed and as before there will be a wide mix of flowers, vegetables, herbaceous borders, orchards, and a fair few hens and ducks.
Directions: On the A913 between Perth and Cupar. There is a car park at each end of the village with tickets and teas available nearby.
Admission: £5.00, children free
Charities: Newburgh Community Trust 60%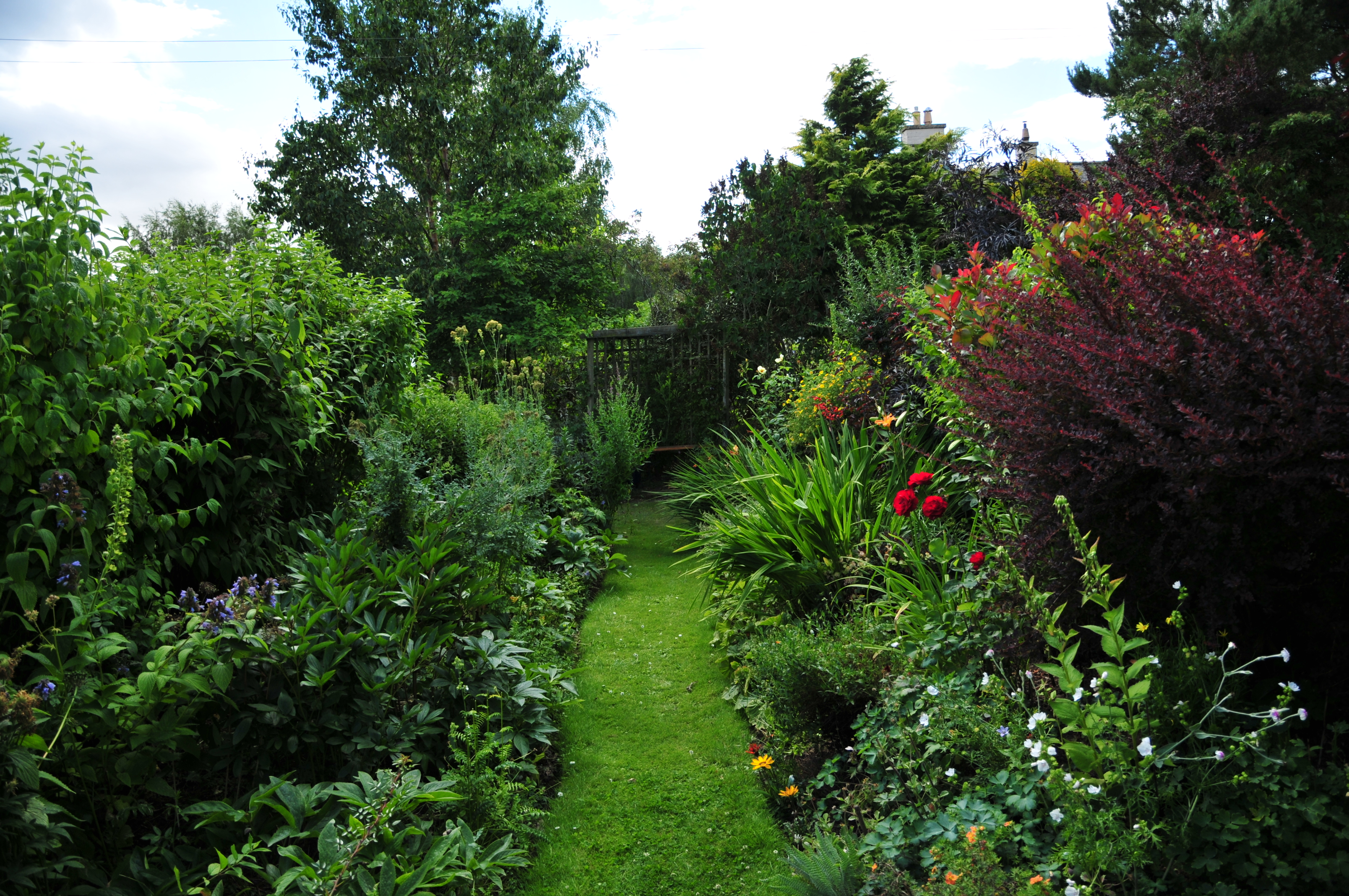 Marlfield and Ruthven Gardens
Coldstream
TD12 4JT
Christine and Forbes McLennan, Keith and Karen Fountain
Sunday 23 June, 1pm - 5pm (2019)
2c57
Marlfield
Coldstream TD12 4JT (Christine and Forbes McLennan): Marlfield is a two and a half acre garden with extensive lawns, specimen trees, shrubberies, flower beds, a half acre woodland wind break, half acre paddock with a large allotment type raised vegetable garden, fruit cage and small orchard. The present owners have worked extensively over the past five years to create the allotment and fruit beds from a vacant field. The main garden is still a work in progress, restoring or creating order from what was a very neglected garden. The rockery and fish pond are almost complete. Marlfield is a lovely tranquil garden where one can honestly hear nothing but birds singing and our bees buzzing.
Ruthven House
Coldstream TD12 4JU (Keith and Karen Fountain): Ruthven has lovely views toward the Cheviots and is accessed via a sweeping driveway. There are three acres divided into various interconnected areas, including a traditional knot garden, gravel gardens, an orchard set in meadow planting, a newly establish rose garden and informal herbaceous borders which lead to the garden's main feature, two ponds connected by a winding stream. The owners have over the last few years expanded the garden extensively from the original small beds around the house - adding different areas as inspiration struck. The most recent additions are a substantial kitchen garden and (perhaps optimistically) a small lavender field.
Directions: Four miles north of Coldstream on the old Duns Road. Half a mile off the main road.
Admission: £5.00, children free
Charities: Macmillan Cancer Support: Borders General 60%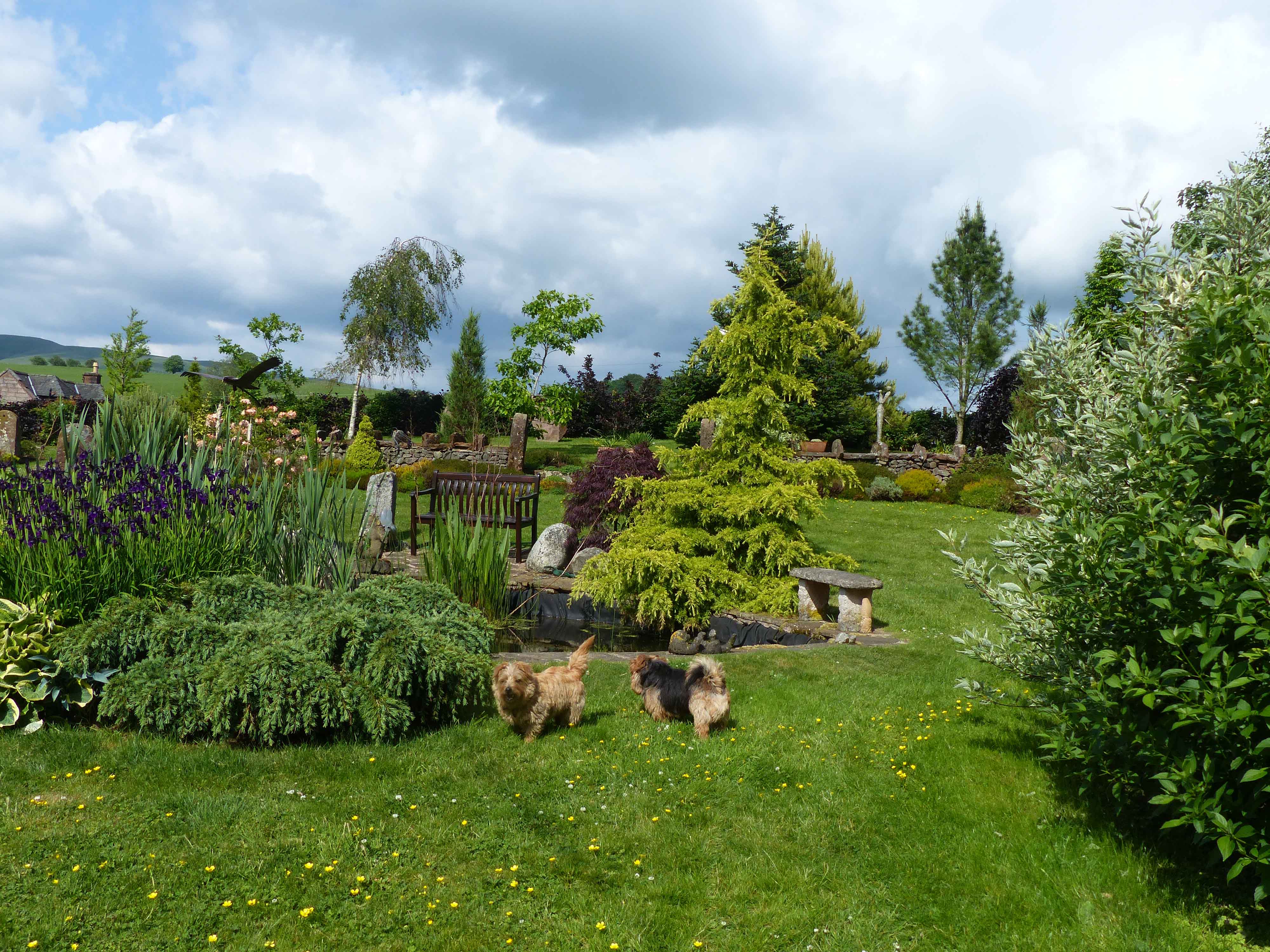 Kirkcaldy House
Kirkcaldy, Burnsands, Thornhill
DG3 4AL
Professor and Mrs Robert McClelland
Sunday 23 June, 2pm - 5pm (2019)
37
E:
rmcclell16@btinternet.com
The garden is set on a hillside with spectacular views over the Nith Valley and Lowther Hills. Although the foundations of the garden were in place, it has been extended over the past 12 years by the owners. It is a compact site with a variety of trees, shrubs, herbaceous plants, roses, a pond, decorative dykes and sculptures. 
Directions: Take the A76 through Thornhill and Carronbridge and past the turning to Drumlanrig Castle. At the next turning left just before the Picnic Area (about four miles) turn left and then immediately left after crossing the Glenairlie Bridge. Kirkcaldy is the second house at the top of the hill. 
Admission: £3.00, children free
Charities: Loch Arthur 60%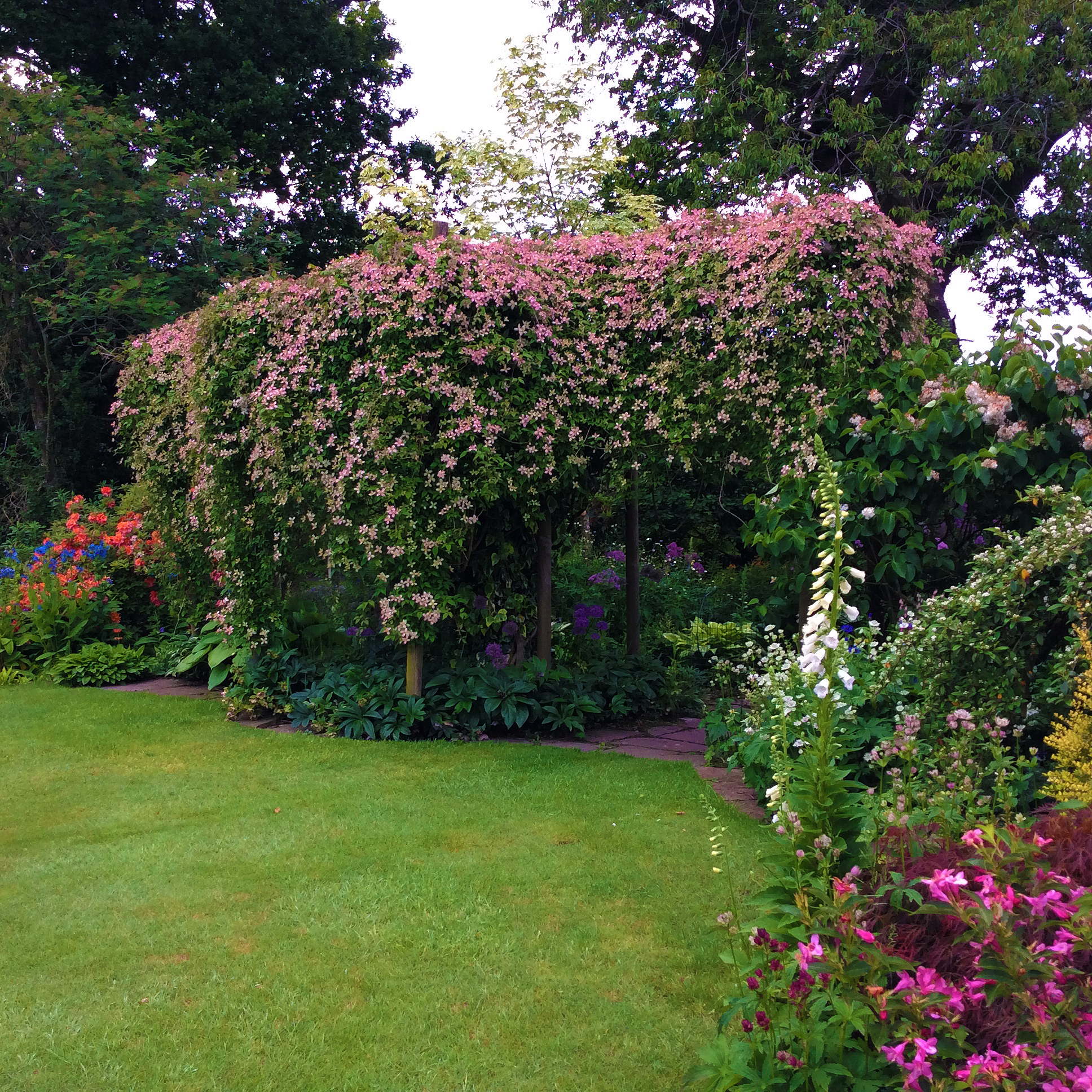 Thorntree
Arnprior
FK8 3EY
Mark and Carol Seymour
Sunday 23 June, 2pm - 5pm (2019)
c5
T:
01786 870710
E:
info@thorntreebarn.co.uk
The amazing views from Ben Lomond to Ben Ledi and on to Stirling sold Thorntree to Carol and Mark 25 years ago. The garden evolved while trying to keep a 'cottage' feel. Carol sold old silver, which had not been used in years, to build the dry stone wall. An apple arch was given to Mark to encourage him into the garden. The lawns are mown like a bowling green (or to a millimetre) by Mark. The courtyard includes flower beds. The saltire bed was designed in 2002 when Carol stopped growing dried flowers in a 20x20 metre square. The slightly sunken bed, all that they inherited on arrival, now holds meconopsis. Carol is now making a wooded area filled with primroses and Martagon lilies. Do come and see! 
Directions: Go on A811, in to Arnprior, then take Fintry Road; Thorntree is second on the right. 
Admission: £4.00, children free
Charities: Forth Driving Group RDA SCIO 60%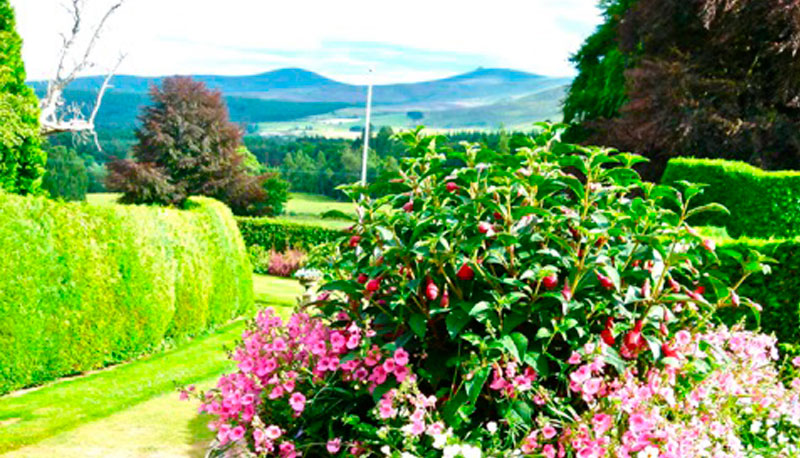 Finzean House
Finzean, Banchory
AB31 6NZ
Mr and Mrs Donald Farquharson
Sunday 23 June, 2pm - 5pm (2019)
2c857
Finzean House was the family home of Joseph Farquharson, the Victorian landscape painter, and the garden was the backdrop for several of his paintings. The garden has lovely views over the historic holly hedge to the front of Clachnaben. There is a spring woodland garden, extensive lawns with herbaceous and shrub borders and a working cut flower garden for late summer alongside a recently restored pond area. 
Directions: On the B976, South Deeside Road, between Banchory and Aboyne. 
Admission: £5.00, children free
Charities: The Forget-Me-Not Club 60%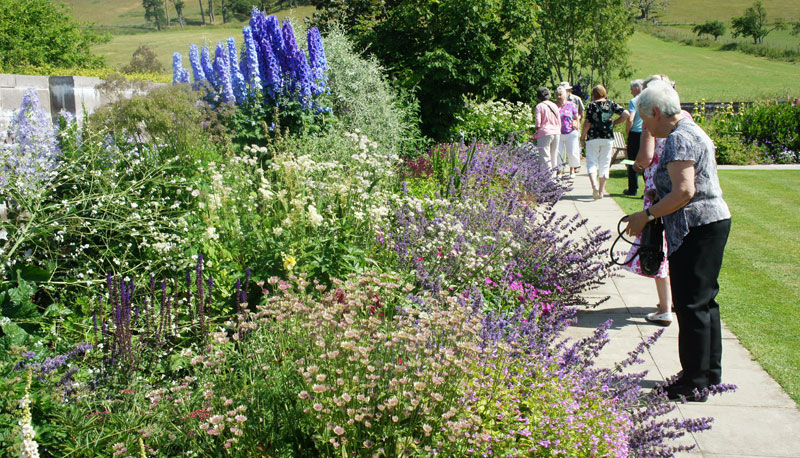 8 Halmyre Mains
West Linton
EH46 7BX
Joyce and Mike Madden
Sunday 23 June, 2pm - 5pm (2019)
2c5
T:
07774 609 547
E:
agentromanno@gmail.com
A half-acre organic garden with newly replanted deep herbaceous borders surrounding the main lawn. Raised plots, a greenhouse, keder house and polytunnel producing fruit and vegetables. A pergola leads to a composting area and then down to the pond with viewing areas and sun house. 
Directions: Five miles south of Leadburn Junction on the A701 (Moffat). 
Admission: £4.00, children free
Charities: Lamancha Hub 60%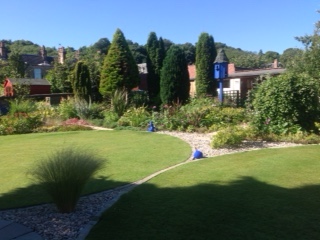 19 Gardiner Road
Edinburgh
EH4 3RP
Ms Rae Renwick
Sunday 23 June, 2pm - 5pm (2019)
2c8459
E:
rae_renwick@yahoo.com
This is a newly designed (and surprisingly large) south-facing garden which had been neglected for some years. While the design retains much of the original structure, a circular theme was introduced to help define grass, pond and seating areas. The hard landscaping is specifically designed to give a feeling of space and openness and effectively joins the living quarters of the house to the garden itself. Some established trees, hedges and shrubs were retained and some much loved trees and shrubs from a previous garden were incorporated. Mixed planting of evergreens and herbaceous plants help to ensure year-round interest. There are also raised beds, vegetable and fruit plots as well as a greenhouse. The front area is minimalist and deliberately low maintenance. 
Directions: Buses 43 from St Andrew's Square or 41 from Kings Buildings. Get off at Blackhall Post Office. 
Admission: £4.00, children free
Charities: Alzheimer Scotland 60%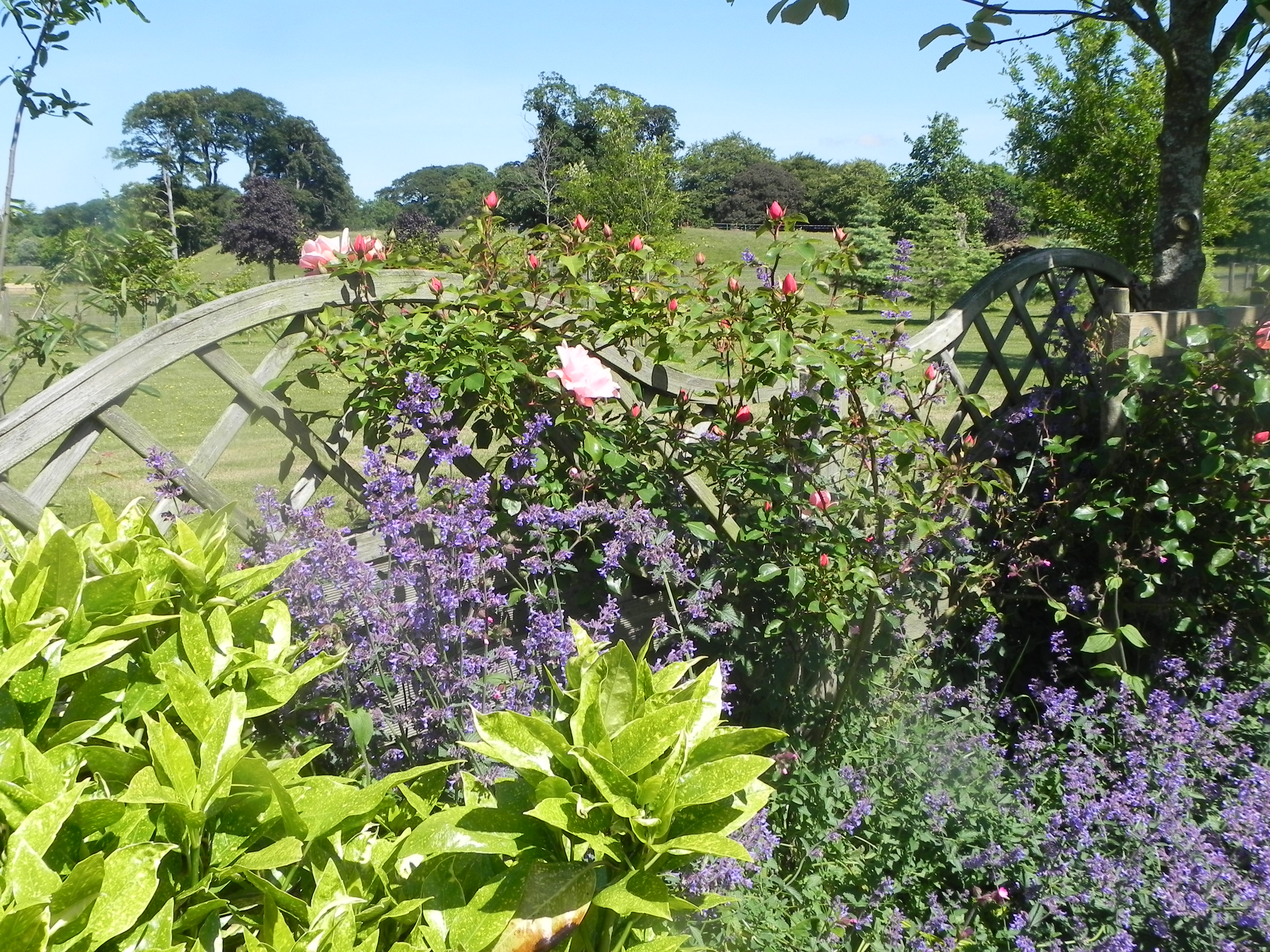 The Carriage House
Blair Estate, Dalry
KA24 4ER
Mr & Mrs Luke Borwick
Sunday 23 June, 2pm - 5pm (2019)
2c79
T:
01294 832816
E:
lina@blairtrust.co.uk
The Stables were built (c1800) on rocky outcrop with little soil depth. In 2001, the Carriage House was created from old stables, cowshed and dairy. The Garden has evolved over the past fifteen years, and has been designed by the owners to provide colour and interest all year round, many plants provided by friends and family. Divided into many different 'rooms', some contain sculptures by artists including Lucy Poett, Lucy Fisher and Mary Stormonth Darling. Ironwork by Kev Paxton. Small copses have been formed in the adjoining ten-acre field, containing many interesting trees and shrubs. Paths are designed to take you round the field to discover items of interest, such as the mermaids rescuing a girl, some unusual trees such as a variegated tulip tree, a golden dawn redwood, and a wellingtonia grown from seed here at Blair. 
Directions: From A737 in Dalry take road to station, continue for a half mile, right onto Blair road. Access via South Lodge of Blair Estate. Public transport to Dalry. 
Admission: £4.00, children free
Charities: Friends of Hilary Storm School Uganda 30% & Dalry Trinity Church of Scotland 30%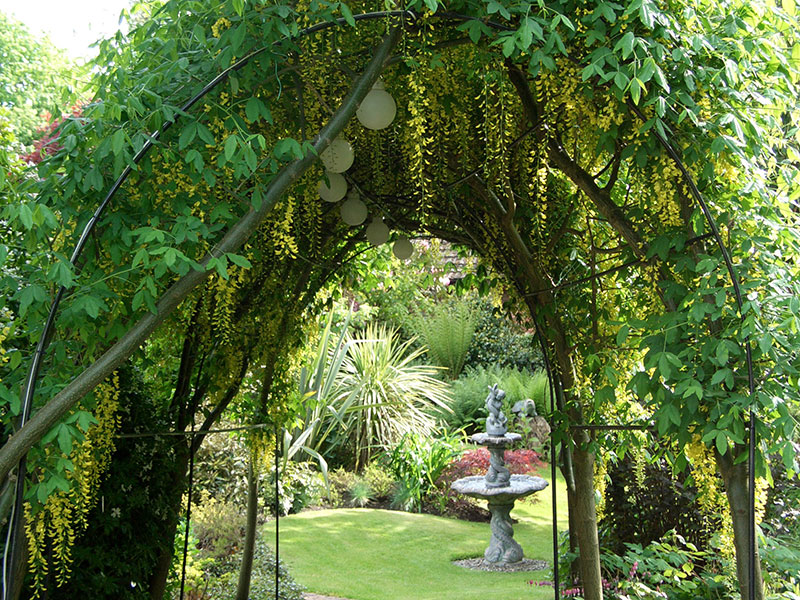 Glebeside House
Spy's Lane, Rhu
G84 8RA
Francoise and Peter Proctor
Sunday 23 June, 2pm - 5pm (2019)
0c6
Traditional Scottish house built in 1834 with a third of an acre of ground. A small garden surrounds the house and comprises a natural rockery, shrubs at the rear, an old wash house recently renovated, laburnum arch and four or five 'rooms' in the larger garden. A more recently added alteration is a French oak boat port with slated roof built over the entrance. To the front and side there are mixed herbaceous islands and borders, mature shrubs, lawn and greenhouse. 
Directions: Take the A814 from Helensburgh to Rhu Marina. Turn right into Pier Road. Spy's Lane is up the hill on the left. Park on Pier Road. 
Admission: £3.00, children free
Charities: Gareloch Group Riding For The Disabled Association SCIO 60%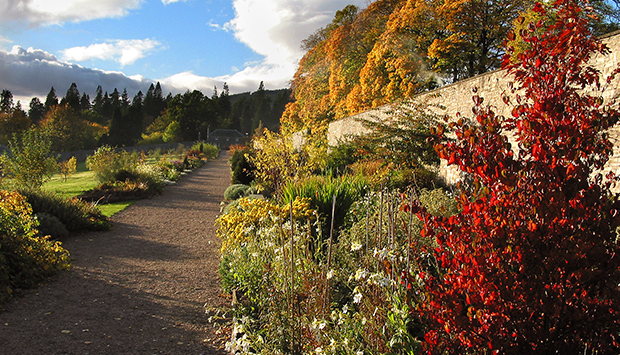 Blair Castle Gardens
Blair Atholl
PH18 5TL
Blair Charitable Trust
Saturday 29 June, 9:30am - 4:30pm (2019)
45d7
T:
01796 481207
E:
office@blair-castle.co.uk
Blair Castle stands as the focal point in a designed landscape of some 2,500 acres within a large and traditional estate. Hercules Garden is a walled enclosure of about nine acres recently restored to its original 18th-century form with landscaped ponds, a Chinese bridge, plantings, vegetables and an orchard of more than 100 fruit trees. The glory of this garden in summer is the herbaceous border, which runs along the 275 yard south-facing wall. A delightful sculpture trail incorporates contemporary and 18th-century sculpture as well as eight new works, letter-carving on stone from the Memorial Arts Charity's Art and Memory Collection. Diana's Grove is a magnificent stand of tall trees including grand fir, Douglas fir, larch and wellingtonia in just two acres.
Directions: Off A9, follow signs to Blair Castle, Blair Atholl.
Admission: by donation
Charities: Donation to SGS Beneficiaries