Images On / Off
Description On / Off
Total of 30 openings.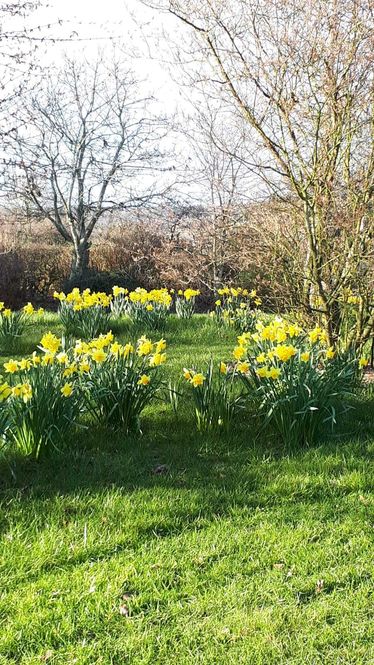 Old Farm Cottage
The Ladywell, Nemphlar, Lanark
ML11 9GX
Ian and Anne Sinclair
Sunday 29 March & Sunday 5 April, 2pm - 5pm (2020)
67
T:
01555 663345 M: 07833 204180
E:
anniesinclair58@gmail.com
This delightful garden as featured in the Scotland on Sunday in September 2019, has something of interest all year round. A magnificent collection of spring bulbs (29 March and 5 April openings), shrubs and small trees attractive for their flowers, fruit and autumn foliage are all complemented by herbaceous plantings. The garden also offers a wildflower area, a pond, an apiary and small orchard. Around an acre in size it has a large grassed area with a putting green, which is particularly suitable for families. There are lots of child-friendly nooks and crannies for discovery and play. Visitors are welcome to bring a picnic as there are many sheltered places to sit and enjoy views over the Clyde Valley and district.
Directions: Leave the A73 at Cartland Bridge (Lanark to Carluke Road) or the A72 (Clyde Valley Road) at Crossford. Both routes are well signposted. The garden is just off the West Nemphlar Road on Ladywell Lane.
Admission: £4.00, children free
Charities: Guide Dogs 60%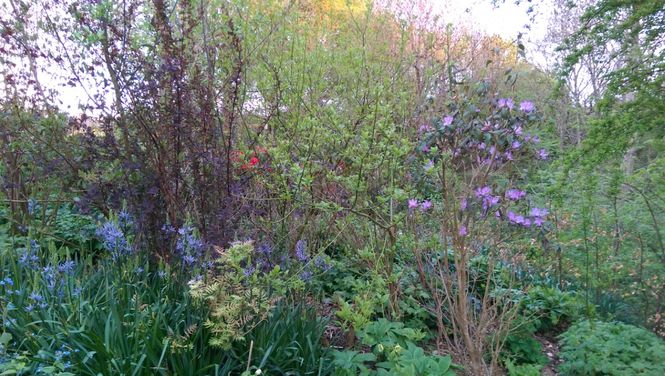 Humbie Dean
Humbie
EH36 5PW
Frank Kirwan
Sunday 5 April, Saturday 18 April & Sunday 3 May, 10am - 2pm (2020)
c
E:
frank.kirwan@gmail.com
A two-acre ornamental and woodland garden sandwiched between two burns at 600 feet with interest throughout a long season. A limited palette of plants with hosta, hellebores, perennial geranium, primula, meconopsis, martagon lilies, spring bulbs, ground cover, herbaceous and shrub planting, bluebell meadow, mature and recent azalea and rhododendron planting. A short woodland walk has been created, only accessible by a series of steps. 
Directions: Enter Humbie from the A68, pass the school and village hall on the left then immediately turn right just before the Humbie Hub. Take second left and Humbie Dean is on the left between two small bridges. Limited parking. 
Admission: £5.00, children free
Charities: Mamie Martin Fund 60%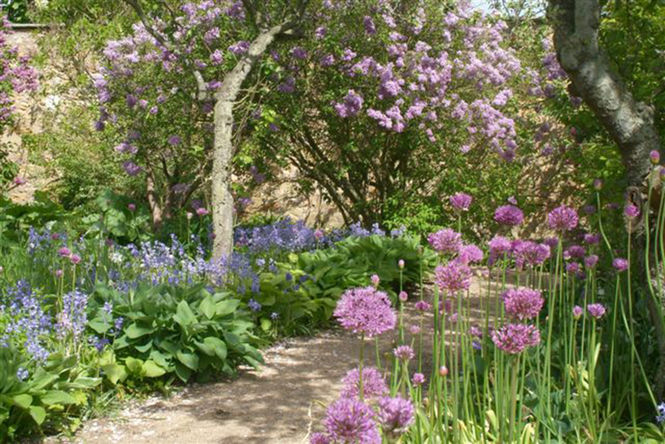 Cambo Spring Fair
Kingsbarns
KY16 8QD
Trustees of Cambo Heritage Trust
Sunday 12 April, 12pm - 3pm (2020)
2c457
T:
01333 451040
E:
cambo@camboestate.com
Invited nurseries will join Cambo to provide a wide range of rare and interesting plants. A variety of craft and food stalls are also taking part. A great day out for the family. Children's activities, daffodil meadow, walled garden and woodland walk to the sandy beach. Enjoy the exhibitions in the recently restored Georgian Stables, which make up the Cambo Visitor Centre. Refreshments are available in The Cambo Garden Cafe, with delicious menus based on local homegrown produce.
Directions: A917 between Crail and St Andrews.
Admission: details can be found on the garden's website
Charities: Cambo Heritage Trust 60%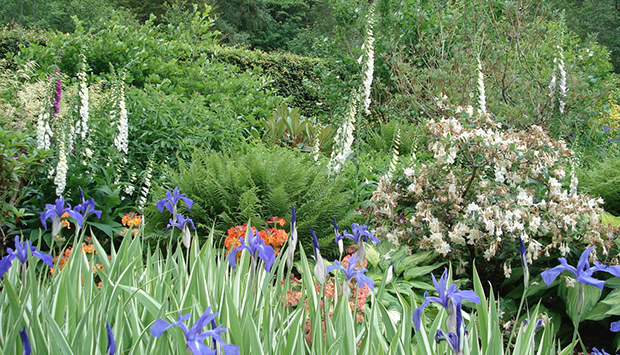 Dundonnell House
Little Loch Broom, Wester Ross
IV23 2QW
Dundonnell Estates
Thursday 16 April, 2pm - 5pm (2020)
6e7
T:
07789 390028
Camellias, magnolias and bulbs in spring, rhododendrons and laburnum walk in this ancient walled garden. Exciting planting in new borders gives all year colour centred around one of the oldest yew trees in Scotland. A new water sculpture, midsummer roses, recently restored unique Victorian glass house, riverside walk, arboretum - all in the valley below the peaks of An Teallach.
Champion Trees: Yew and Holly
Directions: Turn off the A835 at Braemore on to the A832. After 11 miles take the Badralloch turn for a half mile.
Admission: £5.00, children free
Charities: The Wild Camel Protection Foundation 30% & Population Matters 30%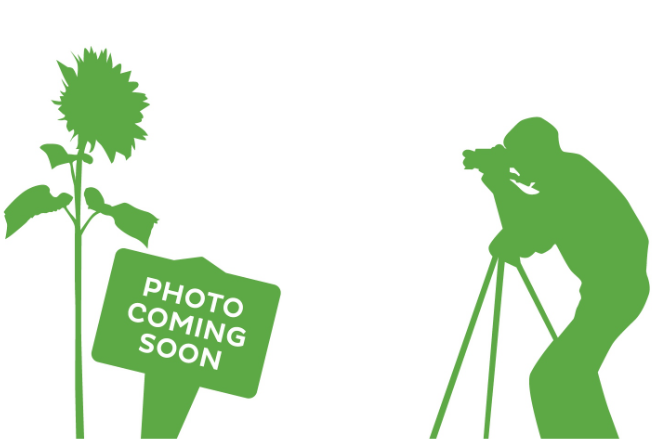 Harlaw Farmhouse
Eccles near Kelso, Roxburghshire
TD5 7RA
Jean Wood
Sunday 19 April, 1pm - 4pm (2020)
9
T:
07479 357999
Harlaw is set in a one-acre garden surrounding a typical Berwickshire farmhouse, in a truly rural setting with lovely Border views. The owner has spent many years building up a collection of over 65 varieties of named daffodils and narcissus, naturalised throughout the garden. It has a mature nuttery with several highly productive walnut, hazel and gingko biloba trees and an orchard with apple, pear and plum trees. In the summer there is a large cutting garden and vegetable patch. There are two greenhouses with a large cactus collection. The gardener is a keen plantswoman, propagating most of her own stock.
Directions: From the east drive through Eccles village then take the first turning right signposted Loan Knowe. Continue to the cycle route sign, turn left and the house is one mile on the left. From Ednam, go through the village, take left turn to Hume, go to T junction, turn right and continue to the white cottage, take right fork cycle route, Harlaw is half mile on right.
Admission: £4.00, children free
Charities: Border Womens Aid 60%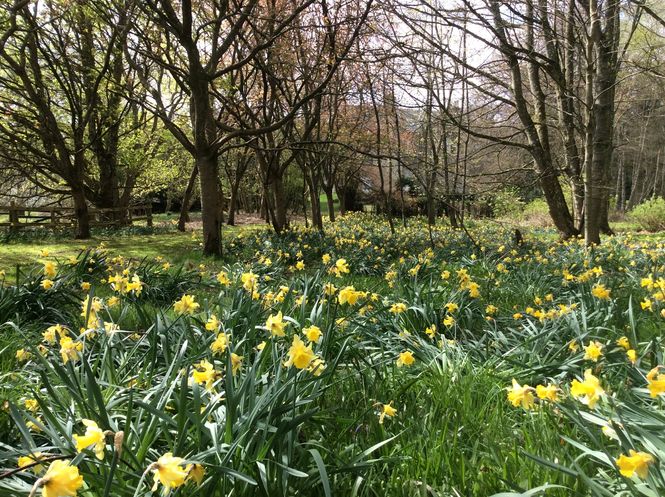 Westhall Castle
Oyne, Inverurie
AB52 6RW
Mr Gavin Farquhar
Sunday 19 April, 1pm - 4pm (2020)
267
T:
01224 214301
E:
enquiries@ecclesgreig.com
Set in an ancient landscape in the foothills of the impressive foreboding hill of Bennachie is a circular walk through glorious daffodils with outstanding views. This interesting garden is in the early stages of restoration, with large groupings of rhododendrons and specimen trees. Westhall Castle is a 16th-century tower house, incorporating a 13th-century building of the bishops of Aberdeen. There were additions in the 17th, 18th and 19th centuries. The castle is semi-derelict, but stabilised from total dereliction. A fascinating house encompassing 600 years of alteration and additions.
Directions: Marked from the A96 at Old Rayne and from Oyne Village.
Admission: £4.00, children free
Charities: Bennachie Guides 60%
Megginch Castle
Errol
PH2 7SW
Giles Herdman and Catherine Drummond-Herdman
Sunday 19 April, 2pm - 5pm (2020)
285ea7
T:
01821 642222
E:
info@megginch.com
Come and wander through our hosts of golden daffodils under the ancient trees and avenues of Megginch. Head through the charming, cobbled courtyard into the walled garden where there is a collection of daffodils from the renowned collectors, Duncan and Kate Donald from Croft 16 Daffodils. In the orchard, have a chat with Gavin and his bees, walk back past some of the apple and pear trees that make up our two National Collections, to a warming cup of tea and home-baking under the tallest yew trees in Scotland.The Scavenger Hunt and secret chocolate Easter eggs, will keep all ages busy on their walk round!
National Plant Collection: Scottish cider apples, Scottish Heritage apples and pears
Champion Trees: Acer palmatum
Directions: Ten miles from Perth and Dundee directly off the A90, Perth-bound carriageway, 600 yards after the Errol/Rait flyover, on the left hand side, 300 yards after Beware Pedestrians Crossing sign.
Admission: £5.00, children free
Charities: The Inspiration Orchestra 60%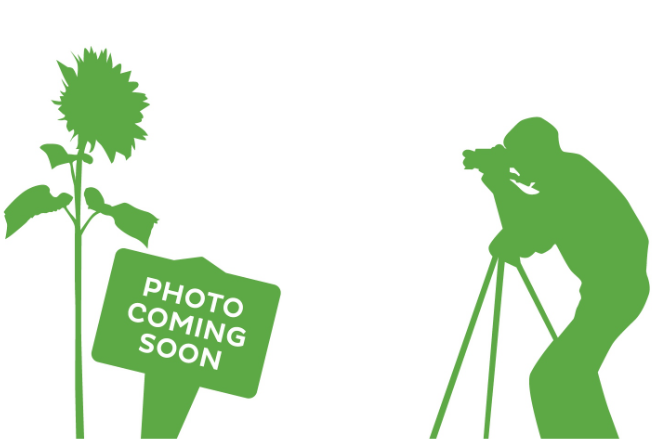 SGS Kilmacolm Plant Sale
outside Kilmacolm Library, Kilmacolm
PA13 4LE
SGS Kilmacolm Plant Sale
Saturday 25 April, 10am - 12pm (2020)
457
Spring plant sale in the centre of Kilmacolm.
Directions: The plant sale will be held at the Cross outside the Library and Cargill Centre. Accessible by McGill buses.
Admission: by donation
Charities: Pancreatic Cancer Scotland 60%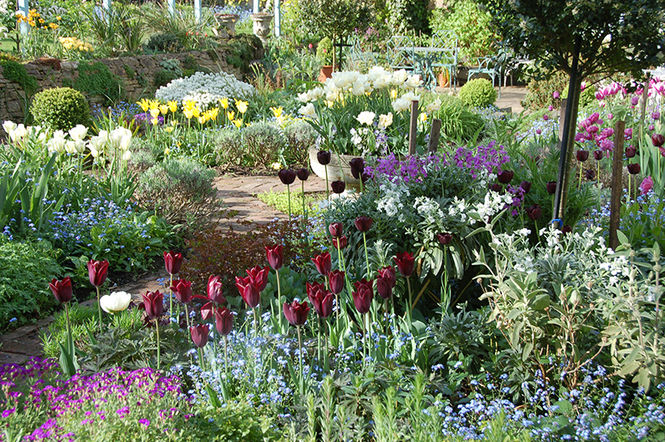 Shepherd House
Inveresk, Musselburgh
EH21 7TH
Sir Charles and Lady Fraser
Saturday/Sunday, 25/26 April, 11am - 4pm (2020)
467
T:
0131 665 2570
E:
annfraser@talktalk.net
A constantly evolving artist's garden that never stands still, with lots of surprises including a shell house built in 2014, lavender parterres, a rill and fountains. At its heart are the plants filling every border, spilling over arches and lining paths, which are the inspiration for Ann's paintings. The season starts with the snowdrop collection of over 70 cultivars, moves on through hellebores, tulips, irises and roses. One of the garden's features is a mirror steel diamond sculpture to commemorate the Frasers' diamond wedding anniversary and 60 years in this garden. 
Directions: The garden is near Musselburgh. From the A1 take the A6094 exit signposted Wallyford and Dalkeith and follow signs to Inveresk. 
Admission: £5.00, children free
Charities: LMN Scotland: Live Music Now Scotland 60%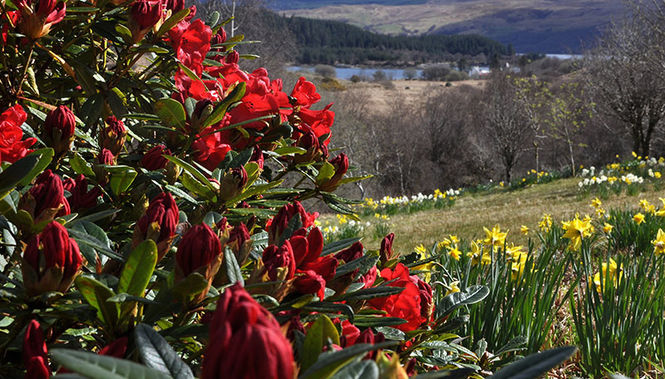 Knock Newhouse
Lochgair
PA31 8RZ
Mr and Mrs Hew Service
Saturday/Sunday, 25/26 April & Saturday/Sunday, 16/17 May, 1:30pm - 5pm (2020)
2467
T:
01546 886628
E:
corranmorhouse@aol.com
The six-acre woodland garden is centred on a small waterfall, a 250-foot lochan and lily pond. Since the 1960s there has been constant planting including major plantings in 1989 and the 90s. The storms of 2011/12 caused great damage to trees and bushes, but created space for additional azaleas, rhododendrons, camellias, hoheria, eucryphia and other flowering shrubs. There are over 100 species of rhododendron, as well as hybrids. Among the mature and young trees are cut leaf oak and alder, specimen conifers, redwoods, eucalyptus, acers and a wollemi pine, which was thought to be extinct until found in Australia in 1994.
Directions: On the A83. The house is not visible from the road. From Lochgilphead, half a mile south of Lochgair Hotel and on the left-hand side of the road, and from Inveraray on the right side of the road half a mile after the Lochgair Hotel; the drive opening is marked and enters the woods.
Admission: £4.00, children free
Charities: MND Scotland 30% & Christ Church Scottish Episcopal Church 30%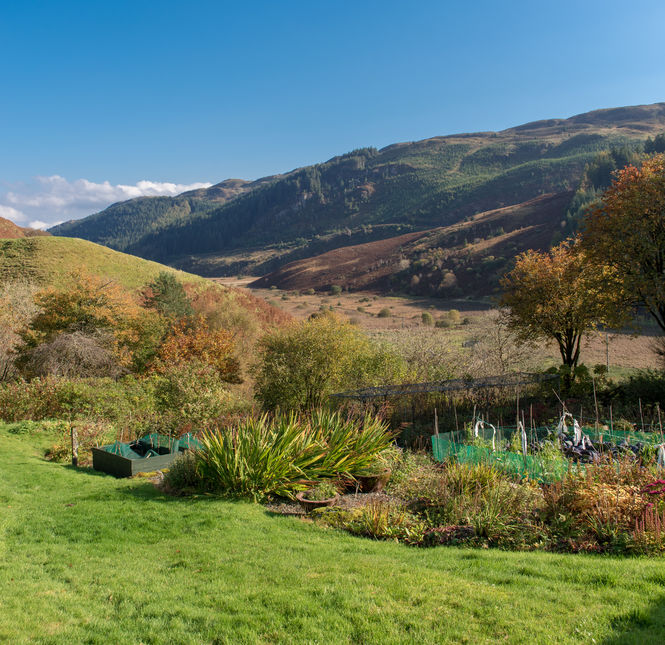 Maolachy's Garden
Lochavich, by Kilmelford
PA35 1HJ
Georgina Dalton
Saturday/Sunday, 25/26 April, 2pm - 5pm (2020)
2c7
T:
01866 844212
Three acres of woodland garden with a tumbling burn — created in a small glen over 40 years. At an altitude of 450 feet and two weeks behind the coastal changes, the growing season is shorter. By not struggling to grow tender or late species, the owner can enjoy those that are happy to grow well here and give everyone much pleasure. Snowdrops, followed by early rhododendrons, masses of daffodils in many varieties, bluebells, wildflowers and azaleas, primulas and irises. A productive vegetable patch and tunnel feed the gardener and family.
Directions: Ignore SatNav. A816 to Kilmelford. Turn uphill between shop and church, signposted Lochavich 6, steep and twisty road with hairpin bend shortly after leaving village, check for passing places. Maolachy Drive is four miles from village. Cross three county cattle grids; after the third ignore the forestry tracks to left and right. Continue downhill towards Loch Avich, and Maolachy is up on the left, first house after Kilmelford.
Admission: £4.00, children free
Charities: Hope: Oban 30% & Kilninver & Kilmelford Parish Church Of Scotland: Kilmelford Church Project 30%
South Flisk
Blebo Craigs, Cupar
KY15 5UQ
Mr and Mrs George Young
Sunday 26 April, 2pm - 5pm (2020)
2c46
T:
01334 850859
E:
julia@standrewspottery.co.uk
The spectacular views over Fife to Perthshire and Angus and the large flooded quarry full of fish and planted with impressive marginals make the garden at South Flisk very special in the area. Flights of old stone steps, cliffs, huge boulders, exotic ferns and mature trees form a backdrop for carpets of primroses, bluebells, spring bulbs and woodland plants like trilliums, camassia and colourful primulas. There are different rhododendrons in flower in the garden from March until July. In front of the house is a charming, mature walled garden with traditional cottage-garden planting and next to the house is the St Andrews Pottery where George will be demonstrating his pottery skills for those who need a break from the garden!
Directions: Six miles west of St Andrews off the B939 between Strathkinness and Pitscottie. There is a small stone bus shelter opposite the road into the village and a small sign saying Blebo Craigs. Or check out the map on our website. Bus to Blebo Craigs.
Admission: £5.00, children free
Charities: Book Aid International 60%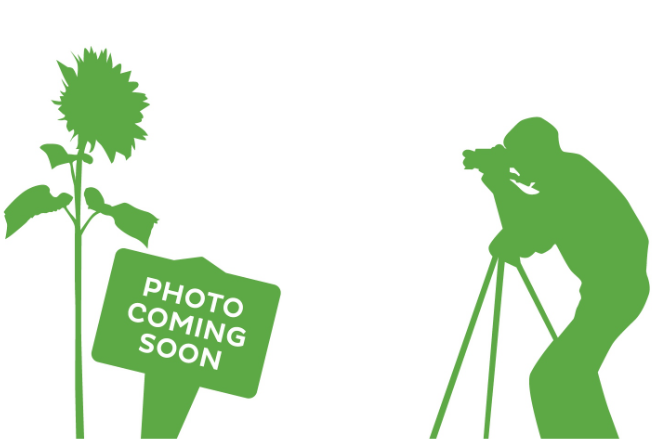 The Tower
1 Northview Terrace, Wormit
DD6 8PP
Peter and Angela Davey
Saturday 2 May, 1pm - 5pm (2020)
4
T:
01382 541635 M: 07768 406946
E:
adavey541@btinternet.com
Situated four miles south of Dundee, this one-acre Edwardian landscaped garden has panoramic views over the River Tay. Set on a hill, a series of paths meander around ponds and a small stream, rockeries featuring hellebores and low-level planting, a curved lawn and larger borders. Original woodland paths lead to a granite grotto with waterfall pool. At the rear of the house the vegetable garden features raised beds made from granite sets. Rhododendrons have recently been removed to create more space for seating and flower beds. The garden is colourful throughout the summer, with many architectural plants accentuating the clever hard landscape design.
Directions: From B946 park on Naughton Road outside Spar shop and walk up path on left following signs.
Admission: £5.00, children free
Charities: Dundee Chamber Music Club 60%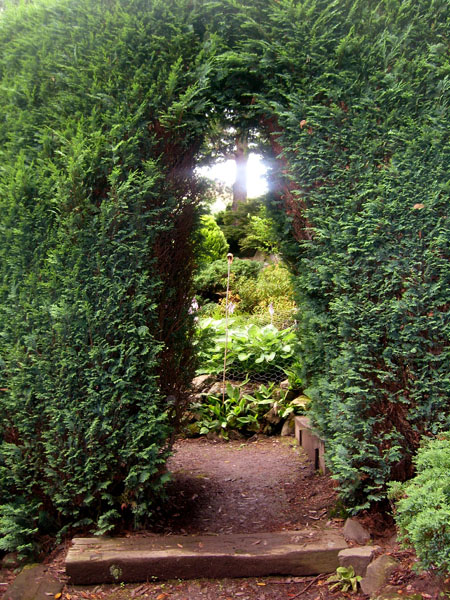 Dr Neil's Garden
Duddingston Village
EH15 3PX
Dr Neil's Garden Trust
Saturday/Sunday, 2/3 May, 2pm - 5pm (2020)
2c85
E:
info@drneilsgarden.co.uk
Wonderful, secluded, landscaped garden on the lower slopes of Arthur's Seat including conifers, heathers, alpines, a physic garden, herbaceous borders and ponds. Also Thompson's Tower with the Museum of Curling and beautiful views across Duddingston Loch. 
Directions: Park at the kirk car park on Duddingston Road West and then follow signposts through the manse garden. 
Admission: £3.00, children free
Charities: Dr. Neils Garden Trust 60%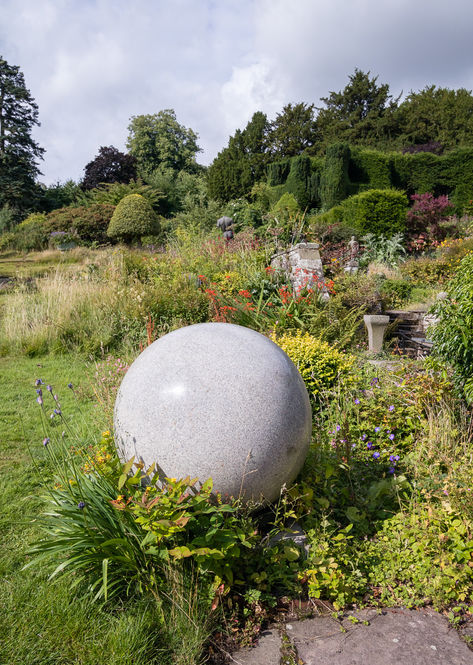 Fingask Castle
Rait
PH2 7SA
Mr and Mrs Andrew Murray Threipland
Sunday 3 May, 1:30pm - 4:30pm (2020)
286ed7
T:
01821 670777 ext 2
E:
andrew@fingaskcastle.com
Scotland's funniest garden!
Alice in Wonderland
topiary staggers across the lawn, bumping into stone globes, marble balls and statues from three centuries. Historical and literary figures are scattered among pleasure gardens first laid out in the 18th century. Both Bonnie Prince Charlie and his father are said to have approached the castle from the longer yew parade, the Kings Walk. There is a marked 15-minute walk down the steep dell to a medieval wishing well (St Peter's), over a Chinese bridge crossing the Fingask Burn via the Iron Age Fort to Fingask Loch and Sir Stuart's House, back along another path to the orchard car park (wellies recommended). There are large drifts of snowdrops, daffodils and flowering shrubs depending on the season.
Champion Trees:
Pinus wallichiana
(Japanese maple)
Directions: Half-way between Perth and Dundee. From the A90 follow signs to Rait until small crossroad, turn right and follow signs to Fingask.
Admission: £4.00, children free
Charities: Fingask Follies 30% & All Saints Episcopal Church: Glencarse 30%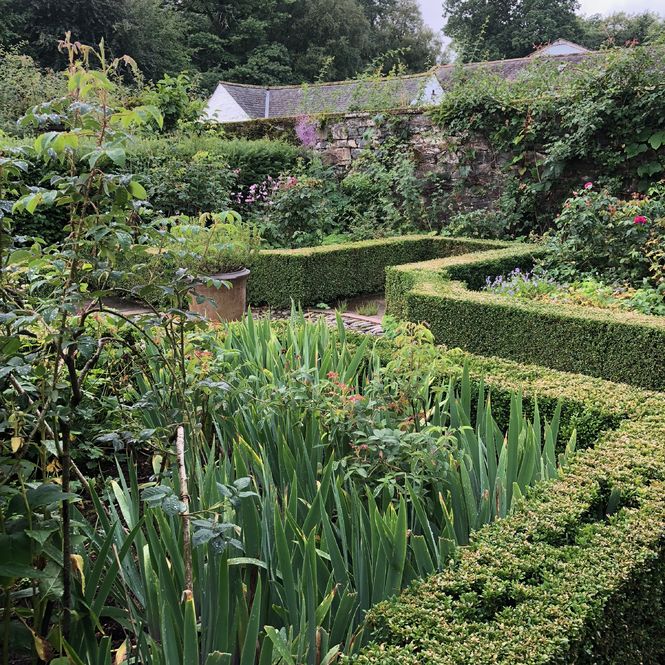 Dunesslin
Dunscore
DG2 0UR
Iain and Zara Milligan
Sunday 3 May, 2pm - 5pm (2020)
2c6
E:
zaramilligan@gmail.com
Set in the hills with wonderful views and borrowed landscapes, the principal garden consists of a series of connecting rooms filled with a great and interesting variety of herbaceous plants, beautifully designed and maintained. There is a substantial rock garden with alpines and unusual plants and a very pretty pond. There is a short walk to three cairns by Andy Goldsworthy, through an evolving woodland garden. 
Directions: From Dunscore, follow the road to Corsock. About one-and-a-half miles further on, turn right at the post box, still on the road to Corsock and at small crossroads half a mile on, turn left. 
Admission: £5.00, children free
Charities: Alzheimer Scotland 60%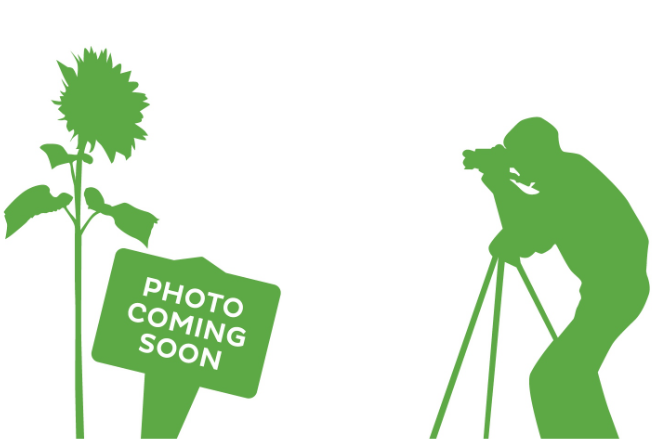 Cruickshank Botanic Garden
23 St Machar Drive, Aberdeen
AB24 3UU
Cruickshank Botanic Garden Trust, Aberdeen University
Saturday 9 May, 12:30pm - 3pm (2020)
45e7
A tour is offered by the Curator, Mark Paterson, and Head Gardener, Richard Walker. The garden comprises a sunken garden with alpine lawn, a rock garden built in the 1960s complete with cascading water and pond system, a long double-sided herbaceous border, a formal rose garden with drystone walling, and an arboretum. It has a large collection of flowering bulbs and rhododendrons, and many unusual shrubs and trees. It is sometimes known as 'Aberdeen's best kept secret'.
Champion Trees: Quercus ilex, Acer griseum and a tri-stemmed Nothofagus obliqua
Directions: Come down St Machar Drive over the four-way junction, just before the first set of traffic lights turn left into the Cruickshank Garden car park. The pedestrian garden entrance is off The Chanonry. Limited parking available for this day only in the Cruickshank car park - AB24 3UU.
Admission: £5.00, children free
Charities: Friends Of The Cruickshank Botanic Garden 60%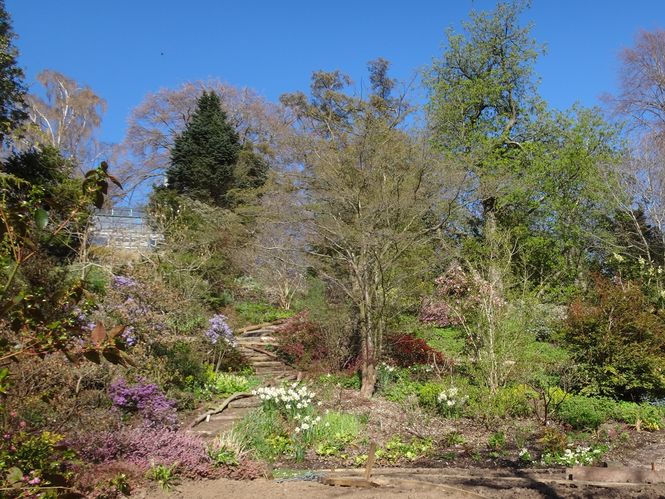 Kevock Garden
16 Kevock Road, Lasswade
EH18 1HT
David and Stella Rankin
Saturday/Sunday, 9/10 May, 2pm - 5pm (2020)
2c
T:
0131 454 0660
E:
stella@kevockgarden.co.uk
A lot has changed since this garden was last opened. Lawns have been relaid, surrounding borders have been planted, and there is a new rock garden. This wonderful hillside garden has magnificent views over the North Esk Valley and the steep slope creates a range of different habitats with a wide diversity of plants, ranging from those that love hot, sunny conditions to those that prefer the cool, damp places near the pond and woodland glades. Mature specimen trees, rhododendrons, azaleas and unusual shrubs are underplanted with many rare woodland plants. Kevock Garden has featured in many magazine articles and gardening programmes. The associated nursery, Kevock Garden Plants, which will provide the plant stall, has won many Chelsea gold medals.
Directions: Kevock Road lies to the south of the A678 Loanhead/Lasswade Road. Five minutes from the city bypass Lasswade Junction and on the 31 Lothian Bus route to Polton/Bonnyrigg. Parking available in Drummond Grange Nursing Home, 7 Kevock Road. Only disabled parking on Kevock Road please.
Admission: £5.00, children free
Charities: Fischy Music 60%
Cally Gardens
Cally Avenue, Gatehouse of Fleet
DG7 2DJ
Kevin Hughes
Sunday 10 May, 10am - 5pm (2020)
0c57
T:
01557 815228
E:
info@callygardens.co.uk
Cally Gardens and Specialist Plant Centre is a treasure trove of exotic and rare hardy plants gathered from around the globe. The towering 18th-century walls of what was once the kitchen garden and pleasure garden of Cally House now provide shelter to thousands of rare and exotic plants. The informal garden, which was created by the famous plant collector Michael Wickenden, is now in the care of the plantsman Kevin Hughes. Kevin took ownership of Cally in 2018 and has since brought his own large collection of magnolias, daphnes and trilliums and has also added more collections including galanthus, paeonies and nerines. As an ecologist and environmentalist, Kevin has decided to make Cally a haven for birds, insects and all things wild.
Directions: From Dumfries take the Gatehouse of Fleet turning off the A75, follow the B727 and turn left through the Cally Palace Hotel gateway from where the gardens are well signposted. A regular bus service will stop at the end of Cally Drive if requested.
Admission: £5.00, children free
Charities: WWF-UK 40%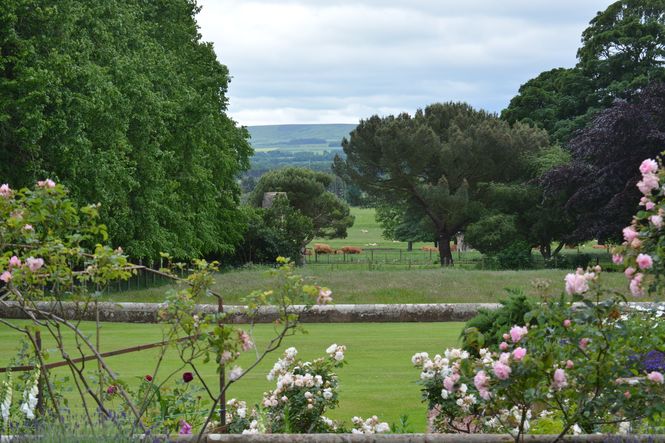 Tyninghame House and The Walled Garden
Dunbar
EH42 1XW
Mrs C Gwyn and Tyninghame Gardens Ltd
Sunday 10 May, 1pm - 5pm (2020)
2c5ed7
The formal walled garden combines the lawn, sculpture and yew hedges, an Apple Walk, extensive herbaceous planting including roses and peonies with an informal arboretum. Splendid 17th-century sandstone Scottish baronial house, remodelled in 1829 by William Burn. The gardens include herbaceous border, formal rose garden, Lady Haddington's Secret Garden with old fashioned roses and an extensive Wilderness spring garden with rhododendrons, azaleas, flowering trees and bulbs. Grounds include a one-mile beech avenue to the sea. The Romanesque ruin of St Baldred's Church commands views across the Tyne Estuary and Lammermuir Hills. Tyninghame has been awarded 'Outstanding' for every category in the
Inventory of Gardens and Designed Landscapes of Scotland
.
Champion Trees: Two British and seven Scottish
Directions: Gates on the A198 at Tyninghame Village. Bus 120. 
Admission: £6.00, children free
Charities: Lynton Day Centre 60%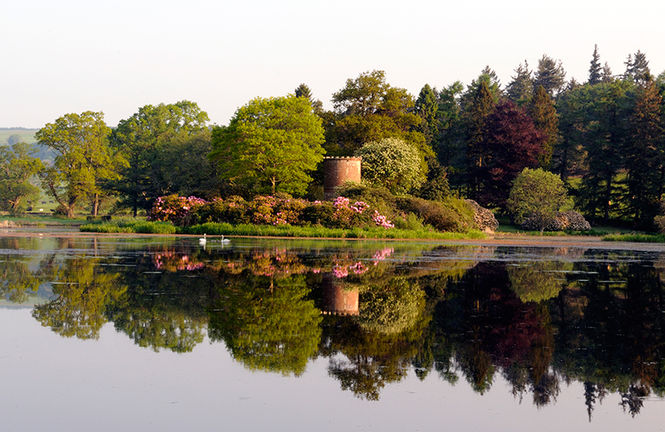 Dalswinton House
Dalswinton
DG2 0XZ
Mr and Mrs Peter Landale
Sunday 10 May, 2pm - 5pm (2020)
246d7
T:
01387 740220
E:
sarahlandale@gmail.com
Late 18th-century house sits on top of a hill surrounded by herbaceous beds and well-established shrubs, including rhododendrons and azaleas, overlooking the loch. Attractive walks through woods and around the loch. It was here that the first steamboat in Britain made its maiden voyage in 1788 and there is a life-size model beside the water to commemorate this. Over the past years, there has been much clearing and development work around the loch, which has opened up the views considerably. 
Directions: Take the A76 north from Dumfries to Thornhill. After seven miles, turn right to Dalswinton. Drive through Dalswinton village, past the orange church on the right and follow estate wall on the right. Entrance is by either the single lodge or double lodge entrance set in the wall.
Admission: £5.00, children free
Charities: Kirkmahoe Parish Church of Scotland 60%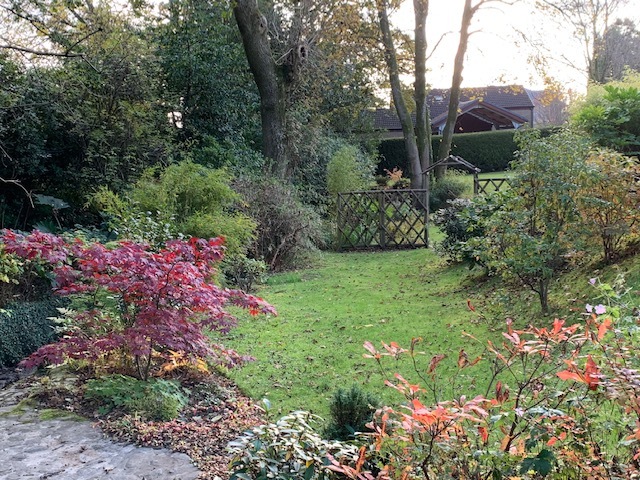 High Glenan with Westburn
Helensburgh
G84 9NH
Tom & Tricia Stewart and Professor & Mrs Baker
Sunday 10 May, 2pm - 5pm (2020)
2c467
High Glenan
Helensburgh G84 9LG (Tom and Tricia Stewart): A secluded garden with burn and waterside plants, gravel garden, herb and herbaceous borders and kitchen garden with selection of fruit and vegetables. Extensive programme of hard landscaping has been undertaken over the last ten years.
Westburn
50 Campbell Street G84 9NH (Professor and Mrs Baker): A woodland garden of just over two acres. The Glenan Burn runs through a woodland of oak and beech trees with bluebells in the springtime. Some of the paths are steep, but there are bridges over the burn and handrails in places. There is also an air raid shelter, and the remains of a kiln where James Ballantyne Hannay manufactured artificial diamonds in the 1800s. A lawn is surrounded by rhododendrons and azaleas, and there is a vegetable garden. Over the years the garden has been enjoyed by children, with lots of room to play and fish in the burn.
Directions: High Glenan The garden is situated in west Helensburgh, approximately half a mile along Queen Street from its junction with Sinclair Street on the right-hand side. Westburn Proceed along West Montrose Street from Sinclair Street and take the fourth turn on the right. The entrance of Westburn is 100 yards up Campbell Street on the right-hand side.
Admission: £4.00, children free
Charities: Rhu and Shandon Parish Church of Scotland 30% & St Michael & All Angels Church 30%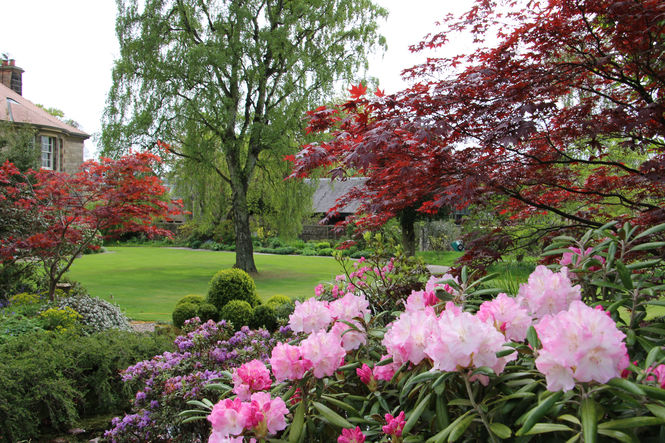 Redcroft
23 Murrayfield Road, Edinburgh
EH12 6EP
James and Anna Buxton
Sunday 10 May, 2pm - 5pm (2020)
2c8457
T:
0131 337 1747
E:
annabuxtonb@aol.com
Redcroft is a mature walled garden surrounding an attractive Arts and Crafts house. It is a hidden haven off a busy road with a variety of different features and habitats: an orchard, a rockery, a pond, shrubberies, a large lawn and contrasting longer grass. It is well maintained with many clipped shrubs and some cloud pruning. Early May is very colourful with rhododendrons and many other flowering shrubs and wall plants, and the greenhouse is full of tender plants. There will be tulips in pots and many other bulbs. Children are very welcome and there will be plenty of activities. We hope older children will enjoy our new treehouse.
Directions: Murrayfield Road runs north from Corstorphine Road to Ravelston Dykes. There is easy parking available which is free. Buses 12, 26, 31, get off at Murrayfield Stadium, bus 38 which goes down Murrayfield Road. 
Admission: £5.00, children free
Charities: Royal Caledonian Horticultural Society: Greenhouse at Saughton 60%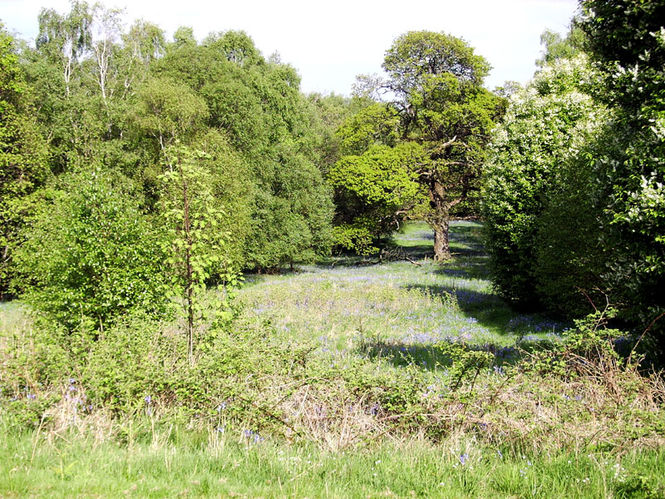 Highwood
off Lochwinnoch Road, Kilmacolm
PA13 4TF
Dr Jill Morgan
Sunday 10 May, 2pm - 5pm (2020)
2c87
A beautiful woodland walk around 50 acres of native bluebells, primroses and wild garlic in a delightful setting bordering the Green Water river with tumbling waterfalls. Great outdoor space for children to run and explore and splash in the burn (under supervision). A haven of tranquility only three miles from the centre of Kilmacolm. 
Directions: Take the B786 Lochwinnoch road out of Kilmacolm and continue for approximately two miles. From Lochwinnoch take the B786 Kilmacolm road for approximately six miles. Then follow the yellow SGS signs. 
Admission: £4.00, children free
Charities: Orkidstudio 60%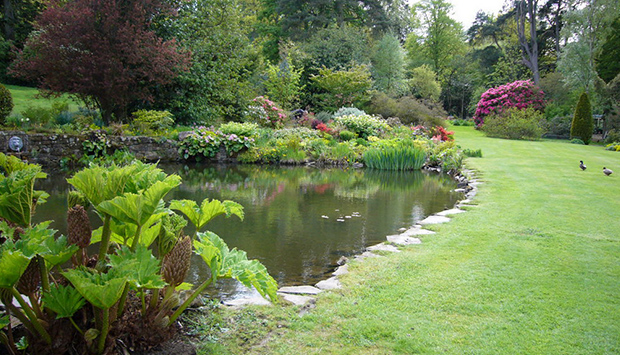 Dowhill
Cleish
KY4 0HZ
Mrs Colin Maitland Dougall
Sunday 10 May & Sunday 17 May, 2pm - 5pm (2020)
67
T:
01577 850207
E:
pippamd@icloud.com
This will be the last time that the garden opens so please come along and see its magnificent trees, woodland walks, ponds, poppies and swathes of primulas. For more information on the garden read Scotland for Gardeners by Kenneth Cox.
Directions: Three-quarters of a mile from M90, exit 5. Follow B9097 towards Crook of Devon, the entrance is between the trees on left.
Admission: £5.00, children free
Charities: MND Scotland 60%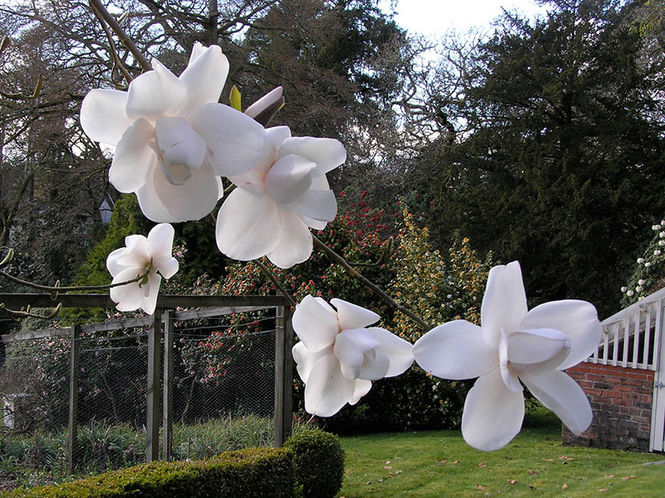 Glenarn
Glenarn Road, Rhu, Helensburgh
G84 8LL
Michael and Sue Thornley
Plant Hunting in Scotland: How the plant collections came to Glenarn A guided walk with tea and home baking, max 30, please phone or email to book. (2020)
467
T:
01436 820493
E:
masthome@btinternet.com
Glenarn survives as a complete example of a ten-acre garden which spans from 1850 to the present day. There are winding paths through miniature glens under a canopy of oaks and limes, sunlit open spaces, a vegetable garden with beehives, and a rock garden full of surprise and season-long colour, with views over the Gareloch. The famous collections of rare and tender rhododendrons and magnolias give way in midsummer to roses rambling through the trees and climbing hydrangeas, followed by the starry white flowers of hoherias and eucryphias to the end of the season. 
Directions: On the A814, two miles north of Helensburgh, up Pier Road. Cars to be left at the gate unless passengers are infirm. 
Admission: £10.00, children free
Charities: Donation to SGS Beneficiaries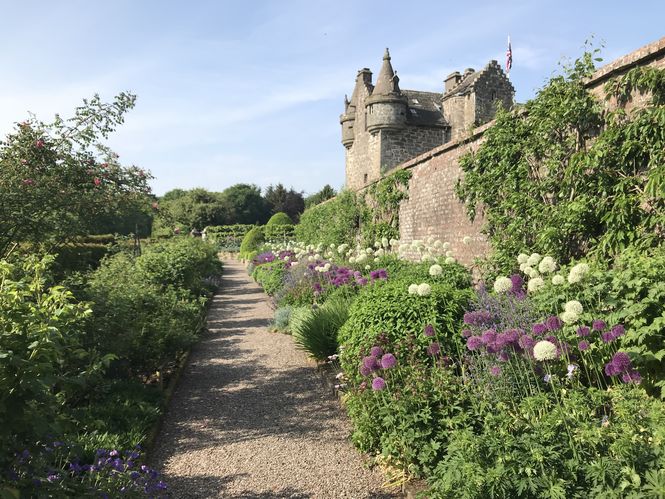 Gardyne Castle
by Forfar
DD8 2SQ
William and Camilla Gray Muir
Saturday/Sunday, 16/17 May, 2pm - 5pm (2020)
2869
Gardyne Castle, dating from the 16th century, is one of the most attractive small castles in Angus. After a turbulent history of battles with the neighbouring Guthries, it is now surrounded by an enchanting garden created by its current owners over the past 16 years. To the east, the walled garden runs down to the Denton Burn. The castle's extraordinary stone-capped turrets overlook a long romantic double border, bursting with tulips and alliums in May. The castle's southern front was extended in the 17th and 18th centuries and is complemented by a large enclosed knot garden of box and yew mixed with white roses and lavender. Beyond is an immaculate formal lawn surrounded by yew topiaries and specimen trees, with a gentle path leading down through an orchard. To the north, a new upper garden, centred on an extraordinary pepper pot doocot, provides an area for quiet contemplation with white planting, a fishpond and the family's collection of chickens. Beyond the formal gardens the grounds merge into mature woods and parkland with a spectacular display of bluebells and romantic walks along the Denton Burn.
Directions: Turn off A932 at signpost to Pitmuies Garden. Go over two stone bridges and follow road uphill past small hamlet. Take first road on left. At sharp right-hand bend take private drive straight ahead (beside cream lodge).
Admission: £5.00, children free
Charities: Guthrie and Rescobie Parish Church 60%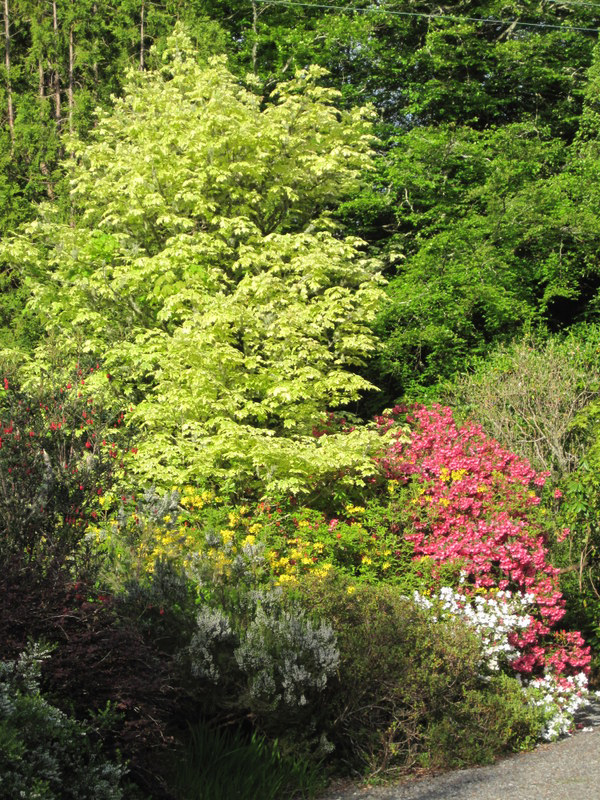 Dalnashean
Port Appin, Appin
PA38 4DE
Allister and Kathleen Ferguson
Saturday/Sunday, 16/17 May, 2pm - 6pm (2020)
06
Established garden sheltered by a beechwood hill giving views over Loch Linnhe and Lismore. There are camellias, rhododendrons and magnolias as well as many unusual shrubs and trees and more recent planting in adjoining field with ponds surrounded by rhododendrons and azaleas and tree and shrub borders.
Directions: Take the A828 to Appin then the road signposted to Port Appin and Lismore Ferry. After two miles, turn into the drive opposite the large mirror on roadside.
Admission: £4.50, children free
Charities: Appin Parish Church (Church of Scotland) 30% & Appin Community Development Trust 30%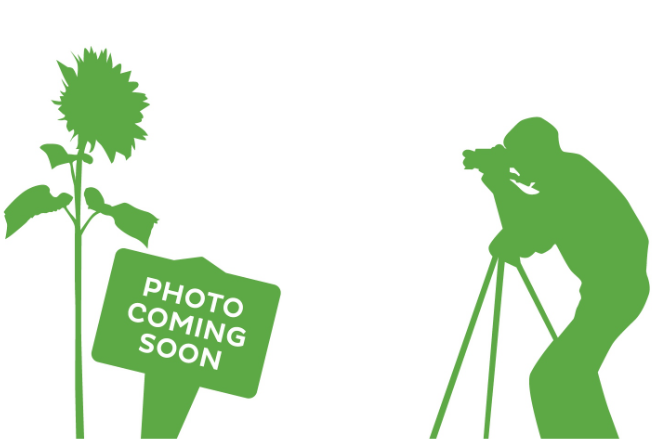 Bridge of Allan Gardens
Bridge of Allan
FK9 4AT
The Gardeners of Bridge of Allan
Sunday 17 May, 1pm - 5pm (2020)
2c67
E:
r.leckie44@btinternet.com
Bridge of Allan gardens will once again have a mixture of both small and large gardens and a few new ones, with a good variety of specimen trees and shrubs, some with interesting sculptures. Azaleas, rhododendrons, magnolias, camellias and many other spring blossoms should be in flower. This year the Bridge of Allan allotments are joining us, and some of the owners will be present to talk about their plantings. The allotments produce quantities of vegetables, fruits and flowers despite the lack of electricity and the worry of flooding from the river nearby. There will be further information about the gardens on the website nearer the time.
Directions: Gardens will be signposted from the village.
Admission: £5.00, children free
Charities: Artlink Central Ltd 30% & St Saviours Episcopal Church: Bridge Of Allan 30%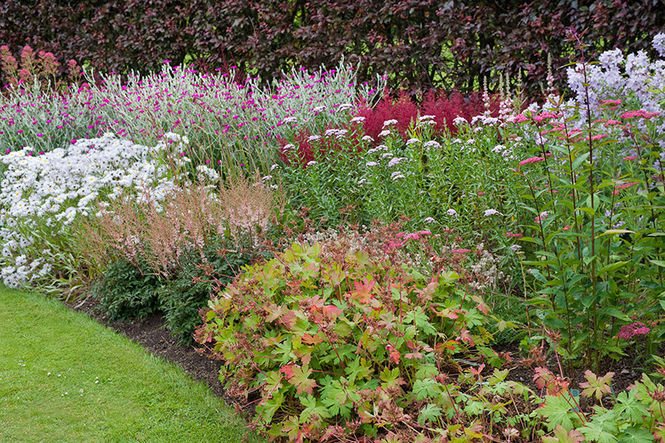 Inchmarlo Retirement Village Garden
Inchmarlo, Banchory
AB31 4AL
Skene Enterprises (Aberdeen) Ltd
Sunday 17 May, 1:30pm - 4:30pm (2020)
2c8457
T:
01330 826242
E:
info@inchmarlo-retirement.co.uk
Beautiful five-acre woodland garden filled with azaleas and rhododendrons beneath ancient Scots pines, Douglas firs and silver firs (some over 140 feet tall). Also beeches, rare and unusual trees including pindrow firs, Pere David's maple, Erman's birch and a mountain snowdrop tree. The Oriental Garden features a Karesansui, a dry slate stream designed by Peter Roger, a RHS Chelsea gold medal winner. The Rainbow Garden, within the keyhole-shaped purple Prunus cerasifera hedge, has been designed by Billy Carruthers, an eight-times gold medal winner at the RHS Scottish Garden Show. 
Directions: From Aberdeen via North Deeside Road on the A93, one mile west of Banchory turn right at the main gate to the Inchmarlo Estate. 
Admission: £5.00, children free
Charities: Alzheimer Scotland 30% & The Forget-Me-Not Club 30%