Images On / Off
Description On / Off
Total of 30 openings.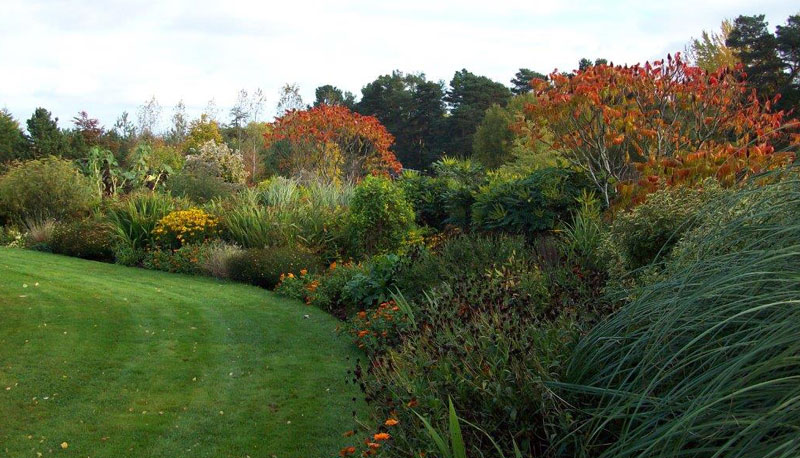 Oldtown of Leys Garden
Inverness
IV2 6AE
David and Anne Sutherland
Open daily, Dawn - Dusk (2018)
467
T:
01463 238238
E:
ams@oldtownofleys.com
Large garden established in 2003 on the outskirts of Inverness and overlooking the town. Herbaceous beds with lovely rhododendron and azalea displays in spring. There are specimen trees, three ponds surrounded by waterside planting and a small woodland area. A new rockery area was created in 2015 and is still developing.
Directions: Turn off Southern distributor road (B8082) at Leys roundabout towards Inverarnie (B861). At the T-junction turn right. After 50 metres turn right into Oldtown of Leys.
Admission: by donation
Charities: Local Charities 60%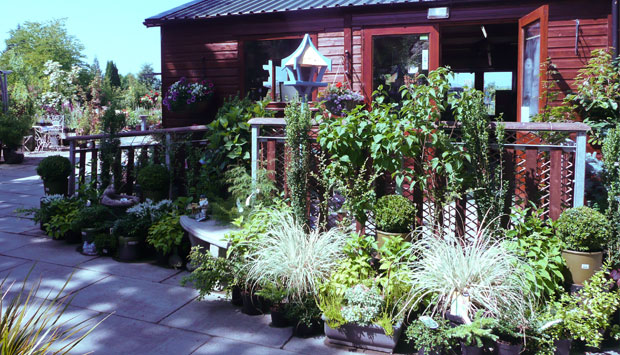 Highland Liliums
10 Loaneckheim, Kiltarlity
IV4 7JQ
Neil and Frances Macritchie
Open daily, 9am - 5pm (2018)
c57
T:
01463 741365
E:
neil.macritchie@btconnect.com
A working retail nursery with spectacular views over the Beauly valley and Strathfarrar hills. A wide selection of home grown plants available including alpines, ferns, grasses, herbaceous, herbs, liliums, primulas and shrubs. This garden is also open on a daily basis, see their individual entry for details.
Directions: Signposted from Kiltarlity village, which is just off the Beauly to Drumnadrochit road (A833), approximately 12 miles from Inverness.
Admission: by donation
Charities: Donation to SGS Beneficiaries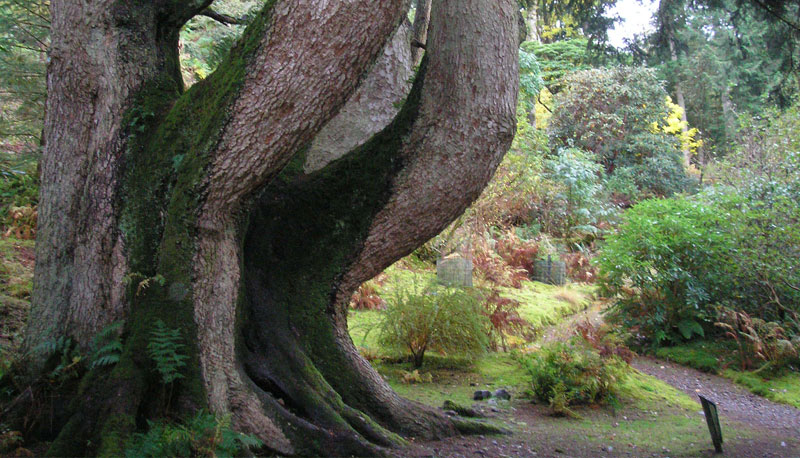 Ardkinglas Woodland Garden
Cairndow
PA26 8BG
Ardkinglas Estate
Open daily, Dawn - Dusk (2018)
386ed7
T:
01499 600261
In a peaceful setting overlooking Loch Fyne the garden contains one of the finest collections of rhododendrons and conifers in Britain. This includes the mightiest conifer in Europe, a silver fir, as well as many other champion trees. There is a gazebo with an unique 'Scriptorium' based around a collection of literary quotes. The garden now has the only Gruffalo trail in Scotland, come and find him! It is a
VisitScotland
3-star garden.
Champion Trees: 'Grand Fir' tallest tree in Britain and others
Directions: Entrance through Cairndow village off the A83 Loch Lomond/Inveraray road.
Admission: details can be found on the garden's website
Charities: Donation to SGS Beneficiaries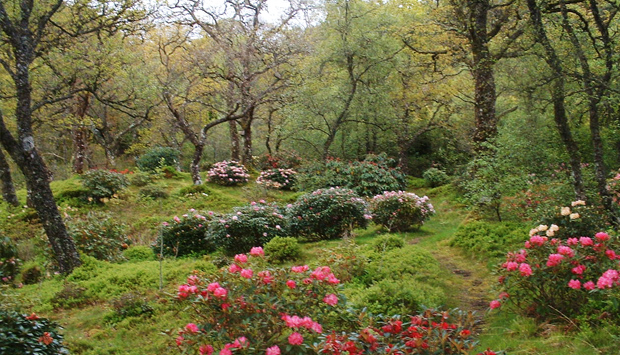 Barguillean's "Angus Garden"
Taynuilt
PA35 1HY
The Josephine Marshall Trust
Open daily, 9am - Dusk (2018)
7
T:
01866 822333
E:
info@barguillean.co.uk
Nine acre woodland garden around an 11 acre loch set in the Glen Lonan Hills. Spring flowering shrubs and bulbs, extensive collection of rhododendron hybrids, deciduous azaleas, conifers and unusual trees. The garden contains a large collection of North American rhododendron hybrids from famous contemporary plant breeders. Some paths can be steep. Three marked walks from 30 minutes to 1½ hours.
Directions: Three miles south off A85 Glasgow/Oban road at Taynuilt, road marked Glen Lonan, three miles up single track road, turn right at the sign.
Admission: £3.50, children free
Charities: Donation to SGS Beneficiaries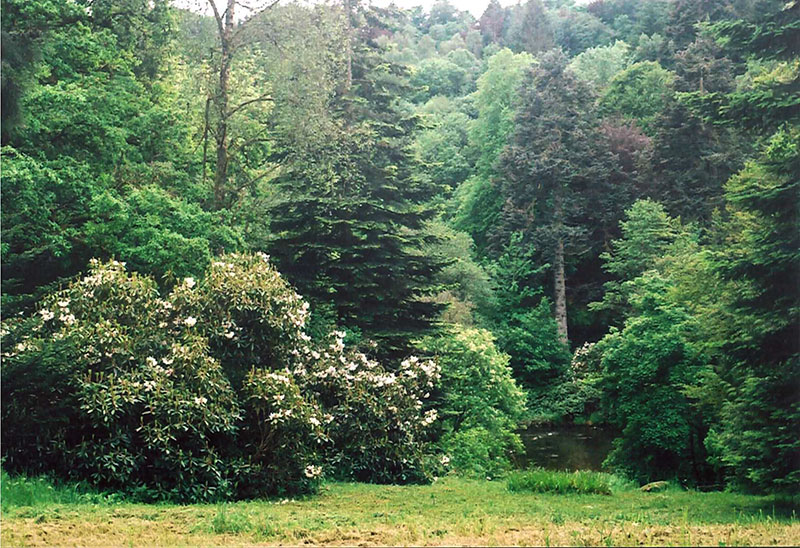 Glenericht House Arboretum
Blairgowrie
PH10 7JD
Mrs William McCosh
Open daily, Dawn - Dusk (2018)
67
T:
01250 872092
Spectacular collection of Victorian planted trees and shrubs which are centred around a Grade 'A' listed suspension bridge (1846). Ninety-two tree varieties, mostly conifers including a top Douglas fir which is 171 feet and still growing, also a collection of younger trees. In May you will be able to view the wonderful daffodils and the rhododendrons in flower.
Directions: Off A93, the Lodge House is five miles north of Blairgowrie on the right hand side A93 from Blairgowrie. Follow the avenue to the bridge.
Admission: £4.00, children free
Charities: Sands 60%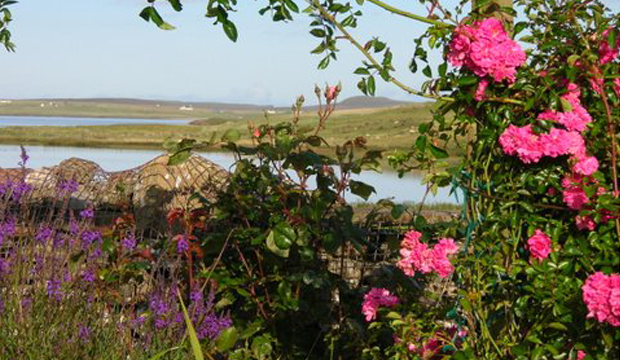 Norby
Burnside, Sandness, SHETLAND
ZE2 9PL
Mrs Gundel Grolimund
Open daily, Dawn - Dusk (2018)
4
T:
01595 870246
E:
gislinde@tiscali.co.uk
A small but perfectly formed garden and a prime example of what can be achieved in a very exposed situation. Blue painted wooden pallets provide internal wind breaks and form a background for shrubs, climbers and herbaceous plants, while willows provide a perfect wildlife habitat. There are treasured plants such as Chionocloa rubra, pieris, Chinese tree peonies, and a selection of old-fashioned shrub roses, lilies, hellebores, grasses from New Zealand.
Directions: Head north on the A970 from Lerwick then west on the A971 at Tingwall. At Sandness, follow the road to Norby, turn right at the Methodist Church, Burnside is at the end of the road. Bus 10 Sandness - Walls.
Admission: £3.00, children free
Charities: Survival International Charitable Trust 60%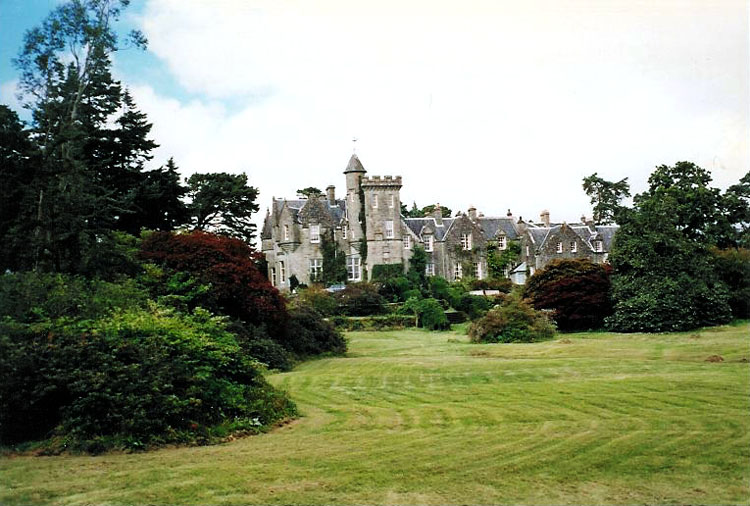 Achnacloich
Connel, Oban
PA37 1PR
Mr T E Nelson
Open daily (Saturdays only), 10am - 4pm (2018)
5d7
T:
01631 710796
E:
charlie_milne@msn.com
Scottish baronial house by John Starforth of Glasgow. Succession of wonderful bulbs, flowering shrubs, rhododendrons, azaleas, magnolias and primulas. Woodland garden with ponds above Loch Etive. Good autumn colours.
Directions: On the A85 three miles east of Connel. Parking is on the right at the bottom of the drive.
Admission: £4.00, children free
Charities: Macmillan Cancer Support 60%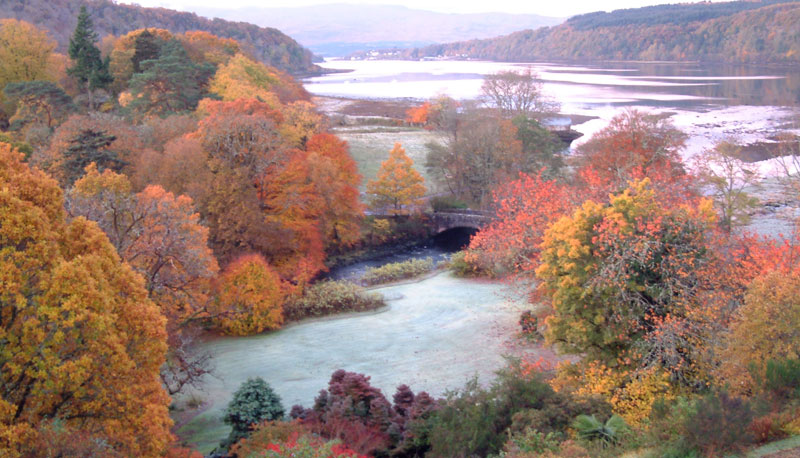 Ardtornish
by Lochaline, Morvern
PA80 5UZ
Mrs John Raven
Open daily, 10am - 6pm (2018)
867
Wonderful gardens of interesting mature conifers, rhododendrons, deciduous trees, shrubs and herbaceous, set amid magnificent scenery.
Directions: A884 Lochaline three miles.
Admission: £4.00, children free
Charities: Donation to SGS Beneficiaries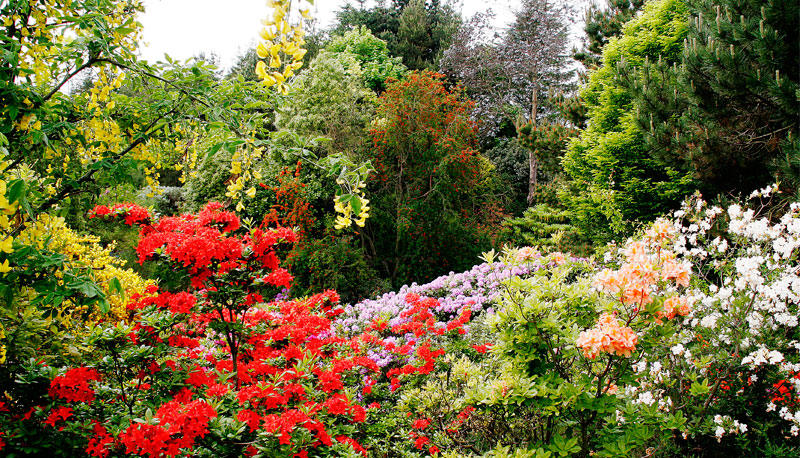 Glenwhan Gardens
Dunragit, by Stranraer
DG9 8PH
Mr and Mrs W Knott
Open daily, 10am - 5pm (2018)
2c67
T:
07787 990702
Described as one of the most beautiful gardens in Scotland, situated at 300 feet, overlooking Luce Bay and the Mull of Galloway, with clear views to the Isle of Man. Thirty-six years ago there was wild moorland, but with dedication and vision, you can now see glorious collections of plants from around the world. There is colour in all seasons and the winding paths, well placed seats, and varied sculptures, focusing around small lakes, add to the tranquil atmosphere. There is a 17 acre moorland wildflower walk, the chance to see red squirrels and a well marked Tree Trail.
Directions: Seven miles east of Stranraer, one mile off the A75 at Dunragit (follow brown VisitScotland signs).
Admission: details can be found on the garden's website
Charities: Donation to SGS Beneficiaries
Logie House
Dunphail, Forres
IV36 2QN
Alasdair and Panny Laing
Open daily, 10am - 5pm (2018)
c579
E:
panny@logie.co.uk
Originally a formal garden with a large area of vegetable production, Logie House garden has been developed since 1991 with emphasis on trees, shrubs and hardy perennials, giving all year round interest. The meandering burn and dry stone walls support the creation of a wide variety of planting habitats from dry sunny banks to damp shady areas. Many of the unusual plants are propagated for sale in the Garden Shop at Logie Steading. Also features forest and river walks.
Directions: Six miles south of Forres off A940. Follow signs to Logie Steading.
Admission: £2.00, children free
Charities: Donation to SGS Beneficiaries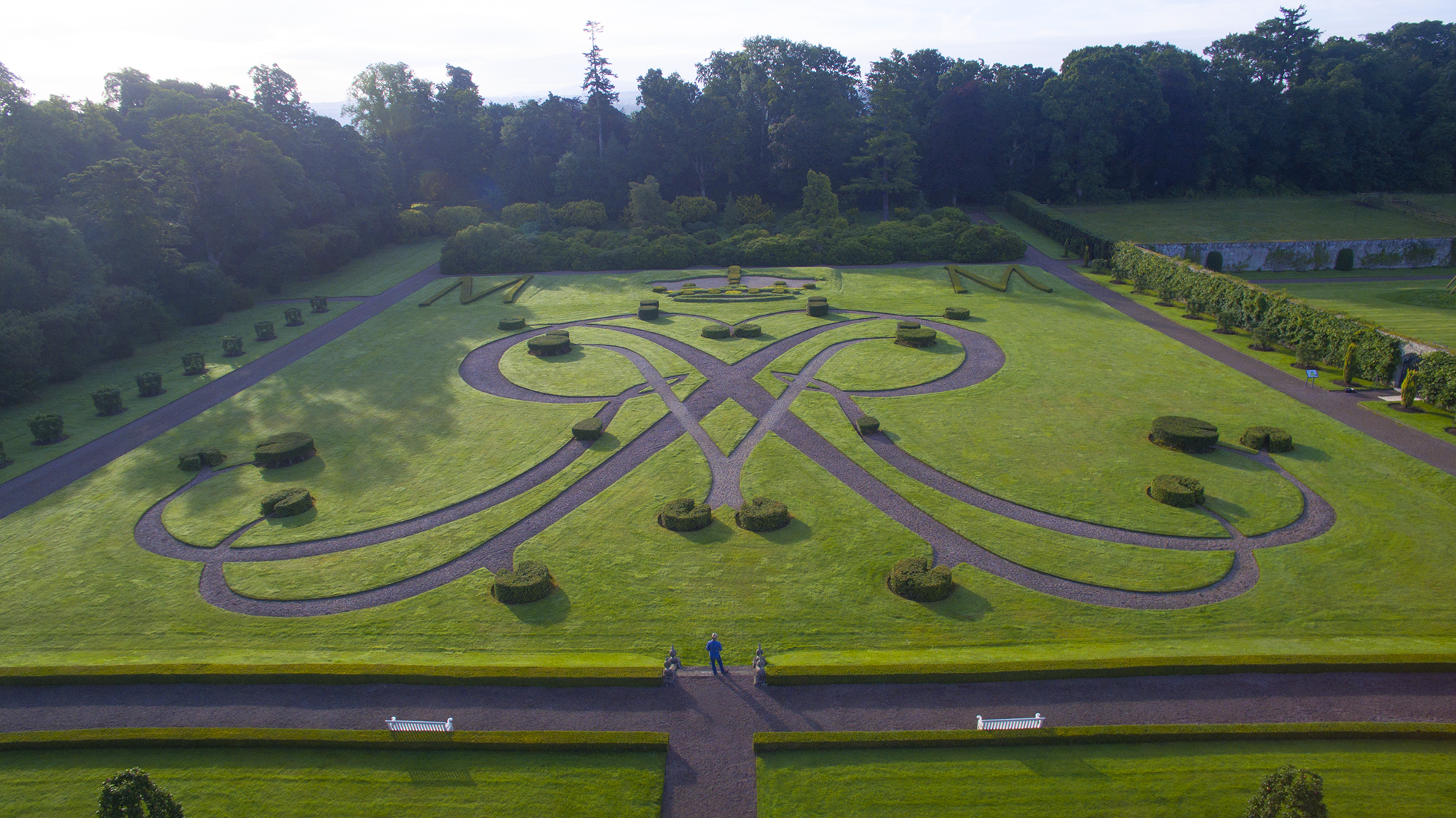 Floors Castle
Kelso
TD5 7SF
The Duke of Roxburghe
Open daily, 11am - 5pm (2018)
b36d7
T:
01573 223333
The gardens are situated within the grounds of Floors Castle. Meander through to the formal Millennium Parterre and soak up the spectacular visions of colour, texture and the most delicious scents around the four herbaceous borders in one of the finest Victorian kitchen gardens in Scotland. New perennial gardens, fruit cage, Tapestry Garden & glasshouse access. Terrace Cafe, Castle Kitchen deli shop and play area. Explore the grounds which offer woodland and riverside walks from Easter to October.
Directions: Floors Castle can be reached by following the A6089 from Edinburgh; the B6397 from Earlston or the A698 from Coldstream. Go through Kelso, up Roxburgh Street to the Golden Gates.
Admission: details can be found on the garden's website
Charities: Donation to SGS Beneficiaries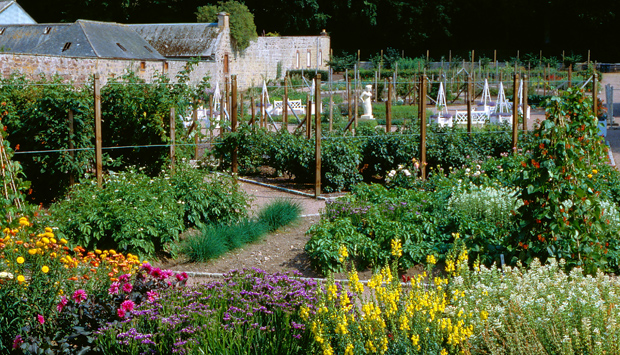 Fyvie Castle
Fyvie, Turriff
AB53 8JS
The National Trust for Scotland
5 January - 22 December, 9am - Dusk (2018)
245d7
T:
01651 891363 / 891266
E:
gthomson@nts.org.uk
An 18th century walled garden developed as a garden of Scottish fruits and vegetables. There is also the American garden, Rhymer's Haugh woodland garden, a loch and parkland to visit. Expert staff are always on hand to answer any questions. Learn about the collection of Scottish fruits and their cultivation, and exciting projects for the future. Check the Fyvie Castle Facebook page for up to date information on fruit and vegetable availability.
Directions: Off the A947 eight miles south east of Turriff and 25 miles north west of Aberdeen.
Admission: details can be found on the garden's website
Charities: Donation to SGS Beneficiaries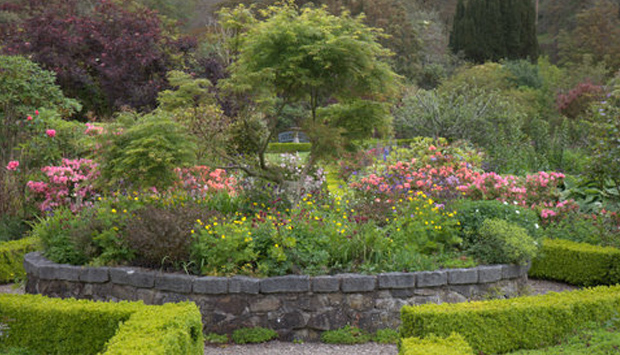 Ardmaddy Castle
by Oban
PA34 4QY
Mr and Mrs Charles Struthers
12 March - 31 December, 9am - Dusk (2018)
c57
T:
01852 300353
E:
minette@ardmaddy.com
The gardens, in a most spectacular setting, are shielded by mature woodlands, carpeted with bluebells and daffodils and protected from the winds by the elevated castle. The walled garden is full of magnificent rhododendrons, a collection of rare and unusual shrubs and plants, the 'Clock Garden' with its cutting flowers, the new crevice garden, fruit and veg grown with labour saving formality, all within dwarf box hedging. Beyond, a woodland walk, with its 60 foot hydrangea, leads to the water gardens - in early summer a riot of Candelabra primulas, irises, rodgersias and other damp loving plants and grasses. Lovely autumn colour. A plantsman's garden for all seasons.
Directions: Take the A816 south of Oban for eight miles. Turn right B844 to Seil Island/Easdale. Four miles on, turn left on to Ardmaddy Road (signed) for a further two miles.
Admission: £4.50, children free
Charities: Donation to SGS Beneficiaries
Gordon Castle Walled Garden
Fochabers, Moray
IV32 7PQ
Angus and Zara Gordon Lennox
1 November - 31 December, 10am - 4pm (2018)
5d79
T:
01343 612317
E:
info@gordoncastlescotland.com
Gordon Castle has one of the largest and oldest walled gardens in Britain. Eight acres in size, it is being lovingly restored to its former glory with a new design by award winning Anne Maynard which includes vegetables, fruit, herbs and cut flower beds alongside the amazing 259 espaliered trees on the 15 foot high walls. This wonderful kitchen garden has a 'Plant.Pick.Plate' ethos for its onsite cafe and there is a children's natural play area and shop.
Directions: The main entrance is situated at the western end of the village of Fochabers on the A96, approximately nine miles east of Elgin and 12 miles west of Keith.
Admission: £2.00, children free
Charities: Donation to SGS Beneficiaries
Novar
Evanton
IV16 9XL
Mr and Mrs Ronald Munro Ferguson
By arrangement (2018)
6
T:
01349 831062
E:
enquiries@novarestate.co.uk
Water gardens have been renovated and replanted since the last garden opening. There is a new terrace garden. Five acre walled garden, rhododendrons and azaleas. Newly planted apple orchard.
Directions: Off the B817 between Evanton and junction with A836. Turn west onto the drive to Novar.
Admission: £6.00, children free
Charities: Diabetes UK: Endowment Fund, Raigmore Hospital 60%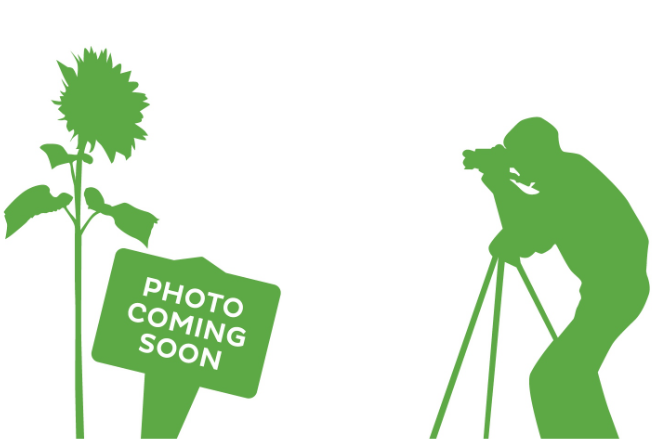 Hunter's Tryst
95 Oxgangs Road, Edinburgh
EH10 7BA
Jean Knox
By arrangement (2018)
2c4
T:
0131 477 2919
E:
jean.knox@blueyonder.co.uk
Well stocked and beautifully designed mature, medium sized town garden comprising herbaceous and shrub beds, lawn, fruit and some vegetables, water features, seating areas and trees. This is a wildlife friendly garden that has been transformed from a wilderness 30 years ago and continues to evolve. The project for 2017 was the construction and planting of two raised beds in the front garden, so there's a lot more to see this year. This hidden treasure of a garden was featured on the Beechgrove Garden in June 2015 and on The Instant Gardener in June 2016.
Directions: From Fairmilehead crossroads head down Oxgangs Road to Hunter's Tryst roundabout, last house on the left. Take buses 4, 5, 18 or 27. The bus stop is at Hunter's Tryst and the garden is opposite.
Admission: £4.00, children free
Charities: Lothian Cat Rescue 60%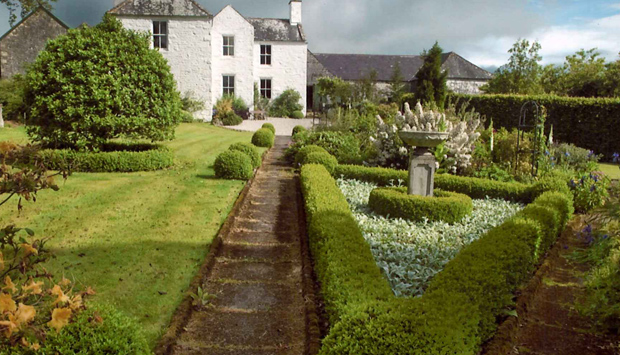 Stockarton
Kirkcudbright
DG6 4XS
Lt. Col. and Mrs Richard Cliff
By arrangement (2018)
67
T:
01557 330430
This interesting garden was started in 1995 and contains a collection of unusual shrubs and small trees which are growing well. Our aim has been to create different informal gardens around a Galloway farm house, leading down to a lochan. Above the lochan there is a sweet cottage, used for holiday retreats. It has its own interesting garden. In 1996 a three acre aboretum was planted as a shelter belt and it now contains some rare oak trees.
Directions: On B727 Kirkcudbright to Gelston Road. Kirkcudbright three miles, Castle Douglas seven miles.
Admission: £4.00, children free
Charities: Great Ormond Street Hospital Children's Charity 60%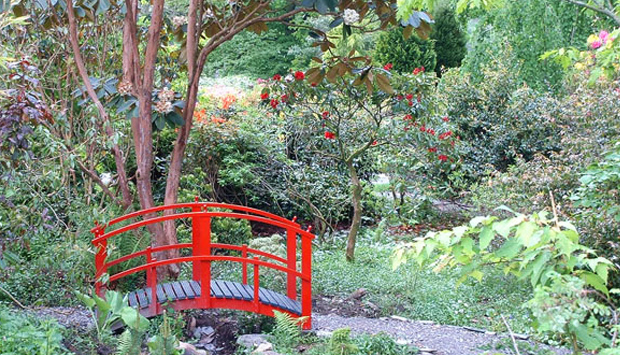 Kinlochlaich Gardens
Appin
PA38 4BD
Miss F M M Hutchison
By arrangement between 1 January - 2 March & 16 October - 31 December (2018)
845
T:
07881 525754
E:
fiona@kinlochlaich.plus.com
Walled garden incorporating a large Nursery Garden Centre. Amazing variety of plants growing and for sale. Extensive grounds with woodland walk and spring garden. Many rhododendrons, azaleas, trees, shrubs and herbaceous, including many unusual - embothrium, davidia, stewartia, magnolia, eucryphia and tropaeolum. A quarter of the interior of the walled garden is borders packed with many unusual and interesting plants, espaliered fruit trees, and with an ancient yew in the centre.
Directions: On the A828 in Appin between Oban, 18 miles to the south, and Fort William, 27 miles to the north. The entrance is next to the police station. Bus Oban to Fort William.
Admission: £3.00, children free
Charities: The Appin Village Hall 40% & Feis na h'apainne 20%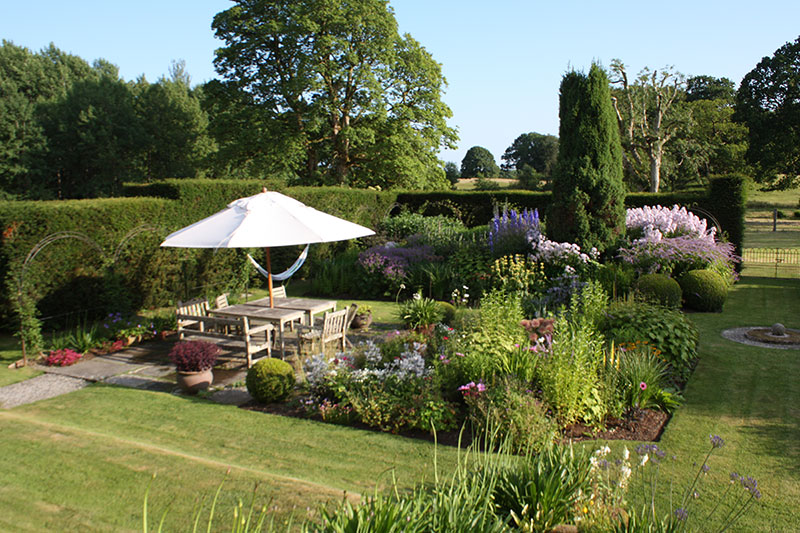 Craichlaw
Kirkcowan, Newton Stewart
DG8 0DQ
Mr and Mrs A Gladstone
By arrangement (2018)
b046
T:
01671 830208
E:
craichlaw@aol.com
Formal garden with herbaceous borders around the house. Set in extensive grounds with lawns, lochs and woodland. A path around the main loch leads to a water garden returning past a recently planted arboretum in the old walled garden. The best times to visit the garden are early February for snowdrops, May to mid-June for the water garden and rhododendrons and mid-June to August for herbaceous borders.
Directions: Take the B733 for Kirkcowan off the A75 at the Halfway House eight miles west of Newton Stewart. Craichlaw House is the first turning on the right.
Admission: £4.00, children free
Charities: Donation to SGS Beneficiaries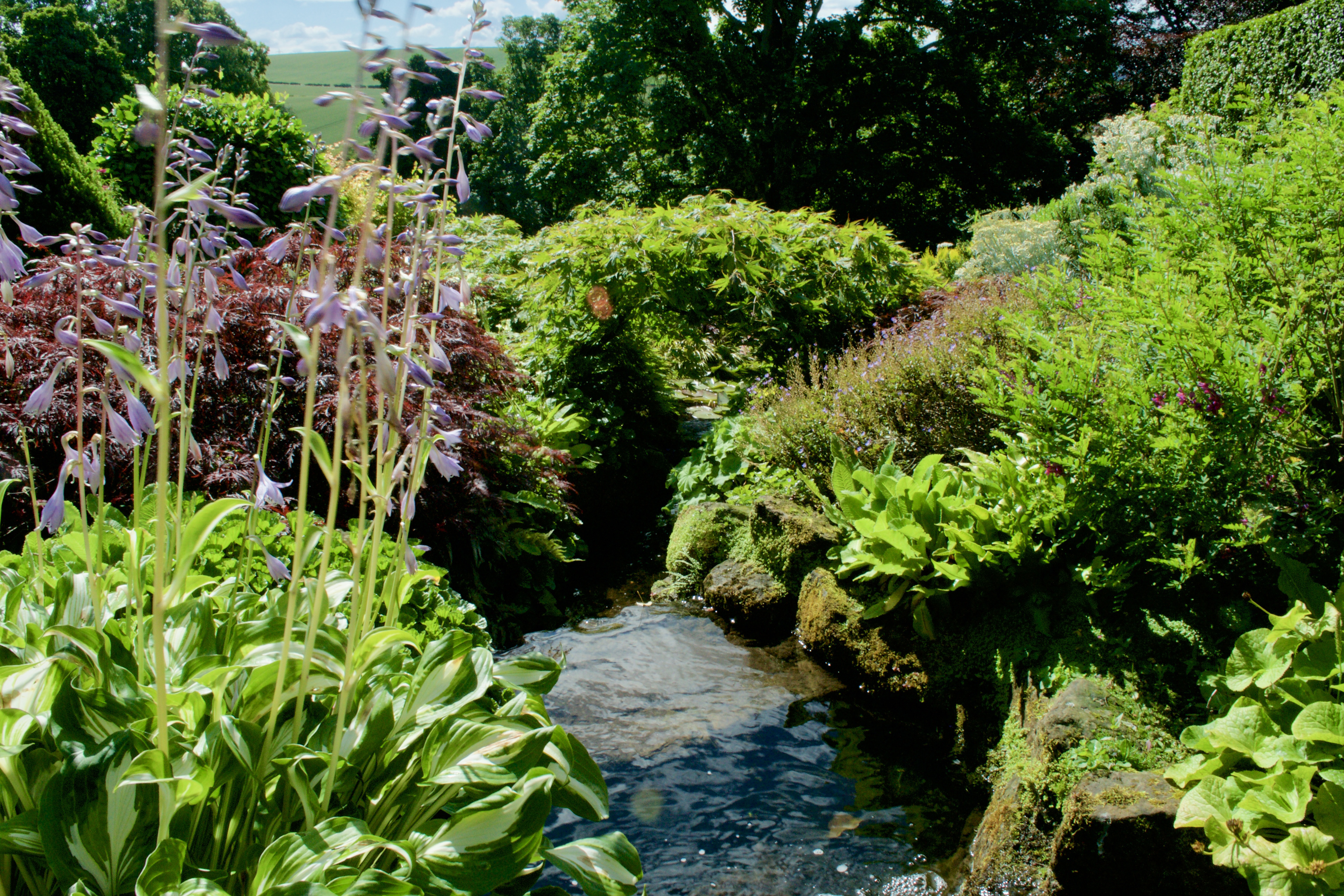 Lennel Bank
Coldstream
TD12 4EX
Mrs Honor Brown
By arrangement (2018)
7
T:
01890 882297
Lennel Bank is a terraced garden overlooking the River Tweed, consisting of wide borders packed with shrubs and perennial planting, some unusual. The water garden, built in 2008, is surrounded by a rockery and utilises the slope ending in a pond. There is a small kitchen garden with raised beds in unusual shapes. Different growing conditions throughout the garden from dry, wet, shady and sunny lend themselves to a variety of plants, which hopefully enhance interest in the garden.
Directions: On A6112 Coldstream to Duns road, one mile from Coldstream.
Admission: £5.00, children free
Charities: British Heart Foundation 60%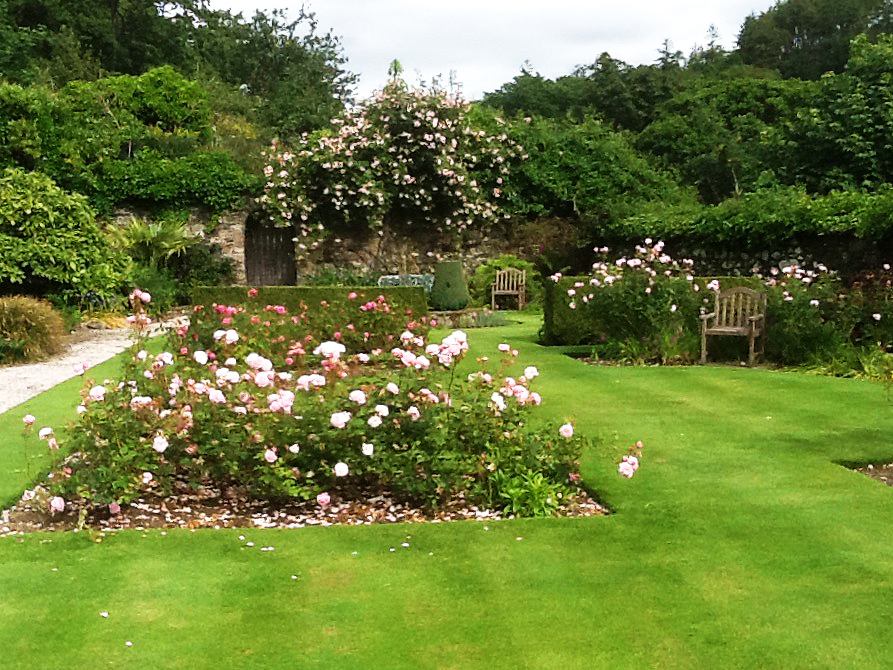 Ormsary House
Ormsary, Lochgilphead, Argyll
PA31 8PE
Lady Lithgow
By arrangement (2018)
679
T:
01880 770738
E:
mclithgow@ormsary.co.uk
Ormsary is on the shore of Loch Caolisport looking across to Islay and Jura. The house policies are resplendent in spring with bluebells and daffodils under fine oak trees. There are woodland gardens with azaleas, rhododendrons and a collection of trees and shrubs. The walled garden, which has evolved over a couple of centuries, is on two levels. The top half is a kitchen garden producing plants, fruit and vegetables for the house; a winter garden and Muscat of Alexandria vinery have been heated by hydroelectric power for a 100 years. A magnificent Polylepis australis beckons to the lower 'secret garden' with its lawn, roses, magnolias and long mixed border. It opens onto the banks of Ormsary Water. There are woodland walks accessed through the upper woodland garden.
Directions: Take the A82 road from Lochgilphead towards Campbeltown for four miles, then take B8024 signed to Kilberry and travel ten miles and follow signs to the Estate office to collect directions to the garden.
Admission: £5.00, children free
Charities: All proceeds to SGS Beneficiaries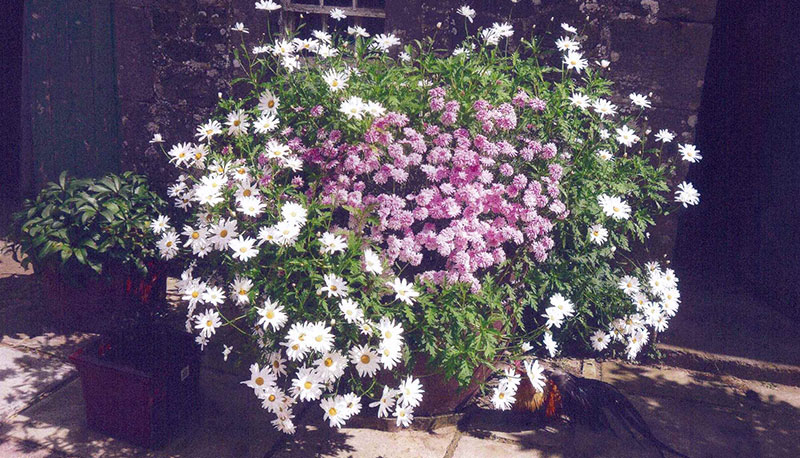 Westwater Farm
Langholm
DG13 0LU
Mr and Mrs Charlie Clapperton
By arrangement (2018)
067
T:
01387 381004
E:
charlieclapperton@hotmail.com
In a wonderful, remote and romantic setting, the interesting walled garden adjacent to the house has both herbaceous plants and shrubs. There is also a woodland garden with a variety of bamboos and interesting trees. Dotted around the house and steadings are some fabulous pots .
Directions: Thirteen miles from Lockerbie on the B7068 Lockerbie to Langholm road (five miles from Langholm). Entrance is signed Westwater on the left coming from Lockerbie. Keep to left fork for house.
Admission: £3.00, children free
Charities: All proceeds to SGS Beneficiaries
Laundry Cottage
Culdrain, Gartly, Huntly
AB54 4PY
Judith McPhun
By arrangement (2018)
46
T:
01466 720768
E:
judith.mcphun@btinternet.com
The garden takes its cues from the surrounding Strathbogie landscape of rolling, tree and heather-clad hills. Divided by undulating hedges, the various parts of the garden are planted in an informal, cottage garden style and contain a mixture of the common place and many unusual plants. Grass paths lead from one section to another, and although the area around the cottage is level, there are also flower meadows on steep banks (not suitable for wheelchairs), leading down to the river Bogie. An organic vegetable garden lies behind one of the mixed borders and elsewhere there is a small orchard.
Directions: Four miles south of Huntly on the A97.
Admission: £4.00, children free
Charities: Amnesty International (UK Section) Charitable Trust 60%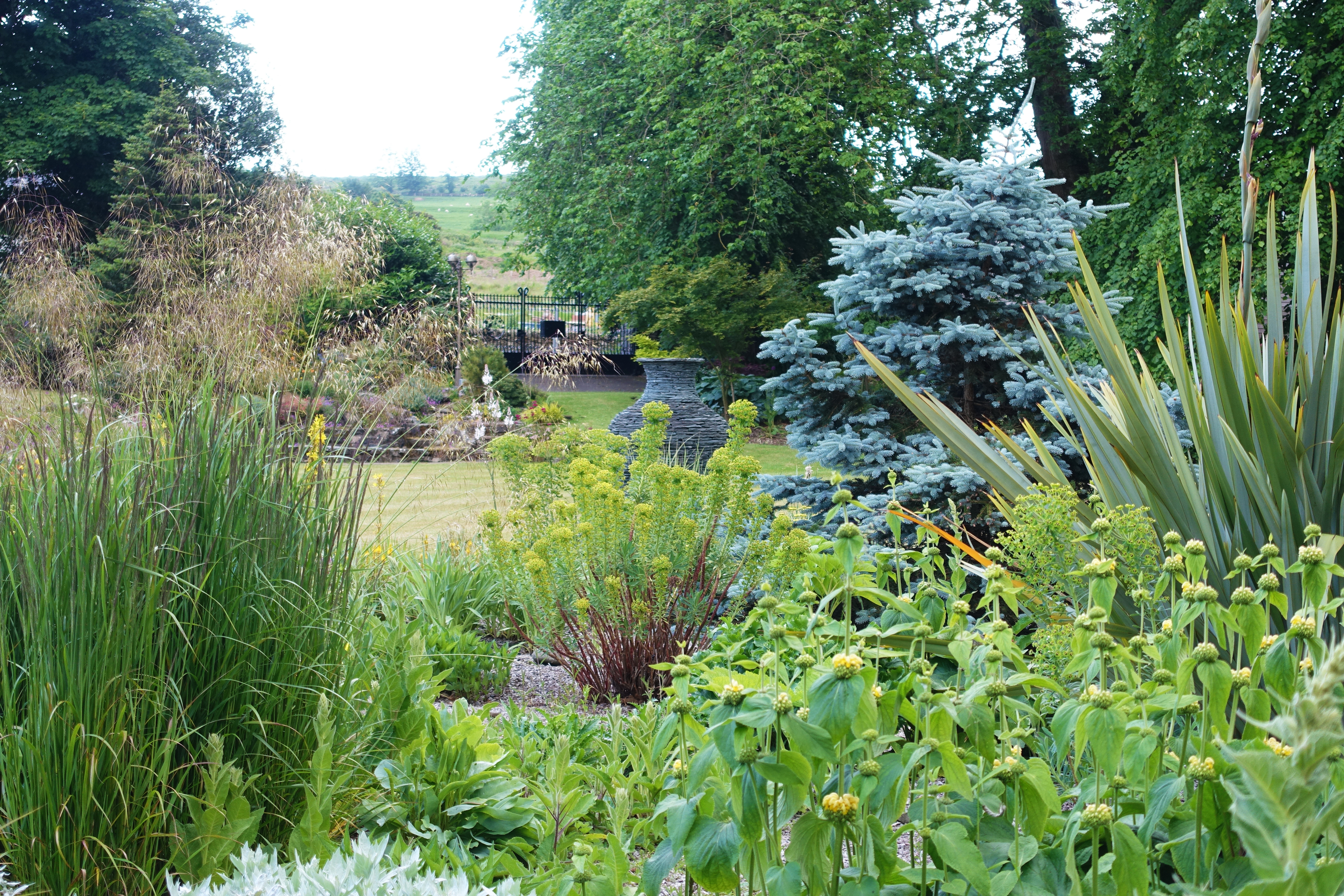 The Limes
Kirkcudbright
DG6 4XD
David and Carolyn McHale
By arrangement (2018)
6
E:
carolyn.mchale@btinternet.com
This one and a quarter acre plantsman's garden has a variety of different plant habitats: woodland, dry sunny gravel beds, rock garden, crevice garden and mixed perennial and shrub borders. There is also a large productive vegetable garden. The McHales like to grow most of their plants from seed obtained through various international seed exchanges. You can expect to see a large number of unusual and exciting plants. In June the meconopsis should be at their best.
Directions: In Kirkcudbright go straight along St Mary Street towards Dundrennan. The Limes is on the right, about half a mile from the town centre crossroads, on the edge of the town.
Admission: £3.50, children free
Charities: Friends Of Kirkcudbright Swimming Pool 60%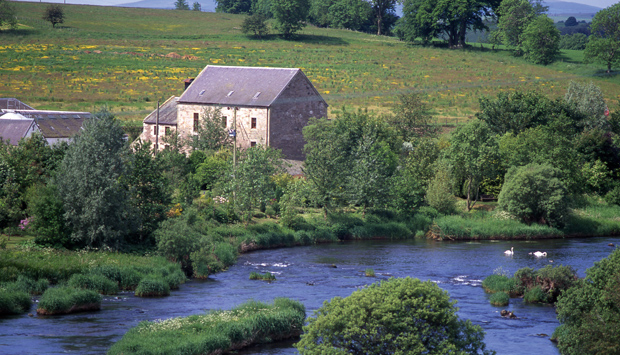 Carmichael Mill
Hyndford Bridge, Lanark
ML11 8SJ
Chris, Ken and Gemma Fawell
By arrangement (2018)
467
T:
01555 665880
E:
ken.fawell@btinternet.com
Gardens developed over the last 30 years surrounding the last workable water mill in Clydesdale. Water wheel will be rotating, river levels permitting. A large collection of over 200 different ornamental trees with shrubs and herbaceous and a large vegetable and fruit garden. The mill lade (stream) flows through the centre, providing diverse habitats including Candelabra primula in late May. Large collection of tulips and narcissus in early spring followed by glorious display of flowering cherry and crab apples. Wildlife protection and enhancement is a priority. Also visible are archaeological remains of the medieval grain milling, flax processing and a foundry. (The bell in Carmichael village was made here). A vote of thanks following a visit from the Hardy Plant Society: "You have a fantastic garden Ken, but the best part about it is the small water feature on the side" He meant the River Clyde!
Directions: Just off the A73 Lanark to Biggar road ½ mile east of the Hyndford Bridge.
Admission: £5.00, children free
Charities: Donation to SGS Beneficiaries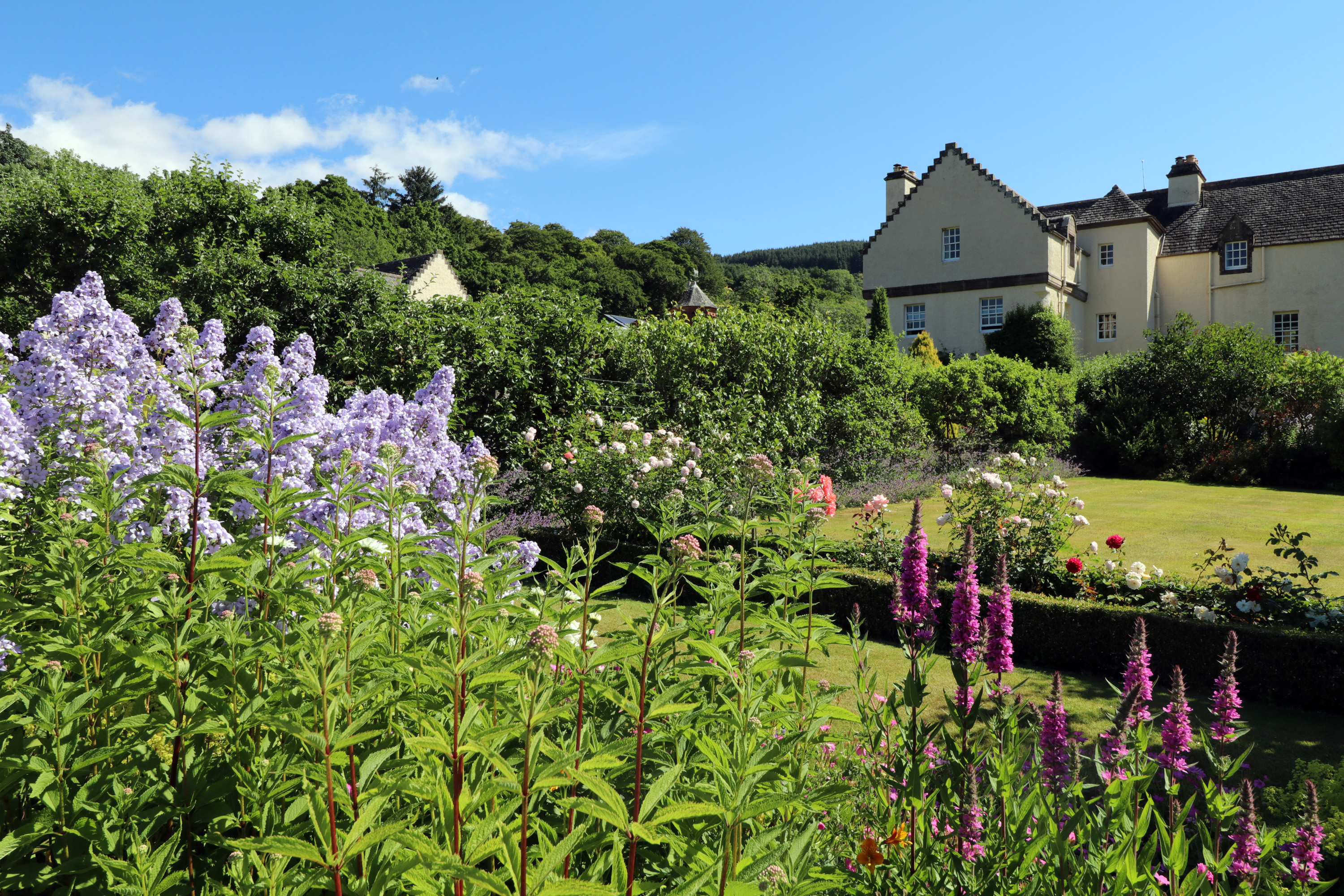 Glenlyon House
Fortingall
PH15 2LN
Mr and Mrs Iain Wotherspoon
By arrangement (2018)
57
T:
07974 350533
Interesting garden framed by hedges, with colourful herbaceous borders and fruit trees underplanted with perennials and annuals. There is a kitchen and cutting garden as well as a wildlife pond.
Directions: Take the A827 Aberfeldy, B846 Coshieville then turn off for Fortingall and Glen Lyon.
Admission: £5.00, children free
Charities: Fortingall Parish Church 60%
Cruisdale
Sandness, SHETLAND
ZE2 9PL
Alfred Kern
By arrangement (2018)
8
T:
01595 870739
The garden is in a natural state with many willows, several ponds and a variety of colourful hardy plants that grow well in the Shetland climate. It is a work in progress, started about 16 years ago and growing bigger over the years with more work planned.
Directions: From Lerwick head north on the A970, then at Tingwall take the A971 to Sandness, on the west side of Shetland. Opposite the school, on the right hand side with a wind generator in the field.
Admission: £3.00, children free
Charities: Royal Voluntary Service 60%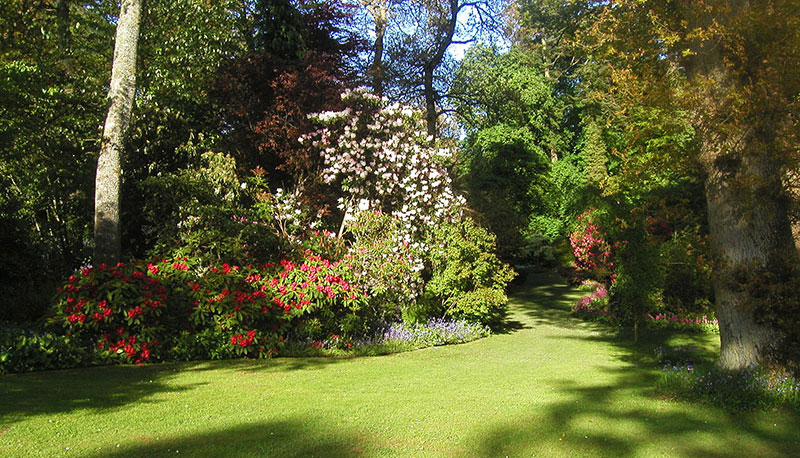 Rossie Gardens
Forgandenny
PH2 9EH
Mr and Mrs David B Nichol
By arrangement (2018)
2c467
T:
01738 812265
E:
judynichol@rossiehouse.co.uk
This romantic garden has been establishing itself since 1657. It is a magical mystery tour of endless paths meandering under magnificent trees, unusual shrubs with a plethora of woodland bulbs and plants at your feet. Lift the branches of a Hamamelis mollis to find the startled heron take off from the pond and look up to the massive trunk of the Abies alba 100 feet up. From snowdrops to hellebores then trillium and bluebells, flowering shrubs and roses, the interest of the garden continues until the wonderful autumn colours. The sculptures by David Annand and Nigel Ross. Look out for the ten foot tea pot and the yew table ready for the Mad Hatters' tea party! The garden is at its best in May.
Directions: Forgandenny is on the B935 between Bridge of Earn and Dunning.
Admission: £5.00, children free
Charities: Donation to SGS Beneficiaries
West Leas
Bonchester Bridge
TD9 8TD
Mr and Mrs Robert Laidlaw
By arrangement (2018)
67
T:
01450 860711
E:
ann.laidlaw@btconnect.com
The visitor to West Leas can share in the exciting and dramatic project on a grand scale still in the making. At its core is a passion for plants allied to a love and understanding of the land in which they are set. Collections of perennials and shrubs, many in temporary holding quarters, lighten up the landscape to magical effect. New dams and water features and woodland planting are ongoing for 2018.
Directions: Signposted off the Jedburgh/Bonchester Bridge Road.
Admission: £4.00, children free
Charities: Macmillan Cancer Support: Borders Appeal 60%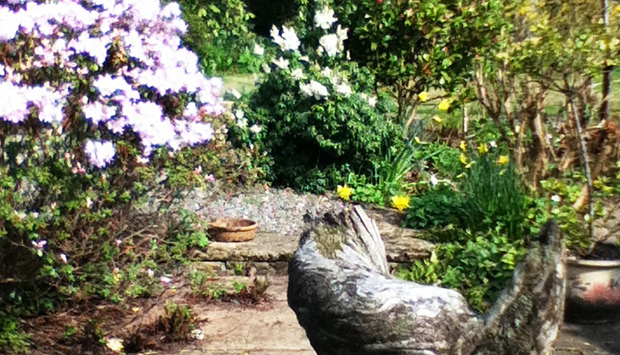 Rowberrow
18 Castle Road, Dollar
FK14 7BE
Bill and Rosemary Jarvis
By arrangement between 1 February - 31 December (2018)
467
T:
01259 742584
E:
rjarvis1000@hotmail.com
On the way up to Castle Campbell overlooking Dollar Glen, this colourful garden has several mixed shrub and herbaceous borders, a wildlife pond, two rockeries, alpine troughs, fruit and vegetable gardens, and a mini-orchard. The owner is a plantaholic and likes to collect unusual specimens. Rowberrow was featured on the Beechgrove Garden in summer 2011.
Directions: Pass along the burn side in Dollar, turn right at T junction, follow signs for Castle Campbell and Dollar Glen. Park at the bottom of Castle Road or in the Quarry car park just up from the house.
Admission: £4.00, children free
Charities: Hillfoot Harmony Barbershop Singers 60%