Images On / Off
Description On / Off
Total of 13 openings.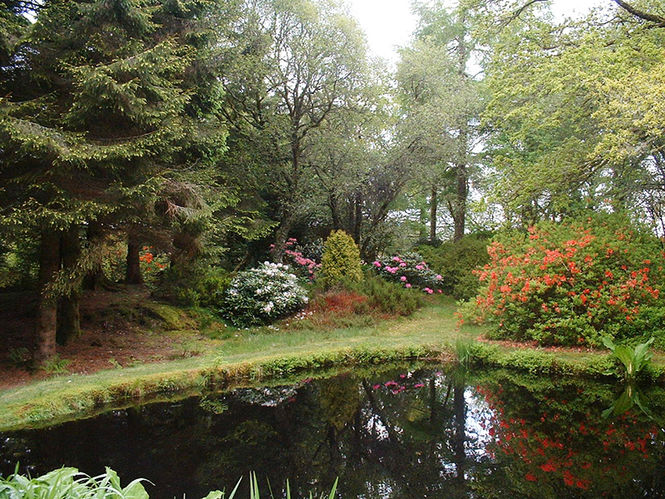 Barguillean's 'Angus Garden'
Taynuilt
PA35 1HY
The Josephine Marshall Trust
Open daily, 9am - dusk (2020)
7
T:
01866 822333
E:
info@barguillean.co.uk
Nine-acre woodland garden around an 11-acre loch set in the Glen Lonan Hills. Spring-flowering shrubs and bulbs, extensive collection of rhododendron hybrids, deciduous azaleas, conifers and unusual trees. The garden contains a large collection of North American rhododendron hybrids from famous contemporary plant breeders. Some paths can be steep. Three marked walks from 30 minutes to one-and-a-half hours.
Directions: Three miles south off the A85 Glasgow/Oban road at Taynuilt, road marked Glen Lonan, three miles up a single track road, turn right at the sign.
Admission: £4.00, children free
Charities: Donation to SGS Beneficiaries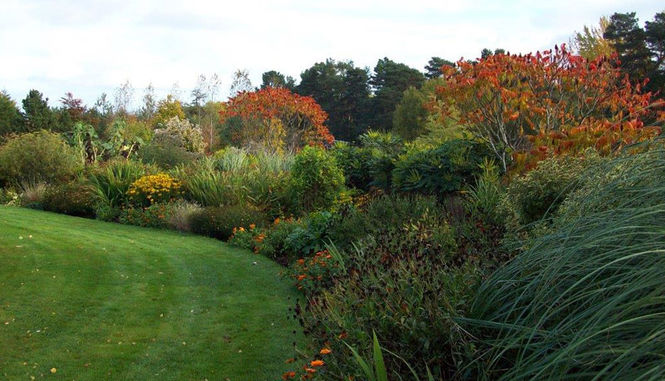 Oldtown of Leys Garden
Inverness
IV2 6AE
David and Anne Sutherland
Open daily, dawn - dusk (not open Thursdays and Fridays from 15 July - 31 October) (2020)
467
T:
01463 238238
E:
ams@oldtownofleys.com
Large garden established in 2003 on the outskirts of Inverness and overlooking the town. Herbaceous beds with lovely rhododendron and azalea displays in spring. There are specimen trees, three ponds surrounded by waterside planting and a small woodland area. A new rockery area was created in 2015 and is still developing.
Directions: Turn off southern distributor road (B8082) at Leys roundabout towards Inverarnie (B861). At the T junction turn right. After 50 yards turn right into Oldtown of Leys.
Admission: by donation
Charities: Local Charities 60%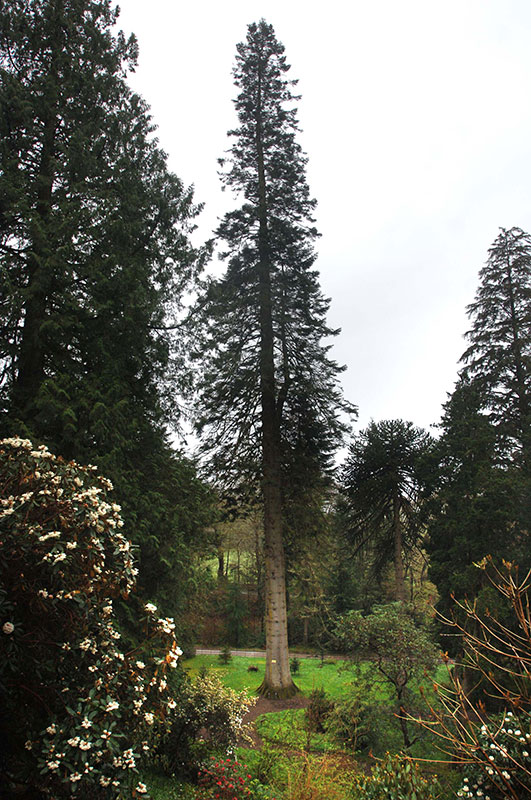 Ardkinglas Woodland Garden
Cairndow
PA26 8BG
Ardkinglas Estate
Open daily, dawn - dusk (2020)
6ed7
T:
01499 600261
In a peaceful setting overlooking Loch Fyne, the garden contains one of the finest collections of rhododendrons and conifers in Britain. This includes the mightiest conifer in Europe — a silver fir, as well as many other Champion Trees. There is a gazebo with a unique scriptorium based around a collection of literary quotes. The garden has a Fairy Trail and a Gruffalo Trail; come and find him! It is a
VisitScotland
3-star garden.
Champion Trees: The mightiest conifer in Europe and others
Directions: Entrance through Cairndow village off the A83 Loch Lomond/Inveraray road.
Admission: £5.00, children £2.00
Charities: Donation to SGS Beneficiaries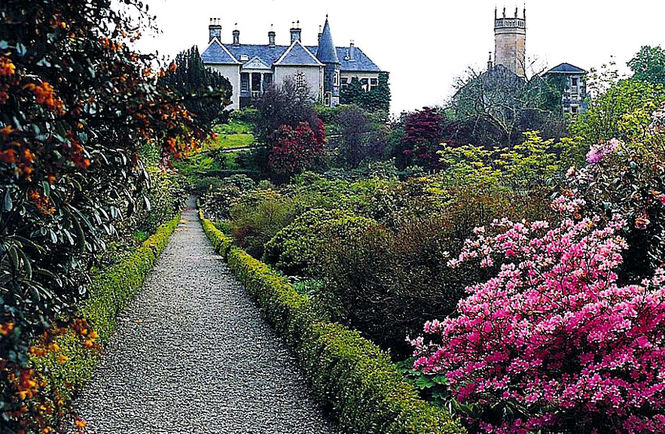 Ardmaddy Castle
by Oban
PA34 4QY
Mr and Mrs Archie Struthers
Open daily, 9am - dusk (2020)
bc57
T:
01852 300353
E:
minette@ardmaddy.com
The gardens lie in a most spectacular setting in the centre of a horseshoe valley sheltered by mixed mature woodlands and the elevated castle standing on a volcanic mound to seaward. The walled garden is full of magnificent rhododendrons, a collection of rare and unusual shrubs and plants, the Clock Garden with its cutting flowers, the Crevice Garden, fruit and vegetables grown with labour saving formality, all within dwarf box hedging. Beyond, a woodland walk, with its 60-foot Hydrangea petiolaris, leads to the Water Garden which in spring has a mantle of bluebells and daffodils and in early summer a riot of Primula candelabra, irises, rodgersias and other damp-loving plants and grasses. There is also lovely autumn colour. This is a plantsman's garden for all seasons.
Directions: Take the A816 south of Oban for eight miles. Turn right onto the B844 to Seil Island/Easdale. Four miles on, turn left on to Ardmaddy Road (signposted) for a further two miles.
Admission: £5.00, children free
Charities: Donation to SGS Beneficiaries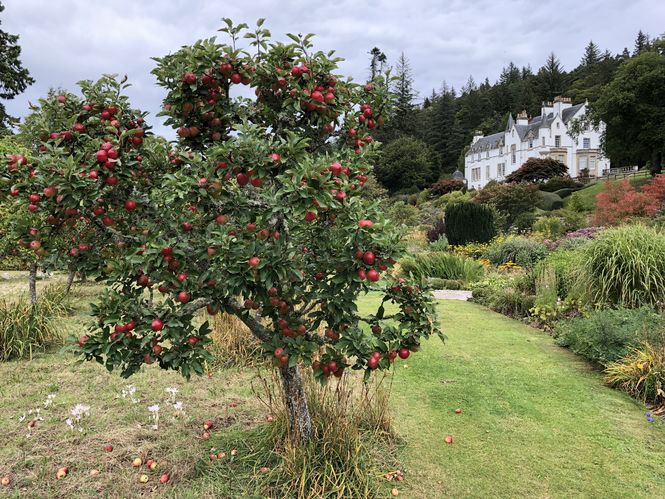 Logie House
Dunphail, Forres
IV36 2QN
Alasdair and Panny Laing
Open daily, 10am - 5pm (2020)
3c57
E:
panny@logie.co.uk
Originally a formal garden with a large area of vegetable production, Logie House garden has been developed since 1991 with emphasis on trees, shrubs and hardy perennials, giving all-year-round interest. The meandering burn and dry stone walls support the creation of a wide variety of planting habitats from dry sunny banks to damp shady areas. Many of the unusual plants are propagated for sale in the Garden Shop at Logie Steading. Also features woodland and river walks. 
Directions: Six miles south of Forres off A940. Follow signs to Logie Steading. 
Admission: £2.00, children free
Charities: Donation to SGS Beneficiaries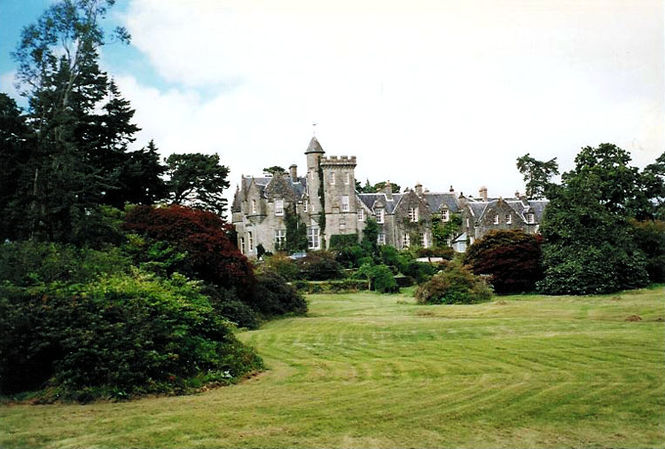 Achnacloich
Connel, Oban
PA37 1PR
Mr T E Nelson
Open daily (Saturdays only), 10am - 4pm (2020)
6d7
T:
01631 710223
E:
charlie_milne@msn.com
The 20-acre woodland garden, overlooking Loch Etive, has been planted over the last century with a wide range of trees and shrubs from Asia, China, Japan, North America, Chile and New Zealand. Many have grown to considerable size. The light woodland canopy consists of native oaks and a number of magnificent 150-year-old Scots pines and European larch. Amongst these are open glades, carpeted with bluebells and numerous other bulbs. Two ponds and streams are planted with primulas, iris species, lysichitum, and astilbes. The woodland contains innumerable species of rhododendron and azalea, of which the triflorums and yunnanense are outstanding. Amongst these are species of acer, betula, camellia, cercidiphyllum, cornus, crinodendron, drimys, embothrium, enkianthus, eucryphia, hoheria, magnolia, malus, nothofagus, pieris, sorbus, stewartia, telopea and viburnum. Beside the house is a giant Douglas fir from Douglas' original introduction. One of the first Dawyck beeches stands beside the drive. The autumn colour is very fine.
Directions: On the A85 two miles east of Connel. Car park at bottom of drive.
Admission: £5.00, children free
Charities: Macmillan Cancer Support 60%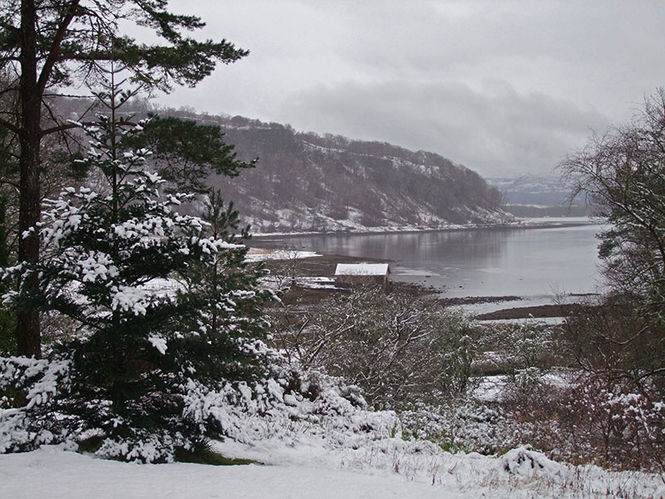 Ardtornish
by Lochaline, Morvern
PA80 5UZ
Mrs John Raven
Open daily, 10am - 6pm (2020)
867
Ardtornish Estate spreads out around Loch Aline, a huge, wooded, U-shaped bay, a natural haven. Wonderful gardens of interesting mature conifers, rhododendrons, deciduous trees, shrubs and herbaceous, set amid magnificent scenery. Much of the garden is covered by native birch, alongside extensive planting of exotic species, under mature groups of larch, firs and pine, whose strong form and colour complement the pink sandstone towers and gables of Ardtornish House.
Directions: Three miles from Lochaline along the A884.
Admission: £4.00, children free
Charities: Donation to SGS Beneficiaries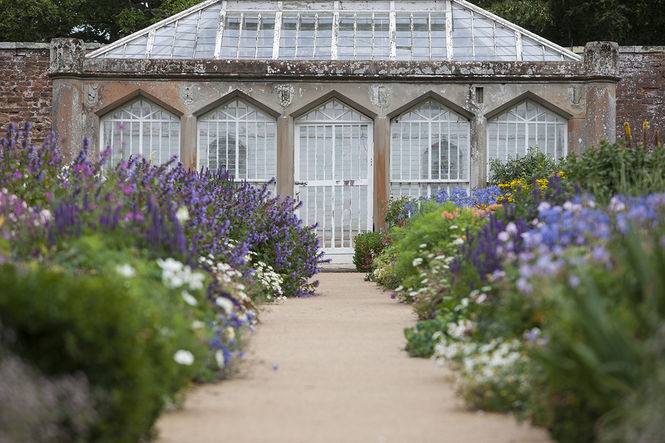 Abbotsford
Melrose
TD6 9BQ
The Abbotsford Trust
1 March - 31 March 10am - 4pm, 1 April - 31 October 10am - 5pm & 1 November - 30 November 10am - 4pm (2020)
3457
T:
01896 752043
E:
enquiries@scottsabbotsford.co.uk
The garden was designed by Sir Walter Scott with advice from artists, architects and friends. It is a rare surviving example of a Regency garden layout and completely different from the English landscape garden style of Capability Brown. Scott's garden aims to provide a harmonious transition between the luxury and comfort of the interiors of the house with wonders of nature in the wider estate through a series of secluded, richly detailed and sheltered 'rooms'. In its day it would have showcased the latest plants discovered from around the globe, both in its borders and 'stove houses'. Regular tours are held exploring Scott's vision for the garden and the hidden meanings of its design. Check the Abbotsford website for details.
Directions: Off the A6091 near Melrose. Buses X62 and 72 from Edinburgh and Peebles. Train from Waverley to Tweedbank. Minibus or one-mile walk from train station. 
Admission: details can be found on the garden's website
Charities: Donation to SGS Beneficiaries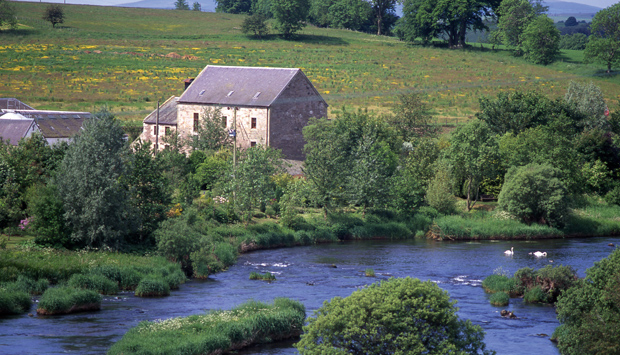 Carmichael Mill
Hyndford Bridge, Lanark
ML11 8SJ
Chris, Ken and Gemma Fawell
By arrangement (2020)
467
T:
01555 665880
E:
ken.fawell@btinternet.com
Gardens developed over the last 30 years surrounding the last workable water mill in Clydesdale. The water wheel will be rotating, river levels permitting. A large collection of over 200 different ornamental trees with shrubs and herbaceous plants, as well as a large vegetable and fruit garden. The mill lade (stream) flows through the centre, providing diverse habitats including Candelabra primula in late May. Large collection of tulips and narcissus in early spring followed by glorious display of flowering cherry and crab apples. Wildlife protection and enhancement are priorities. Also visible are archaeological remains of the medieval grain milling, flax processing and a foundry. (The bell in Carmichael village was made here).
Directions: Just off the A73 Lanark to Biggar road a half-mile east of the Hyndford Bridge. 
Admission: £5.00, children free
Charities: All proceeds to SGS Beneficiaries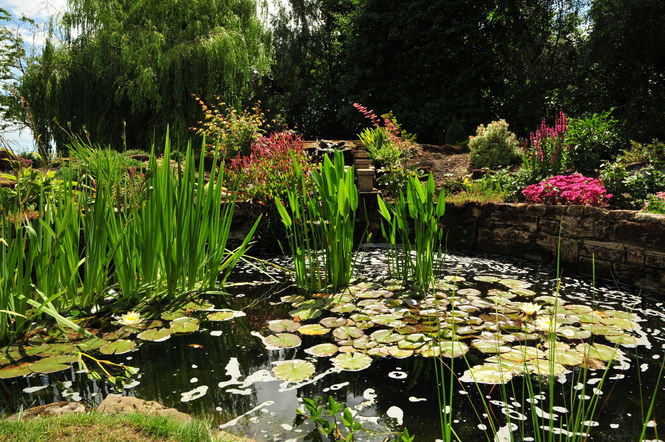 Marlfield
Coldstream
TD12 4JT
Christine and Forbes McLennan
By arrangement between 15 July - 31 December (2020)
57
T:
01890 840700
E:
forbes.mclennan@gmail.com
Marlfield is a two-and-a-half-acre garden with extensive lawns, specimen trees, shrubberies, flower beds, a half-acre woodland wind break, half-acre paddock with a large allotment-type raised vegetable garden, fruit cage and small orchard. The present owners have worked extensively over the past five years to create the allotment and fruit beds from a vacant field. The main garden is still a work in progress, restoring or creating order from what was a very neglected garden. The rockery and fish pond are almost complete. Marlfield is a lovely tranquil garden where one can hear little birds singing and our bees buzzing. 
Directions: Four miles north of Coldstream on the old Duns road. Half a mile off the main road.
Admission: £5.00, children free
Charities: Macmillan Cancer Support 60%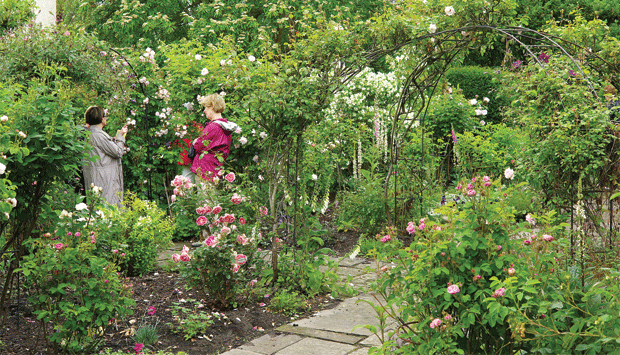 46 South Street
St Andrews
KY16 9JT
Mrs June Baxter
By arrangement between 15 July - 31 December (2020)
467
T:
01334 474 995
E:
j.baxter986@tinternet.com
Renowned town garden in medieval long rig, with orchard underplanted with wildflowers and bulbs. Many unusual flowering shrubs will be looking their best. Roses and other climbers clothe the surrounding high walls. Shrub roses planted in a delightful central parterre fill the air with scent. An historic and unique feature in St Andrews, but also a wonderfully planted space where different styles of planting complement the range of plants used. Historic doocot.
Directions: Entry for the garden is off Greenside Place. Parking is available at the Boys Brigade Hall, on the corner of Kinnessburn Road and Langlands Road, KY16 8BW.
Admission: by donation
Charities: Friends of Craigtoun 60%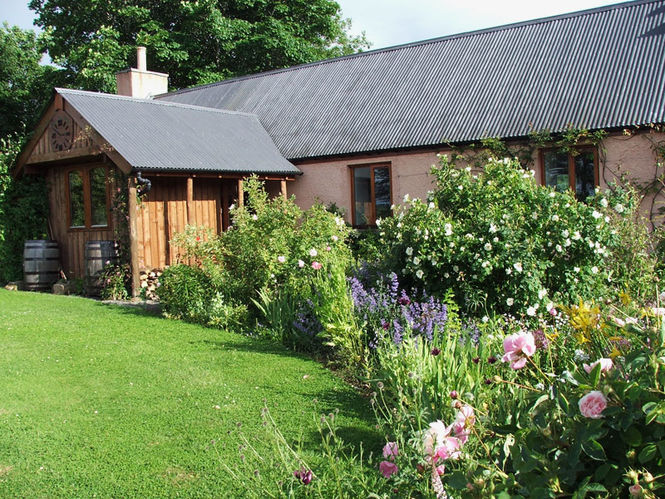 Laundry Cottage
Culdrain, Gartly, Huntly
AB54 4PY
Judith McPhun
By arrangement between 15 July - 31 December (2020)
c46
T:
01466 720768
E:
judithmcphun@icloud.com
An informal cottage-style garden of about one-and-a-half acres by the river Bogie. Two contrasting steep slopes make up the wilder parts. The more intensively gardened area round the cottage includes a wide variety of herbaceous plants, shrubs and trees, an orchard area and fruit and vegetable plots, making a garden of year-round interest. 
Directions: Four miles south of Huntly on the A97. 
Admission: £4.00, children free
Charities: Amnesty International UK Section Charitable Trust 60%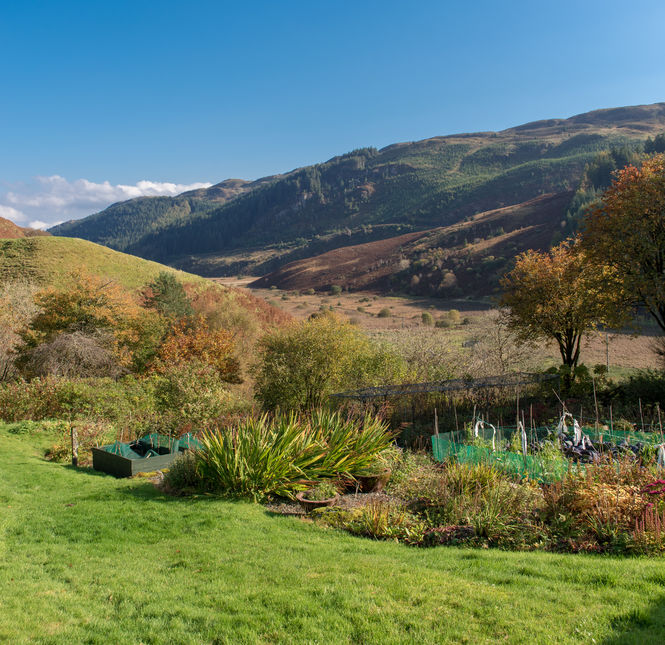 Maolachy's Garden
Lochavich, by Kilmelford
PA35 1HJ
Georgina Dalton
By arrangement between 15 July - 31 December (2020)
c7
T:
01866 844212
Three acres of woodland garden with a tumbling burn — created in a small glen over 40 years. At an altitude of 450 feet and two weeks behind the coastal changes, the growing season is shorter. By not struggling to grow tender or late species, the owner can enjoy those that are happy to grow well here and give everyone much pleasure. Snowdrops, followed by early rhododendrons, masses of daffodils in many varieties, bluebells, wildflowers and azaleas, primulas and irises. A productive vegetable patch and tunnel feed the gardener and family.
Directions: Ignore SatNav. A816 to Kilmelford. Turn uphill between shop and church, signposted Lochavich 6, steep and twisty road with hairpin bend shortly after leaving village, check for passing places. Maolachy Drive is four miles from village. Cross three county cattle grids; after the third ignore the forestry tracks to left and right. Continue downhill towards Loch Avich, and Maolachy is up on the left, first house after Kilmelford.
Admission: £4.00, children free
Charities: Hope: Oban 30% & Kilninver & Kilmelford Parish Church Of Scotland: Kilmelford Church Project 30%