Afternoon Tea on the Allotment
Wednesday 22 May, 2019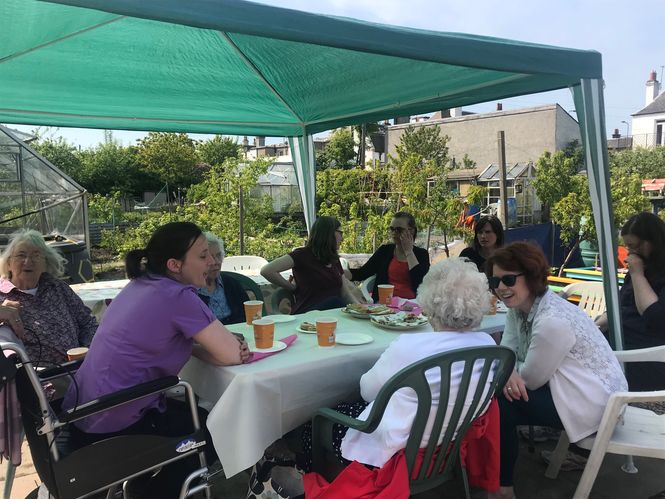 Afternoon Tea on the Allotment
As part of our Gardens and Health Week celebrations, Craigentinny Telferton Allotments in Edinburgh invited residents of their local care home, Lauder Lodge over for afternoon tea on the allotment.
They wanted to be involved in Gardens and Health week they recognise the tremendous health benefits of allotments and gardening.
It was a beautiful, warm sunny day and with the gazebo providing some welcome shade, there were homemade scones and cake on offer along with plenty of tea and coffee. We were also joined by volunteers from Edinburgh City Mission, a community group helping those living with food poverty.
Being in the garden set the guests to reminiscing about gardens they grew up in or tended themselves through their lives. It was wonderful to hear these snapshots from their lives and see that simply being in the garden brought them cause to think about happy times in their lives.
We also discovered that there are a number of knitters in the home, and with the upcoming Garden Open Day for Scotland's Garden Scheme on Sunday 28th July they left with a promise from them to get involved in their yarn-bombing and creating flags, bunting and flowers to feston the plt. It looks like this could also be the start of a lovely relationship between the allotments and the home.
Rachel, from the allotments said "It was a pleasure to have visitors from the Lauder Lodge care home, and to serve afternoon tea. The sun shone, the birds sang and conversation flowed - a perfect day".
For more information on Craigentinny Telferton Allotments Open Day CLICK HERE