Dinner party delicacies - Blackcurrant jellies
Saturday 15 July, 2017
Black current leaves have so much flavour and can be used in a wide range of dishes and drinks from tea to sorbet. This is a recipe for black currant leaf jellies. It's very easy to make and gives you that very strong black currant flavour while being very clear in appearance. A great way to make use of your black currant bush before the fruit is fully ripe!
Serves four
Ingredients:
2 large handfuls of black currant leaves
3 elderflowers (optional)
60g sugar
600ml water
squeeze of lemon juice 5 leaves of gelatine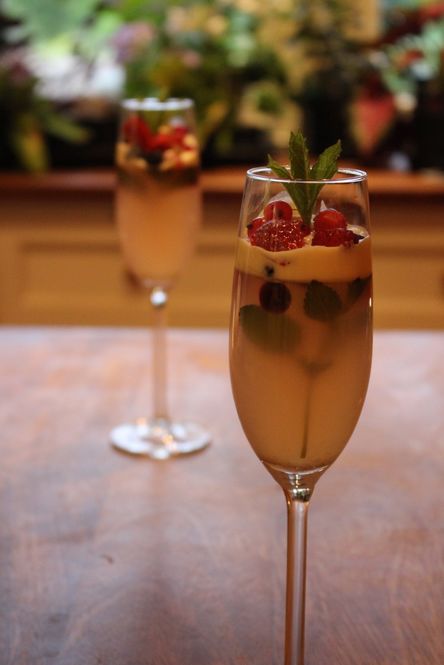 Break up and crush the black currant leaves in your hands and then put all of the ingredients apart from the gelatine into a saucepan and bring to the boil while stirring to dissolve the sugar. Once boiling, taste and add more sugar if you want it to taste slightly sweeter. Boil for 5-10 minutes to allow the leaves to infuse properly then take off the heat and strain.
While the black currant mixture cools slightly, soak the gelatine in cold water until soft, then remove it from the water and melt over a very gentle heat (do not boil the gelatine!). Once the gelatine has been fully melted combine it with the black currant mixture and pour the mixture into ramekins, wine glasses or whatever you would like to serve your jelly in. Feel free to add some fruit or herbs to the jelly and leave to set in the fridge for two to four hours.
Serve with whipped cream, fresh berries and a sprig of mint leaves.