Fife Gardeners' Garden Tour to Beauly
Monday 17 July, 2023
A visit in June 2023, by Fay Smith
In mid June, Fife gardeners were delighted to set out on what had become an annual adventure until Covid entered our lives. This year, all the gardens we visited open for SGS and were a wonderful example of the incredible range of amazing gardens that opens annually for Scotland's Gardens Scheme. We were also met with such warmth and friendliness too, not to mention wonderful hospitality.
On our way north we stopped off at Carig Dhubh near Loch Tummel where Jane and Niall Graham-Campbell have created an inspiring garden apparently out of the hillside itself which creates a stunning backdrop.
We arrived at Glenkyllachy Estate in time to enjoy the hospitality of Emma and Philip Mackenzie followed by an extensive tour of beautiful gardens and grounds full of interesting plants, sculptures and a very personal and ingenious 'Highrove Wall'.
Ardfearn Nursery tempted us with a wonderful choice of of Alpines and herbaceous plants and also very kindly agreed to look after them for us to collect on our way home as the temperature was starting to soar.
We were well cared for two nights in the Priory Hotel in the centre Beauly, an attractive and interesting small town previously unknown to most of us.
We began our second day visiting nearby Old Allangrange where JJ Gladwin introduced us to a wealth of innovative approaches to gardening and we all left, well fed on coffee and array of delicious cakes and with plenty to dwell on.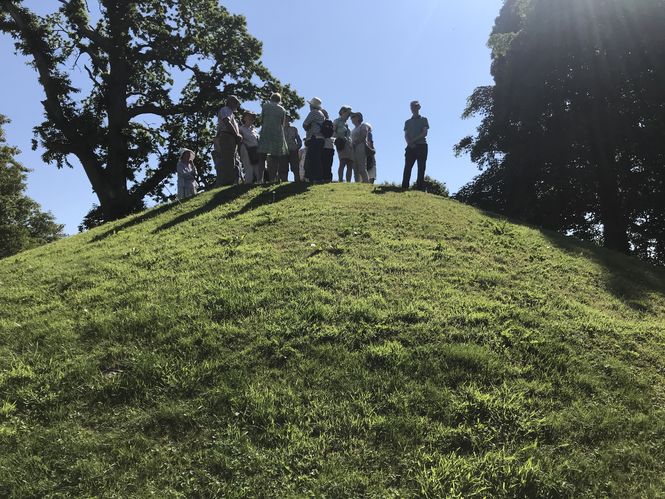 The Mound at Old Allangrange
Next to Berryfield and Lynda Perch-Nielson's magical three acre wildflower meadow and amazing views over the Beauly Firth.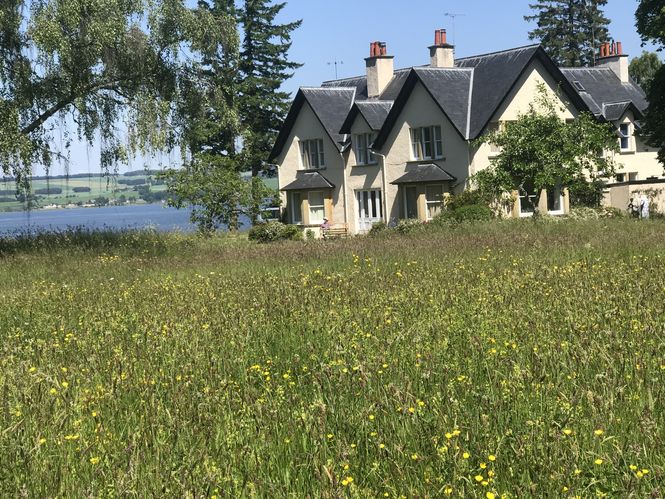 Berryfield House with view
Another delicious lunch awaited us at House of Aigas and Lucy Lister-Kay took us on a tour of her beautiful, ever-evolving gardens studded with an incredible variety of interesting trees.
The day ended with another chance to indulge ourselves, which indeed we did, at Highland Liliums where we were spoilt for choice.
We started our journey home, firstly collecting our plants from Ardfearn (by which time the undercarriage of the coach was full of plants) then heading east to visit The Haugh at College of Roseisle where Gwynne and David Hetherington have created an amazingly diverse and beautiful garden, from a wildnerness, over the past ten years.
Our tour ended at Logie House where Panny Laing had provided us all with a picnic lunch before showing us round her beautiful, diverse and altogether unconventional 'walled garden'. The plants for sale in the Garden Shop at Logie Steading proved irresistible and fortunately we had a spacious coach so we returned home surrounded by even more plants.
Merlin Travel from Dunfermline provided us with a very comfortable coach and an extremely capable driver and everyone is now looking forward to wherever next year might take us.
---
Thank you so much for raising funds for Scotland's Gardens Scheme and our core beneficiaries through profits made from the tour.
To find out more about the mentioned gardens and to arrange your own special visit, click the link below: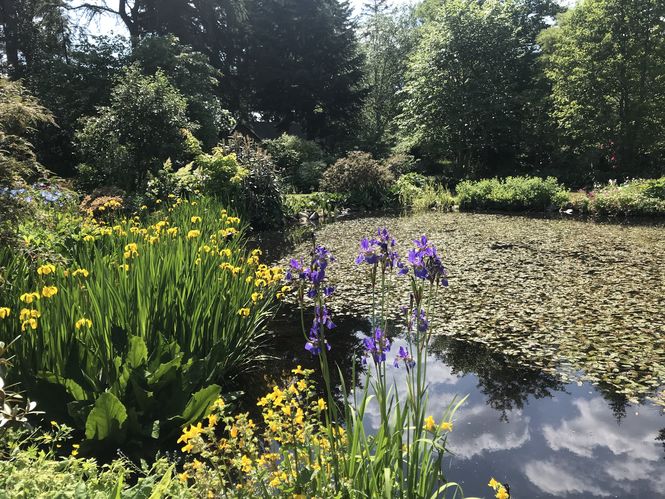 Glenkyllachy Estate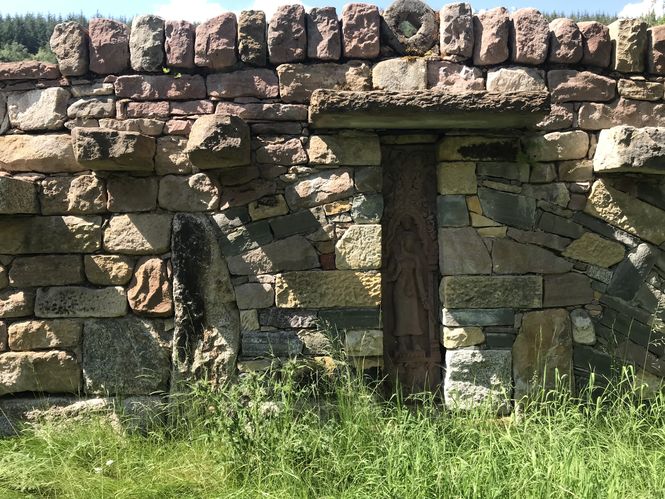 'Highgrove Wall' at Glenkyllachy Estate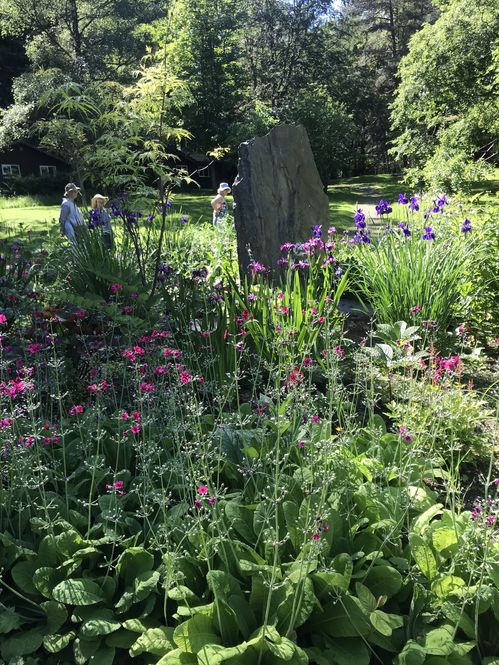 House of Aigas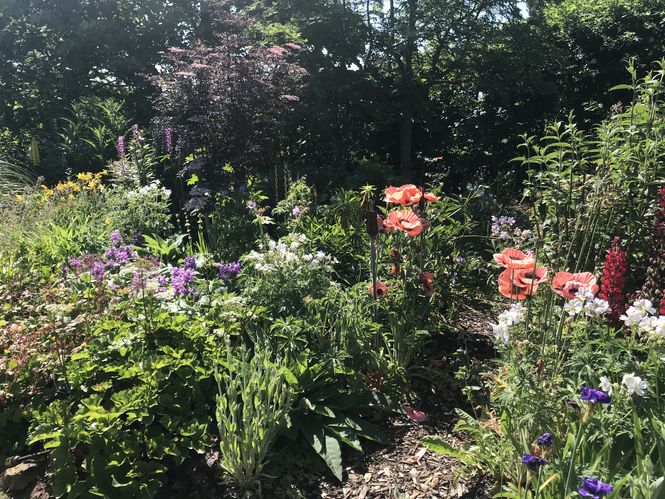 The Haugh at College of Roseisle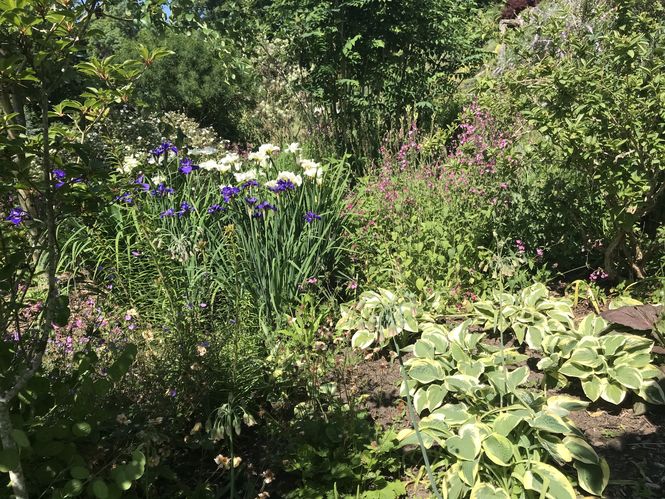 The Walled Garden at Logie