Big Bee Challenge with BBC Radio 2
Scotland's Gardens Scheme partnered up with BBC Radio 2 for Big Bee Challenge Weekend. Scroll down to see a selection of bee-friendly gardens that will be open on 31 July and 1 August as a part of the programme.
Radio 2 will be encouraging everyone to get involved and do just ONE thing in your garden, window box or outdoor space that will entice pollinating insects. From planting bee-friendly herbs, flowers or shrubs to providing water for the bees, going on your own bee safari or leaving the lawn unmown, there will be something for everyone to try. Radio 2 presenters will be getting in on the act too! Plus listeners can have a trip out and learn more about the bees at supporting events happening around the UK. The National Garden Scheme (England and Wales) and Scotland's Garden Scheme will have bee-friendly gardens open up and down the country to visitors, whilst the National Trust will have bee-spotting guides, trails and games at some of their properties. Plus the Wildlife Trusts will be encouraging bee enthusiasts to head to their wildflower meadows, a haven for wildlife and of course our buzzing buddies!
Follow it all on social media at @BBCRadio2 and #R2BigBeeChallenge. Listeners can download a Big Bee Challenge poster from bbc.co.uk/radio2 to colour in and stick in their front window and let people know they're supporting the project.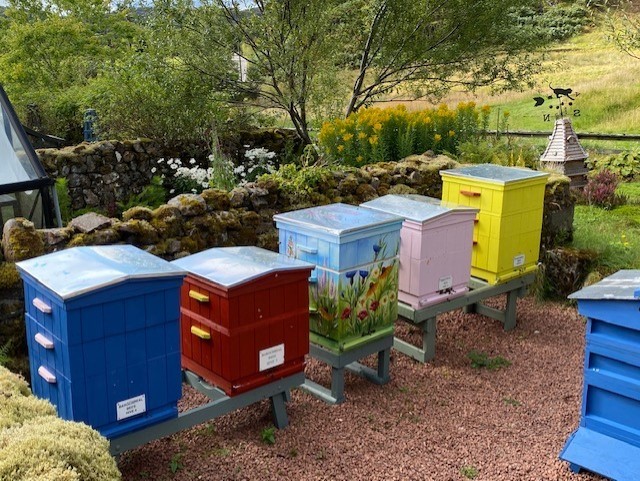 Hives at Barochreal
Drop-in on 31 July & 1 August, 11am-5pm
Kilninver, Oban, Argyll
PA34 4UT
Admission £5.00, children free.
We build the garden and plant purely with bees and nature in mind. We have national hives, Polish hives which are insulated and Warre hive.
Apart from bees, there are plenty of red squirrels, forty species of moths and a wide range of birds. Rare butterflies were found by the waterfall. Biodiversity haven!
Click HERE for garden details and directions.
By arrangement
on 31 July & 1 August
Munlochy
IV8 8NZ
Admission £6.50, children free.
Contact the Owner: J J Gladwin
T: 01463 811304
I watched a solitary bee collecting the down from lychnis, she combed it with her front feet, as a dog would when digging a hole until she had gathered a ball of fluff about 3mm across and flew off with it tucked under her abdomen to go and line her nest. - The Owner JJ Gladwin
Click HERE for garden details and directions.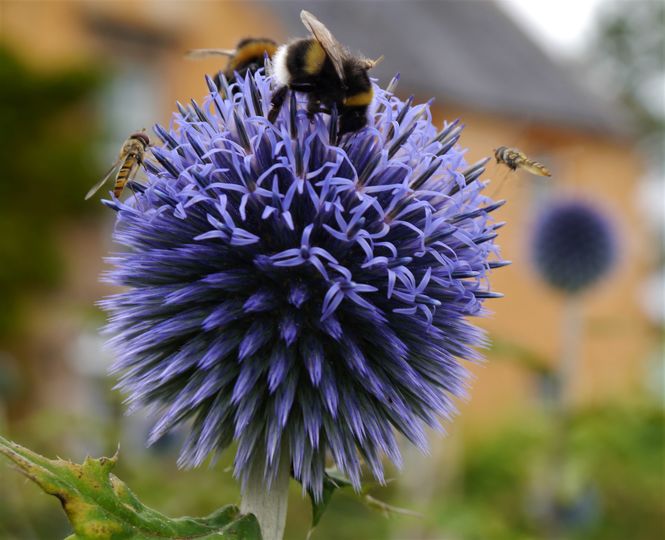 Old Allangrange ©Kate Whitson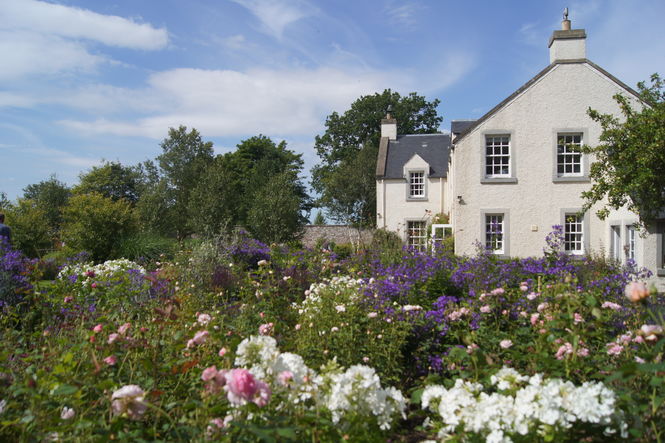 The Walled Garden, Shieldhill
1 August, 2pm - 5pm
Quothquan, Biggar
ML12 6NA
Admission £5.00, children free.
The resident bees enjoy the large area of traditional meadow flowers as well as the rose garden planted with lavenders, salvias and stocks.
Click HERE for garden details and directions.
Drop in 31 July, 11am - 3pm
The Ladywell, Nemphlar, Lanark
ML11 9GX
Admission £4.00, children free.
Ian has been a beekeeper for over 25 years & currently has over a dozen hives at different sites in the Clyde Valley. The garden at Old Farm Cottage has a good variety of forage for all types of insects and bees. The planting of the main borders is a blend of bulbs, hardy perennials, vegetables & shrubs.
Click HERE for garden details and directions.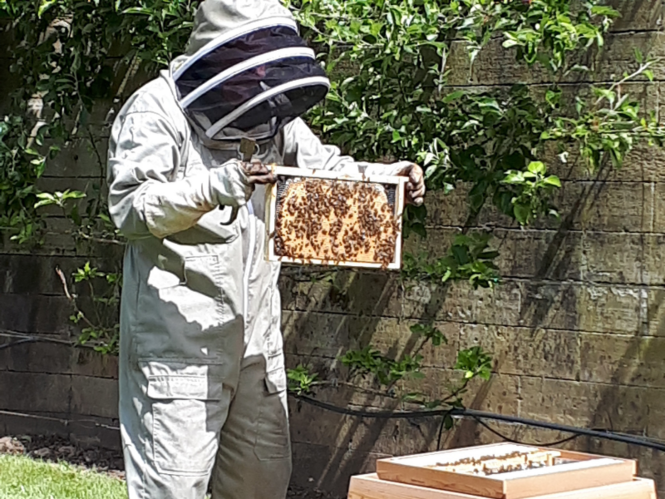 Old Farm Cottage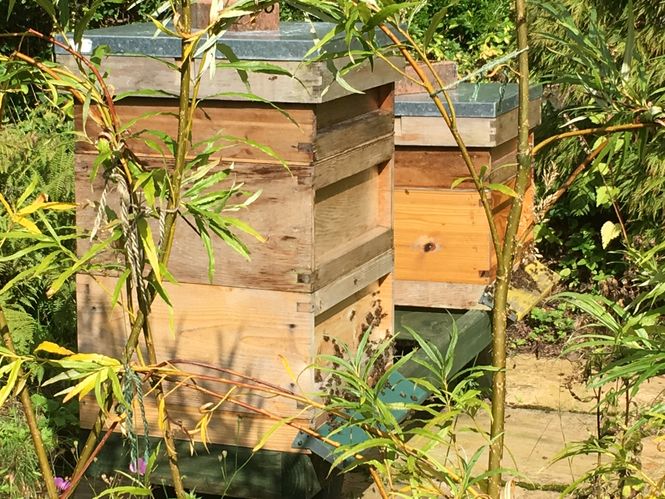 Beehives at Hollytree Lodge
By arrangement
31 July & 1 August
Muckhart, Dollar
FK14 7JW
Admission £5.00, children free.
Contact the Owners: Liz and Peter Wyatt
T: 07973 374687 E: elizwyatt@aol.com
Our aim is to garden with nature, complementing our beekeeping interests. When adding to the garden we aim to put in suitable plants and trees for all pollinating insects, and avoid using any chemicals in the garden particularly as we have 2 colonies of honey bees in our one acre garden here in central Scotland. - Liz and Peter Wyatt
Click HERE for garden details and directions.
By arrangement
31 July & 1 August
Coldstream
TD12 4JT
Admission £5.00, children free.
Contact the Owners: Christine and Forbes McLennan T: 01890 840700 E: forbes.mclennan@gmail.com
This two acre garden has been open for the past three years with extensive lawns, specimen trees, herbaceous borders and a large raised bed allotment style vegetable garden.
Click HERE for garden details and directions.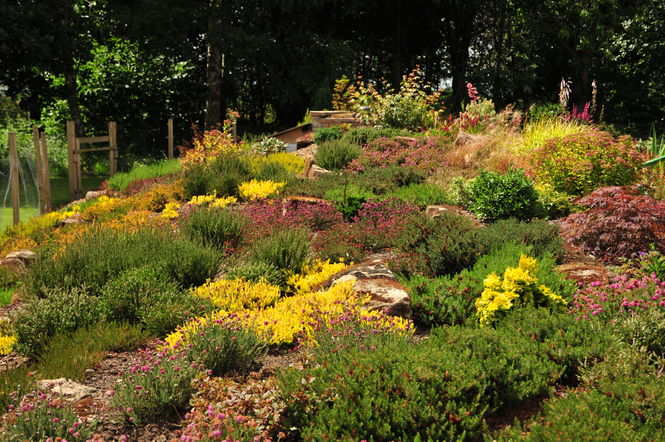 Marlfield ©Malcolm Ross
Useful tips for a bee-friendly garden (even if you don't have room for hives)
Many of our gardeners and volunteers make an effort to provide food and shelter for insects. We asked some of them how they do it.
I have always made certain that there is a constant source of pollen during all the seasons. This does mean that you need to leave a wild area of your garden to naturalise, which at times will look untidy. Leave the weeds that have flowers to multiply, buttercups, willow herb, nettles, heather, lunaria, poppies and clover and many more wild flowers. Leave lawns to grow a little longer by not cutting the grass every week. Just allowing some of these to grow will, even in the smallest of gardens attract lots of different bees. - Heidi Stone, District Organiser for Glasgow and North Lanarkshire
I am an ex beekeeper but my neighbours' bee hives are only a couple of hundred metres away from us and I have deliberately planted my garden with them in mind and as a consequence always have a bee filled garden, including about 4 varieties at least of bumble bees. These are my best five bee-friendly plants, starting from spring and going through to autumn: Hellebores, cotoneasters especially horizontalis and the small leaved varieties, astrantia, nepeta (catmints), simple open roses. I would love to include crocus in the spring, foxgloves in summer and in shady places, and ivy for the winter when bees are struggling. And if you have a bit of room and want height the bees here go mad on Cirsium Rivulare and Thalictrums. - Margaret Gimblett, Fehmarn, Perthshire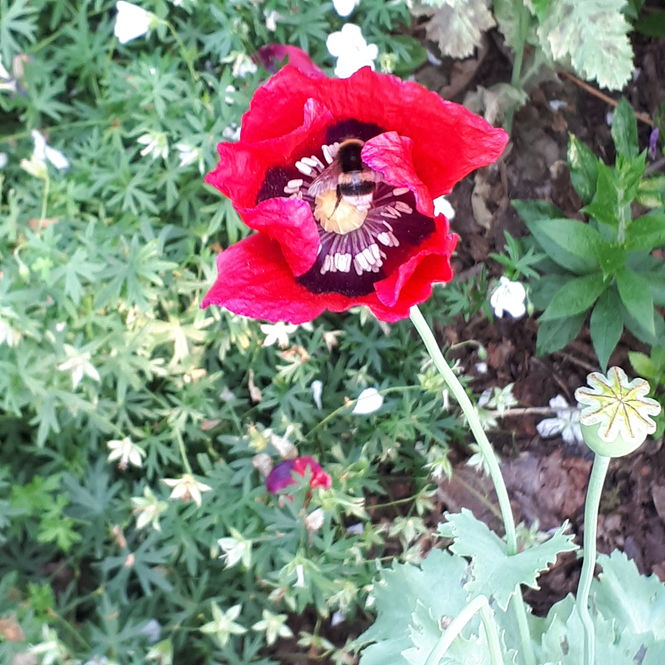 Old Farm Cottage
---
Photographs from our bee-friendly gardens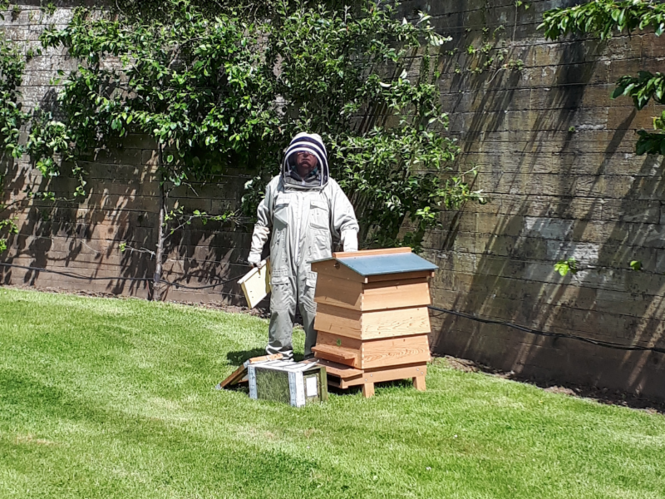 The Owner & Beekeper at Old Farm Cottage in Nemphlar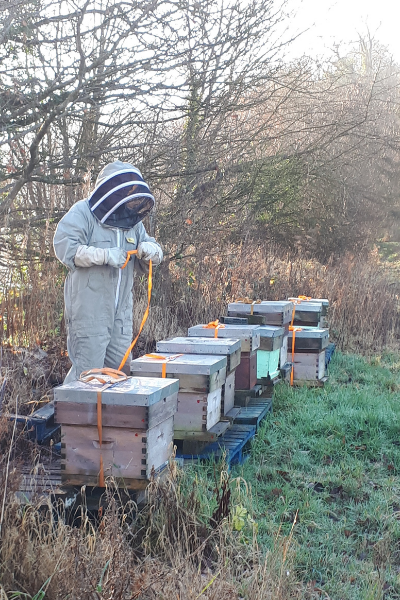 Ian with his beehives
---
Radio 2 about Big Bee Challenge
It is a brand new initiative to shine a light on the plight of our bee population, in partnership with the Royal Horticultural Society (RHS).We launched a kids competition back in June, where we invited children, aged between 6-12 to design a bee-friendly garden. We had a fantastic response with thousands and thousands of entries.
We'll be revealing our winner in a few weeks' time on The Zoe Ball Breakfast show and our brand new Big Bee winning design will be built at an NHS Trust in Doncaster that treats young people and children with mental health needs. Zoe will be opening the garden on Friday 20th August!
During Radio 2's Big Bee Challenge Weekend (Sat 31st July & Sun 1st Aug) we are asking everyone to do just one thing – large or small - in their garden, window box or outdoor space that will entice pollinating insects.
A new podcast called Bees In A Pod is available weekly on BBC Sounds from 23nd July, presented by Rob Beckett. It will celebrate our buzzing buddies, feature celebrity guests, stories of heroic efforts to save our pollinators and give an entertaining insight into the fascinating world of bees, a go-to place for curious and nature-loving families.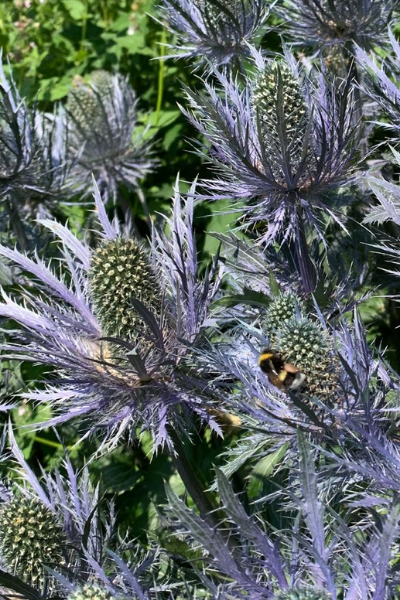 Bees, Old Farm Cottage