Gluten Free Rhubarb and Ginger Cake Recipe
Thursday 21 May, 2020
Rhubarb is quite full in the garden just now, and even reaching many supermarkets. So try this delicious almond-based gluten-free cake.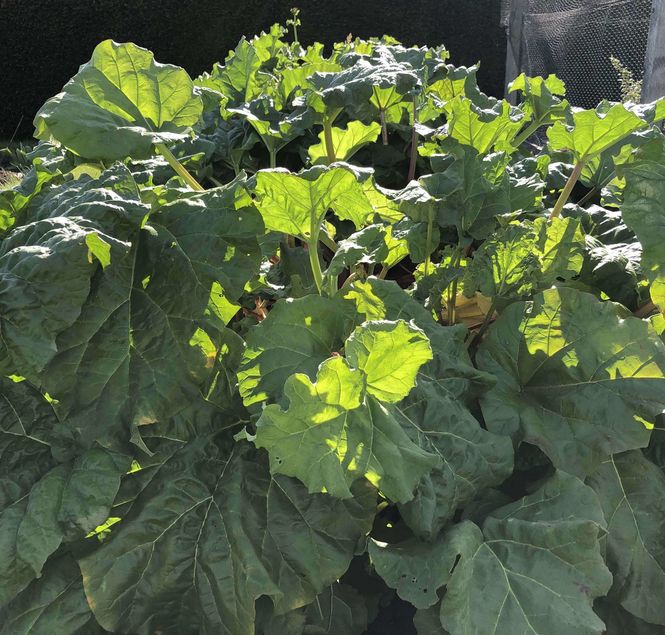 rhubarb in the garden
Cake Ingredients
200g butter
200g caster sugar
200g ground almonds
4 large eggs
Pinch of salt
Caramel
150g sugar
100ml water
25g butter
Poached rhubarb
8-10 stalks of rhubarb (discard leaves), cut into 2cm pieces (see tips)
4tbsp honey
1 large knob of ginger, grated
120ml water
1 vanilla pod
Combine the rhubarb with the ginger, honey, water and vanilla and bring to the boil in a saucepan. Simmer for 5/10 minutes or until soft but still intact. Strain, keep the syrup and remove the vanilla pod. Set aside.
Cream the butter and sugar, then add the eggs one by one, then fold in the ground almonds and pinch of salt.
Meanwhile for the caramel, bring the water and sugar to the boil and simmer for 15 mins or so or until it has reached a deep whiskey colour, then take off the heat and stir the butter in vigorously until fully incorporated.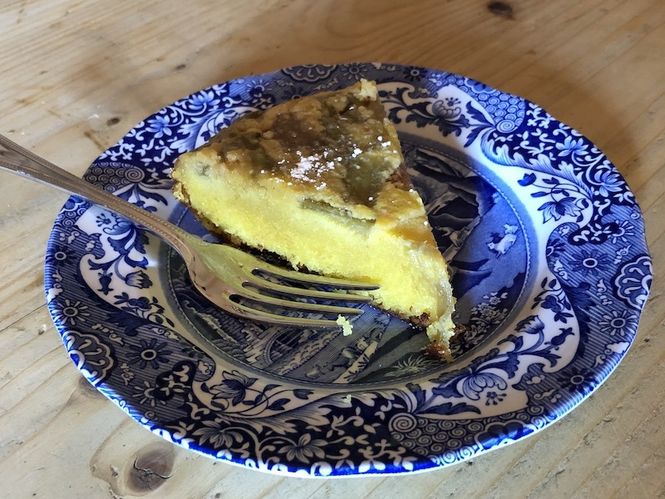 Line a 8-10 inch latched cake tin with greased baking paper, then pour in the caramel. Place the rhubarb on the caramel and construct in whatever pattern you like (see tip). Once the layer of rhubarb is to your satisfaction, add the cake mix, spread out evenly, then into the oven for 30/40 minutes at a baking temperature (180c) or until there is no wobble when shaken gently.
Leave to cool for half an hour, then remove the side of the baking tin, place a plate on top of the cake and flip over. Decorate with rosemary, thyme and sweet Cicely flowers and serve with Creme Fraiche and the rhubarb syrup.
Tip: You can keep the rhubarb stalks longer if you like and then create a circular pattern with them, resembling a rose. If doing this, you might also seek the reddest stalks. You might even create a criss-cross pattern – be creative!
Look for more garden-based recipes on our What's New Blog.