Delicious recipe from Hospitalfield Head Chef
Wednesday 30 November, 2022
Debbie Butler
A recent visitor to Hospitalfield House in Arbroath was over the moon with the food served in their beautiful glass walled café. Seasonal and making use of local produce and innovative recipes, she sampled Pickled Radicchio salad and a wonderful – not too sweet - apple cake. All enjoyed whilst looking out on the stunning walled garden, redesigned and replanted by famed garden designer Nigel Dunnett in 2021.
These culinary delights were created by Elaine Chalmers, Head Chef at the house, pictured here with the café in the background. In post for just over two months, Elaine is originally from Dundee, but has spent years working in hospitality in the East End of London, including in some of East London's most cutting-edge restaurants, the chef cooked for the stars of the Britpop and Young British Artist movements – everyone from the Pet Shop Boys and Bjork to Janet Street Porter, she also had her own restaurant in London's Dalston for seven years.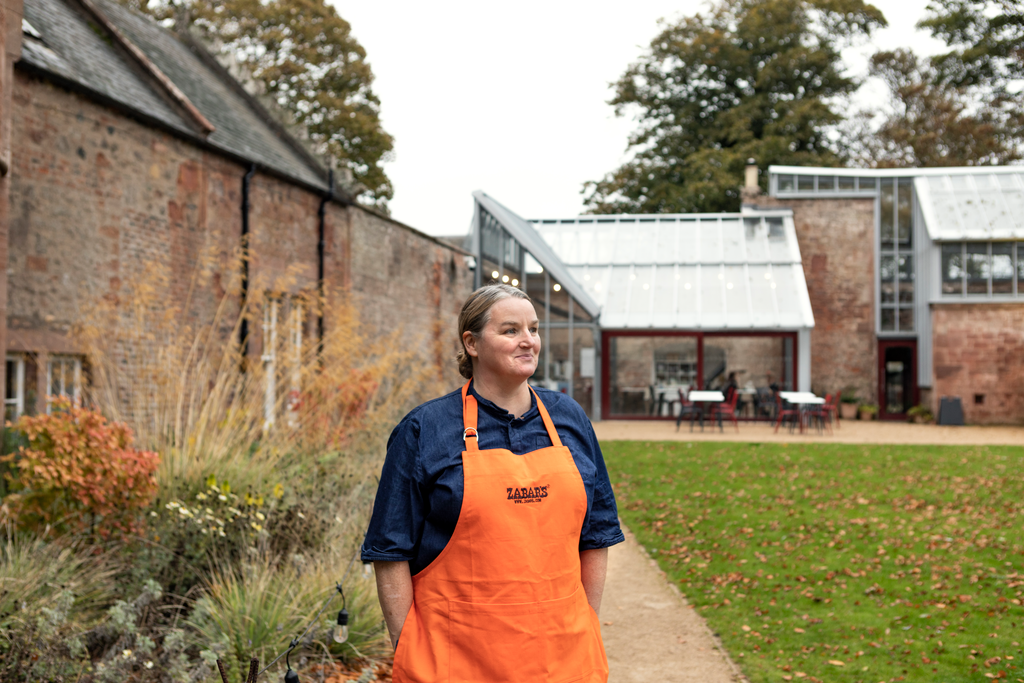 ©Alix McIntosh
Hospitalfield is a community arts hub and this fits well with Elaine's sense of community spirit. She won an award for running soup kitchens in some of London's most deprived estates, in Hackney. She also supports the next door Hope Garden, a charity which helps people with learning disabilities by making use of their organic produce.
The walled garden at Hospitalfield is open on a regular basis and will be opening with Scotland's Garden Scheme – Angus and Dundee branch on Saturday 8th July 2023.
Pickled radicchio, feta, toasted walnuts serves 8
400g prepped radicchio, cored and cut into 8 pieces
2 whole black peppercorns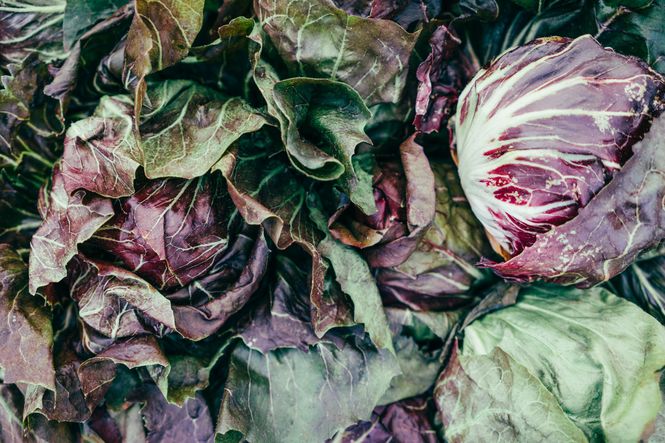 Salt the radicchio and put into colander for approx 1/2 hr, drain, but do not rinse. Boil the other ingredients for a couple of minutes. Sterilize Kilner jar, pack salted radicchio into it and pour over pickling liquid, seal. Store for a minimum 1 week.
Splash Greek Extra virgin olive oil
Put feta into food processor, add garlic, splash of oil, and Greek yogurt, lemon juice, whizz a couple of minutes until smooth.
Toasted walnuts: roast in oven with a little oil and salt.
Spread feta over plate, arrange pickled radicchio over, drizzle with Greek extra virgin olive oil, toasted walnuts, pinch flaked salt, black pepper.
---
Hospitalfield House
Arbroath
Angus
Scotland
DD11 2NH
Visit website for opening dates and directions.