Mr Lowry visits Tyninghame House and The Walled Gardens
Tuesday 5 June, 2018
'Tyninghame House and the Walled Garden'
Dunbar,
East Lothian,
EH42 1XW
Sunday 13th May 2018.
Well after a very long and challenging winter at last I have escaped the confines of the house, my own garden and the Gyle Park where the dandelions have been amazing this spring. 'The Boss' informs me that we have over 230 different species in the UK - Typical of him to note that! He also muttered something about them being an important food source for early flying bumblebees and I thought that he was admiring my regal pose in the midst of them.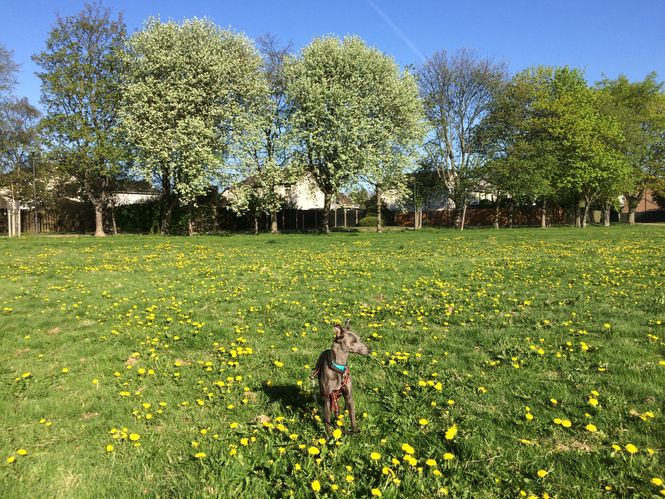 Did you see my best four-pawed attempt at a selfie? It has two of my favourite trees in the background they are White Beams Sorbus aria with beautiful silver foliage but I personally particularly like the trunks!! I wonder why? Hee Hee!! That's enough of that - says 'The Boss' and with 'HQ' echoing the sentiment and noting that I should mind my manners.
Spring, yes I did use the word – thankfully it has arrived and we have at last ventured out of Edinburgh for our first jaunt in support of Scotland's Garden Scheme. All thanks to the wisdom contained in the Yellow Book. Once 'The Team' finished delving into it over coffee last Sunday we headed out to East Lothian to Tyninghame.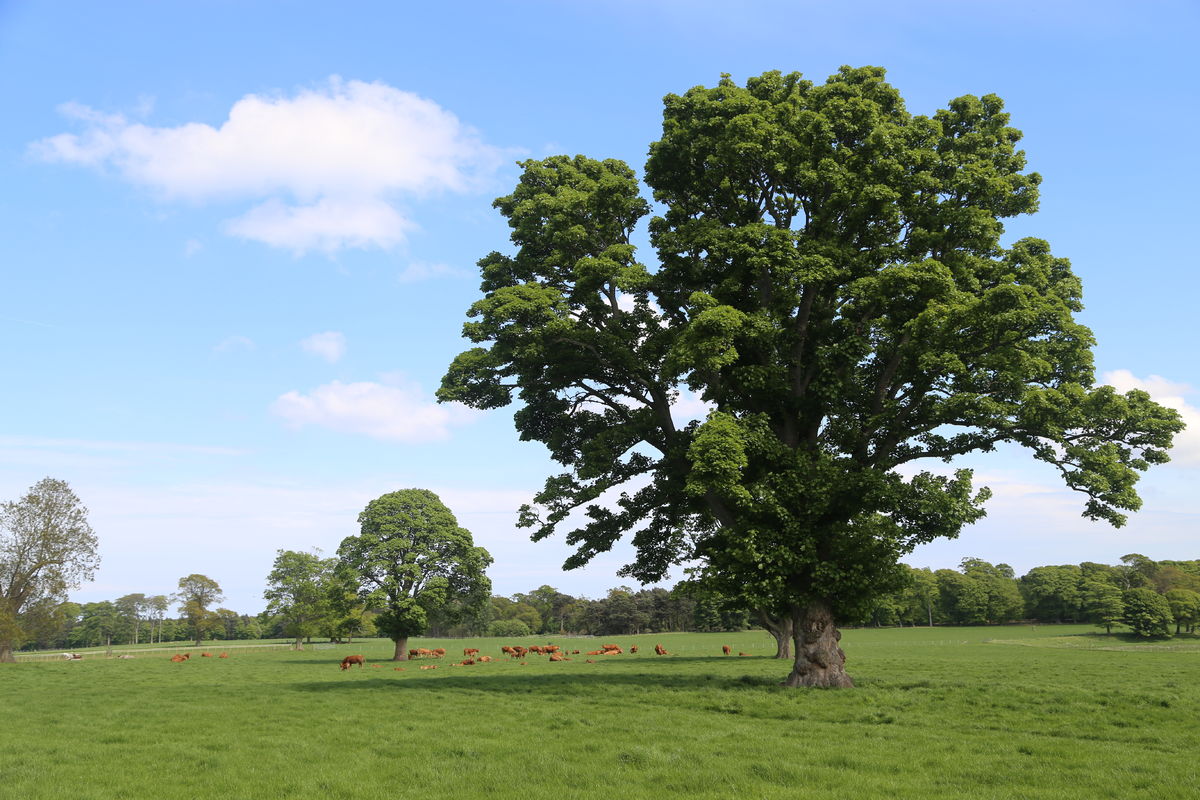 Mr Lowry visits Tyninghame House and The Walled Gardens ©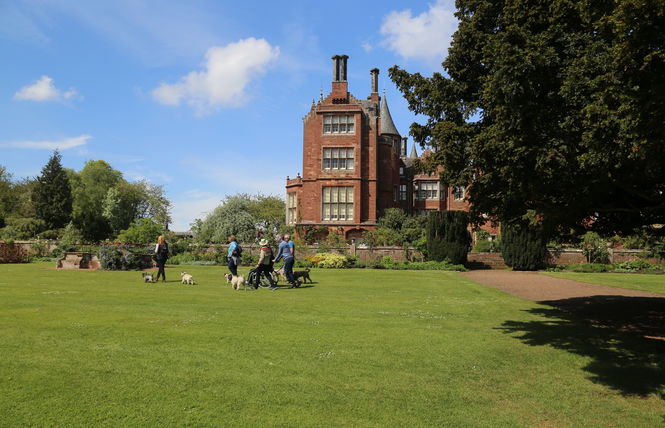 Tyninghame House overlooking the beautiful lawns ©
Gosh 'what an amazing place' in such a lovely setting we were all in awe of the wonderful ancient trees, lush green fields and the views to the Tyne Estuary.
The jewel in the crown being the gardens, everything was so well kept and looked after; you just knew it was loved, filled with rich plantings, glorious lawns and a parterre leading to the Terrace.
I particularly enjoyed wandering through the wilderness with its drifts of blue bluebells and lush sward filled with a myriad of wild flowers. The walled garden was a joy to behold with apple blossom.
It is a hidden gem I am hoping that 'The Team' will take me back to have another look on the next SGS Open Day on the 24th of June; when the roses should be a delight.
We next visited Lady Haddington's Secret Garden, which according to 'The Boss' has a wonderful 'Sense of Place'. Being a dog I am not sure what he meant by that, but I do know that as it was a very hot day I did enjoy a rest in the shade of the grotto, which has a trickle of water falling from a mask which 'HQ' said reminded her of the Green Man.
Having recovered we meandered on through the garden passing a group of Himalayan poppies Meconopsis sp with their delicate blue blossom fluttering like prayer flags in the warm air. Reaching the front lawn it was great to see families with young children sitting on rugs listening to a storyteller, we joined them for a while and wonderfully he even managed to transform 'The Boss' into a Cherry Tree' as part of one tale.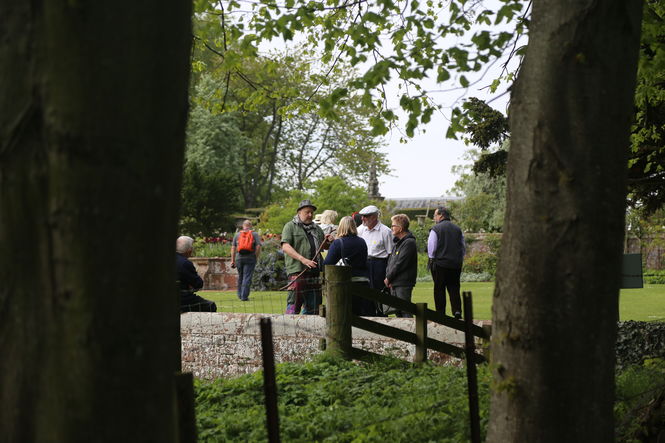 Storyteller Tim Porteus telling tales in the garden ©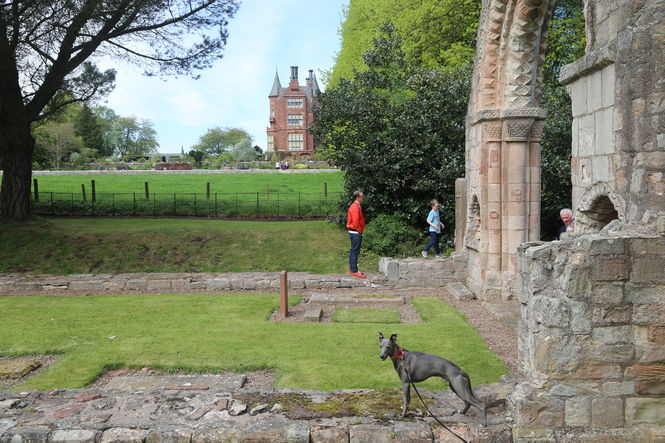 Mr Lowry in the ruins of the Norman Chapel ©
Rested we finally took a gentle stroll through the lime avenue to enjoy the peace and quiet around the ruins of St Baldred's; the 12th century Norman Church. Here being a good lad I posed for my photo and took in the view whilst also admiring many other of my doggy pals who were passing by. The day was completed with a wonderful selection of tea and cakes in the shade of a big tree, I got a welcome drink and some rather special doggy salmon treats 'scrummy'. Reflecting on the day I must have met over forty doggy chums of all shapes and sizes, they all told me this was a great place and they like me hope to return for the next open day. Several even admitted to taking their owners along every year for many years. Yip this is the SGS Dogs Garden Party no doubt about that. Well, its time for my breakfast so I am off to chase 'The Team' up about that and then have a power nap, it's a dog's life you know.
See you all again soon, bye for now.
Mr. Lowry.
With thanks to the 'Team'.