Mr Lowry's visit to Megginch Castle, Perthshire, Easter Day
Wednesday 19 April, 2017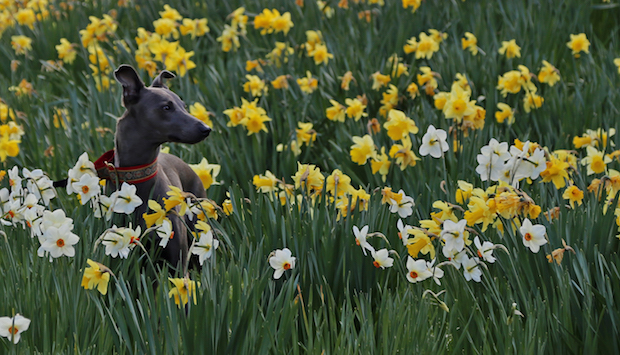 Mr Lowry among the Poets Narcissus (Narcissus poeticus) at Megginch Castle
Easter Sunday hopefully a day of rest and recuperation for me after all yesterdays hard work in the garden helping the 'Team' with the weeding, pruning, planting and mulching. You know - all the usual garden stuff that keeps you humans busy in the spring. They were not making a bad job or so I thought, until I got 'scolded' for digging up some newly planted Stinking Iris (Iris foetidissima), which I reckoned the 'Boss' had put in the wrong place. 'Lowry, leave that alone' he said; thinking about it now; how was he to know that he had put them where my best ever-old bone was tucked away safely.
'Humans' they never look and learn.
It's 10:00 a.m. and what's this they are at now after my usual morning walk? 'Ah' the papers and coffee, it will be the 'Archers' next, yip I was right. We are in for a lazy day I reckon, so I am off for a snooze.
Lunchtime and at last they have surfaced and are now putting bits and pieces in the car, where are we going? I think I will just let on that I am still sleeping and maybe I will get some peace for the afternoon - oops not a chance! 'HQ' has got my harness there is no escape! She's got me and I hop into the car, wait a minute that's the 'yellow book' on the back seat so it must be a garden. Yip, I know it is because the 'Boss' has the cameras. Great stuff!! A dog's day out to somewhere new.
Gosh! Here we are at Megginch Castle in the Carse of Gowrie already.
The 'Boss' says this historic castle and garden has been the home of the Drummond family since 1661. The grounds he notes still contain many wonderful old trees including yews, oaks and beech, many mentioned in Thomas Hunter's famous 1883 work, The Woods Forests and Estates of Perthshire. As for me, I particularly enjoyed going down past the chapel through the avenue towards the Lady's Walk. Here, all along the way the woods are filled with large drifts of bluebells, primroses and heritage daffodils, including what looked like Narcissus 'Therapia' perhaps or so he said!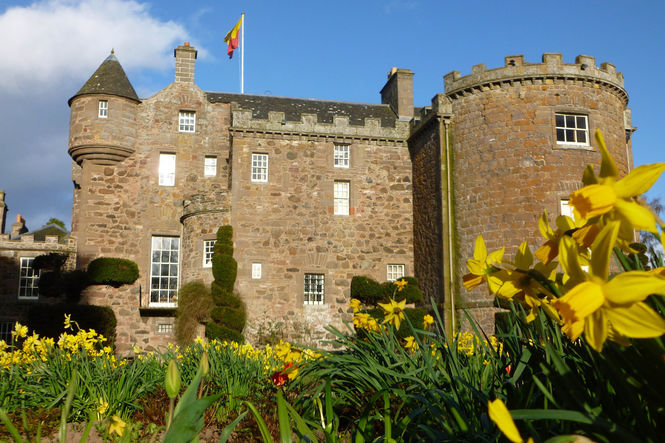 Daffodils at Megginch Castle©
Nearer the house, we saw the Star Magnolia (Magnolia stellata) with its fragrant white flowers and Bachelor's Buttons (Kerria japonica 'Pleniflora'), which was a delight covered in bright double yellow flowers; each standing proud and fluffy in rows along the tall green stems.
Around the castle were lots of large colourful rhododendron cultivars in full bloom plus several cherry trees each covered in white blossom. The parterre was complete with a fountain, clipped variegated hollies, tulips and daffodils, all very smart. The central path led towards a lovely sculpture of a sight hound much larger than me; a greyhound perhaps. Interestingly, I thought that I was not alone but I was not sure, more on that later.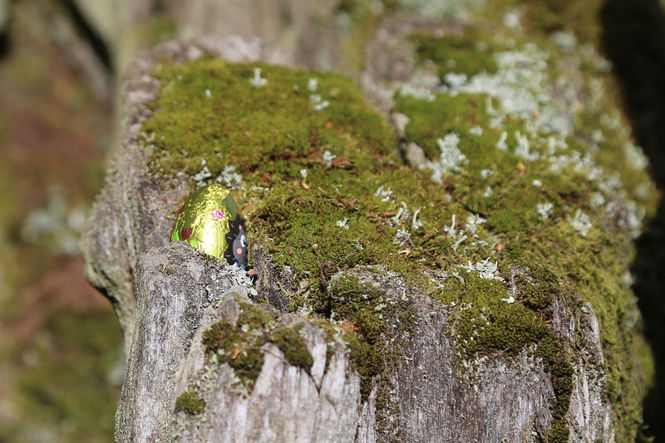 Hidden Easter eggs at Megginch Castle, Perth and Kinross ©
Every one was really busy either enjoying a delightful and very colourful afternoon tea in the sun; or they were going hither and thither, looking high and low in all the nooks and crannies. It's an Easter egg hunt said HQ, 'Ah I will get my nose on that' said I and within a few minutes after a word with 'Stone Tree Fairy ' I had sought out four or five tiny eggs; giving them all away to various children I met along the way.
"Looking high and low in all the nooks and crannies...it's an Easter egg hunt"
Next, it was my photo shoot among the Poets Narcissus (Narcissus poeticus), this process caught the imagination of some new chums; especially two children who were fascinated by the camera and myself. It's so nice when people say hello, I do love making new friends and these Sunday openings are ideal for that.
After this we were off to the walled garden and the orchard where there were lots of special hens including 'Scots Dumpy's and rows and rows of newly planted apples including the 'Bloody Ploughman', a scarce old Scottish variety with pink flesh.
There was also a Japanese Quince (Chaenomeles japonica) resplendent with a mass of pillar-box red flowers.
They are also experimenting with tea plantation, which sounds very interesting and bespoke said the 'Boss'.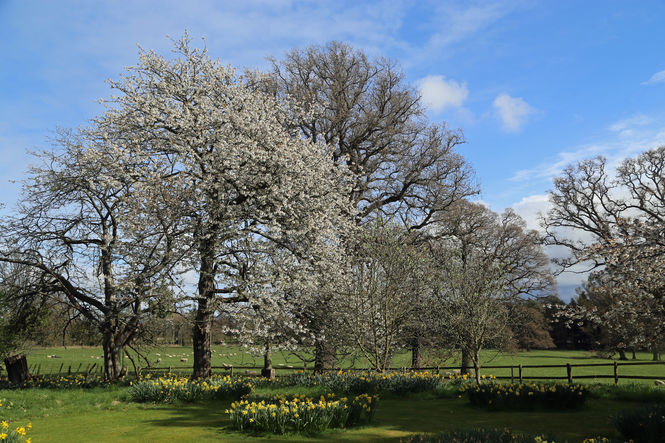 Spring in Full swing at Megginch Castle, Perth and Kinross ©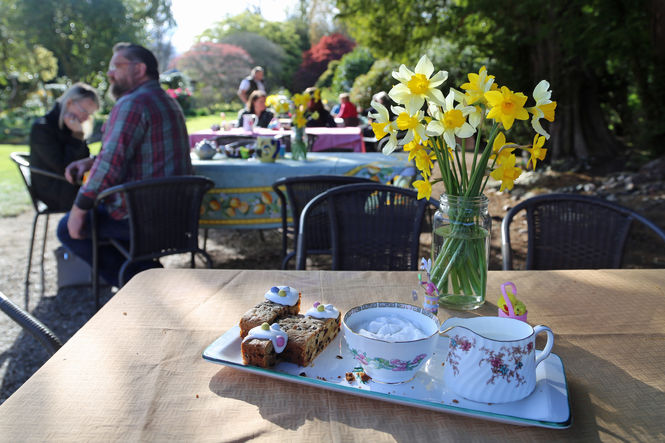 Tea and cake at Megginch Castle, Perth and Kinross ©
"Family orientated garden"
With so much to see and do I want to go back next year; especially as it is such a friendly family orientated garden with a great welcome from the owners, Catherine and Giles and their children. All of who were working so hard to make the day a success. Unbelievable, just as I was leaving I met a whippet called Tarsia who belonged to a friend of the family, this was great. Then to top it off, Catherine went to find her two special friends the whippets Inca and Berry and a charming black spaniel. Hugs, sniffs and licks all round, it was a great end to a magical visit.
I have to hand it to the 'Team'; this is the way to spend Easter Sunday, I returned home relaxed with lots to think and dream about.
What more could a dog desire?
See you soon readers, after I get back from visiting the other side of the universe! Yes that's where I am going, ' The Garden of Cosmic Speculation' check it out in the 'yellow book' or the web site. I can't wait to see what all the fuss is around it, especially as the 'Team' can't stop talking about it!
Bye for now.
Mr. Lowry.
With thanks to the 'Team'.
Megginch Castle,
Errol, Perth and Kinross.
East of Scotland.