New "no dig" beds at Willowhill
Tuesday 8 August, 2023
by Eric Wright and Sally Lorimore, Garden Owners at Willowhill Garden in Fife
We are creating another planting area in 2023 using the no dig method. There is much evidence that both vegetables and flower borders can benefit from this style of gardening: soil degradation, erosion and loss of soil carbon is reduced and invertebrate diversity, water retention and soil fertility are increased.
In 2019/2020 we trialled the no-dig approach on a grassy area of the field. We planted the area with the smallest amounts of plant material possible to minimise soil disturbance and reduce stress on establishing plants. Some new plants were purchased but we propagated most from garden divisions or from seed. We heavily mulched with 75mm of composted bark to reduce weeding and conserve water.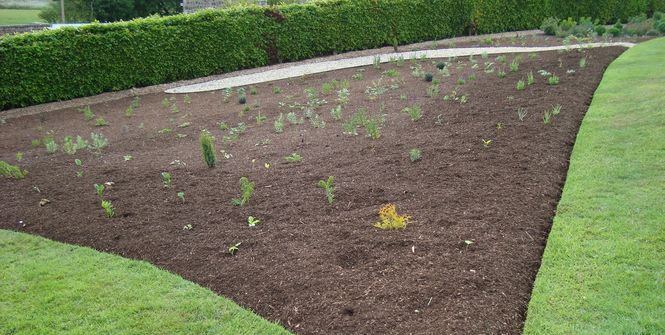 2020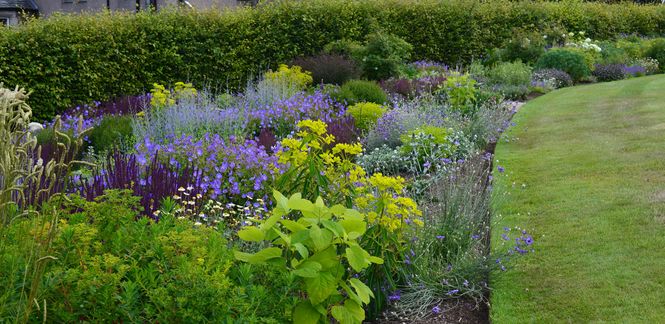 2022
We were impressed by the results; the next year the plants grew well and the limited soil disturbance/ deep mulching has produced little weeding over three growing seasons. We top up the mulch every 2-3 years and regularly check for and remove weed seedlings that appear occasionally.
Our most extraordinary finding was that this flower border held on to moisture much better than our other conventionally dug/mulched borders; in the hot, dry summer of 2022 this border did not require watering at all! We have learnt this approach is a real game-changer; as well as being more wildlife/soil friendly it is far less labour intensive for us as gardeners.
For our new project in 2022/2023 we are extending plantings using the 'no dig' approach adjacent to an existing conventionally dug border. A stone potting shed built with field stone and other recycled sandstone as well as other structural elements-gravel paths edged with recycled whinstone, hedging and an existing wall are integral to the overall design.
As with the border created in 2019/20, we planted this new area with the smallest amounts of plant material possible in late March/early April. For new pot grown purchases we sought plants grown in small 0.5 litre pots but mainly used bare rooted purchases/divisions from the garden. Borders/paths were mulched in April with 75/60mm of composted bark/gravel except areas where soil had been disturbed immediately around the potting shed and by the copper beech hedge. We have hoed these areas over the summer and will mulch in the autumn.
For this new project we opted for a colour scheme of burnt orange, terracotta, acid yellow, burgundy, red and yellow to complement the backdrop of a previously planted purple beech hedge.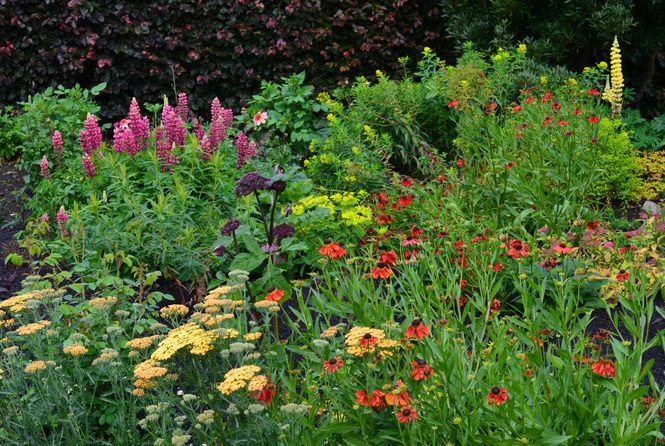 As we observed with our other 'no dig' border, all plants are thriving under these conditions. We are particularly pleased with the roses where we simply planted in a slit trench at a spade's depth. Each bare rooted rose was planted sideways on with the base of the stems 5cm below ground level. Any loose space was filled with a sterile soil-based compost.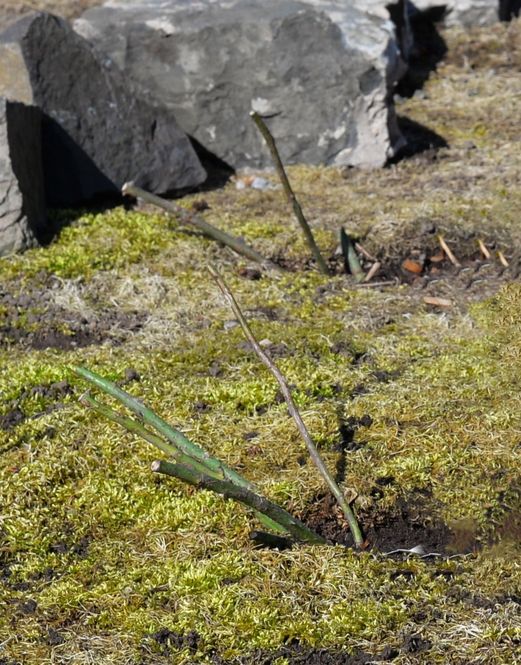 By early August roses are already at half their mature height and blooming freely.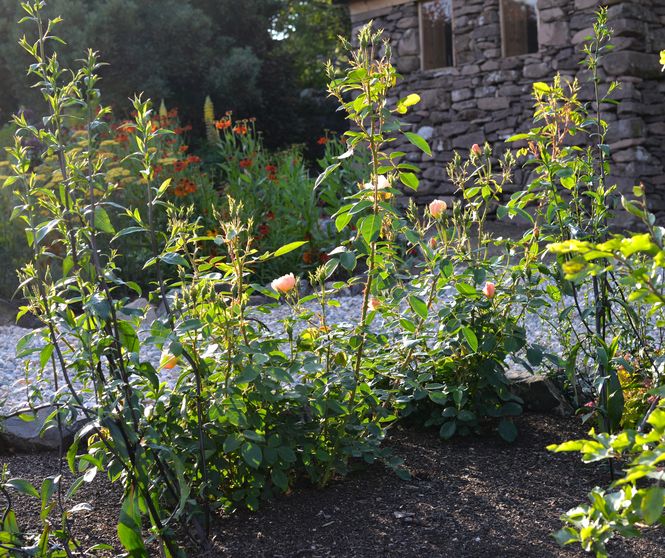 Thinking of developing something along these lines or just interested in the process? Come and see the garden- we will be on hand to answer any questions.
Willowhill Garden opens for Scotland's Garden Scheme by arrangement and from 1-5pm on selected days through the season. Click on the button below for full details.