Why Volunteer for Scotland's Gardens Scheme
At the heart of our charity are more than a thousand volunteer organisers and garden owners, without whom there would be no gardens to visit. We are incredibly grateful for the skills and experience they bring to the charity and the time that they give to us. As a charity, we strive to see that their experience with us is inspiring, rewarding and fun.
Please register your interest by completing THE FORM or call the office for an informal chat on 0131 226 3714.
Volunteer with Scotland's Gardens Scheme to: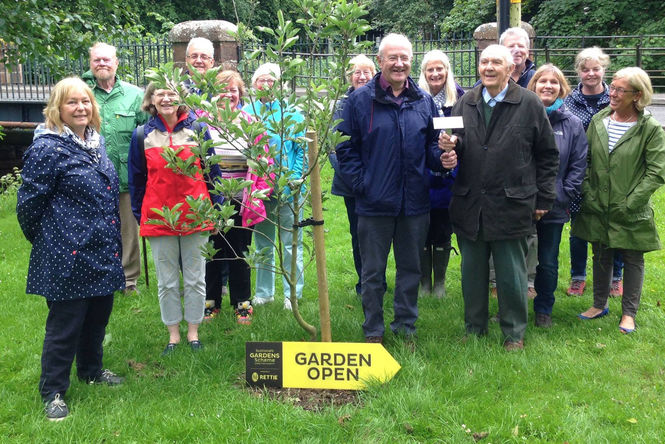 West Linton Volunteers
Get involved in one of Scotland's longest running volunteer networks
Meet new people and share your enthusiasm for gardens and gardening
Visit inspiring gardens, often not open to the public and a rare chance to see something special
Enjoy working as part of a team
Use your skills to help raise funds for charity
Join in our winter talks programme on zoom
---
Our Volunteer Roles – many hands make light work!
We have 23 Districts Committees around Scotland who work as a team to find gardens to open, then support those openings through the season, which can run from March right through to October. Each District Committee consists of the following roles:
District Organiser
The District Organiser leads the team and oversees all garden openings through the season, making sure they are well supported and promoted. The District Organiser is directly supported by Head Office to make sure the team has everything needed to run smoothly. Sometimes District Organisers work as a pair, to support each other and share the workload.
Area Organisers
Area Organisers look after gardens in a particular area and help to recruit gardens, make sure they are supported on open days. They help to share the work of the District Organiser by supporting a specific area.
Photographers
Our District Photographers use their skills to provide us with great photography to support our garden openings and we are able to use their photographs on our website, social media, in printed materials and for PR, which is a huge help in promoting our openings. We are happy to credit our photographers.
District Treasurer
The District Treasurer is a very important member of each District Team, responsible for the collection of funds raised at garden openings and making sure that funds are paid to charities and to Head Office. Treasurers enter information about openings into the finance part of our database so must be numerate and comfortable with technology.
Event Volunteers
Event Volunteers come along and help out before and during open days. They might deliver and put-up signage before and after an opening, sell tickets at the gate; direct traffic and manage parking; or help out with refreshments or to sell plants.
Media Volunteer
Our Media Volunteers play an important role in promoting garden openings in their area, through local PR and press releases and social media. Head Office can provide templates and resources to help with this.
If you would like to learn more about getting involved in any areas, we would love to hear from you! Please get in touch by completing THE FORM or call the office for an informal chat on 0131 226 3714.
---
Current opportunities - could you help one of our District Teams?
Ayrshire: Event Volunteer (Whitewin House Garden, Girvan)
Argyll: Area Organisers, especially for Lochaber area
Berwickshire: Area Organiser for the Eyemouth area
Caithness, Sutherland, Orkney & Shetland: Area Organisers, Event Volunteers, Media Volunteers
Dumfriesshire: Area Organisers
Glasgow: Area Organisers
Lanarkshire: District & Area Organisers, Event Volunteers
Kirkcudbrighthshire: District & Area Organisers
Renfrewshire: Area Organisers, Event Volunteers, Media Volunteer
Roxburghshire: Treasurer, Area Organisers, Event Volunteers
Stirlingshire: Treasurer, Organisers for Callander, Killin and Falkirk, District Treasurer
---
Interested in opening your Garden?
Find out more HERE