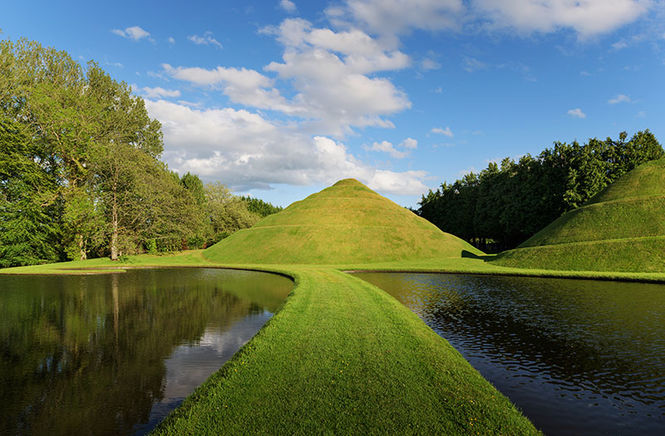 Portrack House ? Ming Thein
Portrack, The Garden of Cosmic Speculation
The Garden of Cosmic Speculation will not open to visitors in 2020 but will open again in 2021. Please see the letter below, from Dame Laura Lee of Maggie's, for further information.
Details of the 2021 opening date will not be available until the start of that year, but if you sign up for our newsletter we will publish this information just as soon as it is available.
For 2020, please see our full list of openings for other gardens to visit.
Letter from Maggie's below
The annual open day of The Garden of Cosmic Speculation in Dumfriesshire is the most popular in the SGS calendar. This year, due to the death of its designer Charles Jencks at the age of 80 in October 2019, the Jencks family has decided not to open to the public while they grieve Charles's passing. Along with his late wife Maggie Keswick, Charles was our co-founder and Maggie's fully supports the family's decision.
Charles will be remembered for his visionary landscape design, and as a renowned architectural historian and cultural theorist. For me personally his greatest legacy lies in the contribution he has made to ensuring that people living with cancer, and those close to them, have the best possible support – and Maggie's would not be the organisation it is today without his tenacity, dedication and charisma.
Maggie and Charles were determined to create a new kind of cancer care – a thoughtfully designed space where people with cancer could find help away from the often stark, clinical environment of the hospital. After Maggie's death in 1995 Charles helped make their vision a reality, working with the architect Richard Murphy to turn an abandoned stable block at Edinburgh's Western General Hospital into a cancer centre; the first "Maggie's".
This blueprint for a model of cancer care has grown into a network of centres across Scotland and beyond, supporting and empowering hundreds of thousands of people with cancer, as well as their families and friends. We couldn't do this without the continued support of Scotland's Gardens Scheme and everyone who opens or visits a garden under the scheme. Thank you.
We are certain you join us in sending our best wishes to Charles's family and look forward to the garden re-opening for Scotland's Gardens Scheme in 2021.
Dame Laura Lee DBE, Chief Executive
Maggie's