Queens Nursing Institute Scotland
In 1931, Scotland's Gardens Scheme was created to raise money for the Queen's Nurses before the NHS was established. The Institute has been generously supported by garden owners and visitors ever since.
Last year a new and important chapter in the long history between the Queen's Nursing Institute Scotland (QNIS) and Scotland's Gardens Scheme got under way as the Queen's Nurse title was awarded in Scotland for the first time in 50 years. The move saw 20 outstanding community nurses selected to take part in nine-month development programme funded directly by Scotland's Gardens Scheme.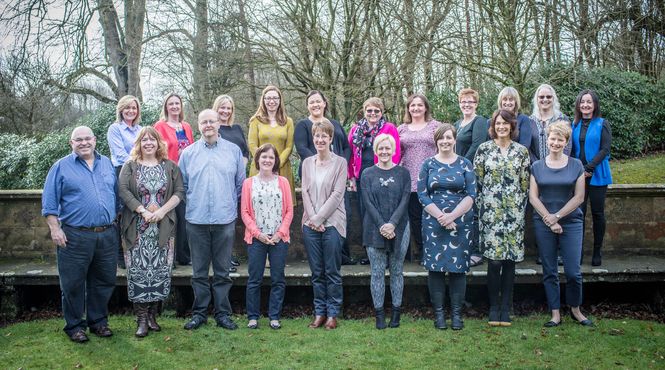 New Queens Nurses 2017
The programme promotes excellent community nursing practice. Each participant is at the heart of bringing compassionate, person-centred, community-based health and care to the people they work with. The course is designed to enable each practitioner to be the best they can be, acting as role models for others. It includes a residential course, follow up workshops and monthly telephone coaching to support the personal and professional development of the individual. During the programme each candidate works on a key issue for their community to improve the quality of care and enhance the wellbeing of patients.
The new Queen's Nurses are employed by the voluntary and independent sectors, as well as the NHS. Their day-to-day roles varies from being the only healthcare professional on a small and remote island, to being a midwife caring for asylum seeking mothers in Glasgow or being the nurse in charge of caring for people who find themselves in police custody. We have a wide range of roles performed by our first cohort – there are also health visitors, a care home nurse, practice and district nurses, school nurses and a Parish nurse. As Queen's Nurses they are following in the footsteps of the previous generation as they share an absolute commitment to promoting excellent care within their community.
As well as running the new Queen's Nurse programme, we also provide funding to nurse-led community projects aimed at reducing health inequalities. In 2017, we funded seven projects under the Catalysts for Change scheme – with the money going directly to making a difference to the community. Those selected include a group who will run nature walks to improve wellbeing, and an inner-city partnership that will find and refurbish premises to set up a men's shed – a meeting place for men to share and learn new skills.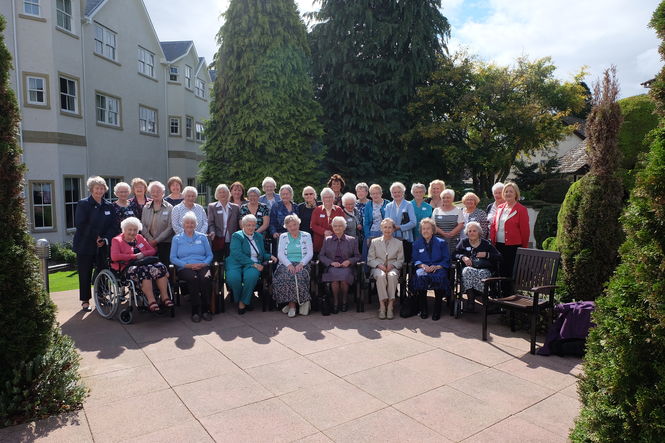 Retired Queens Nurses gather in Inverness
We continue to provide support to more than 400 retired Queen's Nurses in Scotland and beyond. We have a committed network of retired Queen's Nurses who volunteer to visit other retired community nurses in their own homes, to bring companionship and look out for their welfare. The retired Queen's Nurses have regular gatherings where they remain connected and enjoy fellowship.
We are proud to maintain our status as a Beneficiary Charity of Scotland's Gardens Scheme and are immensely grateful to all those who open their gardens and to the garden visitors who continue to support our work.
It is an exciting time for QNIS and we are delighted that the decades-long support of Scotland's Gardens Scheme continues as another group of community nurses work towards becoming the second cohort to receive the Queen's Nurse title in 2018.
Clare Cable, Chief Executive and Nurse Director, QNIS