Recycle, as nature would!
Tuesday 15 March, 2022
Global Recycling Day takes place on the 18th of March and we are looking at ways in which recycling can be incorporated into our gardens.
Repurposing materials can save money, and is lighter on the planet. Before buying new items for your garden, think how you can give some of your unwanted items a new lease of life. Even if you don't posses DIY skills, there are still plenty of things you can do and some are super easy.
Firstly, let's have a look at some examples of repurposed objects straight from Scotland's Gardens Scheme's gardens.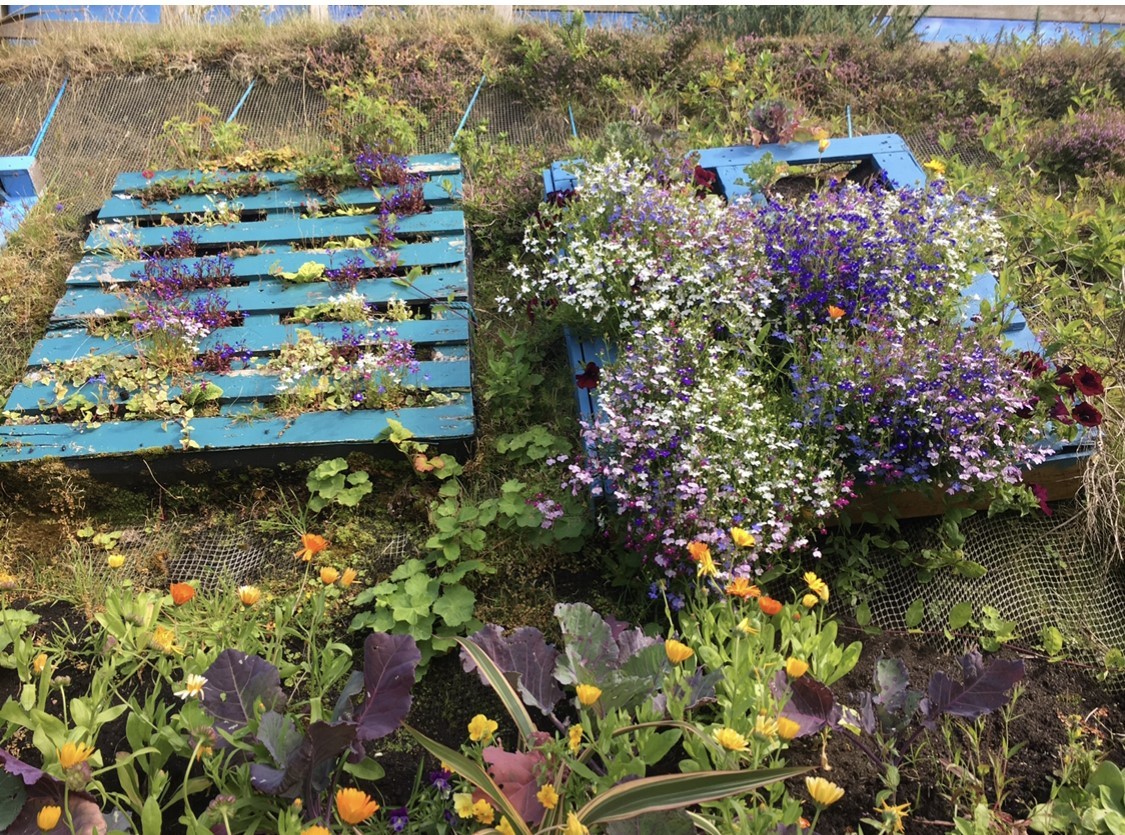 Sarah Kay, garden owner at Highlands Garden recycles pallet to help hang plants over a very steep bank. This part of her garden enjoys a spectacular sea view over the village of Scalloway in Shetland. The upper garden is mostly a rockery and also has a shallow pond, seating area, polycrub and greenhouse with fruit and vegetables. In the veg plot, Sarah repurposed the old water tank from their house to grow carrots (high up off the ground to avoid carrot fly) and the hoops are recycled water pipes.
She also uses a retro sink in her rockery. The garden received a Shetland Environmental Award in 2014 for its strong theme of recycling. These are examples of almost effortless repurposing of old objects into garden features.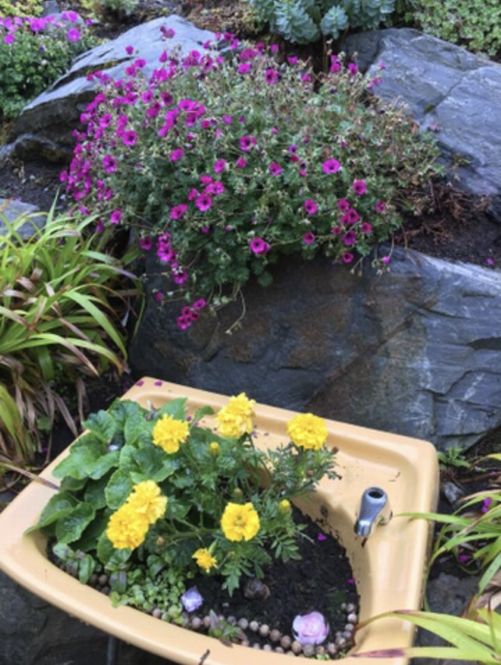 If you are feeling creative, you will love this this upcycling project, spotted in one of the gardens of The Lower New Town in Edinburgh! Looks like there is nothing that couldn't act as a pot for succulents. Think twice before you throw away that old sofa.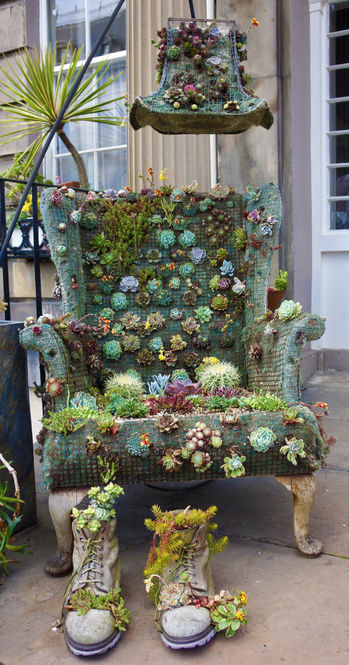 Give back what you have taken
Back to the basics though - the number one things you should recycle in your garden are nutrients. Plants take them up from the soil, so they need to be fed back, to keep the cycle going. Composting is the answer. There is no need to buy an expensive compost bin, as you can simply dedicate an unused corner of your garden to set up your soil-making lab!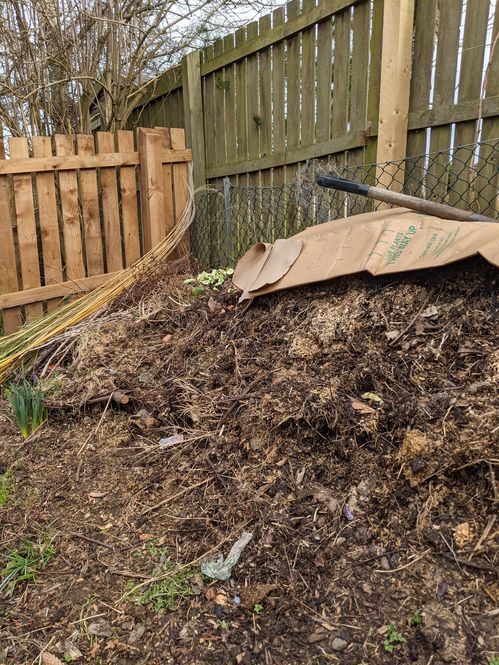 You can compost almost any organic material (with few exceptions), including cardboard, toilet roll tubes, kitchen scraps, even your hair and nails. If you don't have a lot of green waste, speak to neighbours and offer to empty a basket once they have finished mowing. I befriended my neighbour's bunny who now supplies me with poo (on a layer of hay and woodchip for nitrogen/carbon balance) - a wonderful fertiliser. It can be added to your compost heap.
Another material that you should never put in the bin are twigs and branches left after seasonal pruning (unless they are from a diseased plant). You can pile them up and leave to dry and once you have enough - hire a cutting shredder. This makes mulch that can be used under trees, shrubs, paths or as a ground cover/weed barrier. Alternatively, you can use them as a bottom layer of your raised bed or compost heap. Wood retains moisture that will be released when the soil gets too dry. It will also slowly release nutrients as it decomposes.
Capture valuable resources
We often take water for granted, as we are blessed with many days of rain in Scotland. However, we now also get long dry spells in the summer months and this is when we wish we had captured all that water when the time was right, for easy watering during drier weeks.
Capture roof runoff with a pipe diverted to a water butt, or leave an old kitchen sink (sealed), mini pond, old buckets and bins outside during rain - they will fill up and water can be reused later. Just make sure you cover it and keep it away from sunlight, so it doesn't get spoiled (and does not attract mosquitos).
Another material that we can get plenty of are autumn leaves. They can be bagged up (make lots of holes in bags for air circulation) and stored in a dry place for use as a potting mix ingredient in about a year. Or you can line your garden bed with them as a bottom layer - press firmly to rid of air pockets. Leaves contain many nutrients, but can leach nitrogen from the soil if used fresh directly on top of it. Letting them compost first will prevent that.
Have you got any recycling projects going on in your garden? Send us your images and stories or tag us on social media #lovescotlandsgardens.
Happy recycling!