Teenagers Garden Too!
Thursday 21 May, 2020
Sunflowers in brightly painted pots and stocking grass heads are familiar images for children's gardening week. BUT… teenagers garden too! What inspires them?
With an outdoor classroom, greenhouse and ever-increasing number of beds and planting space, the pupils at Linwood High School, Renfrewshire, grew 60 different varieties of plants and vegetables last year. The Craig Hepburn Memorial Garden was created in 2014 with a vision to make a positive change to how the pupils view themselves, the school, community and world they live in by growing organic vegetables, developing an understanding of biodiversity and healthy food choices.
After taking 40 tonnes of topsoil and wood chip up a hill, superhero determination has driven the project forward with increasing confidence and impact. All first-year pupils are now involved propagating and growing seeds, planting into areas coloured using the school house system. They harvest them after the summer holidays, in their second year. Third and fourth years can continue gardening by studying for an SQA National Progression Award in Horticulture and it is intertwined into personal development classes at all levels. Team building, co-operation, problem solving, communication, and a mass of understanding about food production, diet and the environment are just a few of the indirect life skills being learnt unconsciously. This is without considering the health benefits, both physical and psychological, with staff acknowledging how fabulous it is for teenage 'mental health and wellbeing'.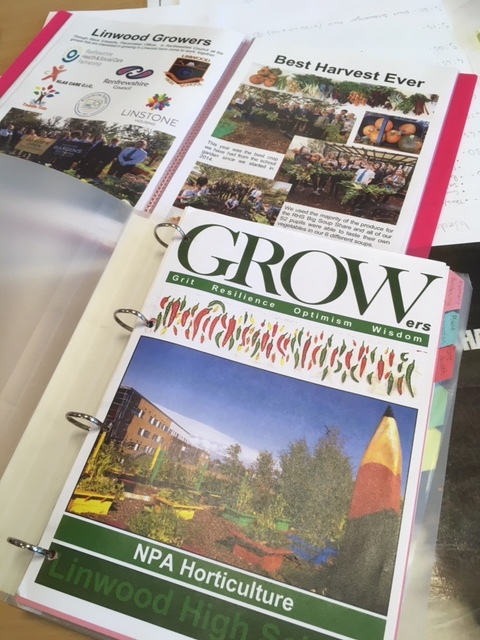 Gardening has provided a plethora of opportunity for pupils including: prestige of the first Scottish High School to achieve Level 5 of the RHS 'School Gardening' campaign; pupils winning and shortlisted for national competitions; presenting 'how to' classes for younger pupils; creating YouTube gardening videos; using their produce in home economics classes, and a 'Grow Social' using seeds from pumpkins they grew to introduce other schools to gardening. The positive vibe from the project is infectious and has created countless local links including the council, businesses, redesigning and planting community areas, local care homes and toddler groups. This just scratches the surface of the accolades and links created, but also, they were the first school garden to be included in the SGS yellow book, holding an opening every June.
So, what inspires them? Well, the challenge of nurturing the extreme and unusual! Ghost chillies weren't successful last year, so the challenge continues with a different variety this year. Pumpkin's and squash, the bigger the better. Colours: why plant red radish when you can plant black ones! Equally, it's the future vision, building a pizza oven and outdoor kitchen, making resin flower jewellery, photography projects, entering more competitions, discovering new things to grow, enjoying the success of nurturing their plants and dreaming up new ideas, realising them and passing this enthusiasm onto others.
This is why teenagers garden, so let's remember and encourage them during Children's Gardening Week.