The musings of a plant fanatic
Monday 28 November, 2022
by Maurice Wilkins
If I've learnt anything from my years as a professional gardener in the west of Scotland it's this; the world is full of amazing plants which enjoy - or at least tolerate - our comparatively mild climate, and yet very few keen gardeners grow them!
So why is this? Almost certainly because they don't know about them! Very few garden centres, in particular those owned by large companies, grow much outside a limited range of plants and it's not unusual to find the same plants for sale in Oban as it is in Canterbury or Birmingham. OK, many special plants are what are sometimes known as 'plantsman's plants', which suggests that they are unlikely to sport huge brightly coloured double flowers and bloom from February to November. It's possible that their charm may lie in the fact that they are different, they come from strange places, or they are simply rare - or sometimes a combination of everything!
Fortunately for the gardening fanatics among us there are many smaller nurseries scattered around the UK which are run by equally fanatical growers, and all you have to do is to find them! In my youth it would have been difficult to track down the suppliers of the rare and unusual, but in these Internetical days - if there is such a word! - there's no excuse. Well I suppose there is - you can't look for plants if you've never heard of them.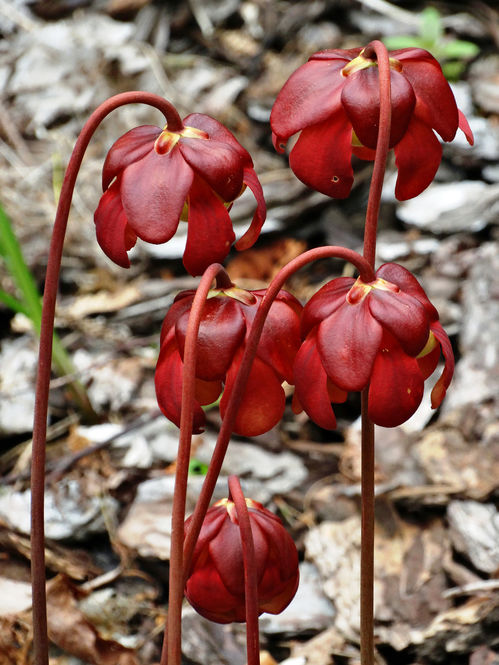 @Maurice Wilkins
In this blog I'm going to have a go at describing a number of plants which I've grown in my time in Scotland's west, mostly outsiders but occasionally insiders, for which I've had to go a little further than the local garden centre. They may not all be beautiful - in fact some might be weird! Watch this space for 'Plant of the Month'!
December
Plant of the Month -

Bomarea edulis

(Salsilla)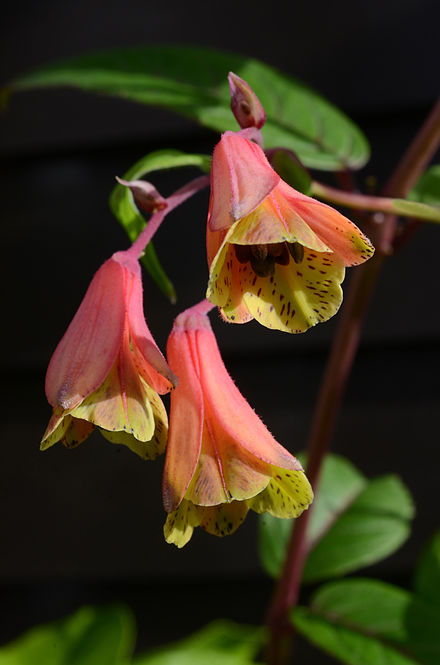 Bomarea edulis ©Maurice Wilkins
I'm not sure what attracted me to the generally twining genus Bomarea, related to the better-known Alstromeria, but I've grown several of the species over the years. The only one that I grow now is Bomarea edulis, which as its name suggests, is edible, or rather the tubers are. They're supposed to taste like Jerusalem artichokes, but as I've never knowingly eaten one of those I can't really comment!
This plant has a wide distribution through Central and South America, probably widened through its cultivation, but it was first discovered in 1768 in Rio de Janeiro by botanists on Captain Cook's ship, the Endeavour.
It seems quite hardy in my Oban garden, which in spite of what the weather websites say does get a fair amount of frost, being some 220ft above sea level. My plant is still in a large clay pot though maybe next spring I will plant it out to scramble up a shrub or on a trellis on the house wall.
A herbaceous climber, it grows annually to 6-8ft, supported on tall canes. The leaves are simple and lanceolate and the flowers are narrowly tubular, salmon pink outside and yellow and green with purple dots inside. The bursting seeds pods are spectacular too! Mine was still flowering outside in the middle of November and is only just beginning to die back. In colder places the pot could be overwintered in a greenhouse or frame, but mine has stood outside here for the last six winters. One day I might try eating one of the tubers!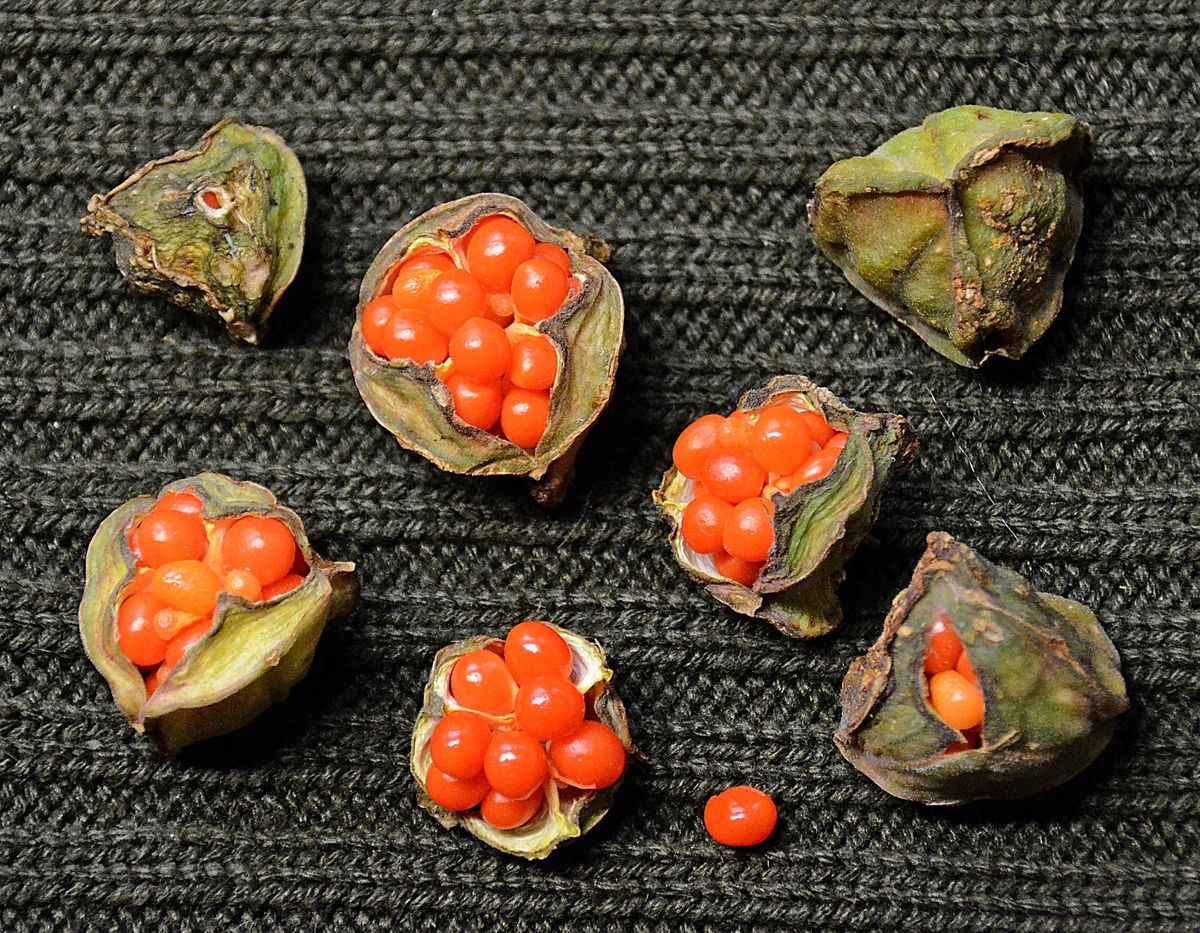 Bomarea edulis seed pods ©Maurice Wilkins
November
Plant of the Month -
Begonia hatacoa
PGG 209
I'm going to begin this blog with a plant which is very special to me and which is not commonly grown. It's a begonia, a species by the name of Begonia hatacoa PGG 209, which is a native to several countries in the Far East.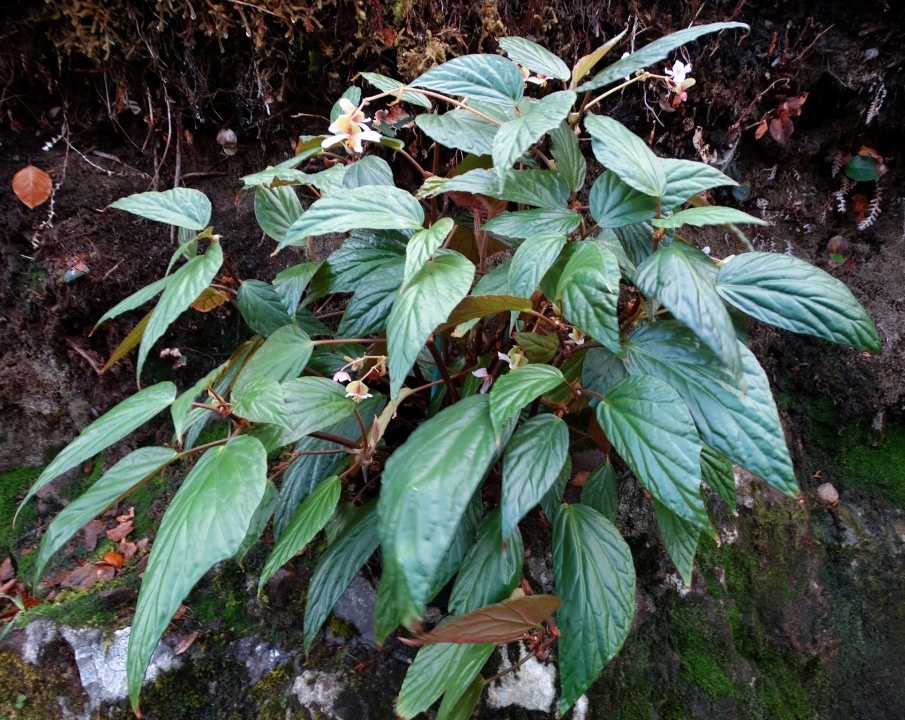 Begonia hatacoa PGG 209 © MAurice Wilkins
The suffix PGG 209 indicates that it was collected in the wild, the PGG standing for Professional Gardeners' Guild, a group of colleagues I travelled with. It was in fact grown from seed which I collected in Nepal on 3rd November 1990, and I've propagated it from cuttings ever since so that all resultant plants can legally bear the suffix PGG 209.
It's not very hardy, so I keep it as a houseplant where it enjoys a light position, out of hot sun; it can be grown outside during the summer. I didn't know which species it was when I saw it, so my collecting notes say "Begonia species, growing in deep shade on a steep bank, between Sekathum and Chirwa, altitude 1500m. Foliage 12cms x 7cms, pale green, glossy.'
I identified it later on, once it had flowered, and because of its wild origin, Glasgow Botanic Garden was prepared to accept it into their National Begonia Collection. Not the most spectacular of begonias maybe, but it means a lot to me and will always remind me of tramping through the deep, dark forests of Nepal!
---
About the author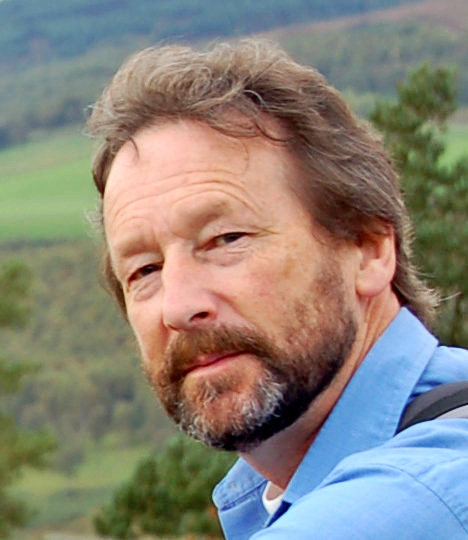 At the age of seventeen Maurice decided on a complete change of career, from a civil servant to a gardener, and has never looked back!
After a few years' employment with a garden contractor in Surrey he worked in the Woodland Garden in Bushy Park, Hampton Court, in the garden at Holyrood Palace in Edinburgh and then took up his first Head Gardener post at Ross Priory on Loch Lomond.
After sixteen years there he moved westwards to manage Arduaine Garden (and Crarae Garden too for a couple of years) in Argyll, from where he retired after twenty-four years in 2016.
He has spent many years leading garden tours, has been plant hunting in Chile and the Himalayas, and finally settled down to grow unusual plants on a cliff in Oban!
---
Did you like this blog? Check out also:
#plantcollectors #planthunters #rareplants #plantexpeditions #scotlandsplantsmen #planthunting #plantspeople