The Western Isles Are Calling
Thursday 12 May, 2022
by Brian Sutherland, Glasgow Garden Walks Group
The Glasgow Garden Walks Group are a group of retirees who travel Scotland in their minivan, staying in hostels and exploring the many, beautiful gardens of Scotland. They consist of Brian (the author of this blog) and his group of girls whose ages range between 60 and 90. The Glasgow Gardens Walks Group are a force to be reckoned with. Brian and the girls are adventurous and willing to take the rough with the smooth as they embark on a seven day adventure.
The Adventure Begins…
Once you have been to the Outer Hebrides of Scotland (Western Isles) you will want to go back. We hire a minibus to travel from Glasgow to Ullapool to catch the ferry to Stornoway. Setting off at nine in the morning by eight in the evening we are sunbathing in Gerrannan, the blackhouse village on Lewis. Or in other years sheltering from the storm in a single story traditional blackhouse within the silence of the walls which are five feet thick.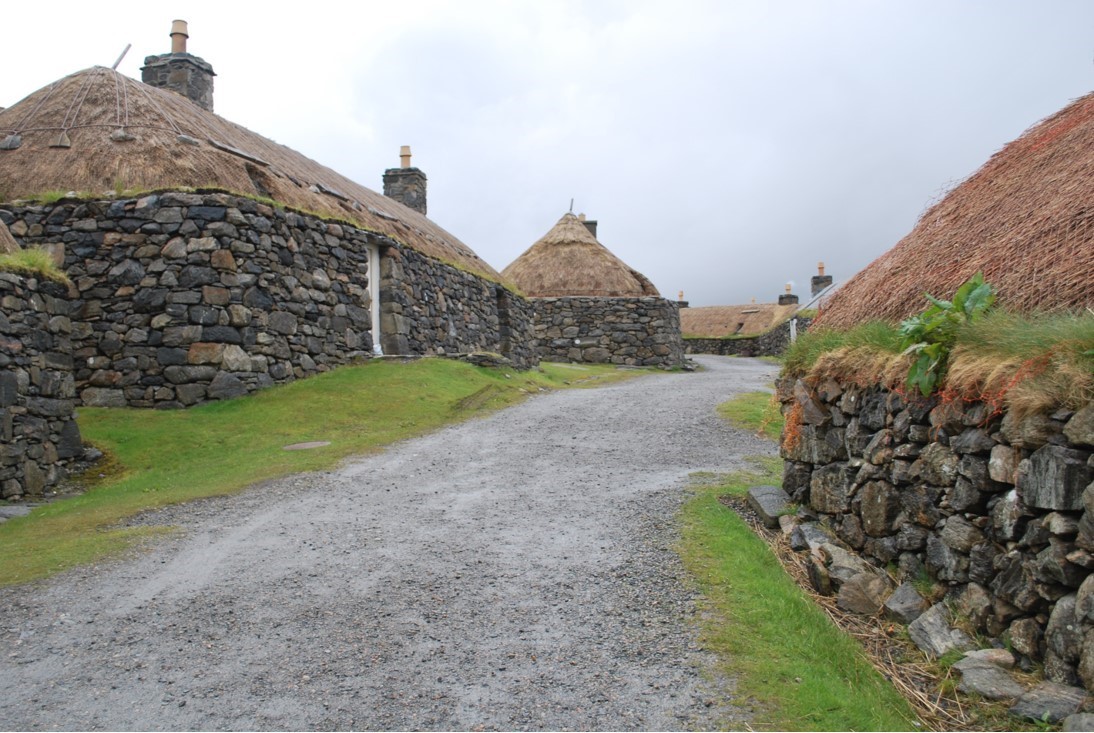 Gerrannan Blackhouse village Isle of Lewis.
On this week we share our lives with each other. Travelling, cooking, eating, and drinking together. Often sleeping together in Gatliff Hostels which are also blackhouses. If needs be, sharing and sleeping in rooms with complete strangers. We use Independent Hostels to find our affordable accommodation in the Western Isles and beyond.
Not far from Gerrannan is the amazing garden of Leathad Ard (Steep Hill), Carloway. Despite gales exceeding eighty miles an hour every winter this is a treasure trove of plants. Without substantial tree planting for shelter there would not be a garden. It is a green oasis in a barren dark brown, heather and myrtle clad landscape.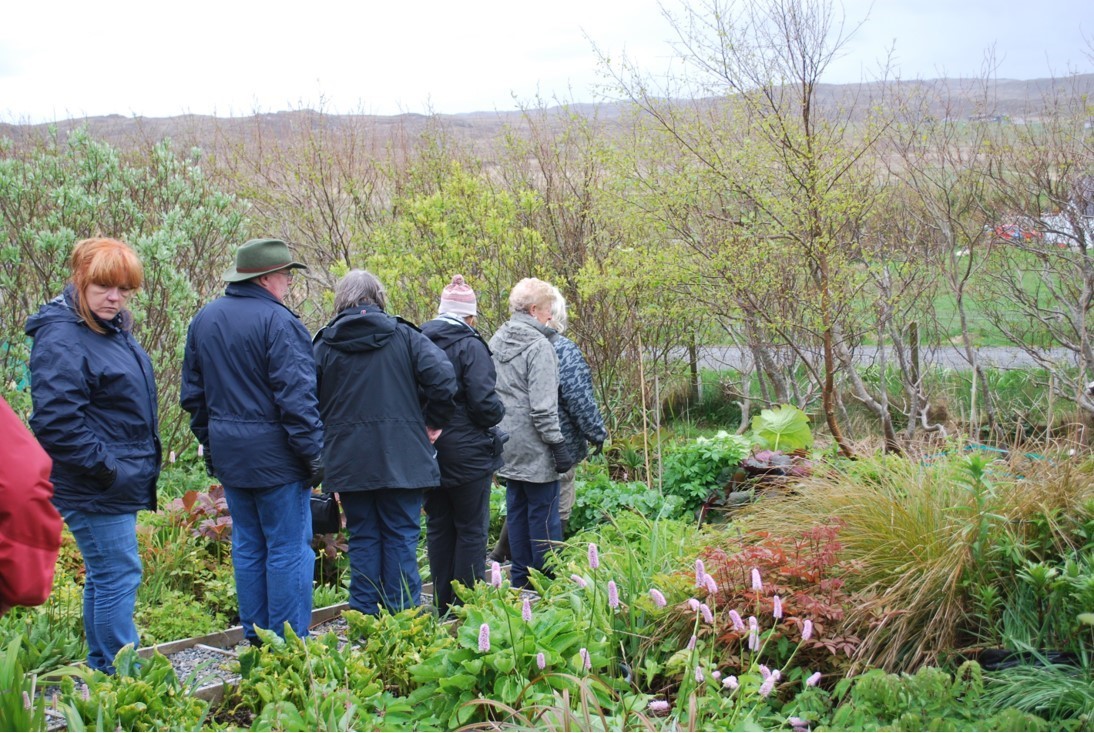 Leathad Ard, Carloway, Lewis. An oasis of horticultural excellence in a brown barren landscape.
A poly tunnel is reserved for fruit and vegetables and tender plants. There are many fine plantings of species you would not expect to see in this hostile landscape. Rowena and Stuart are heroes. To dedicate themselves to this wonderful garden is a great thing. Look out for the dog. It is pleased to see anyone.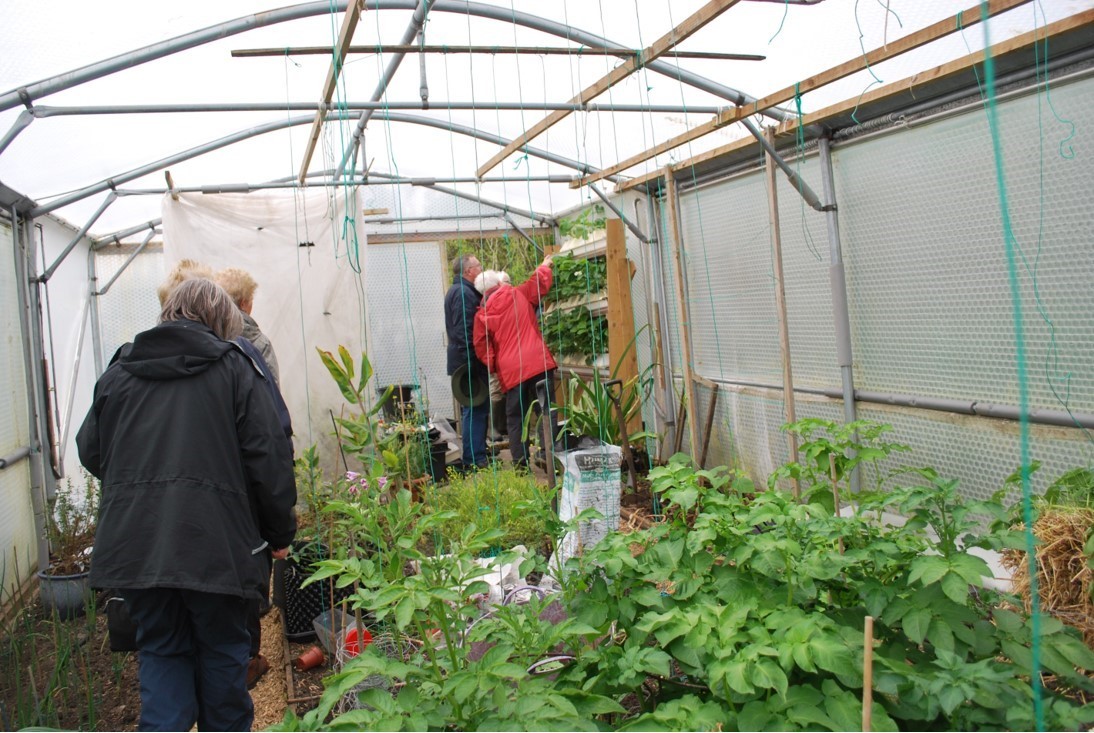 A well sheltered polythene tunnel at Leathad Ard ensures good crops of fruit and vegetables for home use.
One lovely location was on Berneray. We were hovering around sleeping or wakening when a scraping on the thatched foot caught our attention. The word rat was heard. Who said that?
I have never seen a room empty so quickly before or since. People and gear out of the door and piled on an outside bench. I almost got trampled in the rush. We looked around and believed it was a seagull scraping on the thatch. Or was it?
Berneray is a lovely island with the most amazing beaches. Evening walks in midsummer are magic. The dining room and kitchen is spacious and we all sit round one big table. Impromptu ceilidhs with hostellers singing, playing instruments and reciting poetry can make for great entertainment and the night flys in. Alice had her seventieth birthday at Berneray. A birthday cake was conjured up and two students from Manchester serenaded her whilst playing the guitar. She was chuffed.
On another visit we mistimed our arrival on Berneray and found the 'wee shop of wine' closed. We were out of wine. Oh no! Feeling a wee bit miserable we mention our condition a fellow hosteller. Much to our amazement the gentleman produced Black Bottle whisky and shared it around. Later he presented a bottle of eighty nine year old whisky. What a toff. We drank to his health. He is from Bristol and was working in Scotland. What a man. If your reading this, man, please get in touch. We plan to be up around midsummer, and we want to bathe you in Usquebae … the water of life. No soap please. We will help you drink it after the bath.
Onwards and downwards, we travel to Benbecula and South Uist and settle in Howmore. Another Gatliff hostel.
Set among crofts close to the sea and the machair, a magical strip of wild flowers separating the crofting land from the sea. This is a botanists dream. We enjoy the visit of the cows from the neighbouring croft when they trample around our hostel and plunder our grass. They have just been milked and are reluctant to head straight back to their field.
The grass is always greener in the Outer Hebrides. A Corncrake is heard cracking in the grass. It is a shy bird and is seldom seen. However if you watch down the grass track to the road you can see it running from one field to the other. More magic.
Our seven days are almost up and we catch the ferry at eight o'clock on Sunday morning for the five hour sail to Oban on the mainland. Our last two nights are spent in Dunard Hostel in Castlebay, Barra. Crossing the Minch we see Minke Whales in the distance and Dolphins closer by.
Reflecting on our trip…
Everyone has survived the experience. We say never again however we start planning our next adventure within a week of reaching home.
The girls. The youngest will be in her sixties and the oldest is ninety years. We have so much shared experience we are friends for life. They are My Girls.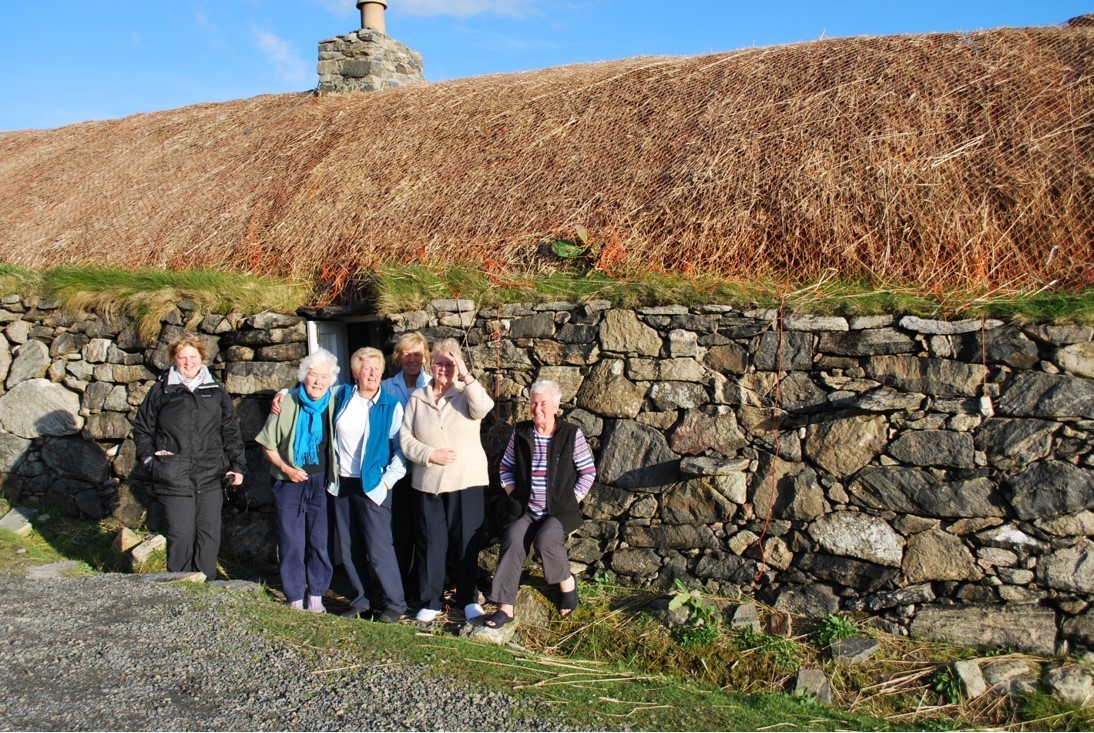 Some of my girls enjoying the evening sun outside our Blackhouse hostel in Gerrannan, Lewis.
Things to see in your time in the Western Isles.
The people of the Western Isles. Friendly, generous, and charming.
The Standing Stones of Callinish Lewis – older than Stone Henge.
North Uist Smoke House – sample peat smoked salmon and scallops.
Stornoway the main town on Lewis. Visit the grounds of Lews Castle.
Beaches of Harris, Berneray, South Uist and Vatersay. And everywhere else.
The Vatersay Boys playing in the Castlebay Bar, Castlebay, Barra.
All sailings to, from and between the islands. Watch out for amazing wildlife.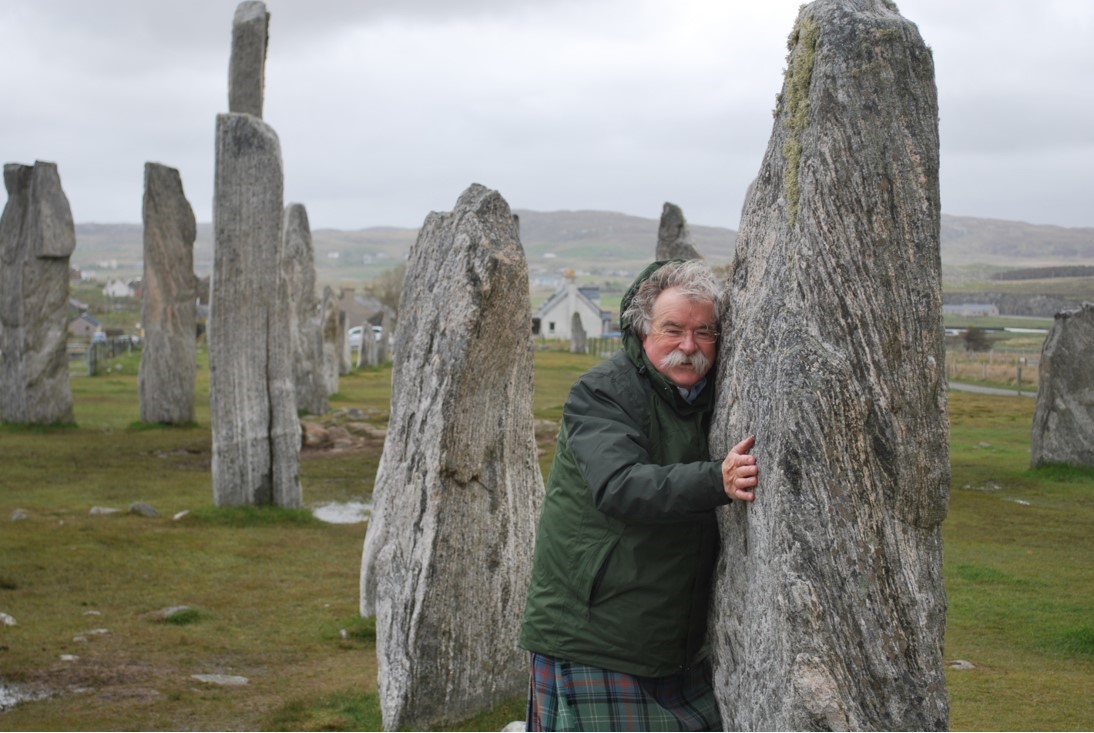 The author soaking up the energy of Callinish Standing Stones. Brian says hug an ancient rock and hug a tree whenever you can.