Trellis Awarded £5000 as Guest Charity
Wednesday 10 July, 2019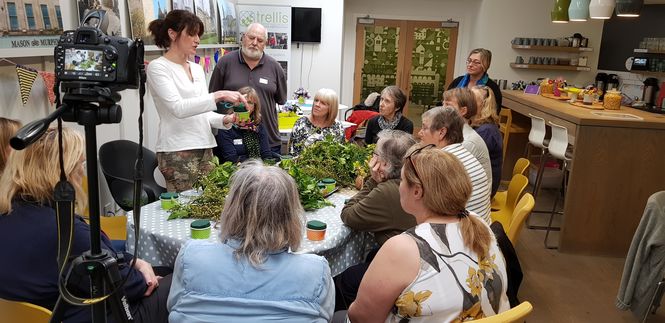 Scotland's Gardens Scheme is delighted to welcome Trellis as their guest charity with an award of £5,000.
SGS, founded in 1931, is a charity that raises money for over 250 charities across Scotland by helping people open their gardens to the public. Each year a bursary of up to £5,000 is provided to a guest beneficiary to help provide funding for garden-related projects concerning the physical, mental and emotional wellbeing of adults or children in Scotland. This year SGS has awarded the bursary to Trellis, the charity which improves lives through gardening.
Trellis chief executive Fiona Thackeray said: "We are delighted to be receiving these new funds from Scotland's Garden Scheme. It seems most appropriate when the work SGS does in helping members to open up their private gardens for the public to enjoy, that our principles and activities which emphasise the therapeutic effects of gardening are at the forefront. We're the place to come in Scotland for know-how about therapeutic gardening, the art of using gardening to help people take care of their health and wellbeing."
"We support a network of over 460 therapeutic gardening projects in Scotland so they can share skills, good practice and get connected."
Trellis runs training workshops and an information service, and visits projects to offer help and advice. The Scottish charity also promotes and disseminates research and development in therapeutic gardening. And it ensures that the voice of projects and practitioners is heard by policy makers.
This year Trellis' work will support over 11,000 disabled, disadvantaged and marginalised people in Scotland. These include veterans returning from war zones who benefit from being involved in horticulture projects, people working in prison gardens, older people in care homes who get an uplift from time spent in the garden, and younger disadvantaged people who can develop confidence and employment skills through horticulture.
Trellis will use the grant to provide inspirational demonstration sessions to help care home staff and residents begin growing plants, as well as advisory visits to help groups make the most of their site. They will also produce short videos showing people how to get started with simple garden activities.
Work has already started with some filming completed and video editing underway. The team have also run some very lively demo sessions with staff and patients at a hospital in Dumfries and Galloway.
SGS Director Terill Dobson said "it's really exciting for us to be able to support the great work that Trellis are doing and the health and wellbeing benefits of gardening and garden-related activities can never be over-estimated.
Scotland's Gardens Scheme will again be welcoming applications for their 2020 Guest Charity this Summer.