---
Visit Duns this August
For the first time ever, the beautiful Border town of Duns will host an Open Gardens Day, for charity, organised by Keeping Duns Blooming Marvellous (volunteer group) and supported by Scotland's Gardens Scheme.
The event will be held from 12.00 noon to 5.00p.m. on Sunday 22 August 2021.
Seventeen local gardens will be open to the public. The gardens vary greatly from small areas, filled with colourful bedding plants, to rambling areas of woodland, ponds, vegetable gardens, courtyards and tailored lawns. We're sure there will be something for everyone, whether you're an experienced gardener, a novice gardener or just looking to share new/different ideas.
As well as visiting the open gardens, visitors will also be able to see the many town beds and planters, maintained by Keeping Duns Blooming Marvellous. These are clearly marked on the Route Map.
---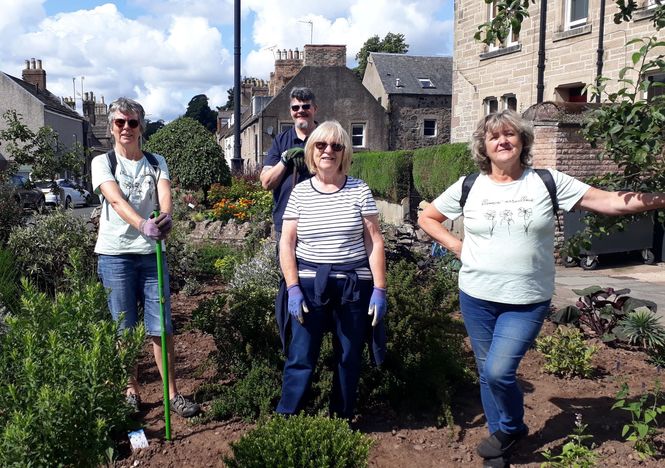 Duns Volunteers
Tickets and Route Maps
Available to purchase at the Volunteer Hall, Langtongate, Duns TD11 3AF, from 12 noon on the day.
Admission
£5.00 per adult, children free.
Refreshments
Teas/coffees/biscuits will be available (£2.00) at the Volunteer Hall. For those wishing to have some lunch/snack/refreshments on the day, there will be a number of cafes, bistros and hotels open near to and in the Market Square.
Plants for sale
There will also be a plant sale outside the hall.
Toilets
Toilet facilities are available at the Hall.
Parking
Free parking will be available in the Berwickshire Housing Association car park located at 55 Newtown Street, Duns TD11 3AU. A gate leading from the back of the car park will take you through to Langtongate opposite the Volunteer Hall.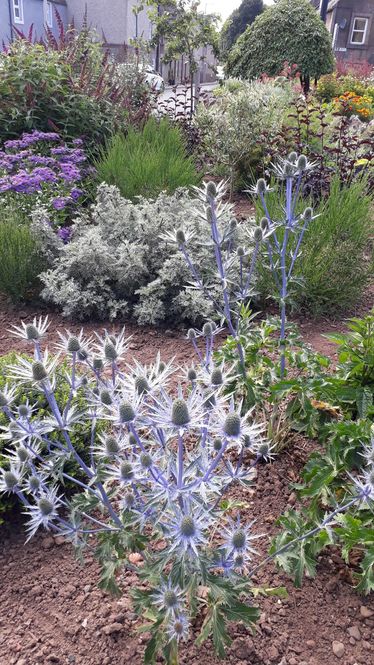 Why not make a day of it by bringing the whole family along – even those who may not be interested in gardening – as Duns has so much to offer, including:
Close to the Market Square, you can see the statue of Wojtek, a hero bear who fought in World War Two, donated to the town by Zagan in Poland, Duns' twin town.

The Jim Clark Motorsport Museum, in Newtown Street, is a must for all motorsport fans. Here, you can discover the incredible story of Jim Clark's life and racing career. Advance booking is essential, go to: www.jcmm.org.uk to book.

Duns Castle Estate with its many paths offering beautiful walks. The Nature Reserve comprises the Heron Pool (aka Hen Poo) with its many ducks, swans and a multitude of bird species and Mill Dam, created by the Hay family in the 18th century.

Duns Park is a great space for children to play in or ride their bikes/scooters. It also houses a war memorial dedicated to Polish soldiers, a bronze bust of the philosopher John Duns Scotus and the War Memorial in the form of an obelisk. There is also a large flower/shrub bed which is maintained by Keeping Duns Blooming Marvelous.
All proceeds from the day will go to support both local charities/organisations and also those supported by Scotland's Gardens Scheme.
A Heart for Duns, a charity originally formed to turn the Volunteer Hall into a vibrant social facility to serve the community with various events including markets, dances, theatre, film etc. It brings people together from throughout the community supporting inclusion and wellbeing.

Borders Talking Newspapers is a charity providing free, weekly recordings of news from local papers, usually made by rotating teams of volunteers in a studio in Duns. It covers the whole of the Borders – and 'exiled' Borderers further away. As well as producing the complete newspaper, volunteers also record short stories, poems, extracts from books, short plays and even music. This extra material has helped greatly in alleviating loneliness and isolation during the past 18 months when listeners have been unable to get out of the house.

Duns Mini Rugby aim to make rugby fun and accessible for all. They are a self-funded part of the main rugby club and pride themselves on giving both boys and girls the opportunity to learn the game of rugby union in a safe and fun environment. Over 100 children from throughout Berwickshire attend training on a Sunday morning – the largest number of children they have ever trained. Funds raised by them go towards keeping the cost to families as low as possible and replacing essential equipment and strips.

ParentSpace is a Berwickshire based charity covering the whole of the Scottish Borders, providing parenting support in a variety of ways. It enables and supports parents to create a secure and healthy base for their children's emotional growth and encourages positive communication within families. Parentspace runs courses, workshops, drop ins and offers one to one support. Some of the topics covered are Early Years, Primary Years, Teenage Years, Parenting in the Digital Age, Handling Anger in the Family and Drug Proofing your Kids.

40% of funds raised will go to support Scotland's Gardens Scheme's charities:-40% of funds raised will go to support Scotland's Gardens Scheme's charities:

Maggie's – a cancer support charity with centres across Scotland.

The Queen's Nursing Institute Scotland – helping to bring health, care and compassion into people's homes.

Perennial – helps people in horticulture who look after our gardens, parks, sports grounds, woodlands and other green spaces.
Please come along and help support all of the above deserving charities whilst enjoying visiting a variety of gardens and spending time in our beautiful town. We're sure it will be a wonderful day out for the whole family.