French Onion Soup
Monday 2 November, 2020
The below article was submitted by one of our Garden Openers, Stuart Oakley. Stuart and his wife Rowena have opened their garden at Leathad Ard (Isle of Lewis) for Scotland's Gardens Scheme for over 15 years. Numerous hedges divide the one-acre, sloping garden into a series of connected 'rooms', where every step leads to a new experience as you move from bog gardens to raised beds, from shelter to exposed beds. The range of different growing conditions we have created are filled with an abundance of plants as well as fruit and veg patches, some grown to show standards.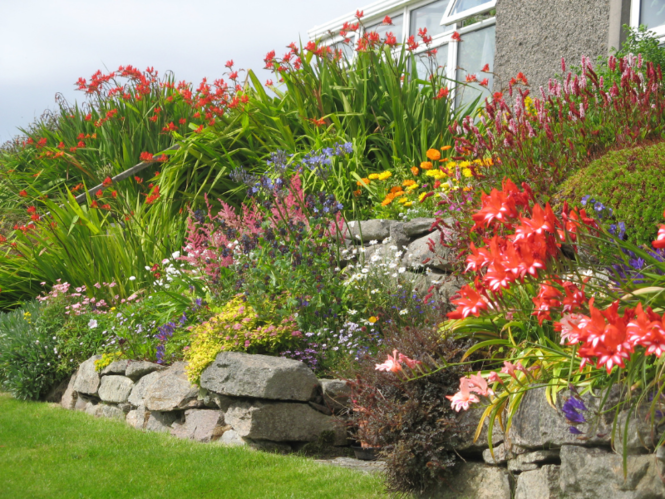 Leathad Ard
Recipe
This is just a fantastic soup. It uses a lot of onions and takes a while to caramelise them. We grow a number of Kelsae onions which are grown for showing as a large onion (about 1 kg) but don't keep well. This leaves us with a lot of onions in the Autumn which have to be used and this, along with caramelised onion chutney, are the two recipes we use. The chutney is another long cooking recipe and not needed in very large amounts – there is a limit to the amount of chutney you need for a year.
This also goes down well in our local Community Café but we don't make this very often for them as it would quickly use up all our onion harvest!
There are many recipes for French Onion Soup on the internet, this is an amalgamation of 3.
Ingredients – serves 4
750g onions, sliced into 0.5cm half rings

2 tbs olive oil

1 tsp brown sugar

1 tsp flour

1 tbs vinegar, red wine or basmati

1 tbs port, brandy or sherry

50ml water

1 tsp Worcestershire sauce

1 litre very good beef stock

Grated cheese
Method
Heat the oil in a large pan, add the onion rings and cook to soften the onions over a low-ish heat.
Continue to cook, stirring frequently, so the onions reduce in volume and begin to caramelise. Caramelisation can take 30 min to an hour, depending on how hot it is cooked.
Stir in the sugar when the onions are beginning to caramelise, and continue to cook until there is a layer of caramelised bits on the base of the pan.
Add the flour and cook for a couple of minutes.
Add the vinegar, port and water and scrape up and dissolve the caramelised bits.
Add the stock and Worcestershire sauce, and simmer for an hour.
Serve in bowls and add a spoonful of grated cheese to taste. If the soup is very hot, the cheese will melt and give the whole soup a cheesy flavour, if cooler, the cheese will remain as solid bits which is also nice.
We usually use a strong cheddar but gruyere is often recommended. Traditionally, gruyere is toasted onto slices of French bread and floated on the soup. We're not fans of soggy bread so mix the cheese into the soup and have the bread separately.
For a vegetarian dish, you can use vegetable stock instead of beef. For gluten free, change the flour to gluten free corn starch or, possibly, and I've not tried this, thicken with potato – essentially, add some mashed potato with the stock.'
For a dessert - try Courgette Cake, also from Leathad Ard Garden!
---
Do you enjoy our content? Please, consider donating towards our fundraising.