Courgette Cake
Monday 2 November, 2020
Recipe for this delicious cake was kindly submitted by Stuart Oakley, Garden Opener at Leathad Ard. Stuart and his wife Rowena has opened their Hebridean garden for Scotland's Gardens Scheme for over 15 years. One-acre sloping garden includes herbaceous borders, cutting borders, bog gardens, grass garden, exposed beds, patios, a pond and vegetables and fruit grown both in the open ground and the Keder greenhouse. Visitors are welcome to enjoy this hidden oasis of colour from April till September - please, check our website for details in spring 2021.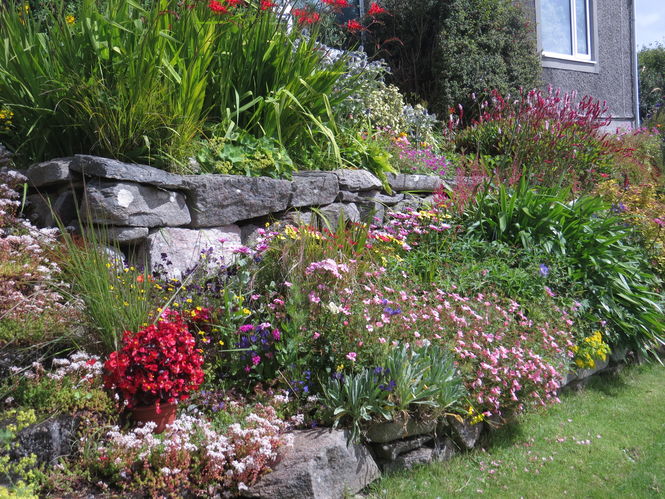 Leathard Ard flower beds
Recipe
This is a recipe which we use fairly often as the cake is very moist and very moreish. Originally, we found the recipe and cooked it to help use a surplus of courgettes, although, to be honest, 250g is hardly enough to dent some of our excess production. The grated courgette does freeze well enough to use for winter cakes and we usually keep 4 or5 batches for this. The final cake also freezes well, if there is any left to freeze.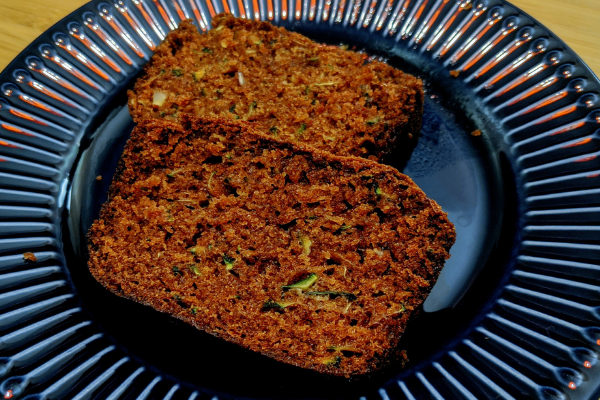 courgette.png
From a scientific point of view, it is a brilliant example of osmosis in action. Before adding the courgettes, the cake mix is very stiff, but the water is quickly 'sucked' from the courgette cells (by osmosis) when they are mixed together, to give almost a soft, pouring batter.
This is our standby cake when we have open days in the garden, or host a large group like a coach party. The 23 cm square cake comes out at around 6cm high and is easily cut into 25 generous pieces, and we have been complemented on it and given out the recipe, on numerous occasions. We have even translated the allergy information into German, Portuguese and Finnish for appropriate groups.
The original recipe was published in the Daily Telegraph in August 1999, having been sent in by a lady in Adderbury. I have altered it slightly to reduce the oil content and increase the spices. I'm afraid I have no images of the cake as my hand is currently in plaster and it is hard to cook cakes one handed (or do an awful lot else). [the above photograph was taken by the member of staff - she couldn't resist trying this recipe]
Ingredients
225g caster sugar
170g soft brown sugar
350g plain flour
2 tsp bicarbonate of soda
1 tsp baking powder
2 tbs ground cinnamon
2 dsp ground ginger
1 tsp salt
170g/200ml sunflower oil
1 tbs vanilla extract
3 medium eggs
250g grated courgette (with skin)
200g raisins
100g chopped walnuts
Grated rind of an orange
Method
Mix the first 8 ingredients in a large bowl.
Add the oil, vanilla extract and the eggs, and mix well.
Add the courgettes and mix until smooth and soft.
Add the remaining ingredients and mix well.
Pour into the tin, we use a silicone one so there is no tin preparation, but line a metal tin with greaseproof paper.
Cook at 160C (fan) for around 45 minutes and leave to cool in the tin before turning out.
---
Do you enjoy our content? Please, consider donating towards our fundraising.