Our Gardens Under Lockdown
'Our Gardens Under Lockdown' is a new blog with an opportunity for our Garden Openers and Volunteers to share in what is happening in our gardens, even when we are unable to visit them.
From Garden Opener Liz Wyatt at Hollytree Lodge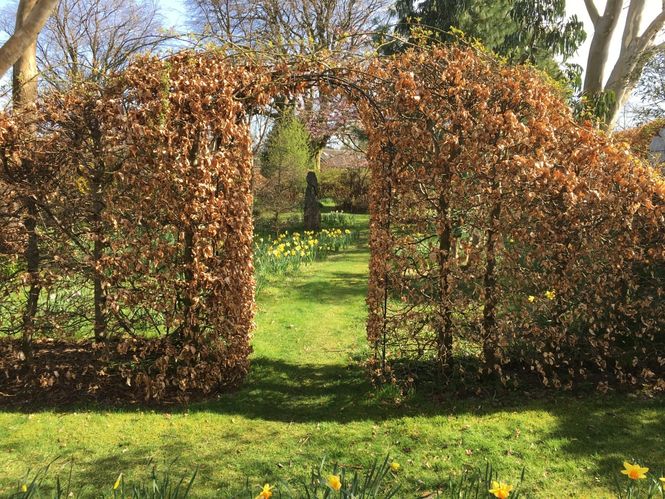 Hollytree Lodge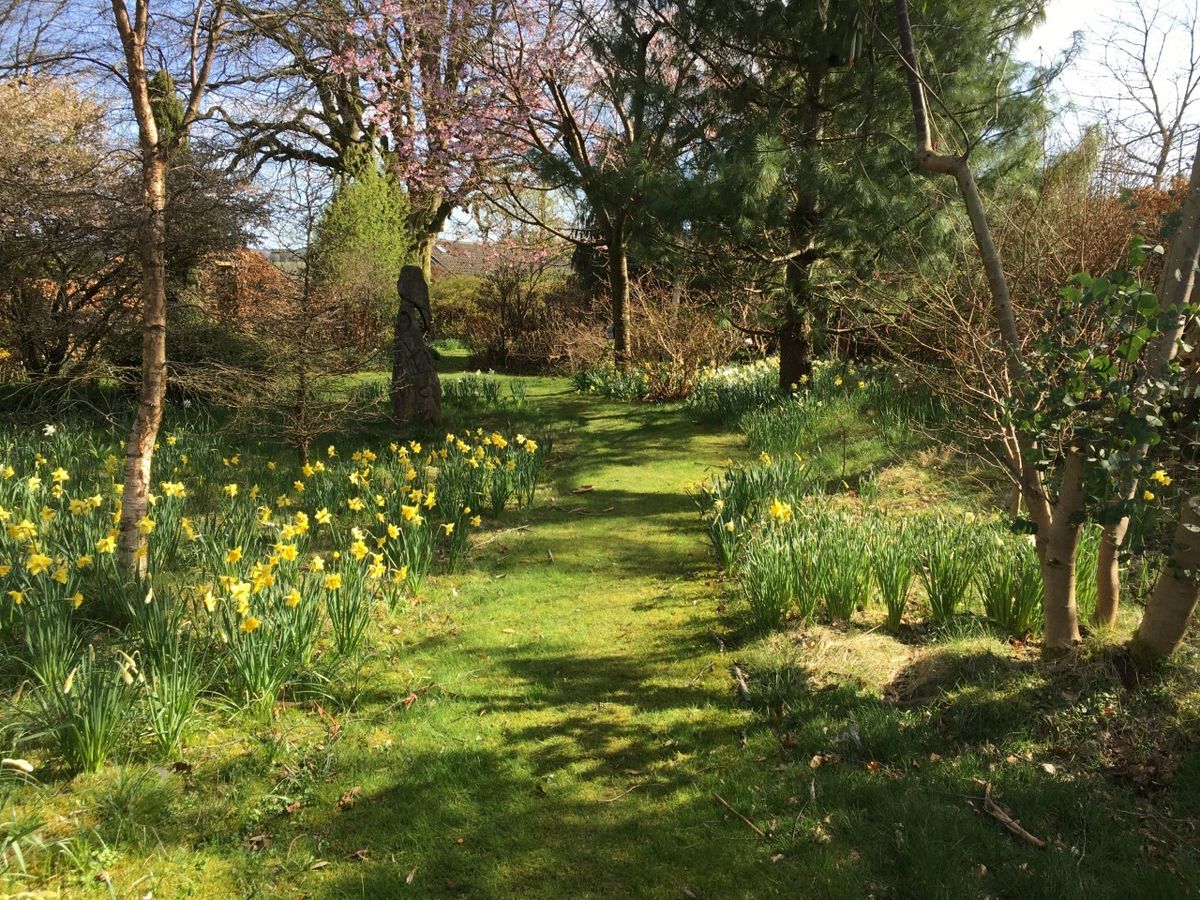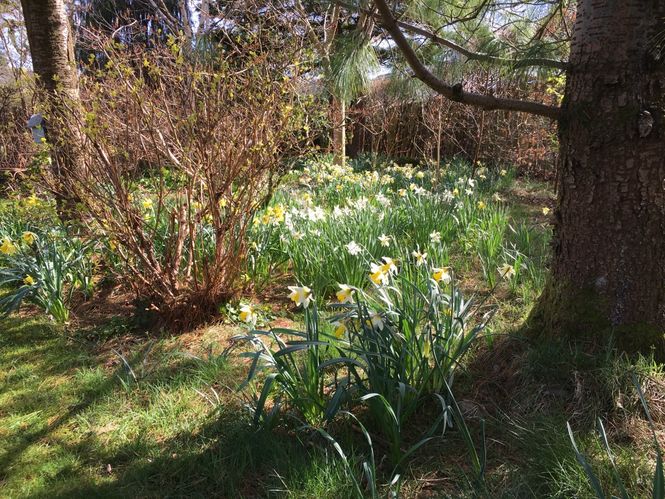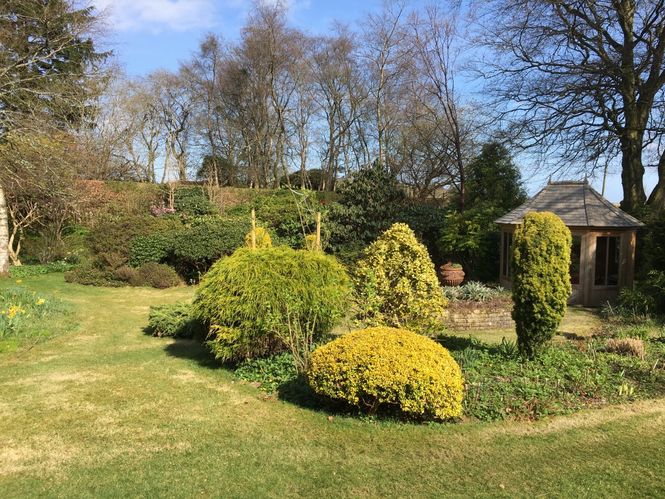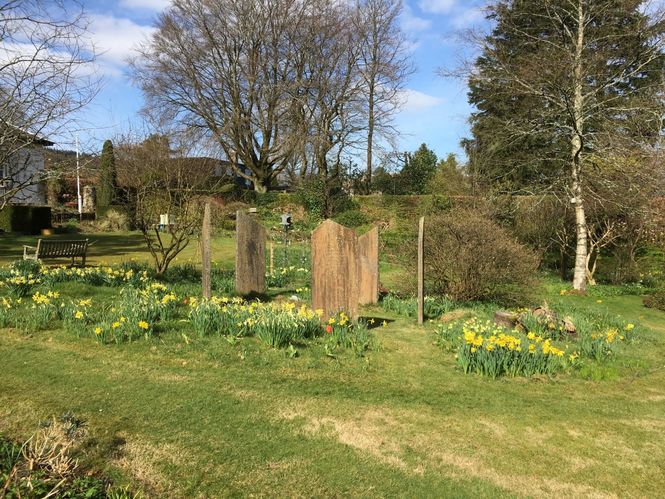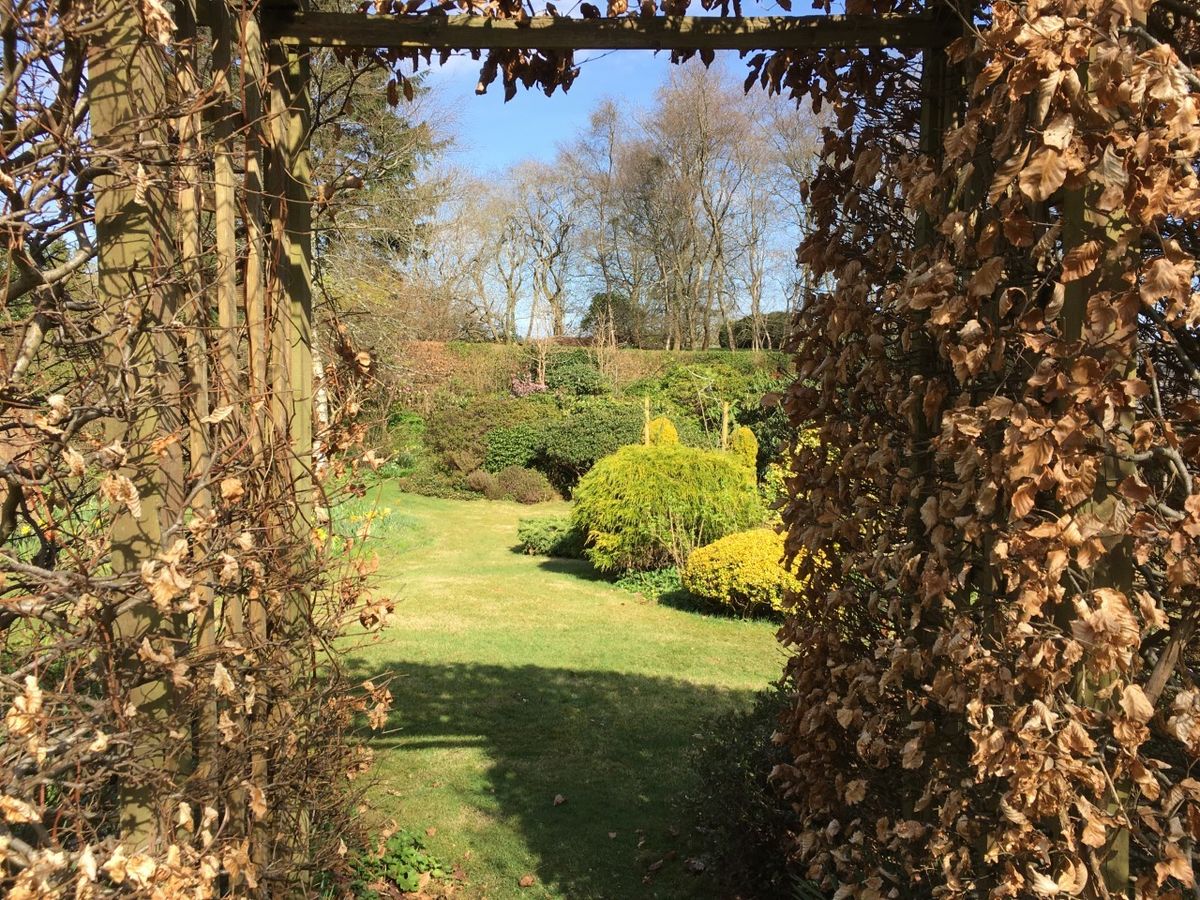 Pictures taken on Easter Monday.
Posted 23 April 2020
From Garden Opener
John Redmond at 68 Kilmardinny Crescent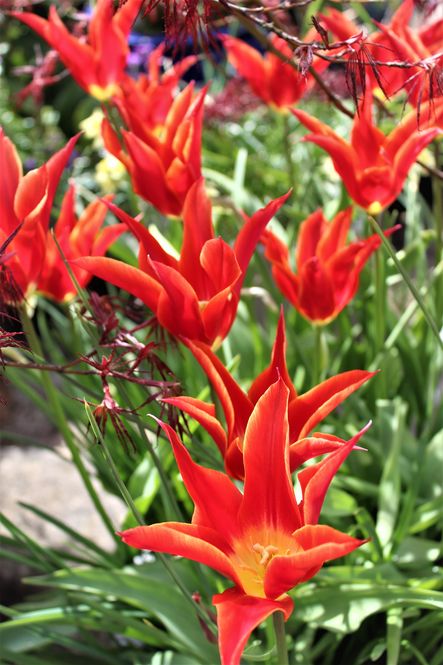 68 Kilmardinny Crescent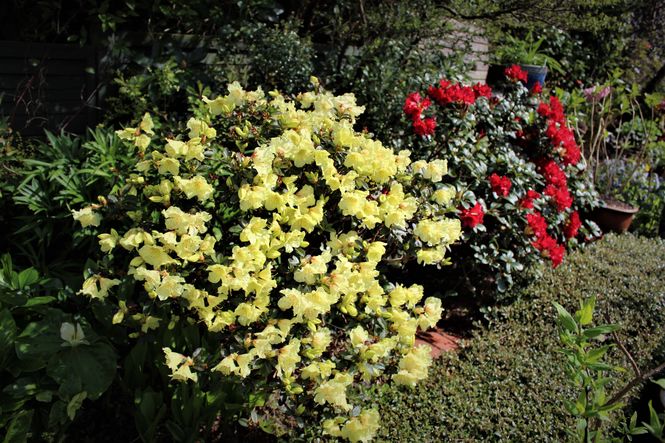 68 Kilmardinny Crescent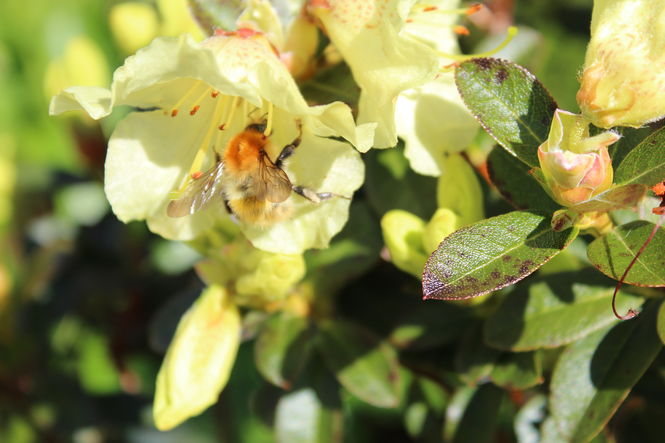 68 Kilmardinny Crescent
The daffodils are going over and the azaleas are coming into their own. Photo no 1 is of an azaleas and a rhododendron. The yellow azalea is Curlew and the rhododendron is Bengal Red. The second photo is a bee in one of Curlews flowers and the third is a photo of tulips.
Posted 23 April 2020
From Garden Openers Anna and James Buxton, Redcroft Edinburgh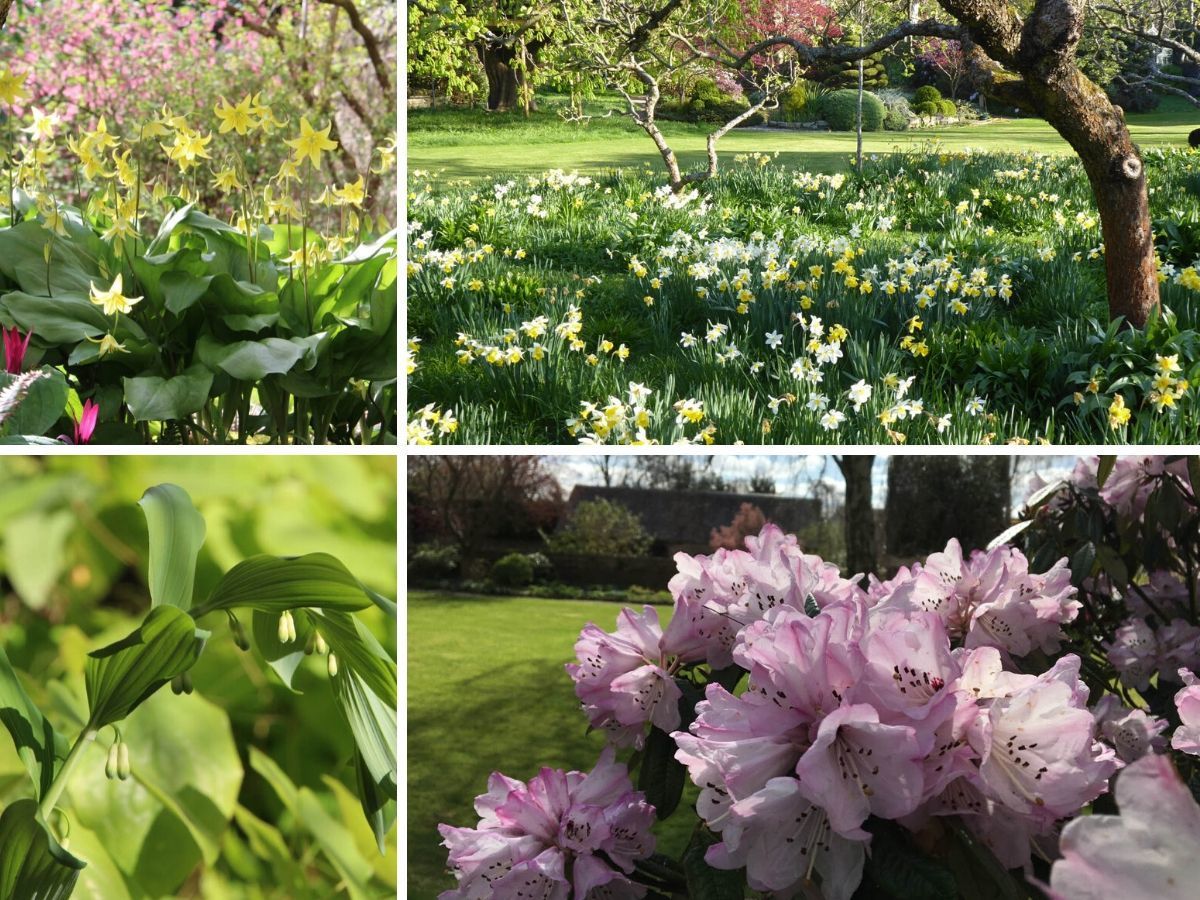 Redcroft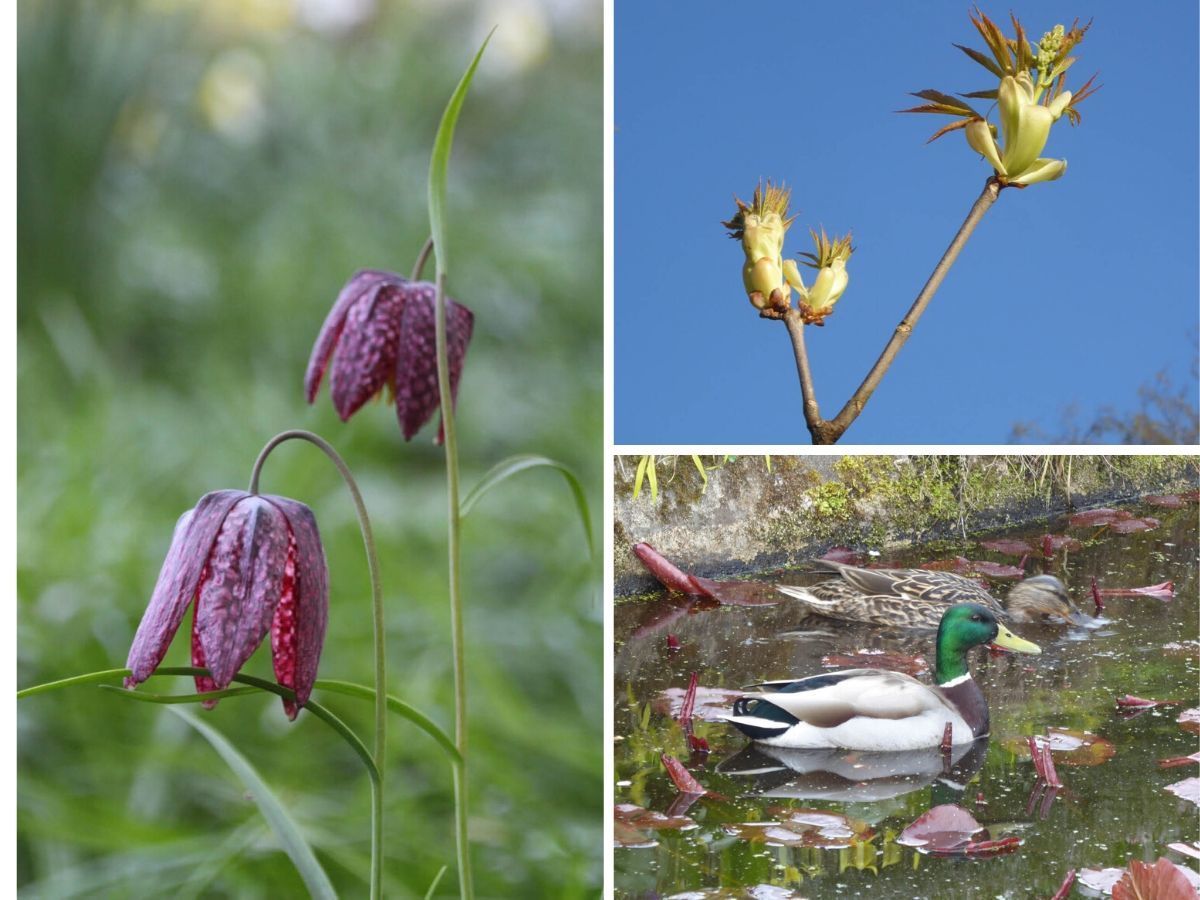 Redcroft
We are usually open in early May so the garden is just coming to one of its best moments now. I feel a lot more relaxed about things. Not having the opening on the agenda, it no longer matters if the tulips keel over, or the fox flattens the Camassias, or the Ceonothuses are not showing a single flower. It is also an opportunity to take out a couple of shrubs which are past their sell by date and will both create large holes.
These photos were all taken in the last week or two.
Posted 20 April 2020
New Online Journal by
Peter, James and Irene Thomson

at Glassmount, Fife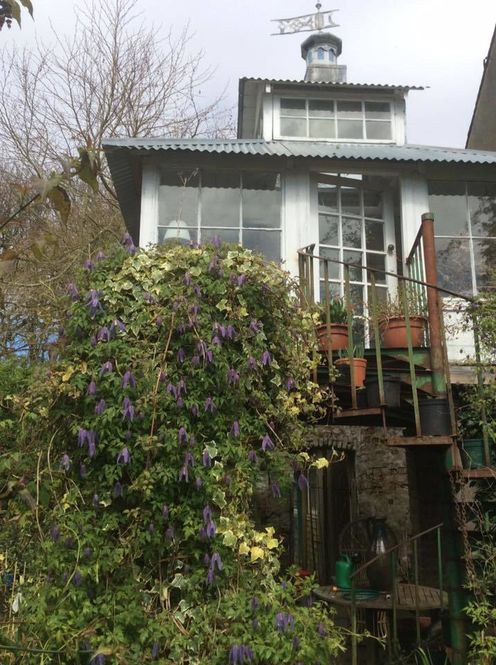 Glassmount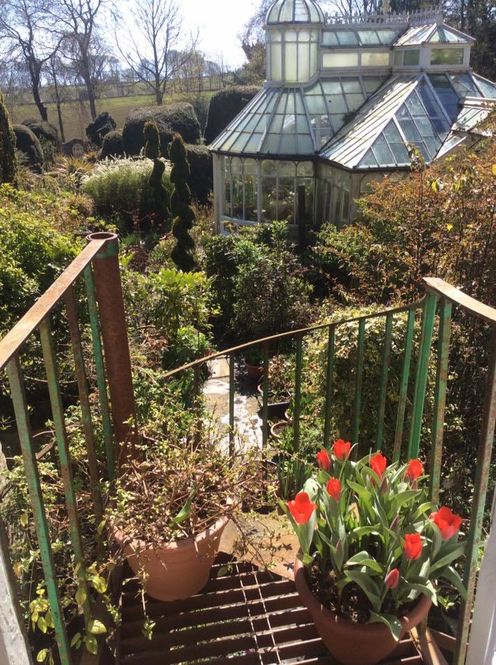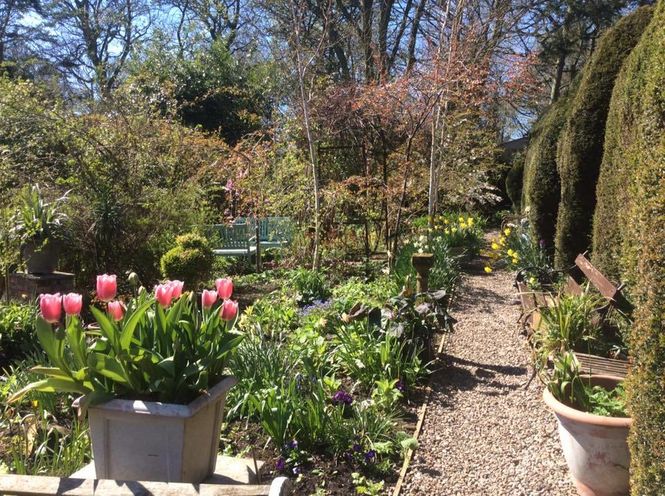 A witty response to the current crisis from our Garden Openers at Glassmount. "Since the beginning of April with the Coronavirus lockdown we created the Glassmount Garden Blog on Facebook."
Peter, James and Irene Thomson invite you to follow their daily garden adventures, as they reflect on past and present, while gardening for the future.
Posted 20 April 2020
From District Organiser and Garden Opener Sarah Landale at Dalswinton House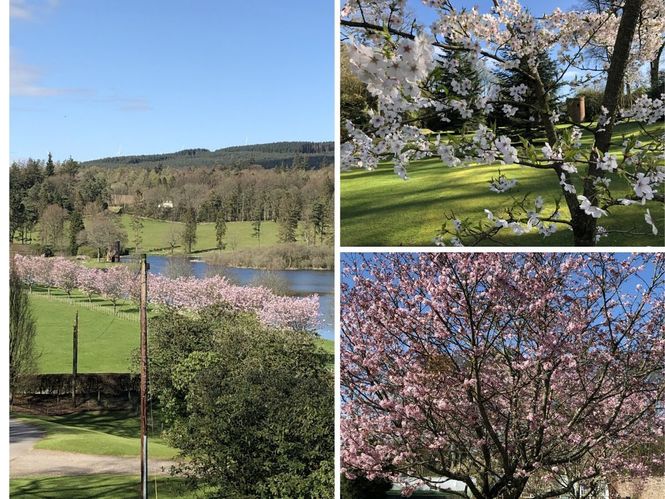 Dalswinton House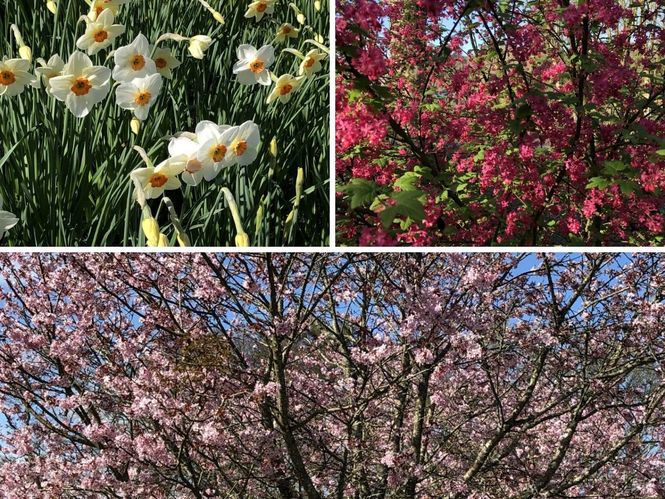 Dalswinton House
Posted 17 April 2020
From Garden Opener
Jean Knox at Hunter's Tryst, Edinburgh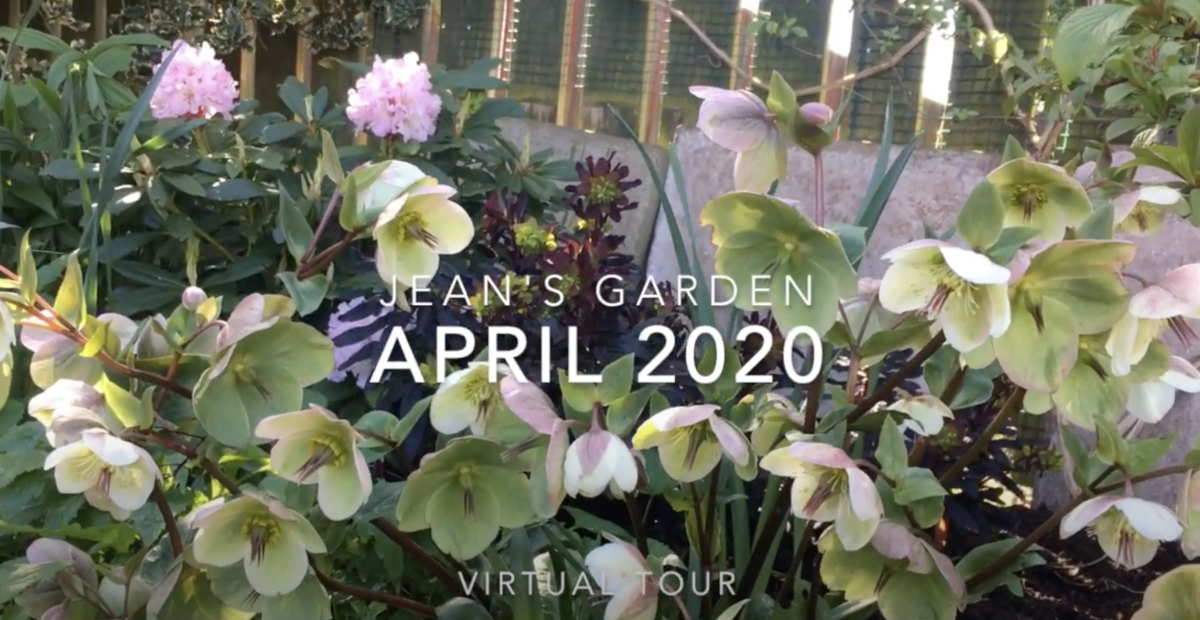 Jean's Garden Tour on You Tube
Since people are not able to visit my garden due to the coronavirus pandemic restrictions, I decided to take the garden to them.
I plan to make a video every month throughout the summer months, highlighting the seasonal stars of the garden and April's video can be found on YouTube.
Posted 16 April 2020
From Garden Opener
Judith Mcphun at

Laundry Cottage, Aberdeenshire

Laundry Cottage
These were taken in March at Laundry Cottage garden, near Huntly, Aberdeenshire . I hope they may be of interest. I'm so glad there will be a picture record of the missing months. From left: hellebores, daffodils, cherry blossom, trilliums, snowdrops, daffodils.

Laundry Cottage
Posted 15 April 2020
From Garden Owner,
Esther Mendelssohn at

Merchiston Cottage Garden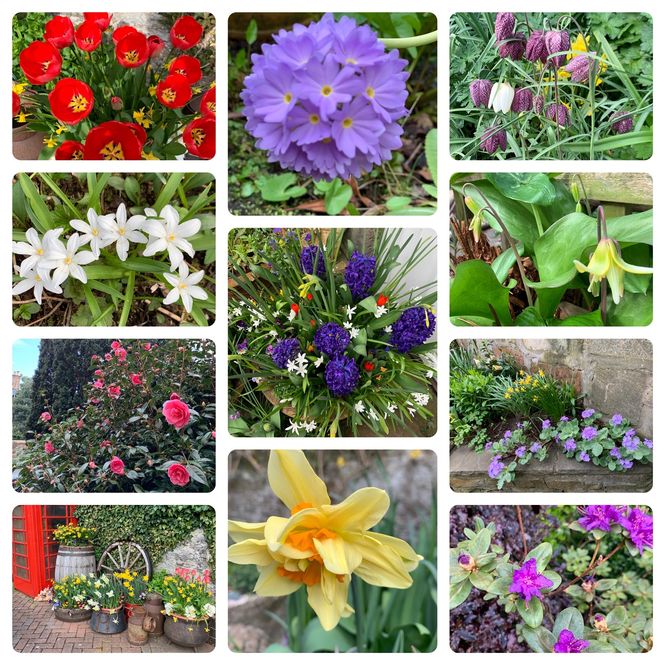 Merchiston Cottage Garden
Posted 15 April 2020
From District Organiser and Garden Owner, Pippa Clegg - an update from Kilry Gardening Club

Kilry Gardening Club
Here in Kilry, Glen Isla, Angus, our Gardeners are continuing much as they always do in the Spring – the only obvious difference being that we can't pop out to our local Garden Centres and Nurseries to pick up anything that takes our fancy. We are currently trying to arrange for a delivery from a Garden Centre in Forfar who, in spite of being closed to the public are still hoping to deliver to some areas. In the meantime we are making do with what we already have in our gardens, and sowing seeds frantically to fill gaps. In our Gardening Club we have been exchanging photos and progress reports and in some ways we are in better communication with each other than we would normally be. We generally meet together once every 6 weeks or so to discuss our gardens and plan talks, trips to other gardens etc. all of which are on hold at the moment. By emailing comments and photos to each other, we are keeping ourselves motivated. Hopefully once we are able to meet again there will be a collection of photos of the gardens from March onwards to show. Here are a few views from our gardens for others to enjoy.

Kilry Gardening Club
Posted 15 April 2020
From Garden Opener
John Redmond at 68 Kilmardinny Crescent

68 Kilmardinny Crescent
A few photos of some of our plants at present in the garden
Posted 14 April 2020
From Garden Openers Tom Williamson and David Gallacher at 43 Thornton Avenue, Bonnybridge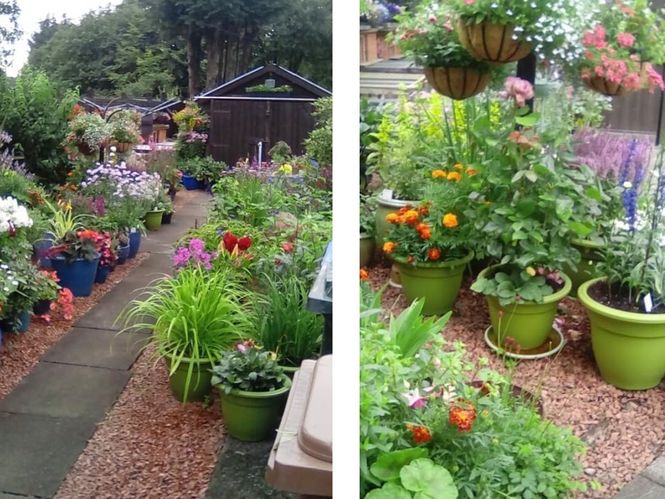 43 Thornton Avenue
I started gardening in 1978 as an apprentice with the Scottish Development Agency where I learned my skills in commercial landscaping and propagation. Eleven years ago I met Tom Williamson, he was a keen gardener and together we created his hidden gem, 43 Thornton Avenue in Bonnybridge. Tom has never planted his garden in 'proper methods', he likes to put the plants where he thinks they suit and if not successful we move them (my job!). Over the last ten years we have achieved what I would call organised chaos; presently we have around 610 different plants, 200 containers and pots and 30 hanging baskets in a 30ft x 120ft area.
The front of the house is more my comfort zone with traditional planting and bold colours, with plants flowering from early spring to late autumn. There is a magnificent 12 ft Yucca which has flowered for the last two years and a small brick wishing well.
Heading towards the rear garden we enter Tom's container and pot heaven. Tom has over 200 planters from small, one plant containers, to ones with specimen plants; creating a high impact of colour and scent. He uses annual bedding, roses, herbaceous plants and shrubs. The containers can be moved around, creating different displays and allowing seasonal planting; spring bulbs can be replaced with summer bedding.
Tom also has over thirty hanging baskets. He likes to let plants grow freely and so fills each basket with no more than 4-5 plants.
Moving from this area we walk up the side of the garage and enter the hidden garden. This area is planted 'Monty Style' as a cottage garden; a riot of colour and a haven for wildlife.
The greenhouse has a small section of tomatoes in summer and is mostly used for propagation in the spring. Next to the greenhouse are two large compost heaps; the secret to our garden! We compost most materials; shredded paper and cardboard, rabbit straw and waste, Tom has three rescued rabbits providing plenty of compostable material, along with grass cuttings, leaves, soft plant material and hard material that has been shredded. We get around a ton of material over the year.
In July 2019 we were filmed for an episode of the popular Scottish BBC garden programme 'Beechgrove Garden' which aired 8 August 2019 and you can also find us on Facebook: 'Tom's Hidden Garden'.
What next? We want to continue to promote what can be achieved in small inner city gardens and obviously continue to grow more plants. We are concentrating on growing the older varieties, many no longer commercially grown. We always accept cuttings from unnamed older plants as I love researching and cataloguing them. We don't sell plants, but we will swap!
Posted 14 April 2020
From Garden Opener
Mandeigh Wells-Ali at 3 Mains of Burgie Cottages, Moray
Behind the hedge of my house there lies a secret; a tiny garden that's full of surprises, from a hint of the Far East in the Japanese Garden, to the mixed borders of a traditional cottage garden, a woodland garden, a fish pond, a wildlife pond and a splash pond! The garden is a place of tranquillity and healing for the gardener and a feast for the many species of wildlife that live here.
2020 is shaping up to be a challenging year and its only March! But despite the garden open day currently on hold until the situation with the pandemic improves and it's safe to open, the work goes on…
Just when I thought I'd finished the hard landscaping an old idea resurfaced. When the fish pond was first built, I'd thought it would be nice to have a seat at the back, but I could never really work out where to put it. Since having a shift around of a few plants, a space has been created that just worked so I built a small perching bench and after realising I was walking right on top of the candelabra primulas, it seemed a good idea to move them. I'd started to make a path and rediscovered the prims in the process. Now I have a clear path to the seat and that means no more compacting plants and it does give me some more planting opportunities alongside the path. I wonder what else I can fit in the tiny garden!
To see more of my garden please visit my website and blog at: https://thehealinggarden.wixsite.com/hgarden

Mandeigh's Garden
Posted 8 April 2020
From Garden Opener, Andrea Sinclair at Clayfolds
"This weekend the weather really warmed up and it was great to see everything bursting into like, including my pet hens and ducks - eggs in abundance!"
From left to right: 'Tete-a-tete' daffodils, poppy seedlings ready to go out, spring flowers in the fernery, hellebores, pet poultry enjoying Spring weather, cutting ready to go out.

Andrea's Garden
More about Andrea's Garden as well as her designs can be found on her website www.andreasinclair-gardendesign.com/my-garden
Posted 8 April 2020
Our first contributor is Heidi Stone, District Organiser for Glasgow
" In my small city garden I have planted my Sweetpeas with plenty of garden fleece on standby in case of any frost, also amongst other plants emerging I have some Peonies which I hope will all flower this year. In my pond, the results of my frogs 'going a courtin' you can see the spawn below the buttercup. I feel immensely lucky to have my garden full of things to look forward to at this testing time."
Snaps from Heidi's garden
Posted 1 April 2020
Please, share this website with your network and help us support our 2020 charities by making a donation.