Get away to a garden
Wednesday 15 June, 2022
by Lorna Duckworth
Going on holiday or planning a road trip in July or August? There's almost certainly a garden to visit on the way. Lots of Scottish gardens that open for charity during July and August are close to tourist routes and destinations.
Click on the garden name for more details…
West Coast
Here's a taste of what you might discover if you're heading to the beach, escaping to an island or enjoying the magnificent scenery where mountains meet the sea.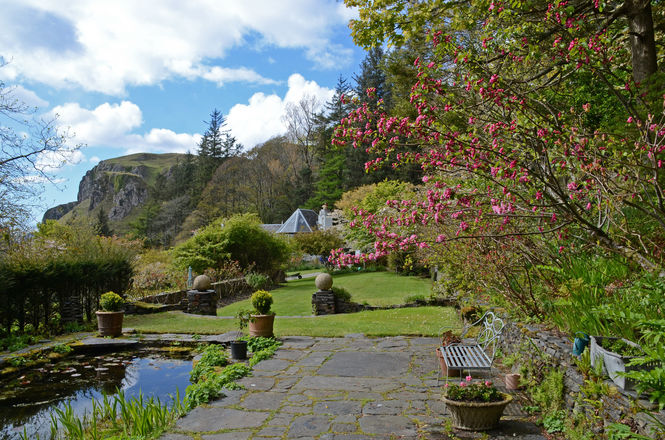 An Cala © Maurice Wilkins
An Cala,
Ellenabeich, Isle of Seil PA34 4RF
Open until 31 October, 10am—6pm
Created in the 1930s, this wonderful garden sits in a horseshoe shelter of surrounding cliffs. Enjoy the streams, waterfall, ponds, herbaceous plants, azaleas, rhododendrons and cherry trees. Archive material of Thomas Mawson's design is available to visitors.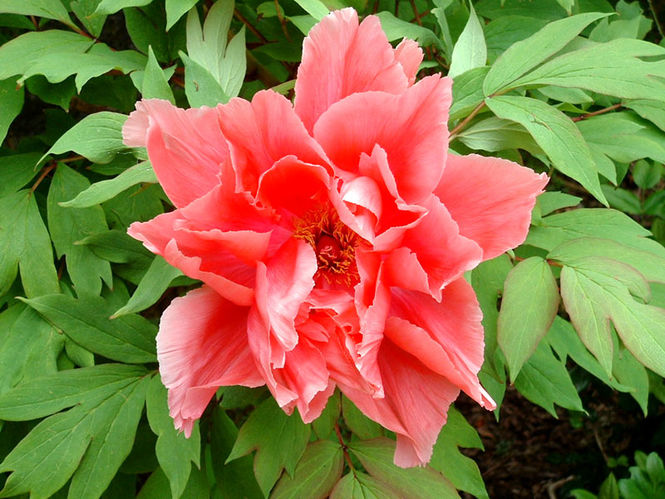 Kinlochlaich House Gardens © F Hutchison
Open until 31 October, 10am—4pm
An octagonal walled garden, incorporating a nursery/garden centre with plants for sale. Rhododendrons, azaleas, trees, shrubs and herbaceous plants are grown along with more unusual species such as embothrium, davidia, stewartia, magnolia, eucryphia and tropaeolum.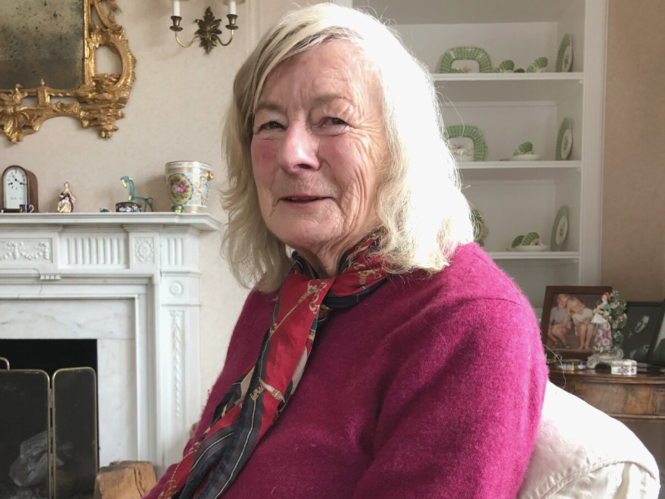 One of our champions, Janet Glaisher, who has been opening her garden for nearly four decades.
Open until 31 December, dawn—dusk
Overlooking Loch Linnhe, this large garden has mature trees, rhododendrons, azaleas and other woodland shrubs. A small Victorian walled garden is currently being restored. Owner Janet Glaisher has opened her garden for Scotland's Garden Scheme for 38 years!
From Port Appin, hop over to the Isle of Lismore on the foot passenger ferry. It's a small island, perfect for cycling along the single track road that runs north to south. Take your own bike or contact Lismore Bike Hire.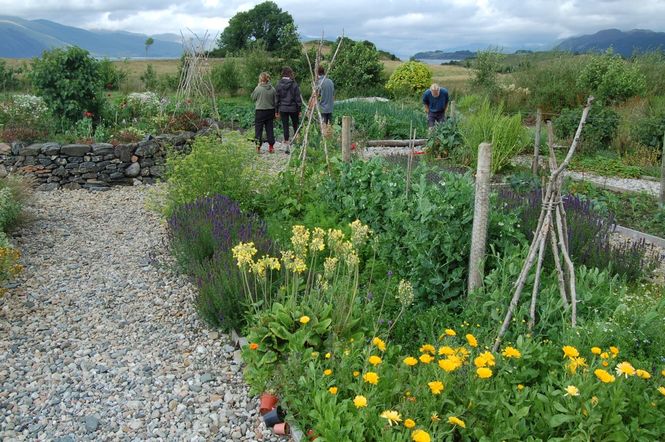 Baile Geamhraidh
The Secret Garden
, Isle of Lismore, Oban, Argyll PA34 5UL
Open by arrangement
A garden created from a field on a biodynamic farm, with a strong geometric layout to reflect the ecclesiastical history of the island. The garden is a haven for wildflowers, birds, bees and butterflies having a vegetable garden, tree nursery, physic garden and orchard. About two miles from Port Appin ferry.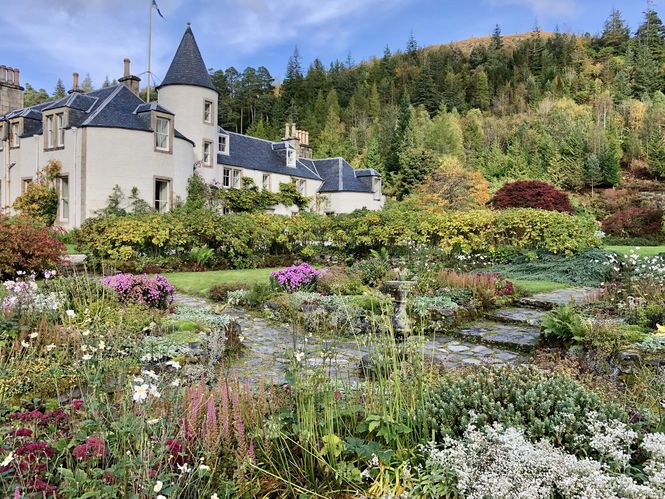 Attadale
Attadale, Strathcarron, IV54 8YX
Open until 30 October, 10am - 5:30pm
The Gulf Stream, surrounding hills and rocky cliffs create a microclimate for 20 acres of outstanding water gardens, old rhododendrons, unusual trees and a fern collection in a geodesic dome. There is also a sunken fern garden developed on the site of an early 19th-century drain, a waterfall into a pool with dwarf rhododendrons, sunken garden, peace garden and kitchen garden.
Isle of Skye
Famous for the Cuillin hills, the Isle of Skye has several castles, two of which have gardens that open for charity.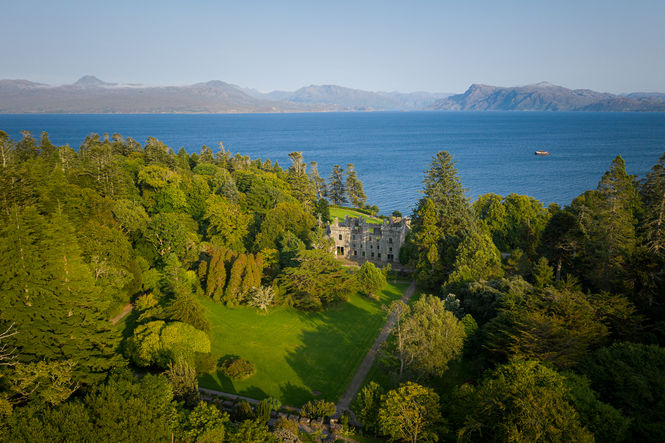 © Armadale Castle, Gardens & Museum
Open Weds to Sun (check website before visiting due to works in 2022)
Located on the island's south-east coast, Armadale has sweeping views over the Sound of Sleat to the mountains of Knoydart. Once the seat of the Macdonalds, the estate includes 40 acres of historic woodland garden, formal lawns, ponds and herbaceous borders. The woodland garden dates back to the early 1800s with many specimen trees planted in the 1870s.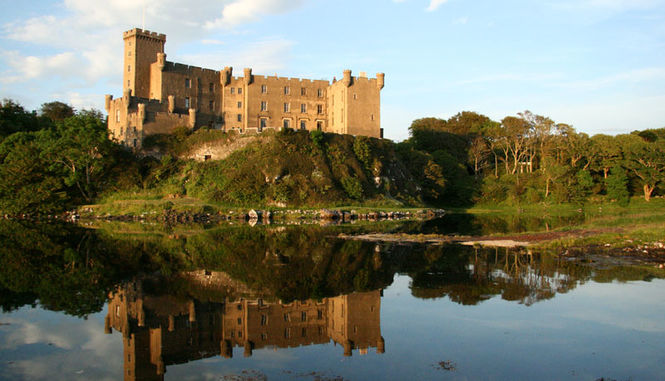 Dunvegan Castle © MacLeod Estate
Dunvegan Castle and Gardens, Isle of Skye IV55 8WF
Open daily 10am—5.30pm (check admission details here)
Five acres of formal gardens include the Water Garden, with ornate bridges and islands, the Round Garden and the Walled Garden, which was once the castle's vegetable garden. Woodland walks feature flowers, exotic plants, shrubs and specimen trees, with waterfalls and pools. Informal areas of the garden are kept wild to encourage wildlife and create a natural backdrop for the coastal scenery.
Some 12 miles from Dunvegan, on the most westerly tip of Skye, is Neist Point Lighthouse, with spectacular views of the cliffs and sea.
Isle of Lewis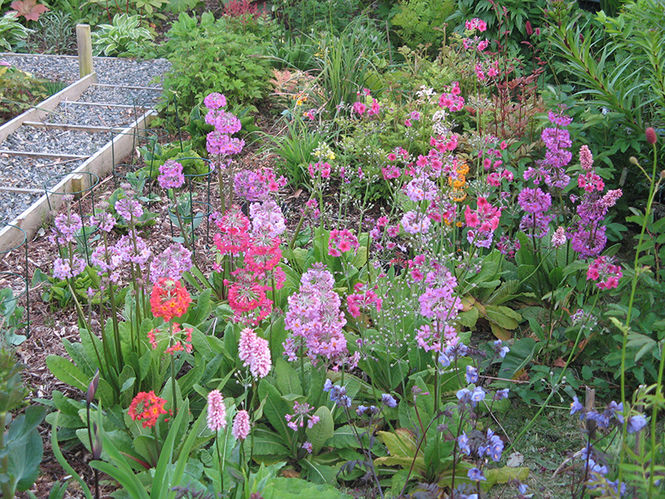 Leathad Ard
Leathad Ard
, Upper Carloway, Isle of Lewis HS2 9AQ
Open: 2 May—30 September (not Sundays), 10am—6pm
With stunning views over East Loch Roag, this one-acre garden has been created on a slope with numerous hedges to provide shelter and enclose different spaces. Features include herbaceous borders, cutting borders, bog gardens, grass garden, exposed beds, patios, a pond and vegetables and fruit grown outside and in the Keder greenhouse. Some vegetables are grown to show standards.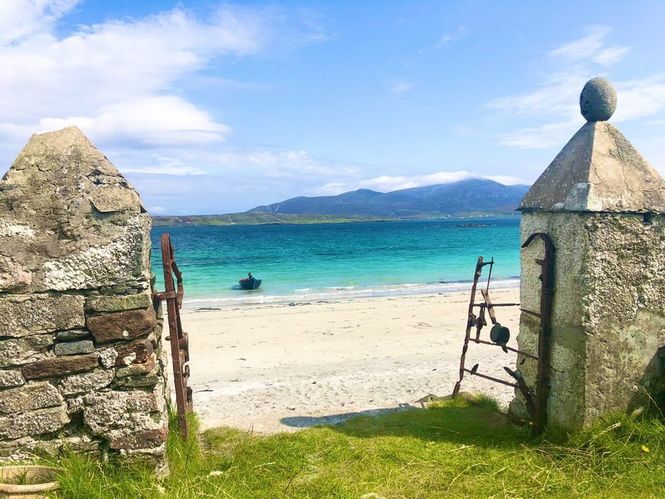 Outer Hebrides © courtesy of Pabbay House
Open: until 31 August (not Saturdays & Sundays), 2pm—5pm
Comprising mostly native trees and wildflowers, this two-acre woodland garden incorporates all the trees associated with the mediaeval Celtic ogham. The Back burn meanders through the woods along a short walk. Visitors are encouraged to bring a picnic and stay as long as they wish.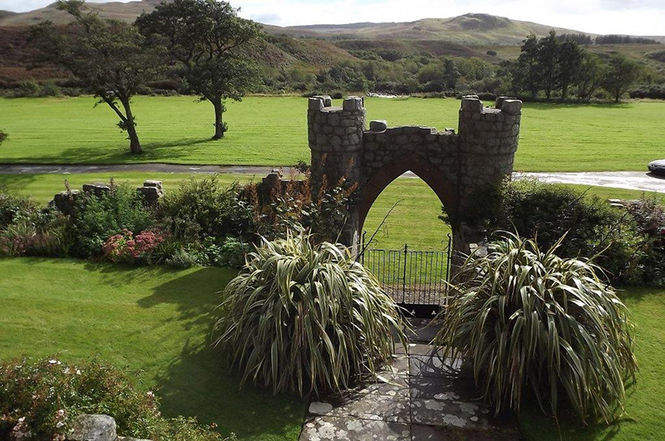 Dougarie
Dougarie
, Isle of Arran KA27 8EB
Sunday 3 July, 2pm—5pm
A terraced garden in a castellated folly built in 1905 to celebrate the marriage of the 12th Duke of Hamilton's only child to the Duke of Montrose. Along with tender and rare shrubs, there's an herbaceous border and small woodland area with trees including azara, abutilon, eucryphia, hoheria and nothofagus.
---
East Coast
Scotland's east coast is famed for its fishing communities, sandy beaches and castles. Here's a few of its beautiful gardens, with the most southerly first.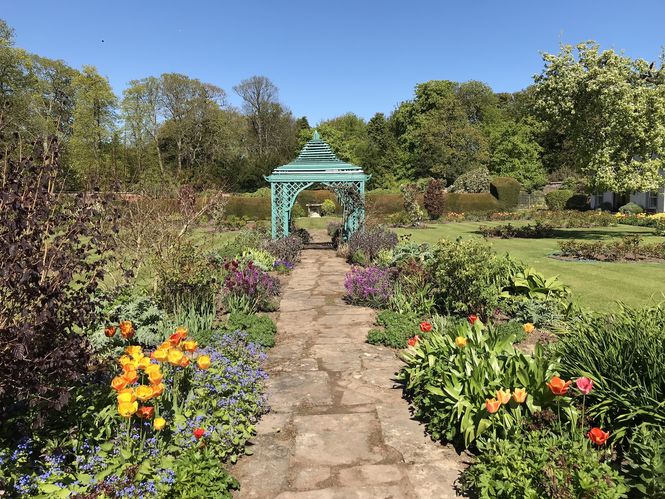 Netherbyres
Open by arrangement and Sunday 3 July, 1pm—5pm
An unusual walled garden, dating from 1740, with a wide variety of roses and herbaceous borders, plus a very old pear tree and the largest rose in Berwickshire, Rosa filipes 'Kiftsgate'.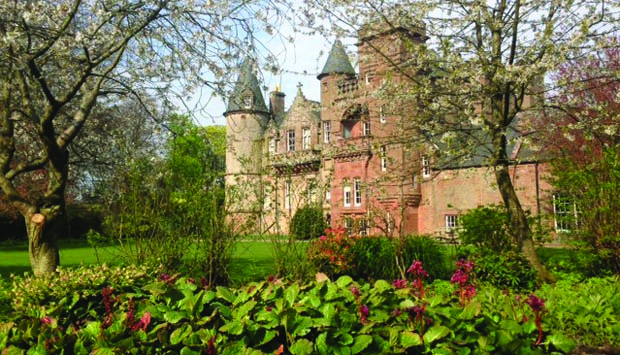 Hospitalfield Gardens, Arbroath
Saturday 20 August, 11am—4pm
Last year, the walled garden was redesigned by plantsman Nigel Dunnett to tell the 800-year horticultural story of Hospitalfield, starting with its monastic origins in the 13th century through to the Victorian passion for ferns. The fernery, which sits within the walled garden, has been restored and replanted with ferns from all over the world. More details at the Hospitalfield website.
Dunnottar Castle lies just off the Aberdeenshire coastal route, two miles south of Stonehaven. Perched on a clifftop, Dunnottar has played a prominent role in the history of Scotland. It was here that the Scottish crown jewels were hidden from Cromwell's invading army in the 17th century.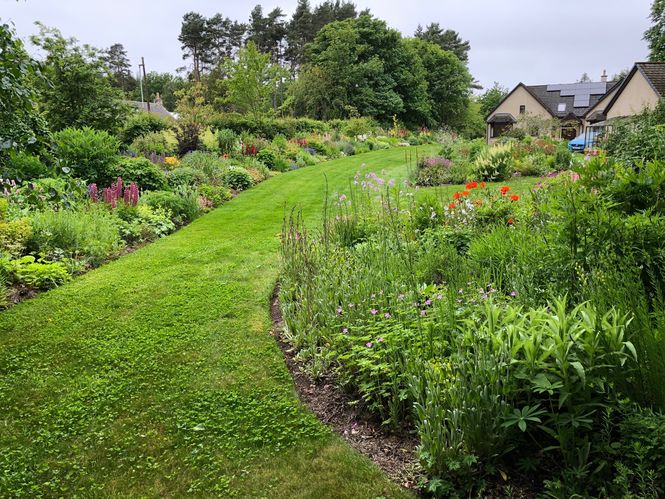 Haugh Garden
Haugh Garden
, College of Roseisle IV30 5YE
Open by arrangement and Sunday 24 July, 2pm—5pm
Inland from Burghead is this lovingly maintained two-acre garden with mature woodland, an informal pond and 18th century farmhouse ruin. Meander along the herbaceous borders and through the orchard. Organic vegetable beds, soft fruit and polytunnel keep the owners self-sufficient all year round.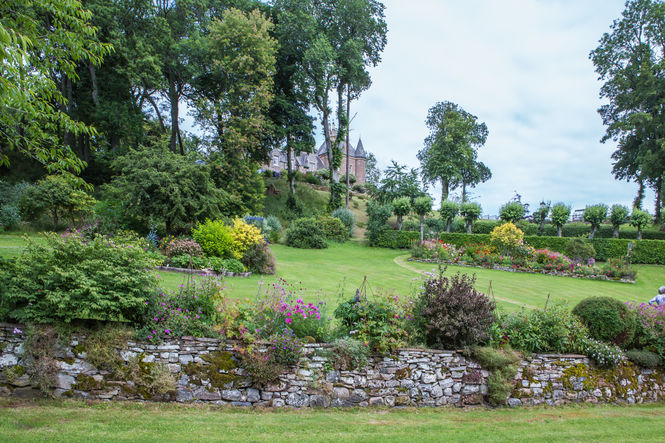 Skelbo House ©Colin Gregory
Skelbo House
, Skelbo, Dornoch IV25 3QG
Saturday/Sunday, 23/24 July, 11am—4pm
Just off the A9 north of Dornoch, you'll find the extensive woodland garden of Skelbo House. Enjoy the spectacular views over Loch Fleet. Herbaceous borders, rose garden and shrubberies surround the house while lawns slope down to a small lochan and river walkway.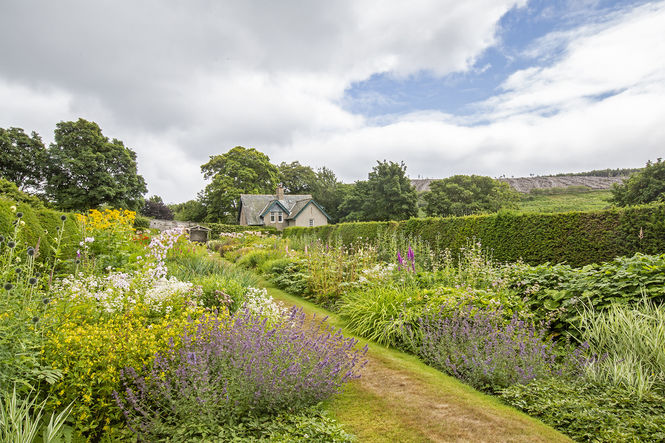 Langwell ©Colin Gregory
Langwell
, Berriedale KW7 6HD
Sunday 31 July, 12pm—4pm
Off the A9 as you head past Helmsdale further north. Situated in the secluded Langwell Strath, this beautiful old walled garden has outstanding borders and a wooded driveway where you might well see a deer.
---
Orkney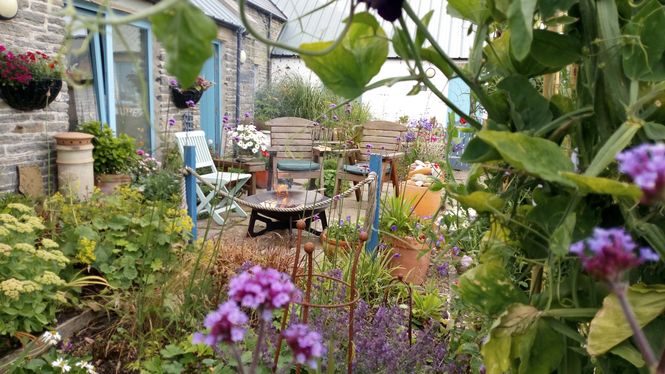 The Quoy at Houton
Sunday 17 July, 10am—4pm
Two gardens next to each other with fabulous views over Scapa Flow. Old Granary Quoy is newly planted and designed, with ponds and a water garden. Plants include Orkney perennial geraniums and other species suitable for the exposed coastal location. The lantern greenhouse houses an indoor peach tree. Owner Caroline Critchlow is the gardening 'guru' on BBC Radio Orkney. You can watch her garden design mini series HERE.
The Quoy of Houton is an unusual, historic walled garden with 60-foot rill. Carefully planted to withstand winds in excess of 60mph, the garden offers floral interest from March to September. An award-winning garden that has been listed among the UK's top 10 coastal gardens.
Shetland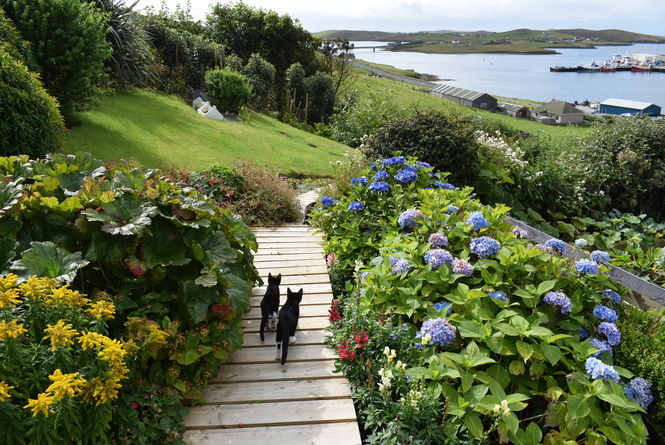 Highlands Garden
Highlands Garden
, East Voe, Scalloway, Shetland ZE1 0UR
Open by arrangement
The upper garden includes a rockery, a shallow pond, seating area, polycrub and greenhouse with fruit and vegetables. The steeply sloping lower garden has a spectacular view over the village of Scalloway. The garden won a Shetland Environmental Award in 2014 for its strong theme of recycling. The owner has an art studio which you are welcome to visit.
Other gardens on Shetland, open by arrangement:
Nonavaar, Levenwick
A delightful country garden, with drystone walls and magnificent coastal views.
Keldaberg, Cunningsburgh
Enjoy the beach garden, the sloping perennial border, the exotic agaves, pineapple lilies, cannas and gunneras, and the arbour in which to rest.
Cruisdale, Sandness
A natural garden with willows, several ponds and a variety of colourful hardy plants that grow well in the Shetland climate.
Norby, Burnside, Sandness
An example of how to succeed in a very exposed garden, using wooden wind breaks to shield shrubs, climbers and herbaceous plants.