Conference News 2015
Friday 24 April, 2015
Scotland's Gardens annual conference was held on 13 April 2015 at the EICC.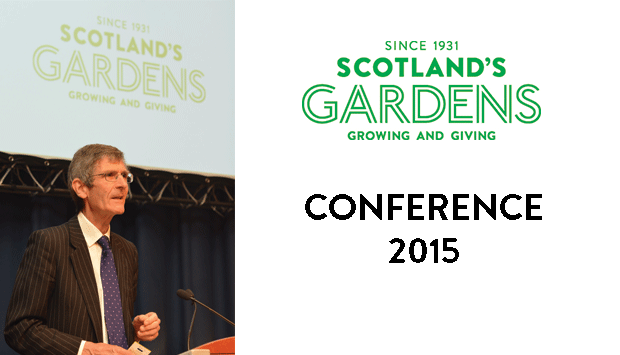 MARK HEDDERWICK, CHAIRMAN, SPOKE ABOUT SOME RECENT DEVELOPMENTS:
This time last year I referred to 2013 as something of a curate's egg, with a bit more good than bad, so it is very pleasing to report that 2014 saw a significant improvement in our income and donations to charity.
There is no doubt that a second consecutive wonderful summer kept visitor numbers up and helped by the success of the Fife Festival and the Trails in Orkney and East Lothian our garden gate income came in at a record £370874, a rise of £46612 over the previous year. Our donations to charity also saw a marked increase to £226,976. Of that sum £ 98,000 or 43% was given to our own charities and 57% went to charities of our Garden Owners choice. It is interesting that over the last nine years Garden Owners charities of choice have enjoyed an average of 54% of our disposable income. Quite a long way removed from the headline 40% share that is widely quoted.
A principle reason why the percentage split is so heavily in favour of our garden owners is our historic cost base. Quite simply over the last few years our costs have been rising faster than our income streams. Over the last ten years the relationship between our costs and income has deteriorated from a ratio of 32% to a peak of 50% in 2013. Even after a record income last year our cost income ratio remained at an uncomfortable 47%.
Our sharpest rise in costs has been in our salary bill, travel costs, advertising and promotion and the conference. Over the last ten years our salary bill has risen by 36% to £93600, our travel bill tenfold to £4875, our advertising and promotion bill by eight times to £31102, and the conference by 371% to £14688. By contrast our distributions to charity have risen by just 4.4% to £226976.
At a Trustees meeting in December, the decision was taken that our cost base was unsustainable in the longer term and, subject to a three month period of consultation with existing staff, District and Area volunteers and a number of Garden Owners, a restructuring of head office should be implemented.
The harsh reality is that a small charity like ours, that is so very dependent on the goodwill of our volunteers and garden owners, cannot afford to run up such heavy expenses. The decision has now been taken to cut back on our salary bill and travel costs, to look carefully at how we promote Scotland's Gardens, if we can continue to enjoy an annual conference such as we have over the last few years and how we can reduce wastage and improve working practices. We also need to look carefully at the role of Trustees and their relationship with Garden Owners and District volunteers.
Our single biggest expense has been the salary attaching to the Chief Executive role which at £50,000 coupled with employment and travel costs means that it consumes north of £55,000 per year. That is equivalent to the income of about 55 average garden openings. We have therefore come to an agreement with the current holder of the CEO role that he should leave us and he has now done so. I have deliberately referred to the CEO role as being unsustainable because I want to make a clear distinction between the role and Paddy Scott who has filled it. Paddy has worked hard and with enthusiasm for Scotland's Gardens for the last 8 years and I would like to go on record in thanking him for all that he has done for us.
We have begun discussing with the ongoing staff, Hazel Reid, Fiona Sloane and Elspeth Lindsay what additional responsibilities they can or would like to shoulder and if we need to appoint a part time National Organiser who would report into the Trustees Management Committee.
Looking forward, it is pleasing that this year we will benefit from 463 Garden Open Days, 92 gardens that are opening by appointment and 66 that are open on a regular basis. With a half decent summer we should have a reasonable year ahead of us. Of course none of this would be possible without the wonderful and loyal support of our Garden Openers so to all you here today,a very big thank you.
Many of you here will know that last year we revised our constitution and foremost in this was a major change in our purpose. Hitherto we have been required to donate all our disposable income to defined charities. The revised Constitution now states that our purpose is the facilitation of garden openings for charity full stop. So, from 2016 onwards we will be able to decide what charities we wish to support but in so doing we must not lose sight of why Scotland's gardens was set up in 1931. We remain committed to continue to support our historic links with the QNIS, the National Trust for Scotland Garden Fund, Perennial and Maggies. However what may change is how we donate cash. We are very fortunate in having accumulated quite a large Legacy fund which is currently valued at over £400,000. It is our intention in future to use this pool of capital to make grants to charitable organisations which may include our existing charities. We continue to explore the options open to us but we will come to a firm decision about the future in the next several months.
The next year will be challenging, invigorating and very positive. I am lucky as chairman to have the unanimous support of the Trustees and we have been hugely encouraged by the ongoing staff in head Office who have embraced the proposed restructure with enthusiasm and vigour. Our priority will be to introduce proper job descriptions for the staff, to look carefully at the cost benefit of appointing a new part time National Organiser and how we can reduce our costs and become more productive.
I should end my report to you by telling you that Rydens our landlords at 43 North Castle St have given us notice to leave by the end of June. We have identified a new and suitable office about 300 yards away in Castle St, into which we are hoping to move at the end of this month. Rydens have kindly agreed to waive the remainder of our lease.
Finally could I thank all those people and firms who have supported us over the last year with donations, sponsorship and advertising in the guidebook. In particular I would like to thank the EICC for their support and Investec for their wholehearted support over the year.
Thank you for listening and for all that you have all done for Scotland's Gardens.
PETER YELLOWLEES, TREASURER, PROVIDED SOME ADDITIONAL FINANCIAL INFORMATION: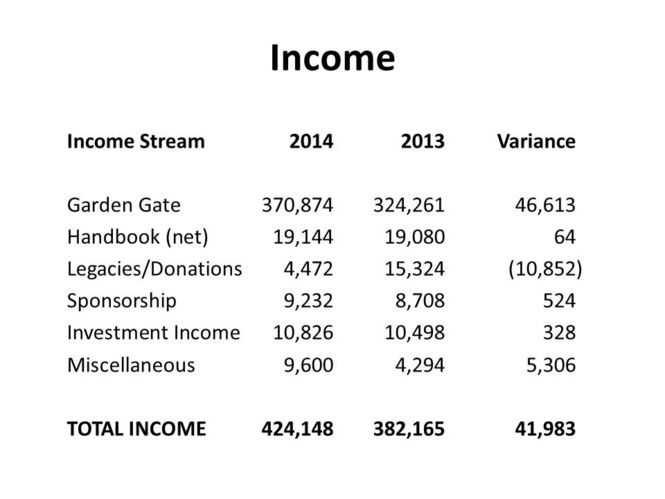 slide2.jpg©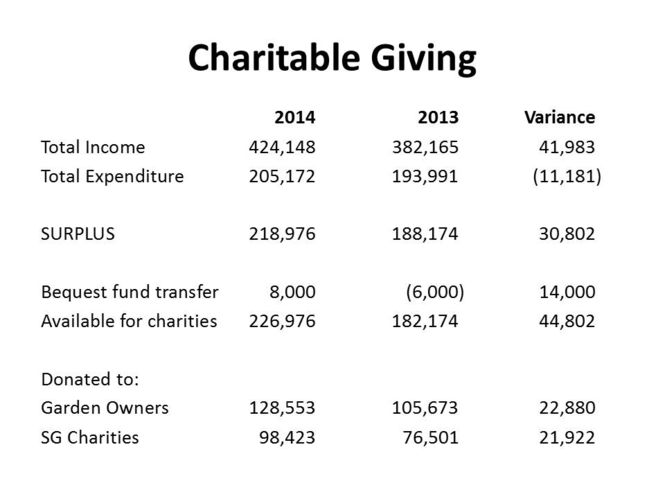 slide4.jpg©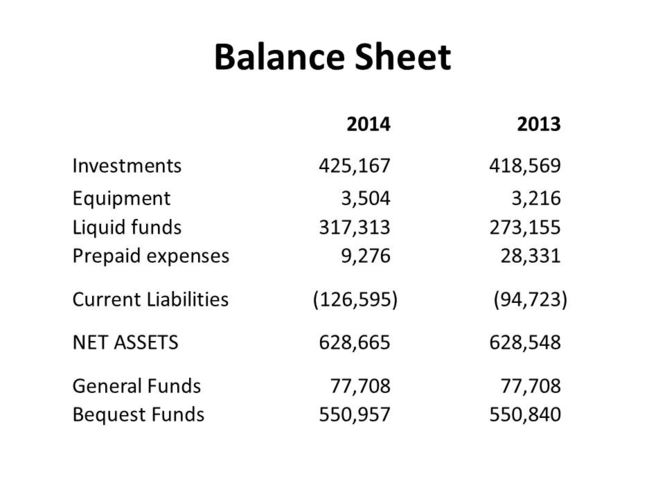 slide5.jpg©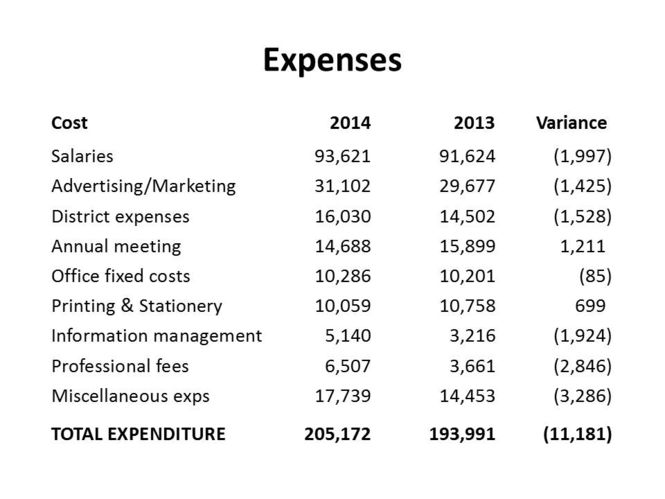 slide3.jpg©