Gardening at a Time of Crisis
by Inger McGowan
What do you grow at your allotment? That is often the first question people ask when I tell them I have my own plot. Sure, I can name you all the wonderful fruit and vegetables that I attempt to produce. But before I do that, let me tell you the MOST important thing I grow at my allotment: MYSELF!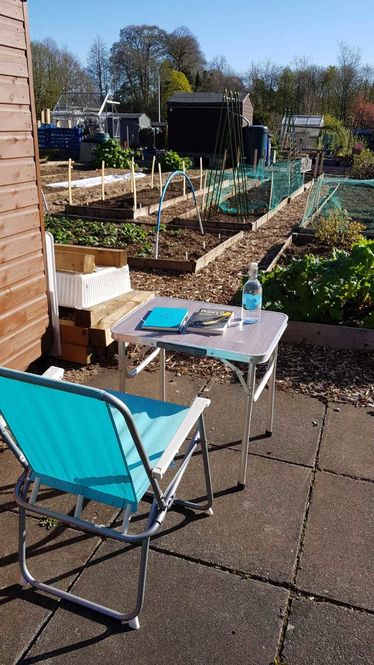 Yes, myself. I let myself grow. A few hours per week at the allotment is what I need to stay sane, and Covid-19 has only reiterated this.
I have always liked nature but wouldn't have called myself a gardener. And yet there was always something appealing about the idea of growing my own food. When a new allotment site opened near me five years ago, I took the plunge and signed up for a plot.
Having an allotment is hard work. It takes months of planning, sowing, planting, nurturing, feeding, watering, protecting and eventually harvesting before you can enjoy your tatties, broccoli and strawberries jam. The shed and beds need maintained and repaired and the ground needs to be worked. Bushes need to be pruned and tools need to be oiled. Sometimes it feels a bit like having to walk your dog (I have two four legged friends!); you know you need to go out to see to their needs, but you had a rough day at work and you're tired.
However, as soon as I open the communal gate, walk pass all my fellow lottie holders (and have a chat along the way, of course two meters apart) and reach plot number 15a, something changes in me. First things first, a coffee. I bring my camping chair and table out and put the kettle on and take a few minutes to listen….. My plot is next to a small river and surrounded by trees. There are so many different birds, even some birds of prey. But it is also so very quiet at the same time.
Did you know that silent and listen contain the same letters? The stillness and peace I find at my allotment provide the perfect environment for me to listen to myself. Whilst drinking that fresh brew, or digging the earth, planting some seedlings or picking my fruit, I touch base; how do I really feel? Are there any uncomfortable feelings that I need to let go off?
Sometimes it happens without even knowing. Gardening is like meditating, once you're in the zone your thoughts become clearer and drift away, like clouds in the sky, without holding on to them.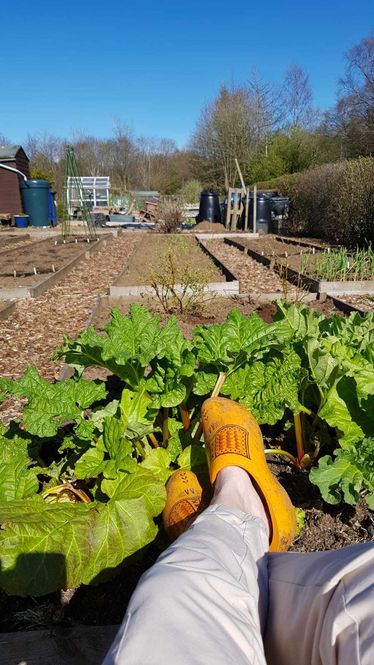 Mother Nature provides all the energy we need. By putting my hands in the ground I recharge my battery and look after my mental health. The sun kisses my skin for my vitamin D and the soil provides me with natural antibiotics.
My allotment is my therapy. Being a nurse with a full-time job and a busy family life is hard enough at the best of times, but even more so with Covid-19. I wish allotments could be on prescription as I know the healing powers that gardening can provide. I wonder if the prescription would sound something like this;
ALLOTMENT (hortus possessionem)
Start immediately with 7 visits per week until you start to grow and relax, then continue a maintenance dose of at least 3-5 times weekly. Do not adjust the dose without consulting yourself. Avoid negative energy. Share any produce with friends and family for maximum benefits of positive feelings.
***
Inger McGowan is an experienced criminal justice nurse, working for NHS Lothian, she is normally based at the Willow Service in Edinburgh, but during COVID19 she is temporarily redeployed to the Edinburgh Access Practice, providing care to our homeless population. She is in the middle of her nine-month programme to become a Queen's Nurse, part of QNIS's work supported by Scotland's Garden's Scheme.