Aberdeen Garden Tour
Monday 13 August, 2018
A group of garden lovers from Fife after their tour around the gardens of Aberdeenshire and Angus. We catch up with the lovely Fay Smith, who organises the tour, from garden trips and teas to B and Bs and buses.
Warning: Stunning gardens ahead. This tour might provoke intense jealously!
Hi Fay, thanks for taking the time to answer our questions, and for sharing your experiences and photos. We hear you visited 11 gardens in 3 days, is that true? That's an awful lot of gardens.
Yes, 11 gardens in three days is a lot, but it is generally what we do (we have done five in a day - once), feeling that if we are in a particular area it makes more sense to have a good sense of several, to which we can return, if we wish, rather then an in depth knowledge of one or two!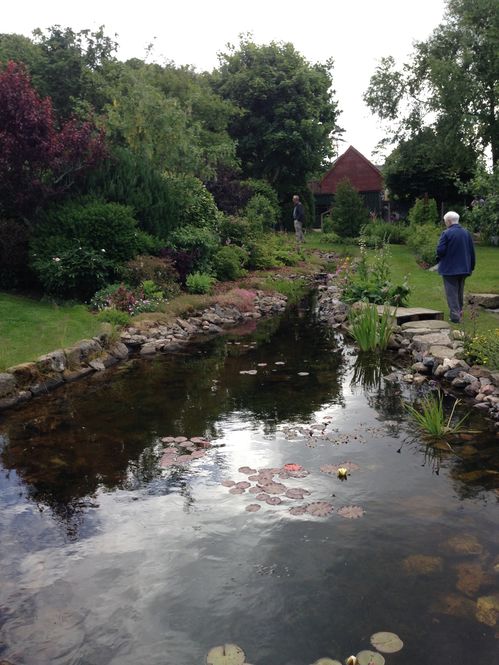 The water at Blairwood House
On our trip to Aberdeen we visited, Dunvorist Cottage, Arbuthnott House (Non-SGS garden), Glenbervie House (below right) and Blairwood (opposite), just outside Aberdeen, on the way up. The following day we visited Airdlin Croft, beyond Ellon, House of Formartine (home to Lord and Lady Aberdeen, Non-SGS garden), Bruckhills Croft and Birken Cottage. Wednesday morning we paid a very early visit to Grandhome on the edge of Aberdeen, then Gallery and House of Pitmuies, followed by a very popular visit to Ashbrook Nursery just outside Arbroath where all remaining luggage space on the coach was filled (luggage had already been installed on back seats of coach, below left). This tends to be the pattern and the coach drivers have become very accommodating over the years. I have also become bossier over the years, now asking people to bring their own, labelled, boxes and bags, as we were always being left with stray plants when we reached St Andrews. They all did eventually find their rightful owners, but not without a bit of sleuthing!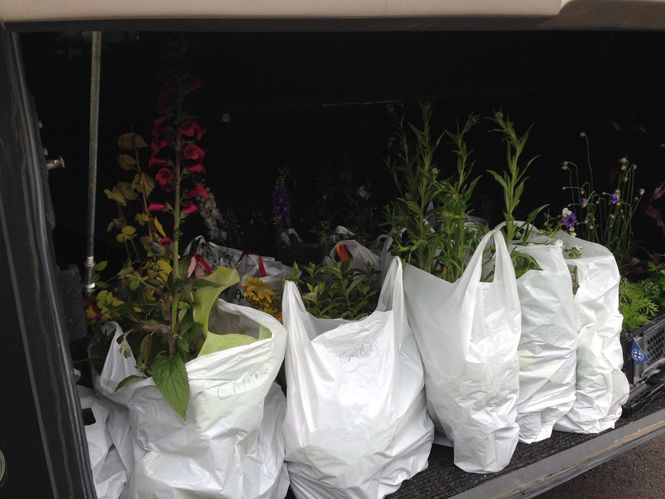 A trunk load of plants ©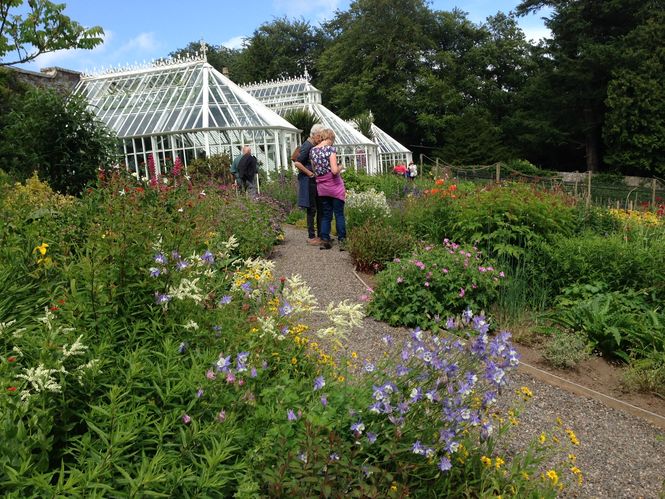 Looking up to the glasshouse at Glenbervie ©
Had you visited any of the gardens before?
I had already visited Gallery and House of Pitmuies, as had several of our group (they really are outstanding), but they are always well worth a visit and I suspect they will now have a new following. Both were looking splendid but with promise of lots more to come!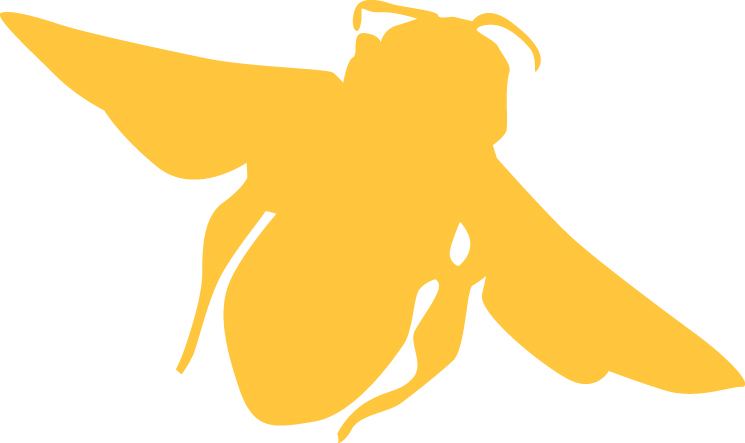 Were any gardens particularly recommended?
Apart from studying the Yellow Book, I also use Ken Cox's book 'Scotland for Gardeners' and Discover Scottish Gardens, but like to speak to District Organisers, and it was James Byatt from Banff who recommended House of Formartine as well as Bruckhills Croft. Verity Walters recommended all the other Aberdeenshire Gardens we visited. Arbuthnott House came by way of Ken Cox's book and I already knew Pitmuies and Gallery. Dunvorist Cottage was a gamble as somewhere new but we were certainly not disappointed. Karen has created an amazing garden in less than five years, full of unusual plants (all labelled) and a breath-taking number of features in a relatively small area. I also find that when chatting to garden owners during the planning process, they are very keen to offer suggestions of where to visit in their locality and where is best to eat, or if there is a particularly good nursery nearby.